Monday September 20 2021
The week ahead starts with a Full Moon today. One year ago today we set the record low temperature in Baltimore.
On Wednesday, the Autumnal Equinox will truly mark the start of a new season. This will be followed by an actual pattern change we all feel by the end of the week.
Jet Stream Preview
An Upper Level Low will bring us some rain for a few days, then open up the flow for more frequent cold fronts. See the animation below.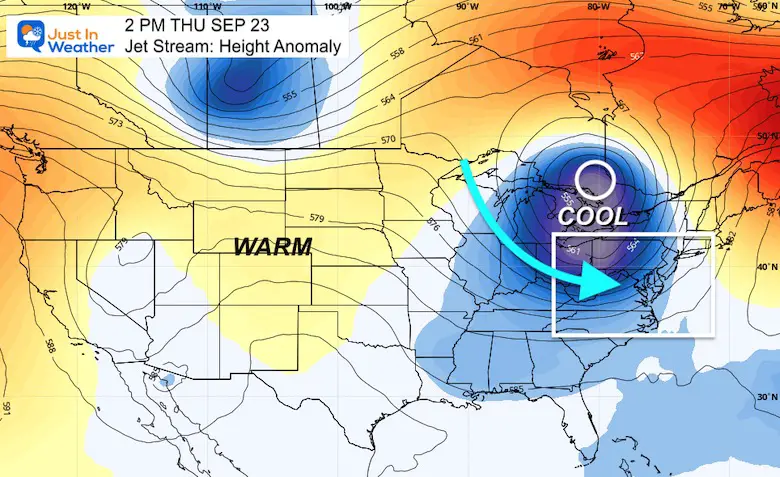 Tropics: Just For Fun
This morning, the headline in the Atlantic is Peter Rose.  Not the baseball player banned from the Hall of Fame, but a pair of storms that might show the sense of humor from the World Meteorological Organization. 
Neither of these storms will be a threat to the US.
Morning Surface Weather
A region of cool and dry weather has been carved out across the Northeastern and Mid Atlantic US.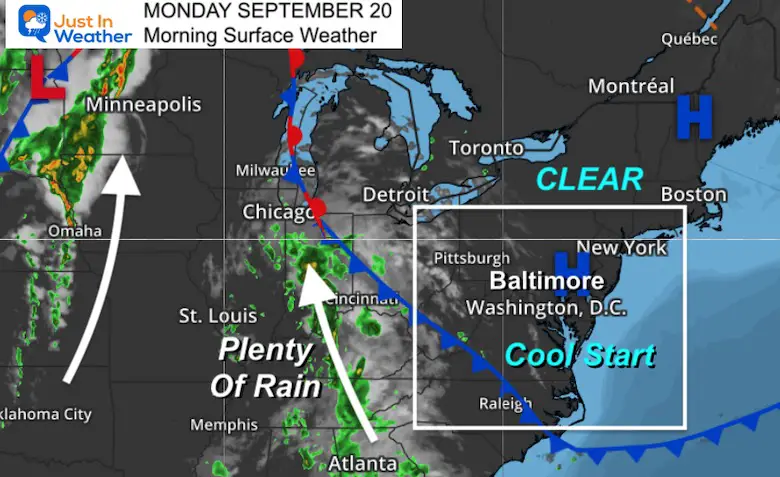 Morning Temperatures 
Afternoon Temperatures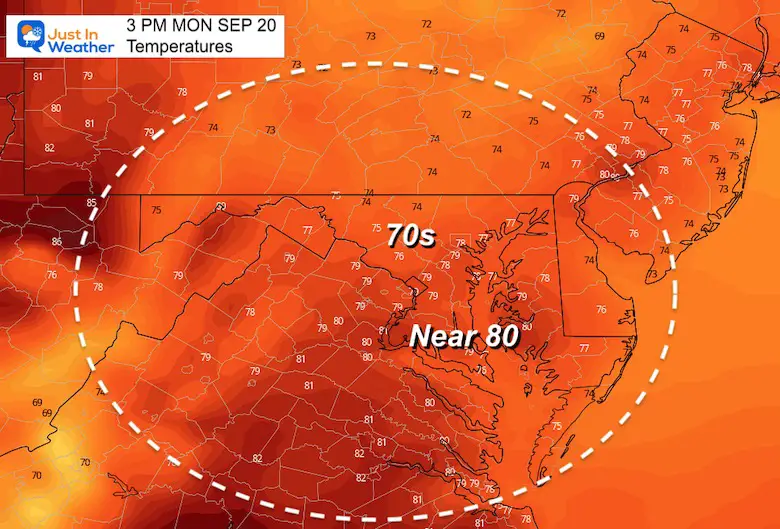 Weather Almanac: Climate Data
TODAY September 20
Normal Low in Baltimore:  57ºF
Record 42ºF in 2020 (Last year)
Normal High in Baltimore: 78ºF
Record 92º F 1998
Temperatures Tuesday
Morning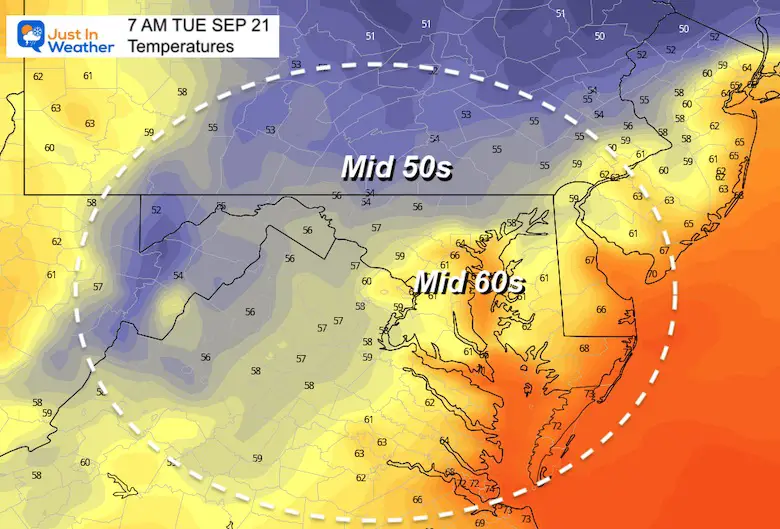 Afternoon
Might be the warmest day of the week.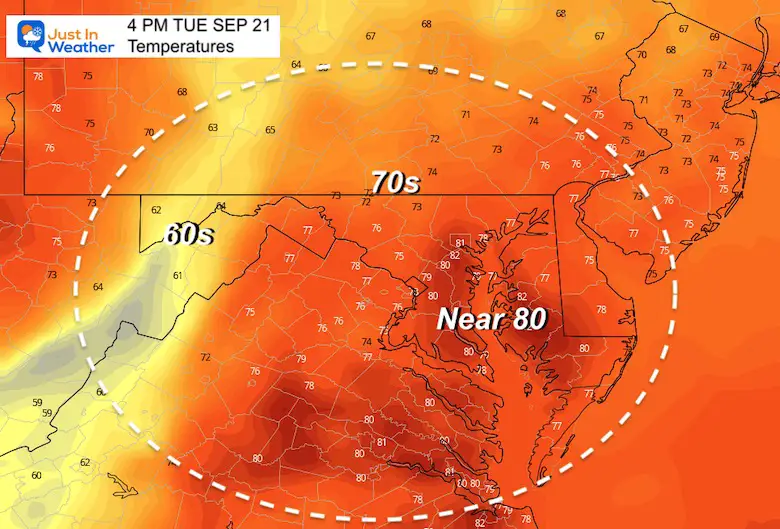 Rain This Week
European ECMWF Model: Tuesday Morning To Friday Afternoon 
An upper level Low will slowly spin our way mid week. An east wind will bring a cloudy today Tuesday. Then rain will expand Wednesday and Thursday.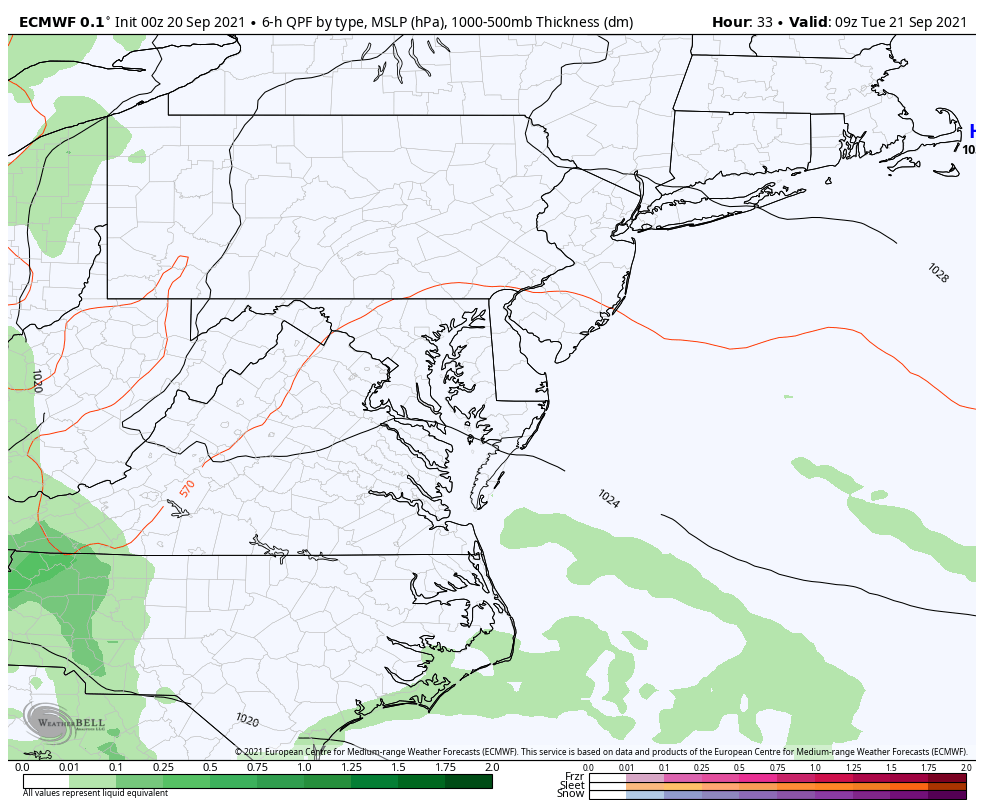 Jet Stream
Monday Evening To Sunday Evening
The Upper Level Low responsible for the rain we will get later this week, will also be bringing very chilly air across the Great Lakes.
This is marked on the Jet Stream here in blue. This will start a trend of more 'cool' waves to follow.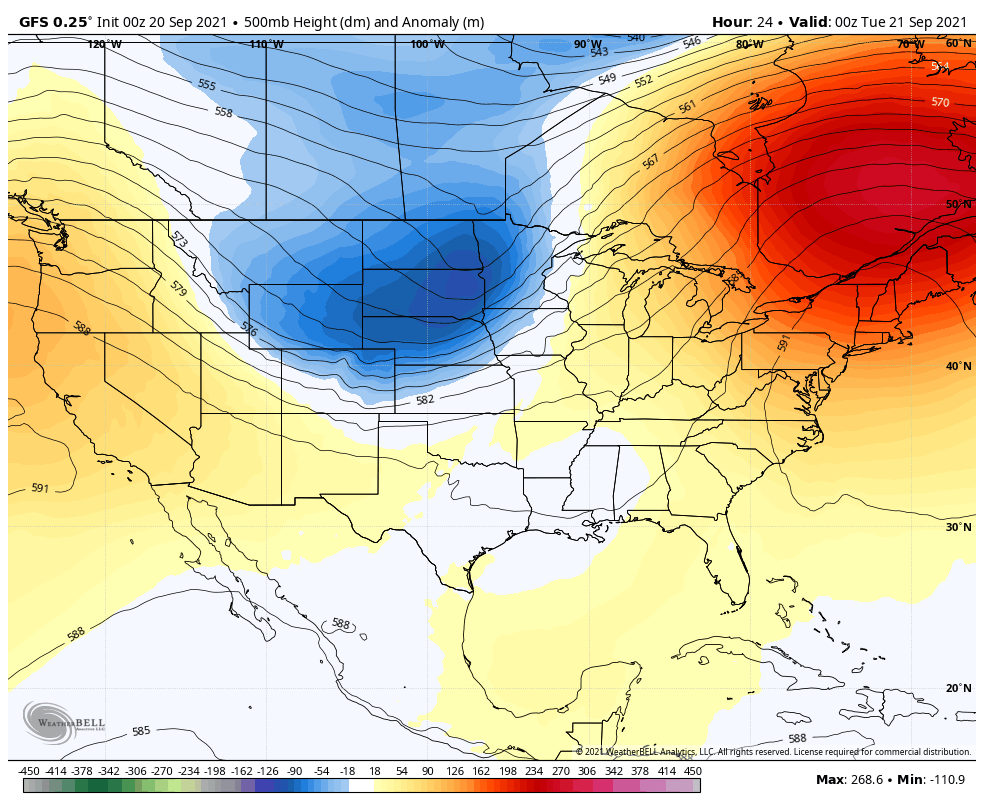 7 Day Forecast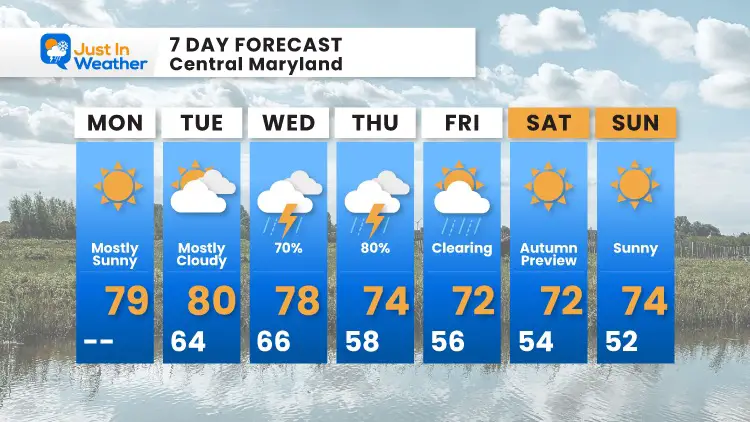 INTERACTIVE WEATHER PAGES
14 Local Maryland Pages (and York PA)
We have made a page for Maryland Weather which gives you the current conditions for 14 present area locations.
Local Hourly Forecasts and Local Radar
Central Maryland
Delmarva
Pennsylvania
Maryland Trek Gear

Maryland Trek 8 Says THANK YOU!
Running Total Raised $116,438
During 329 Miles From Wisp To Ocean City
To Honor Kids In Cancer Treatment and Support FREE Programs At Just In Power Kids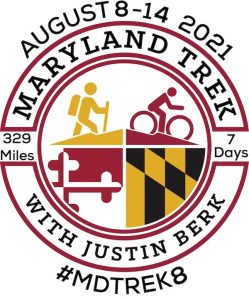 Please share your thoughts, best weather pics/video, or just keep in touch via social media