Tuesday August 31 2021
The remains of Ida are set to arrive Wednesday morning with rain. The heavy rain, likely flooding, and potential severe storms with tornados will arrive by evening and overnight. 
Before all of that, we have some showers and thunderstorms today to plot out.  After all of that, much cooler and more pleasant temperatures will settle in for the holiday weekend. 
Morning Surface Weather
The core remnant Low of 'Ida' is not longer tropical, but we will still refer to the name. It is located in northern Mississippi.  That core is forecast to move through central Maryland Wednesday night.
The cold front locally will be responsible for showers and storms today.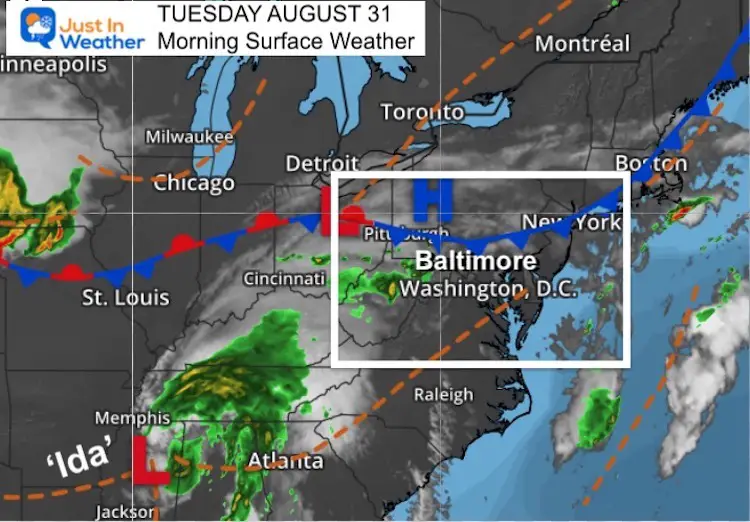 Today: Radar Simulation Noon To Midnight
This product has consistently underperformed with short range storm coverage. I will have a mid day update that may show more storms.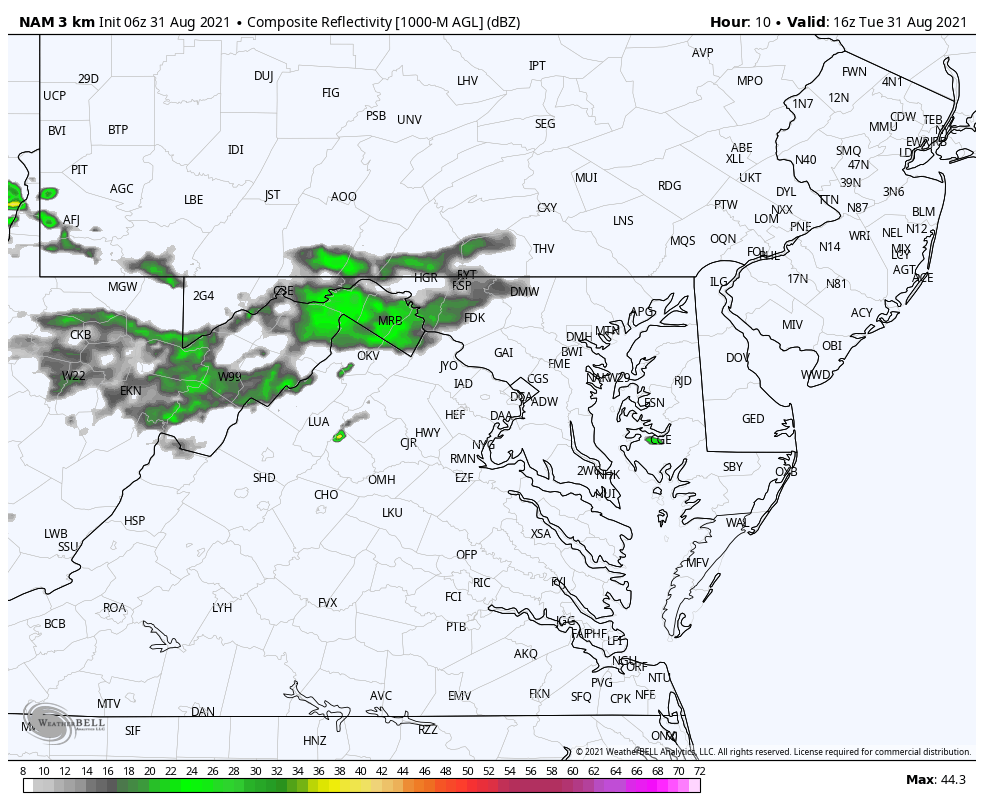 Afternoon Temperatures 
This map may help explain the wide range of conditions in our region. All places near 80ºF or in the 70s are also expected to get the most rain from Ida.
Places in the mid 80s or higher are more likely to get severe storms from Ida.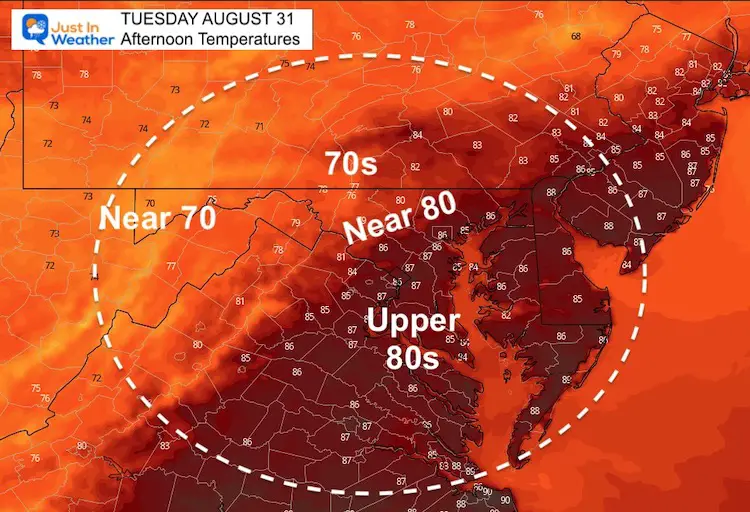 Weather Almanac: Climate Data
TODAY August 31
Normal Low in Baltimore:  63ºF
Record 49ºF in 1986
Normal High in Baltimore: 83ºF
Record 102º F 1953
Wednesday Weather With Ida
ECWMF Snapshot
The core Low will pass through central Maryland close to midnight. 
Rain will spread ahead in the morning, with increasing intensity and heavier bands or cells through the evening and overnight.
*Animation Below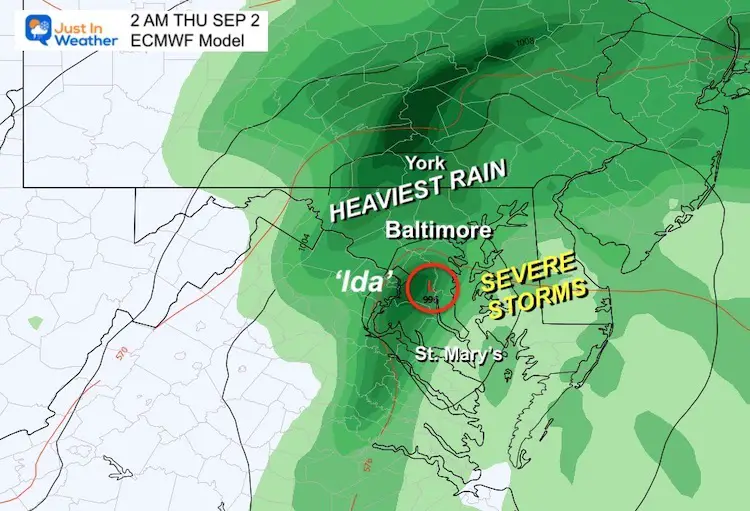 Severe Storm Risk
This is a level 2 out of 5 for cells with gusts over 60 mph and or tornados.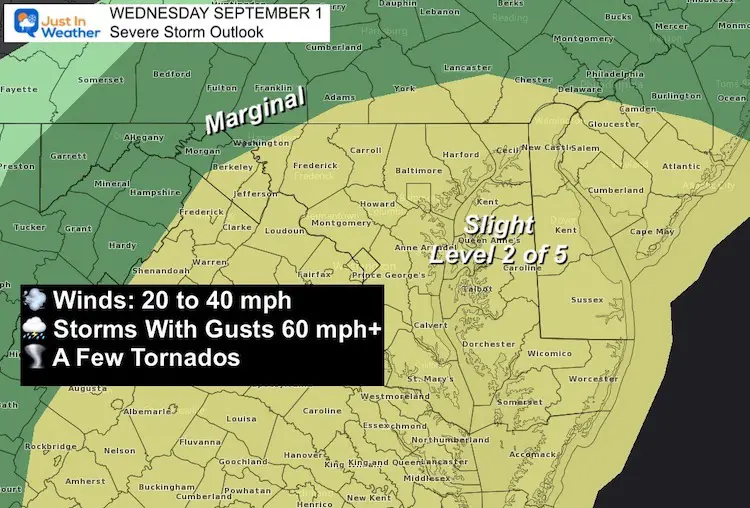 Flash Flood Watch
This as been adjusted to begin at 8 AM
The heaviest rain will arrive later in the day and overnight.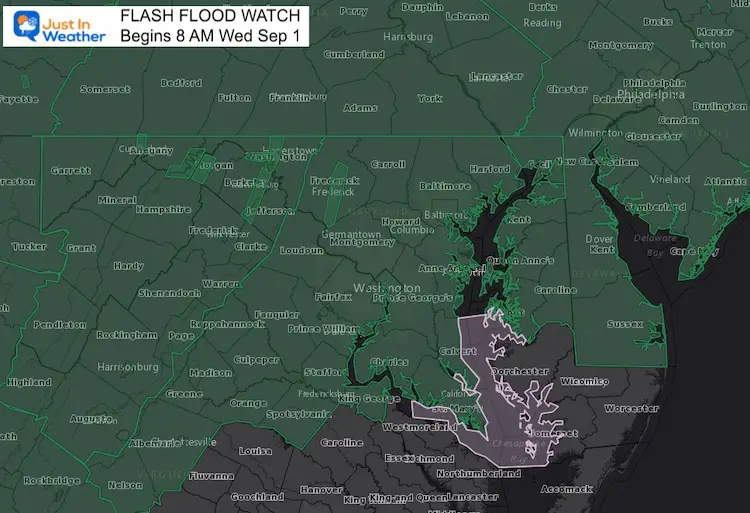 ECMWF Storm Animation:
Here we see the rain from Ida arriving on Wednesday, well ahead of the center passing through Maryland Thursday morning. 
The heaviest rain is forecast to reach into central PA, but I have verification of recent storms to the south. I think we still need to watch that core rain field.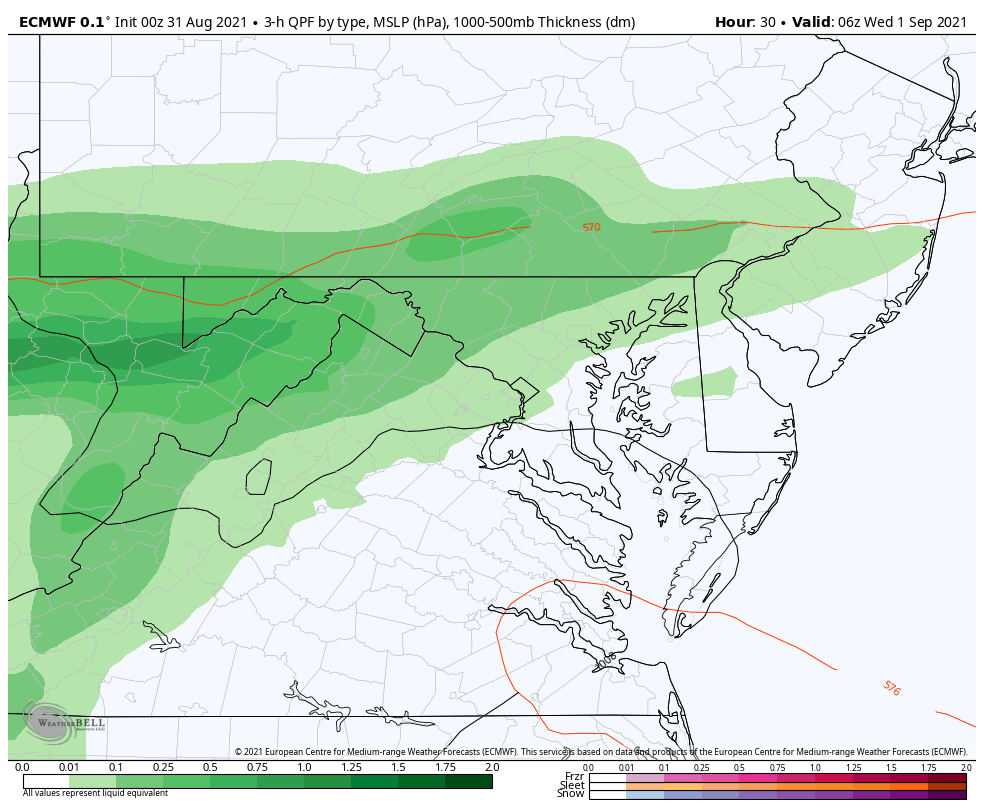 Rain Forecast
ECMWF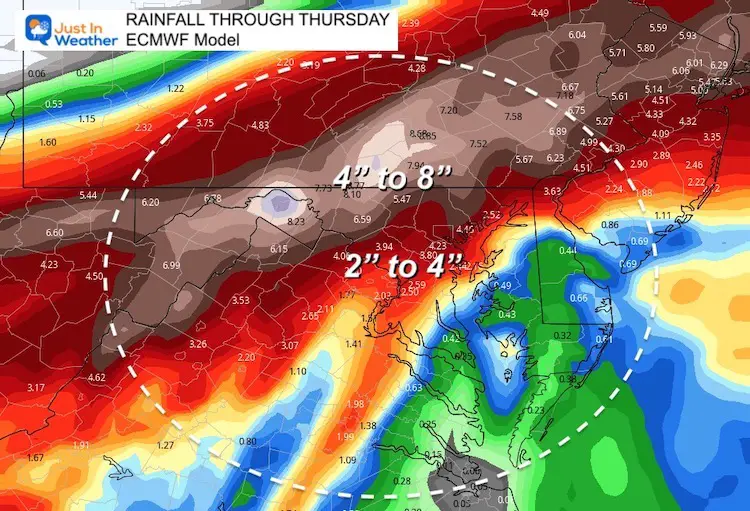 GFS
Wind Widget
7 Day Forecast
For Baltimore. It will be cooler west and north.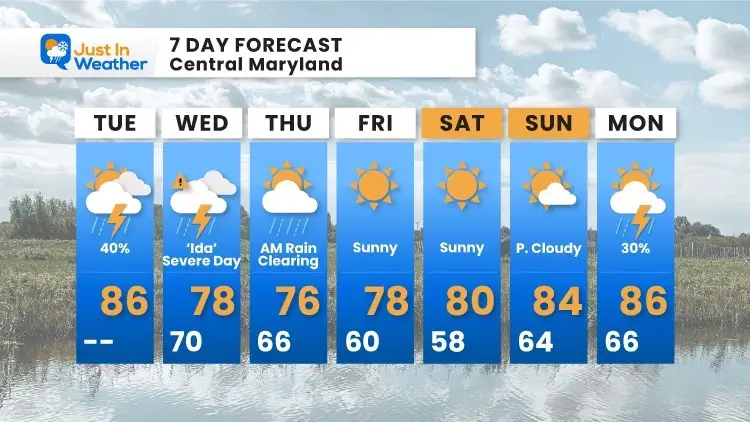 INTERACTIVE WEATHER PAGES
14 Local Maryland Pages (and York PA)
We have made a page for Maryland Weather which gives you the current conditions for 14 present area locations.
Local Hourly Forecasts and Local Radar
Central Maryland
Delmarva
Pennsylvania
Maryland Trek Gear

Maryland Trek 8 Says THANK YOU!
Running Total Raised $116,438
During 329 Miles From Wisp To Ocean City
To Honor Kids In Cancer Treatment and Support FREE Programs At Just In Power Kids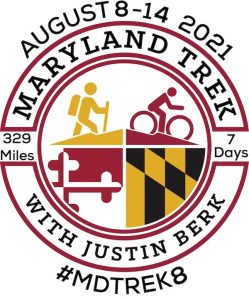 Please share your thoughts, best weather pics/video, or just keep in touch via social media