Monday Evening August 30
The thunderstorms we had today were separate from the main event on the way. This is a focus on Depression Ida, which has been downgraded with winds at 35 mph. 
Very heavy rainfall is forecast, even by the most tame models. Below you can see some big numbers on our local maps.  It's only a matter of time until someone suggests, 'If this was only a winter storm".
Surface Weather And TD Ida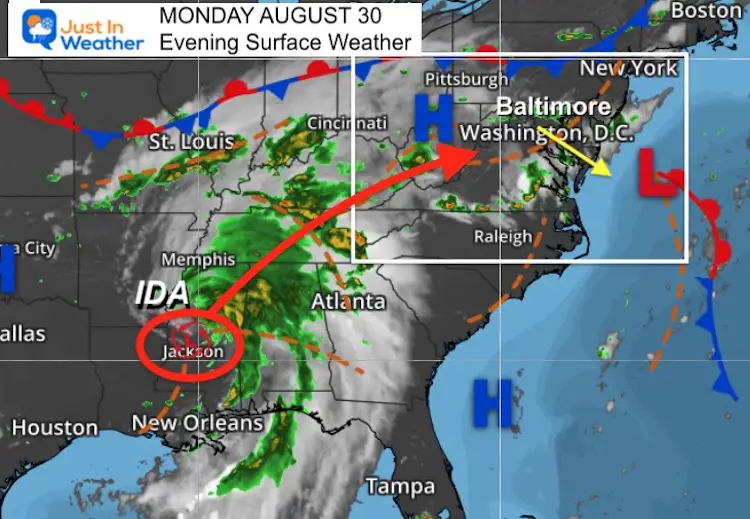 Satellite Loop
Despite the downgrade, there is a large circulation still spinning out.  Plenty of moisture and instability will still produce severe weather. 
Severe Risk
When this passes our region, we can still get sustained winds 20 to 40 mph.
We may also have:
Severe thunderstorms with much gusts over 60 mph.
Scattered tornadoes.

 
Flash Flood Watch
The concern is all of this moisture on top of already saturated ground. That is why Flash Flood Watches have been issued already for rain arriving on Wednesday.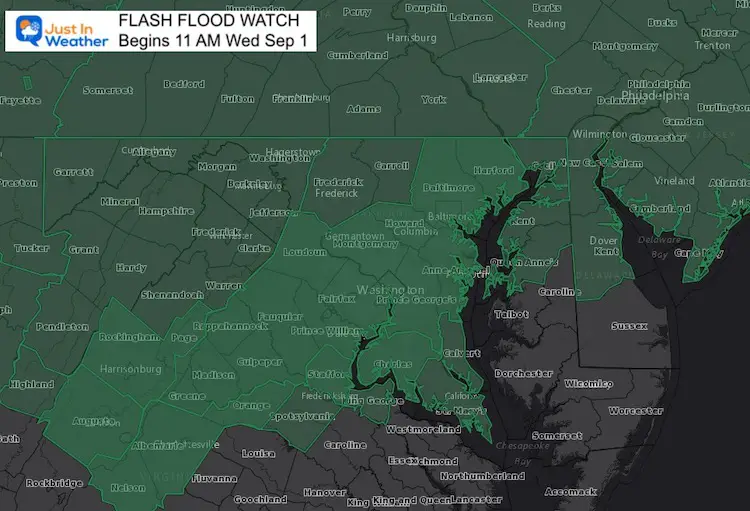 Storm Tracking
My prior post compared the forecast track from the European and GFS Models to the National Hurricane Center (NHC) plot for the remnant Low of Ida.  I had mentioned the NHC was better equipped to handle this cyclone, and now it appears those other two models are nearly identical with that track through central Maryland. 
NHC Forecast Track and Timing
This actually tracks the core Low Pressure between Baltimore, Washington, and Annapolis just after midnight into early Thursday morning. 
This will be considered a 'post tropical cyclone' at that time. No longer a Hurricane!
Impact on the water: Sloshing on the Chesapeake will be similar to coastal flooding with a Nor'easter. It will not be storm surge since this is coming from the land.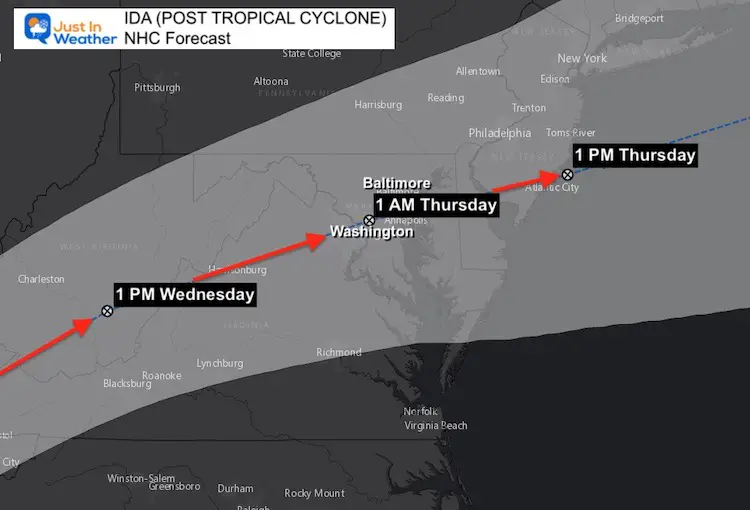 Animated Model Simulations 
The Euro and GFS are both in very tight agreement on this track.
ECMWF Model
GFS Model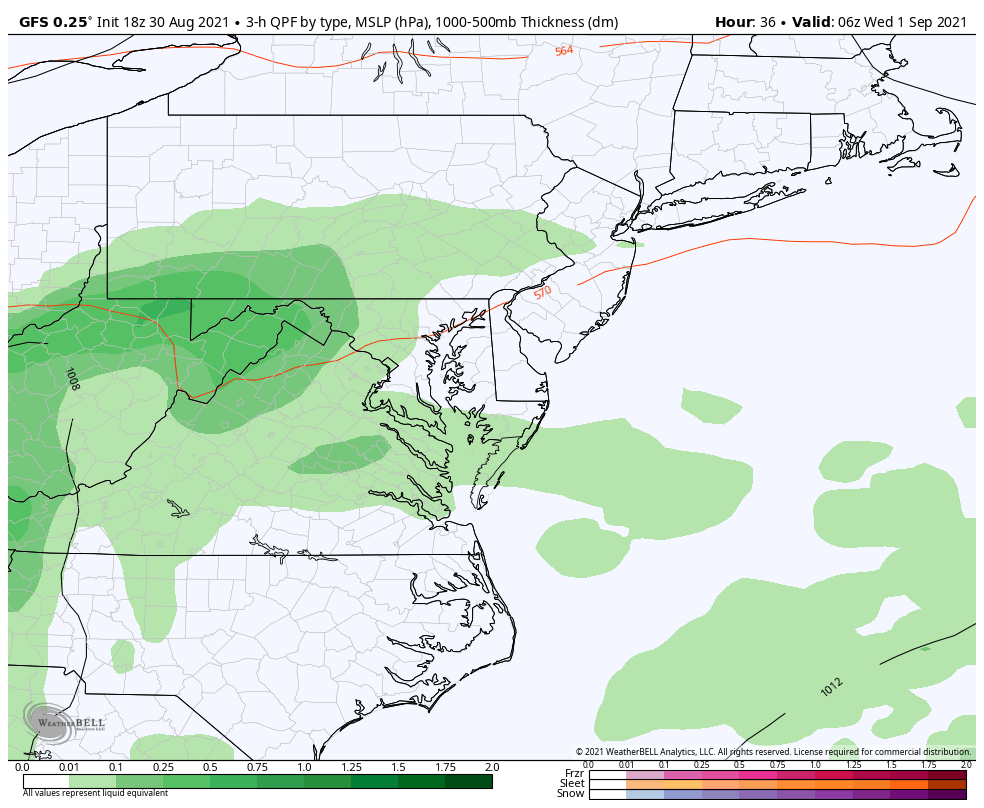 Rainfall: 
That is where it differs, but still all high enough for flooding.
The heaviest rain will be along and north of the track of the core Low.
ECWMF Model
This is the high end of expectations.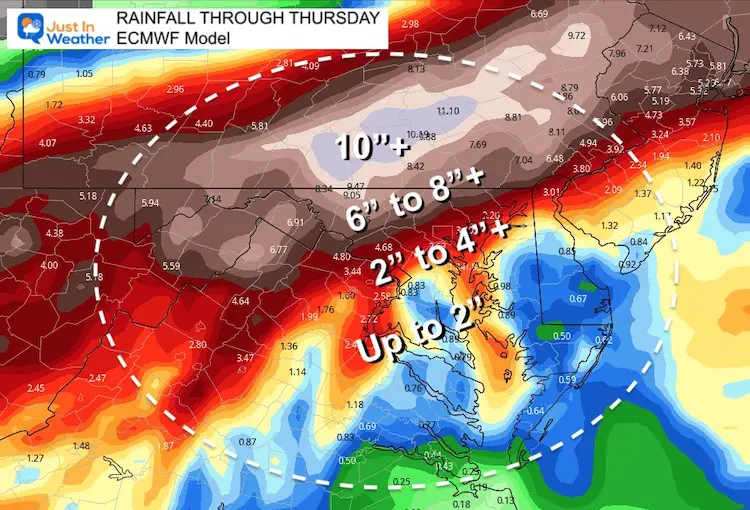 GFS Model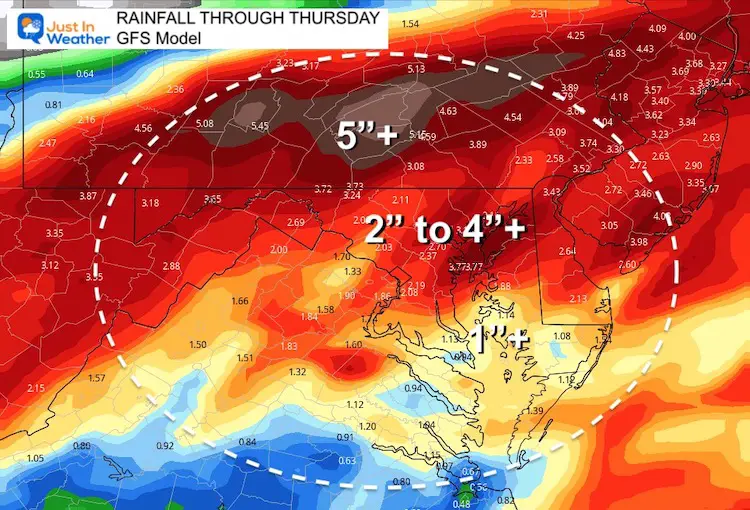 NDFD- National Digital Forecast Database
My Notes:
Wednesday will be be rainy.
The heaviest rain will be Wednesday evening and overnight.
Winds will increase Wednesday afternoon and evening.
Storms may produce severe limits with gusts over 60 mph.
A few spin up tornados are very possible.
Most of our region can expect between 2 to 4 inches of rain.
Heavier rain will fall north of Baltimore, lighter amounts to the south.
Thursday may start with rain, but the storm will move away in the afternoon.
Much cooler and more pleasant temperatures will follow the storm.
Interactive Widget
Check the wind field from the GFS Model on your own here.
Use the controls to pan and zoom the map view.
INTERACTIVE WEATHER PAGES
14 Local Maryland Pages (and York PA)
We have made a page for Maryland Weather which gives you the current conditions for 14 present area locations.
Local Hourly Forecasts and Local Radar
Central Maryland
Delmarva
Pennsylvania
Maryland Trek Gear

Maryland Trek 8 Says THANK YOU!
Running Total Raised $116,438
During 329 Miles From Wisp To Ocean City
To Honor Kids In Cancer Treatment and Support FREE Programs At Just In Power Kids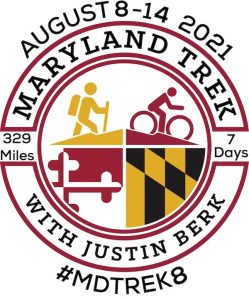 Please share your thoughts, best weather pics/video, or just keep in touch via social media