Monday Afternoon August 30
Tropical Storm Ida continues to weaken the central wind field, but a tremendous amount of rain is still on the way.   Before getting to the expanded Flash Flood Watch in our region, there is a separate weather event on the way later today.
Showers and Thunderstorms will develop in the mountains this afternoon and track through the region through tonight. Below is a look at this first band of rain, then more on the impact from Ida on Wednesday.
Today: Radar Simulation —> slider
This model has often under estimated the amount of rainfall. Some storms may reach severe limits. If so, local warnings will be issued.
Wednesday: Flash Flood Watch
Most of our region can expect between 1 to 4 inches of rain, but some areas may much higher amounts.
Rain will arrive in the morning, but be heaviest at night, then ending Thursday morning.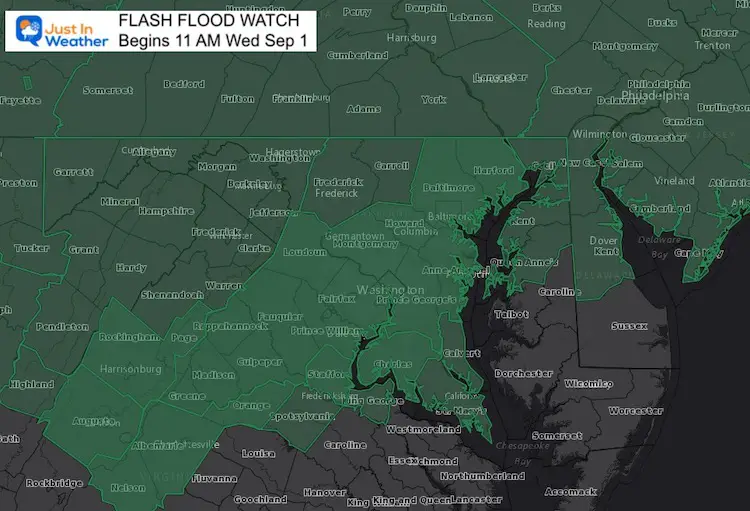 Afternoon Surface Weather And TD Ida
Tropical Depression Ida has sustained winds down to 40 mph. The wind field extends 195 miles from the center. Further weakening will downgrade this to a Tropical Depression today.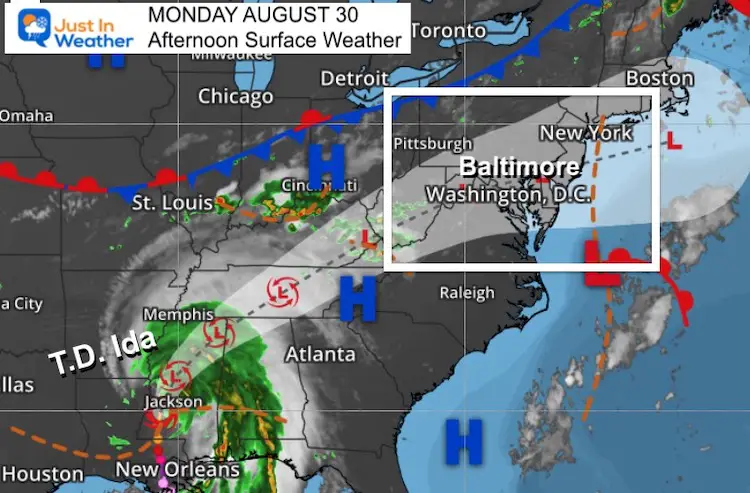 Forecast Track
The track is set to move through Maryland by Wednesday night. This is all based on an increase in forward speed, which we have not seen yet.  
That timing will also play a vital role in the track of the Low.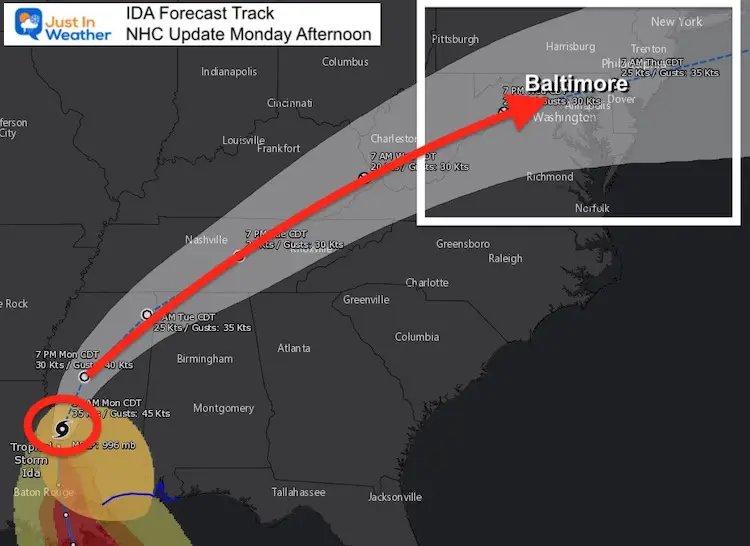 Closer View
This is very important!  Then National Hurricane Center is plotting the  Low to pass through Maryland near or south of Baltimore. 
This is important because the heaviest rain will just north of the Low's path.  The risk of severe storms, including tornados will be along the path and to the Southeast.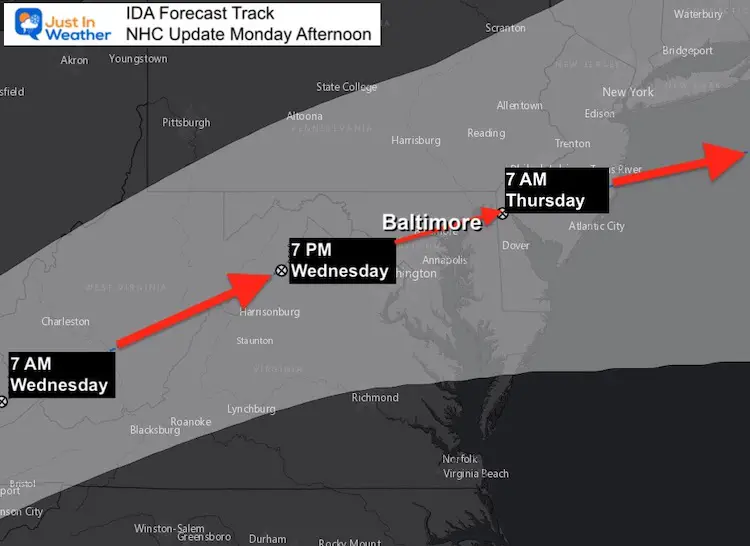 Computer Model Tracks
The European ECMWF Model and GFS Model are in more agreement on the path of the Low just west and north of Baltimore. 
This pushes the heaviest rain into central Pennsylvania, but increases the risk for severe storms.
These are global models, but specialize in Mid Latitude storms.  Ida will be a remnant tropical system and behaves differently. It will be critical to see if the NHC Plot or these models are more accurate for what aspect we get.
ECMWF Model
Rain will spread well ahead of the Low, so we can busy weather most of the day.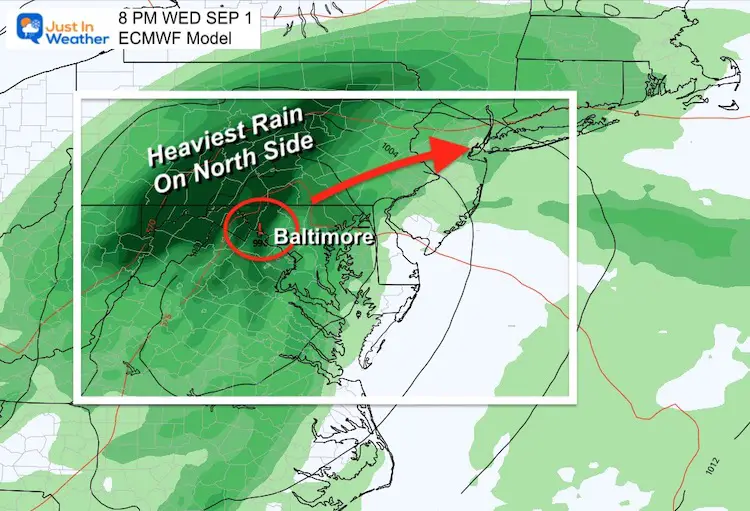 GFS Model
Rainfall Potential
ECWMF Model
This is the high end of expectations.
GFS Model
Less than the Euro, but still heavy rainfall shown here.
When the track is narrowed down, we can specify where the highest chance for tornados may be.
7 Day Forecast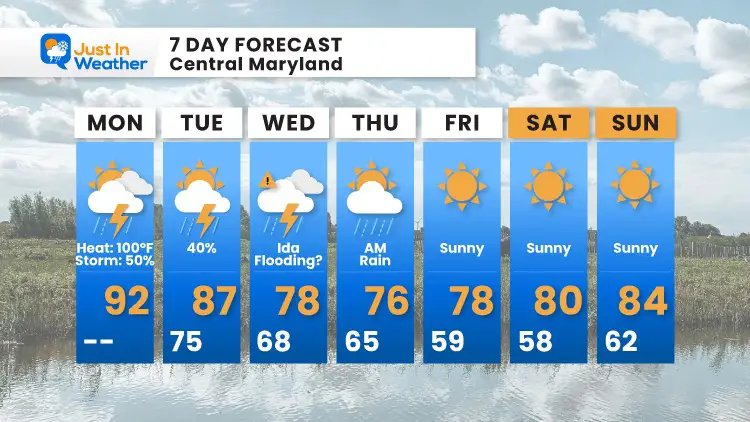 Interactive Widget
Check the wind field from the GFS Model on your own here.
Use the controls to pan and zoom the map view.
INTERACTIVE WEATHER PAGES
14 Local Maryland Pages (and York PA)
We have made a page for Maryland Weather which gives you the current conditions for 14 present area locations.
Local Hourly Forecasts and Local Radar
Central Maryland
Delmarva
Pennsylvania
Maryland Trek Gear

Maryland Trek 8 Says THANK YOU!
Running Total Raised $116,438
During 329 Miles From Wisp To Ocean City
To Honor Kids In Cancer Treatment and Support FREE Programs At Just In Power Kids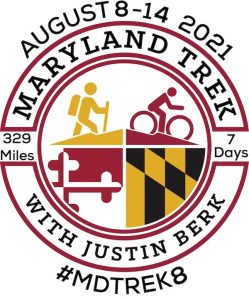 Please share your thoughts, best weather pics/video, or just keep in touch via social media