Thursday August 26 2021
Tropical Storm Ida was quickly named this afternoon as The National Hurricane Center identified the circulation of Low Pressure in the Caribbean.  At first glance this may seem far away, but it has potential to be a dangerous system in the US, with father reaching impacts for us next week.
The primary focus will be the track moving over warmer water in the Gulf of Mexico. This will allow it to intensify. But as we have often seen, rapid growth beyond model forecasts remains a distinct possibility.
Surface Weather Map
Some slow growth expected as this will pass over western Cuba this weekend. Then in the Gulf is when it may really get spinning.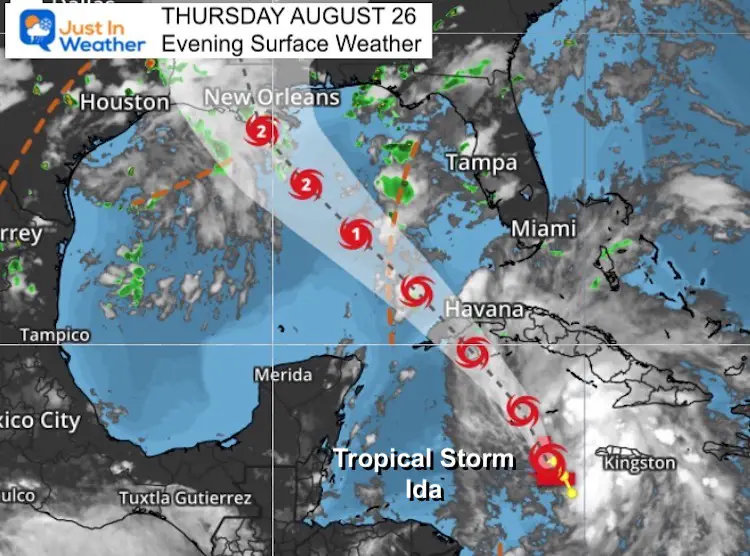 Storm Information Updated at 8 PM Thu Aug 26
———————————————-
LOCATION…18.0N 80.1W
ABOUT 115 MI…185 KM SE OF GRAND CAYMAN
ABOUT 120 MI…195 KM W OF NEGRIL JAMAICA
MAXIMUM SUSTAINED WINDS…40 MPH…65 KM/H
PRESENT MOVEMENT…NW OR 310 DEGREES AT 13 MPH…20 KM/H
MINIMUM CENTRAL PRESSURE…1006 MB…29.71 INCHES
WATCHES AND WARNINGS
A Tropical Storm Warning is in effect for…
* Cayman Islands
* Cuban provinces of Matanzas, Mayabeque, Havana, Artemisa, Pinar
del Rio, and the Isle of Youth
Satellite Loop
Broad circulation of high clouds and storms will gradually get more organized over the next few days.
Forecast Path/Cone and Sea Surface Temperatures 
Tropical systems feed off of warm water. They need 78ºF to sustain energy. But above 84ºF, strong cyclones can grow.  Here we see water temps above 88ºF in the northern Gulf of Mexico…. Just ahead of landfall. 
Should the track remain with limited sheer, this has potential to grow higher than a Category 2 as shown here.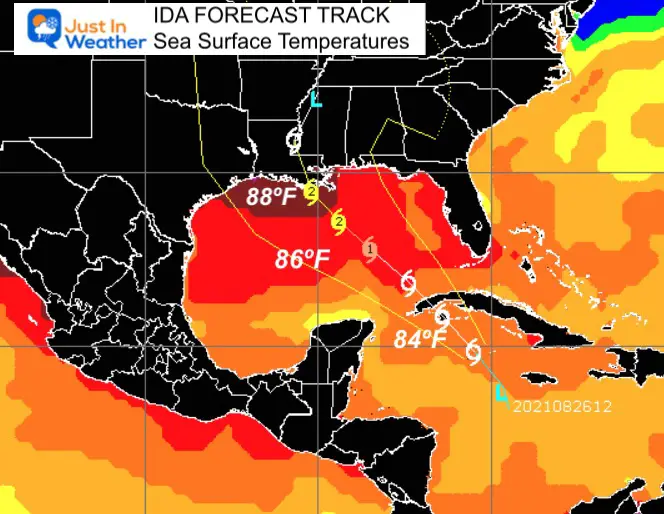 Computer Model Forecast Intensity 
This plot of numerous models shows agreement of at least a Category 2 Hurricane (winds 96 mph to 110).
Category. Is over 111 mph and considered a major storm… Here we see 4 out of 20 model members show that, or 20% chance.  But The Gulf of Mexico often brings surprises, with rapid intensification.
There are other factors that an influence a tropical environment. If this can list the sheer, we should see the odds of a Cat 3 or higher increase.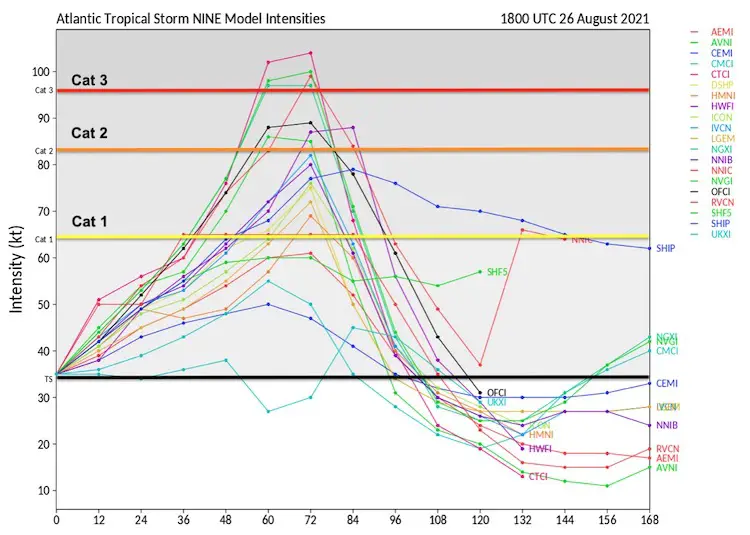 Compare Model Forecast 
(spaghetti plots)
There still seems to be very good agreement with this system to reach the Louisiana coast.  It is rare to see 'consensus' like this so early in the formation.  
What I will show below is that there is still a wide range of landfall plots and timing, so the models are not as uniform as might seem here. 
Note: This storm may very well impact our weather in the Mid Atlantic by the middle of next week.  That is why extra attention will be paid to tracking the progress, and inland expectations.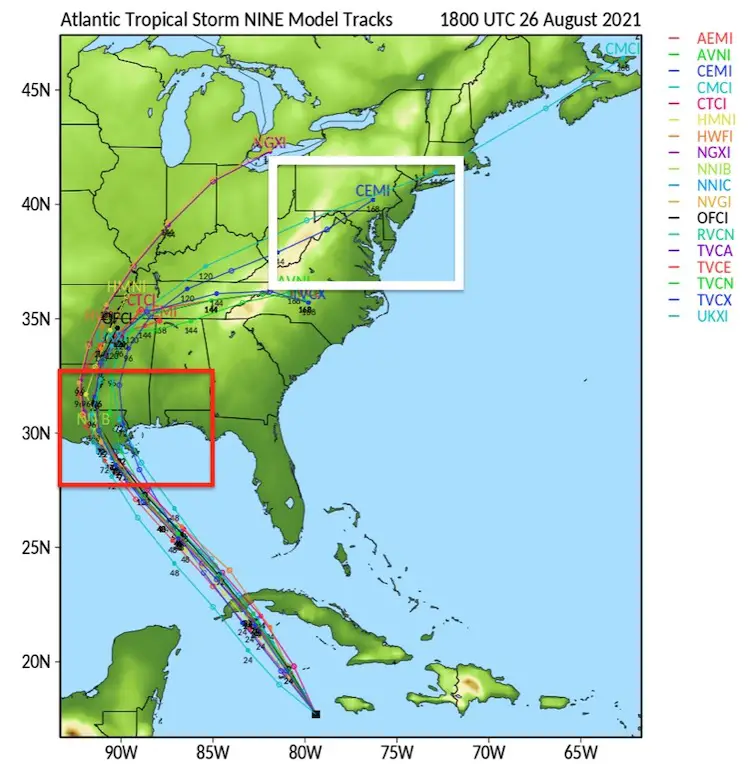 Forecast Track/Timing
This plot was generated by The National Hurricane Center. Their forecast team digests all the data extremes to come up with a likely scenario… But with some wiggle room.
Compare this to the model plots below. 
Forecast Animation: HWRF Model
GFS Model Vs European ECMWF
Landfall from The GFS is almost 100 miles east and nearly a full day early (Sunday 10 AM) than the European Model (Monday 5 AM).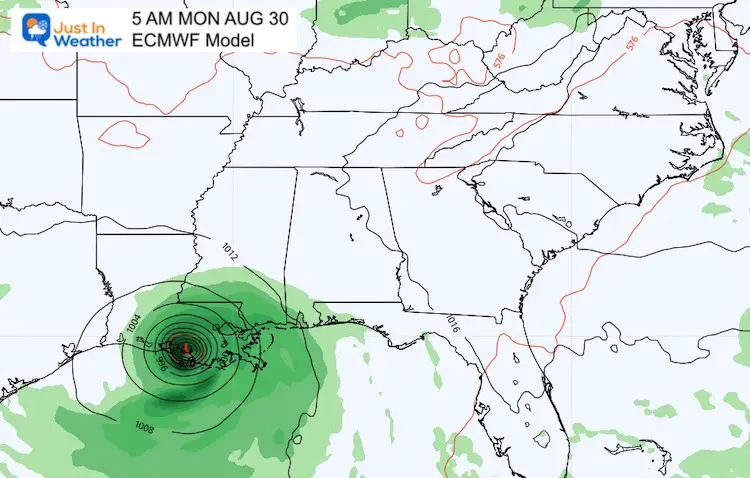 Impact on The Mid Atlantic…
Earlier I showed the Jet Stream plotting the circulation and cooler air/rain reaching us by the middle of next week. I still think that is very likely. Let's wait for the overnight models to digest the new data, and I will have an update plot in my morning report. 
Interactive Widget
Check the wind field from the GFS Model on your own here.
INTERACTIVE WEATHER PAGES
14 Local Maryland Pages (and York PA)
We have made a page for Maryland Weather which gives you the current conditions for 14 present area locations.
Local Hourly Forecasts and Local Radar
Central Maryland
Delmarva
Pennsylvania
Maryland Trek Gear

Maryland Trek 8 Says THANK YOU!
Running Total Raised $116,098
During 329 Miles From Wisp To Ocean City
To Honor Kids In Cancer Treatment and Support FREE Programs At Just In Power Kids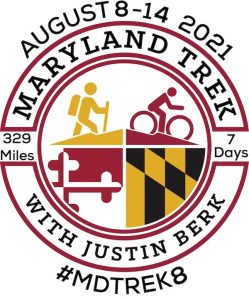 Please share your thoughts, best weather pics/video, or just keep in touch via social media