The eruption of severe storms that hit our region on Thursday July 29, 2021 left pockets of destruction. The region was under a Tornado Watch, and multiple Tornado Warnings were prompted in central Maryland during the afternoon.
One particular cell develop across Southern Carroll County and crossed I-70 into Howard County. This kept redeveloping south and seemed to reach maximum intensity over Columbia. 
Storm Damage 
According to a Tweet from Howard County Fire and EMS 
"HCDFRS is on scene in the 9000 block of Snowden River Pkwy, Columbia. | Exterior facade damage, no structural damage reported. | Building has been evacuated as a precaution and is closed at this time. County Inspections, Licenses & Permits dept will assess structural integrity."
At first they would not confirm if it was storm damage, but this BJ's Store and Tire Center is identified in the National Weather Service Storm Survey.
...NWS DAMAGE SURVEY FOR 7/29/21 COLUMBIA MD EF0 TORNADO 
*NWS reports are issued in all CAPS
* THE INFORMATION IN THIS STATEMENT IS PRELIMINARY AND SUBJECT TO 
  CHANGE PENDING FINAL REVIEW OF THE EVENT(S) AND PUBLICATION IN 
  STORM DATA. 
COLUMBIA MARYLAND TORNADO…
RATING:

               

EF-0
ESTIMATED PEAK WIND:

   

70 MPH
PATH LENGTH /STATUTE/:

 

0.3 MILES
PATH WIDTH /MAXIMUM/:

 

50 YARDS
FATALITIES:

           

0
INJURIES:

             

0
START DATE:

           

JULY 29 2021
START TIME:

           

5:07 PM EDT
START LOCATION:

       

COLUMBIA MD / HOWARD COUNTY MD
START LAT/LON:

         

39.1811 / -76.8219
END DATE:

             

JULY 29 2021
END TIME:

             

5:08 PM EDT
END LOCATION:

         

COLUMBIA MD / HOWARD COUNTY MD
END LAT/LON:

           

39.1823 / -76.8167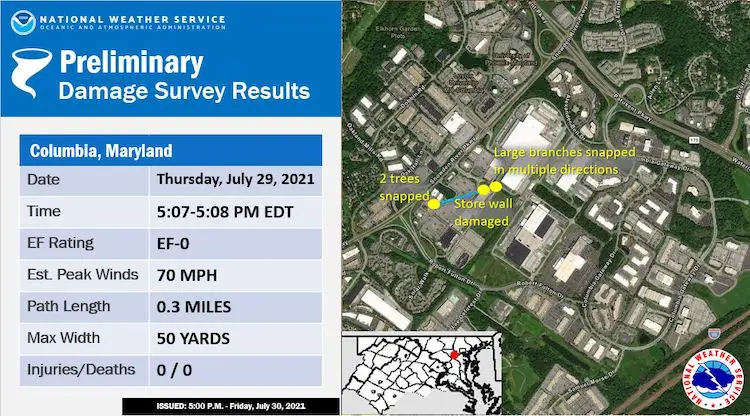 SURVEY SUMMARY:
A BRIEF EF0 TORNADO TOUCHED DOWN LATE THURSDAY AFTERNOON AT THE 
SNOWDEN SQUARE SHOPPING MALL. DAMAGE WAS LIMITED TO A QUARTER-MILE
PATH, AND PEAK WIND GUSTS WERE ESTIMATED TO HAVE BEEN AROUND 70 
MPH. 
INITIAL TREE DAMAGE WAS NOTED IN FRONT OF THE GOODWILL STORE
WHERE TWO ORNAMENTAL TREES WERE SNAPPED AT THEIR BASE. SMALL 
BRANCH AND LEAF LITTER WAS NOTED AS THE TORNADO PASSED OVER THE 
OPEN PARKING LOT TOWARDS A BJS STORE.
AS THE TORNADO PASSED OVER  A BJ'S STORE AND TIRE CENTER, A SECTION OF THE WALL FACADE, 
ESTIMATED ABOUT 50 FEET BY 20 FEET, WAS REMOVED. THE AFFECTED WALL
WAS ON THE OPPOSITE SIDE FROM THE DIRECTION OF STORM MOTION.
AN  EMPLOYEE AT THE TIRE CENTER NOTED THAT NEARBY SHOPPING CARTS WERE 
LOFTED AND THEN RAPIDLY BLOWN TO THE NORTH. THE STORE MANAGER 
NOTED THE TIME OF THE INCIDENT FROM A VIDEO TAKEN IN THE STORE 
SHORTLY AFTER IT HAPPENED.
THAT TIME MATCHED THE TIME THAT A TIGHT
TORNADIC CIRCULATION WITH HOOK ECHO WAS NOTED RIGHT OVER THE 
SHOPPING CENTER BY THE NEARBY TBWI TERMINAL DOPPLER RADAR. TBWI 
RADAR HAD A GOOD VIEW OF THE EVENT, AND WAS JUST 10 MILES AWAY AND
SAMPLING ONLY 600 FEET OFF THE GROUND OVER THE SHOPPING CENTER. 
FINAL DAMAGE WAS NOTED TO TWO MORE MID-SIZED TREES AT THE 
END OF SNOWDEN SQUARE DRIVE.
LARGE BRANCHES WERE SNAPPED OFF AND 
THROWN IN MULTIPLE DIRECTIONS, NORTH TO SOUTHEAST. TRASH AND 
DEBRIS WAS ALSO NOTED TO HAVE BEEN BLOWN TO THE SOUTHEAST INTO AN 
ADJACENT FIELD.
NO FURTHER DAMAGE WAS NOTED PAST THIS POINT. 
THE NATIONAL WEATHER SERVICE THANKS THE HOWARD COUNTY OFFICE OF 
EMERGENCY MANAGEMENT FOR THEIR ASSISTANCE WITH THIS SURVEY.
EF SCALE: THE ENHANCED FUJITA SCALE CLASSIFIES TORNADOES INTO THE
FOLLOWING CATEGORIES:
EF0………65 TO 85 MPH
EF1………86 TO 110 MPH
EF2………111 TO 135 MPH
EF3………136 TO 165 MPH
EF4………166 TO 200 MPH
Storm Maps From That Day
Morning Outlook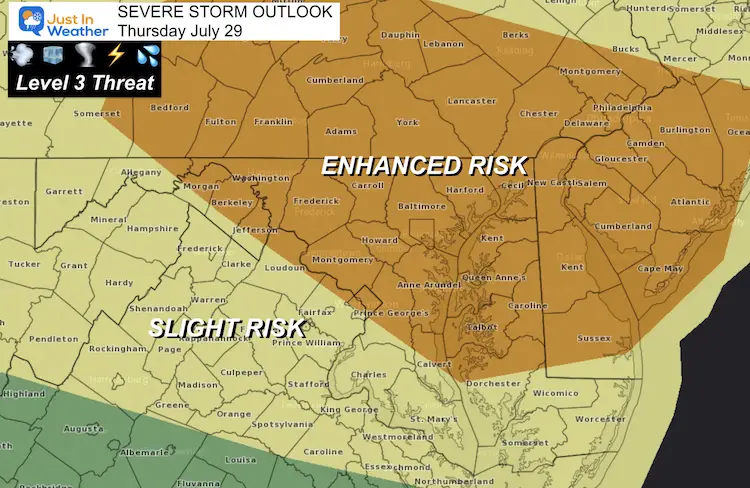 Tornado Watch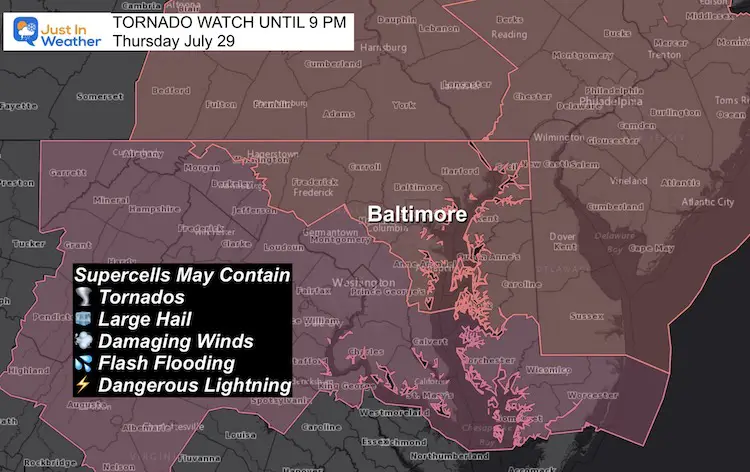 Regional Radar Loop 3 PM to 6 PM
Local Doppler Radar Snapshots —> slider
Regional Storm Reports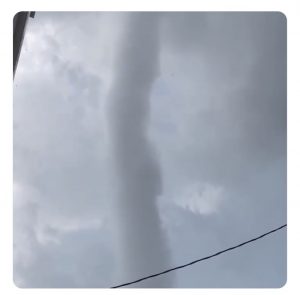 Maryland Trek 8 Begins on August 8
329 Miles From Wisp To Ocean City
To Honor Kids In Cancer Treatment and Support FREE Programs At Just In Power Kids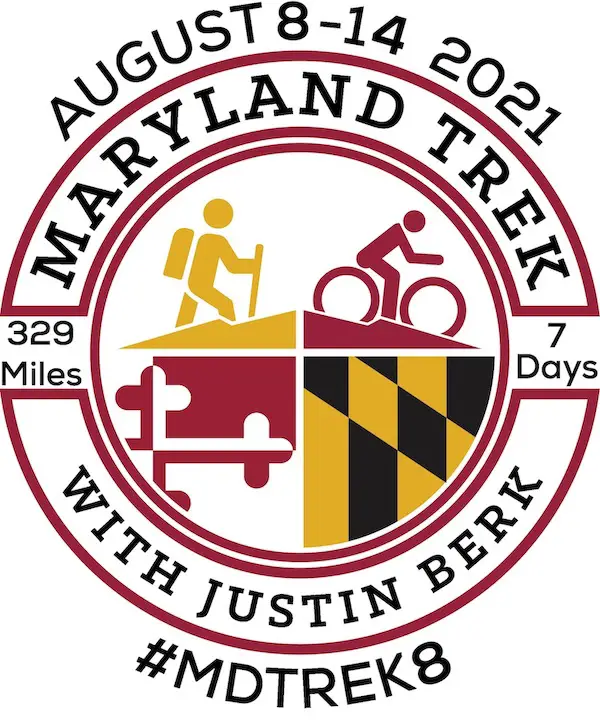 Sunshine State Of Mind
I am done with the cold and snow (for the season). I am embracing my wife's mantra of Sunshine State of Mind.
This was designed by Shannon Berk and we will be wearing it through spring and to the beach.
Double Benefit: Proceeds will be split between our nonprofit Just In Power Kids and the development of my new weather website. That has been scheduled to be ready to launch in May.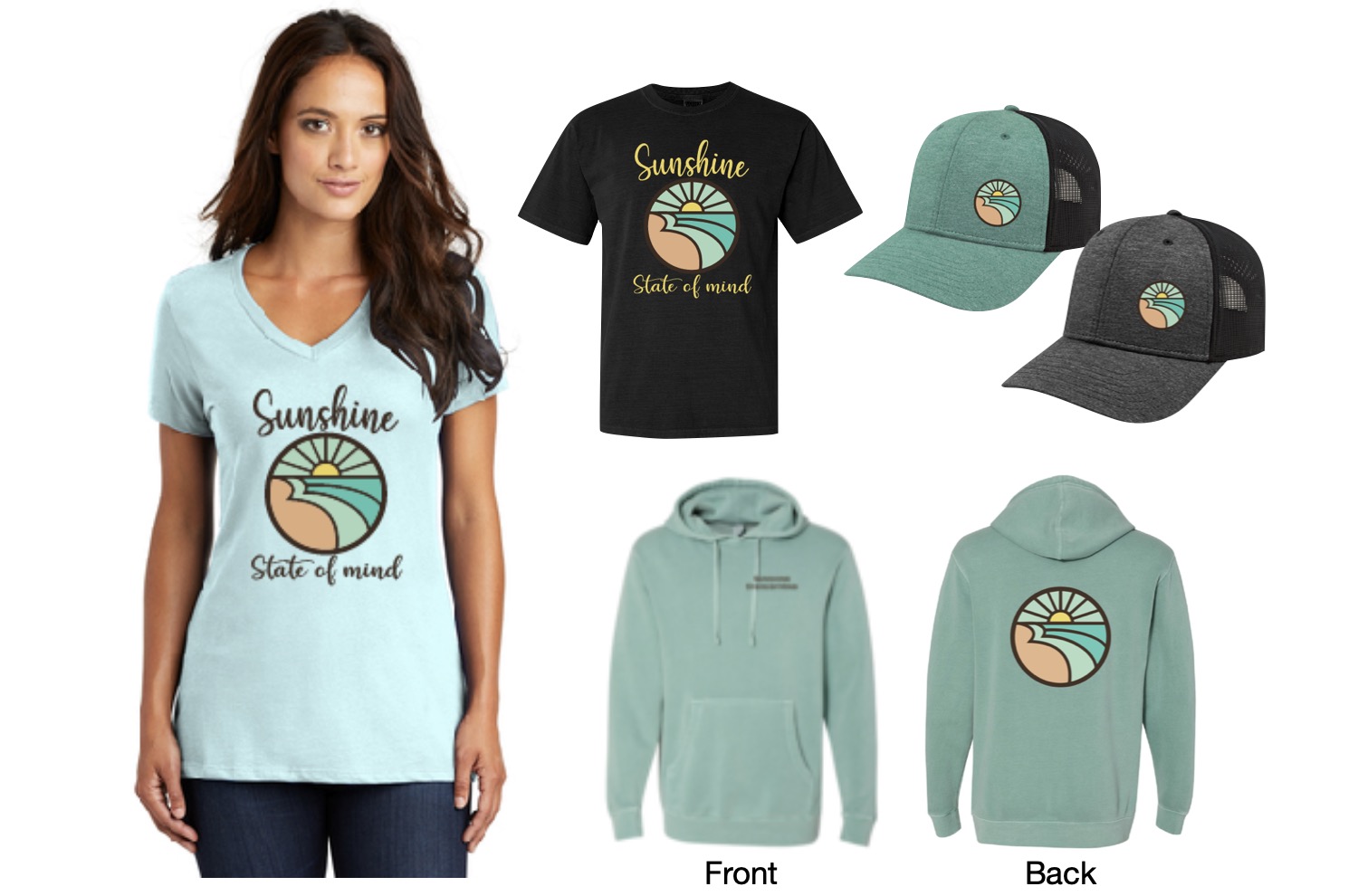 YOUR INTERACTIVE WEATHER PAGES
14 Local Maryland Pages (and York PA)
We have made a page for Maryland Weather which gives you the current conditions for 14 present area locations.
Local Hourly Forecasts and Local Radar
Central Maryland
Delmarva
Pennsylvania

Please share your thoughts, best weather pics/video, or just keep in touch via social media