Thursday July 29 2021
A Tornado Watch has been issued until 9 PM for most of our region. This follows with our Enhanced Risk for severe storms today.
A Mesoscale Convective Complex (MCC) has been tracked from the Great Lakes since yesterday, and it will be crossing our region with peak heating today. The timing appears to be arriving faster and with more coverage than the short range models (shown below) indicate.
Tornado Watch
In addition to tornados, supercell storms may contain hail over 1 inch in diameter, winds to 70 mph, flash flooding, and dangerous lightning.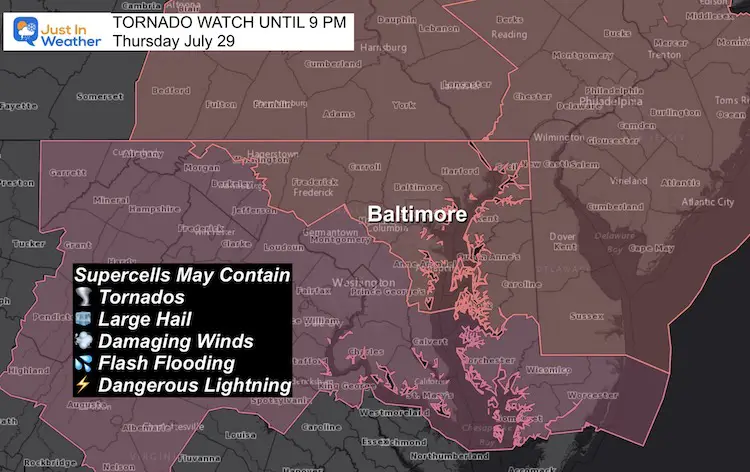 The Watch includes:
Southern Pennsylvania

 

Central Maryland
Northern Virginia
Delaware
(Beaches)
A Watch  means severe storms are likely but not promised. This will heighten the anticipation of watch for the rough weather to form.
A few Warnings may be issued. That will be when a storm with those conditions has formed. This will be tracked through specific towns in a smaller county location.  That is when you need to seek shelter.
Radar Loop
1:15 PM t0 3:35 PM
This first push is arriving earlier than the models suggest. Metro areas should prepared for the prime time between 4 PM and 6 PM, a little later on Delmarva and Southern Maryland.
While the 'Offical' Tornado Watch ends at 9 PM, this will likely be cancelled sooner after the main threat passes.
Radar Simulation Snapshot 
Here is the NAM 3 Km plot for 6 PM. This product has missed a lot of activity recently, so this may be underselling the coverage for event.
I added the animation below the radar at the bottom of this post. 
Severe Storm Parameters
These maps may tell the story better than the radar simulation (below). I've used the snapshot of 7 PM, which is when the models showed the peak activity for central Maryland. I think the parameters still apply, but 1 to 2 hours earlier.
Supercell Storms: 
These are rotating cells that can produce the most severe weather with destructive winds and large hail. The storms themselves rotate, which can produce a tornado, but does not promise that.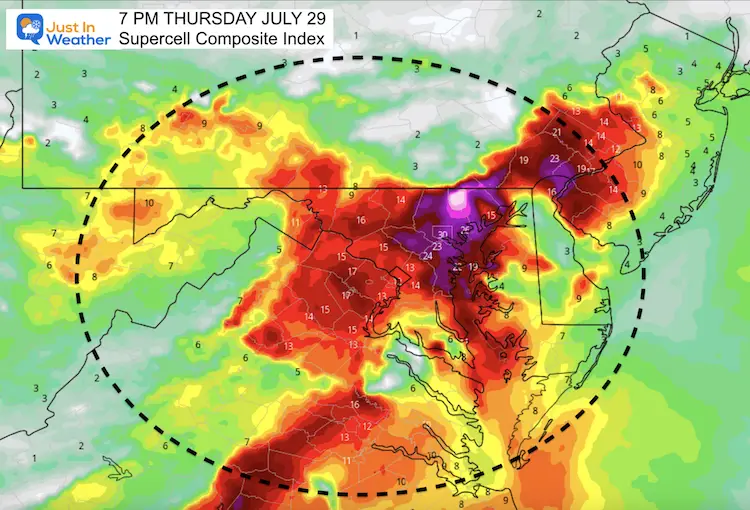 Significant Tornado Parameter
This is the likelihood that an actual funnel cloud may form and reach the ground.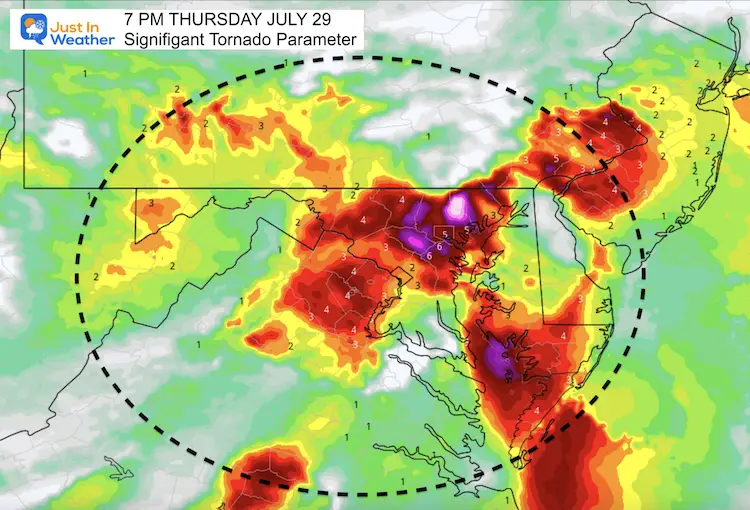 Live Radar and Lightning Widget
Compare  to the Simulation Animation below.
Radar Simulation: NAM 3 Km Model
Reminder, this is underselling the coverage for the event.
Maryland Trek 8 Begins on August 8
329 Miles From Wisp To Ocean City
To Honor Kids In Cancer Treatment and Support FREE Programs At Just In Power Kids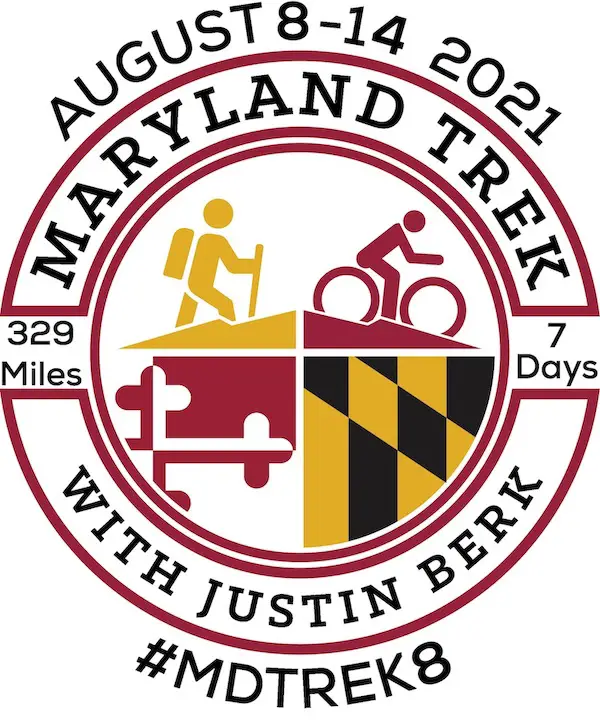 Sunshine State Of Mind
I am done with the cold and snow (for the season). I am embracing my wife's mantra of Sunshine State of Mind.
This was designed by Shannon Berk and we will be wearing it through spring and to the beach.
Double Benefit: Proceeds will be split between our nonprofit Just In Power Kids and the development of my new weather website. That has been scheduled to be ready to launch in May.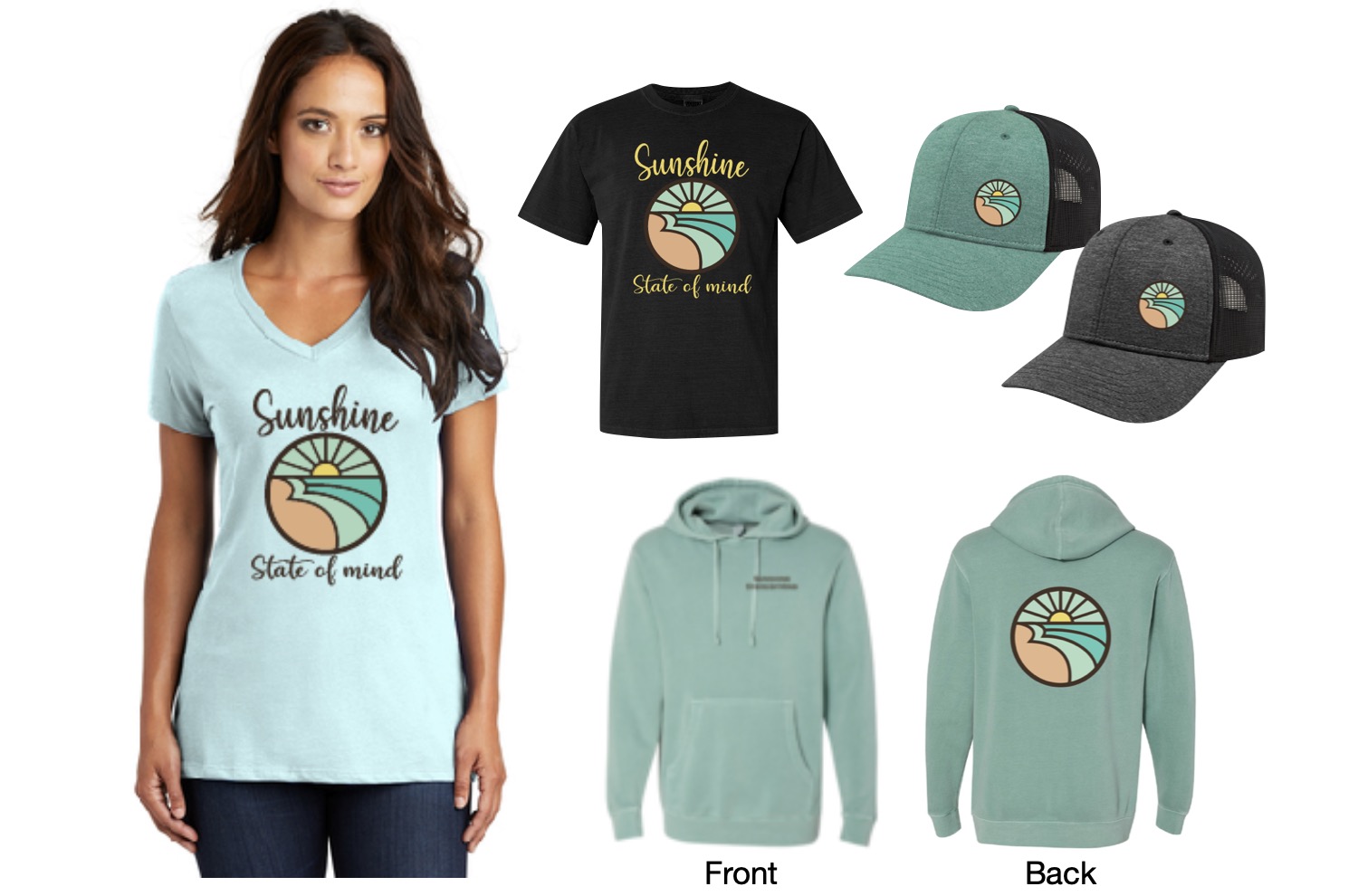 YOUR INTERACTIVE WEATHER PAGES
14 Local Maryland Pages (and York PA)
We have made a page for Maryland Weather which gives you the current conditions for 14 present area locations.
Local Hourly Forecasts and Local Radar
Central Maryland
Delmarva
Pennsylvania

Please share your thoughts, best weather pics/video, or just keep in touch via social media