Thursday July 29 2021
Severe storms were forecast in our region today, and they lived up to expectation. A Tornado Watch was issued for much of the region, and a few storm cells prompted Tornado Warnings in central Maryland. 
Video of this funnel cloud is in the report below.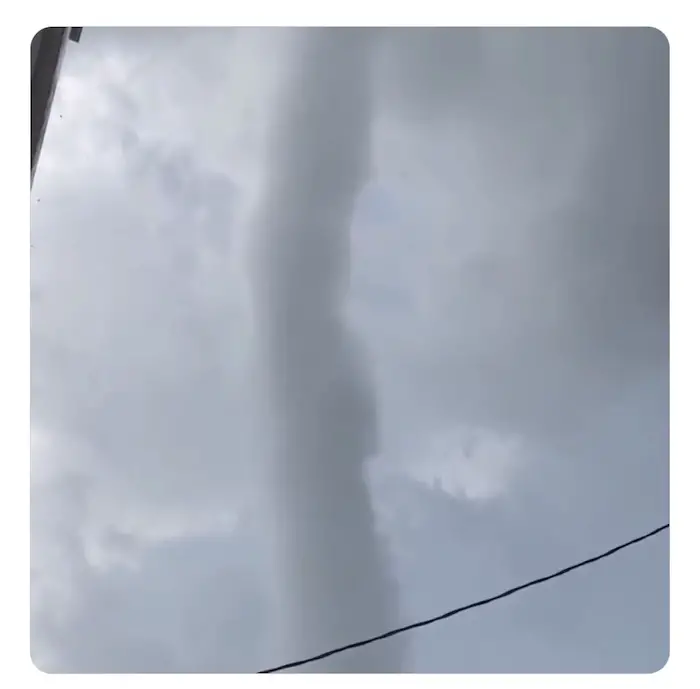 Radar Loop
The peak of the storms rolled through metro areas between 4 PM and 6 PM.  Here's  recap of the radar loop during that time.
Storm Reports
This wide view map shows the clusters of storm reports.  But I wanted to start with the two funnel clouds.
Funnel Clouds
Tower Shores, north of Bethany Beach
This one is up close and amazing!
Robbie Commodari shared this with my on Twitter, taken by his sister. It was confirmed by The National Weather Service that there was a funnel cloud offshore at that time. It does not look like it touched down.
Incredible footage from my sister around Tower Shores north of Bethany Beach, Delaware…no confirmation on if the funnel officially touched down @NWS_MountHolly @TonyPannWBAL @JustinWeather @MatthewCappucci @WeatherErik pic.twitter.com/kGyiWPuszX

— Robbie Commodari (@robcomm5) July 29, 2021
Choptank River, Maryland's Eastern Shore
This was reported at 10:52 AM. Yes, in the morning!  It looks like a waterspout, which tend to be weaker than tornados and remain over the water. 
The video confirmation was from my friend Nicki Nueweller, shared on Facebook at 11 AM. 
Side-note, Nicki's husband Josh took me across the Bay during the first few years of my Maryland Trek.  They are proud salt of the earth crabbers and water-'people' that I am glad to be friend's with. That said, you might want to turn the volume down if kids are watching with you.
Location: South of St. Michaels and west of Cambridge.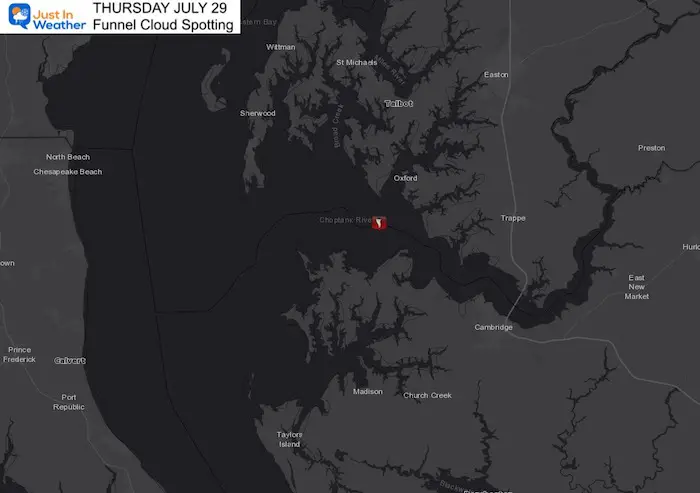 Central Maryland
Lightning In Ellicott City
From Laurie Pells George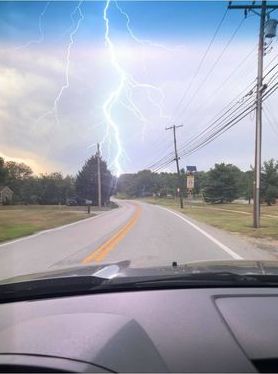 Storm Reports
Top Wind of 62 mph was recorded at BWI Airport.
A few clusters of storm damage reports are evident on the map.  One between Baltimore and Washington. Primarily tree damage in Howard, Montgomery, and Prince Georges Counties in Maryland.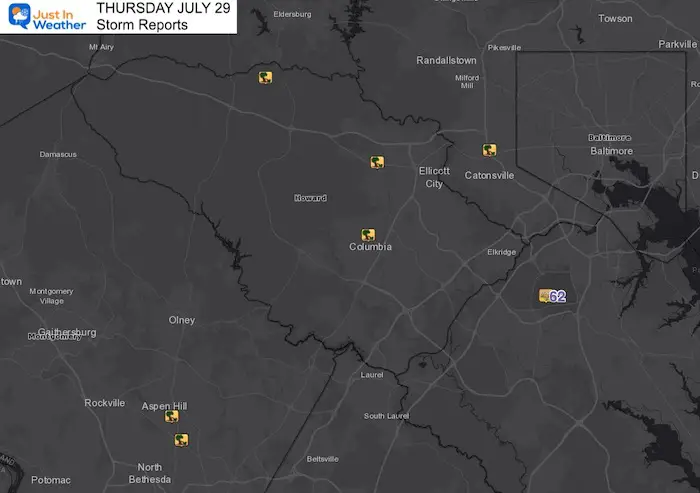 Storm Damage In Howard County 
HCDFRS is on scene in the 9000 block of Snowden River Pkwy, Columbia. | Exterior facade damage, no structural damage reported. | Building has been evacuated as a precaution and is closed at this time. County Inspections, Licenses & Permits dept will assess structural integrity. pic.twitter.com/V0GiEUKQo3

— Howard Co Fire & EMS (@HCDFRS) July 29, 2021
Storm Plotting Snapshots —> slider
Despite the Tornado Warnings, it looks like the central Maryland cell kept the rotation up in the clouds.
Virginia
The severe storm cluster between Stafford and Fredericksburg dropped the largest hail.  One report of 2.25 inches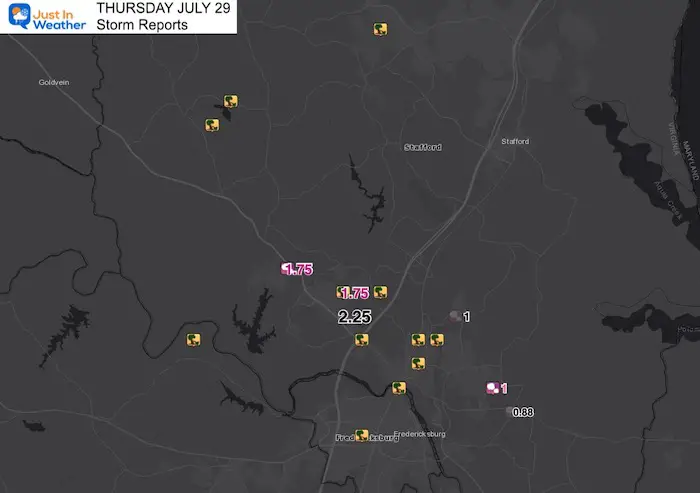 From This Morning: Storm Outlook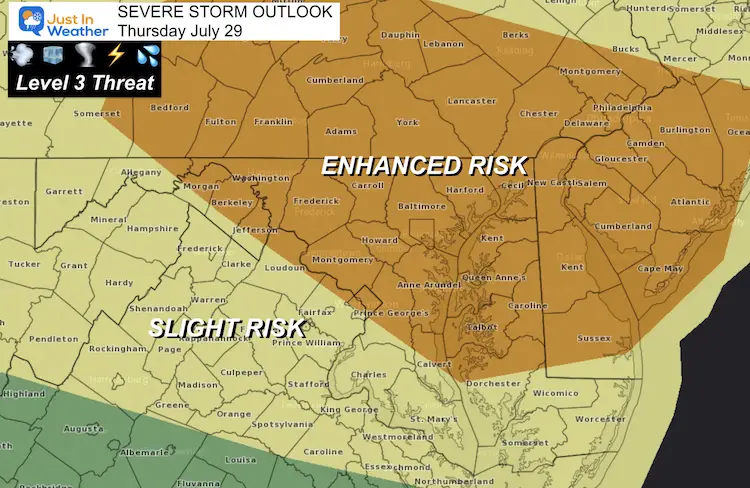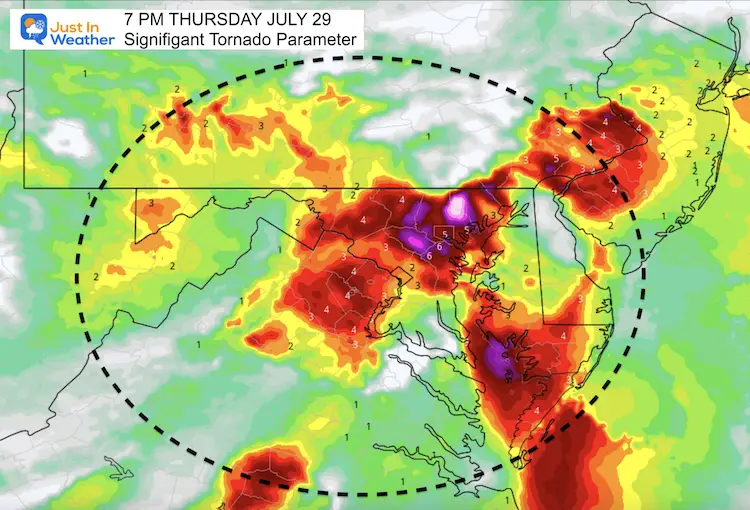 Improving Weather Ahead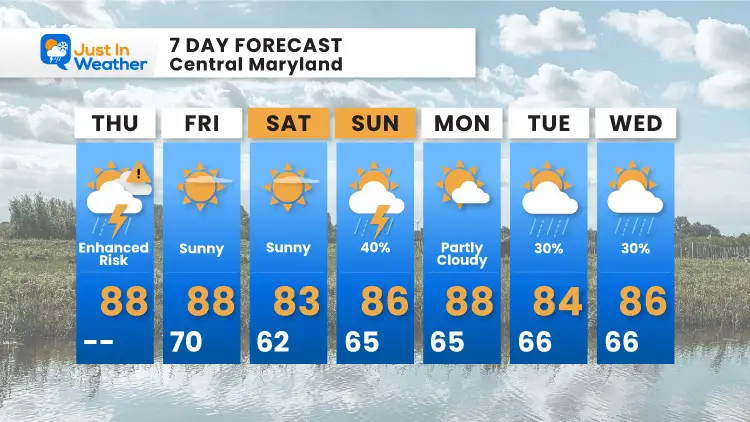 Maryland Trek 8 Begins on August 8
329 Miles From Wisp To Ocean City
To Honor Kids In Cancer Treatment and Support FREE Programs At Just In Power Kids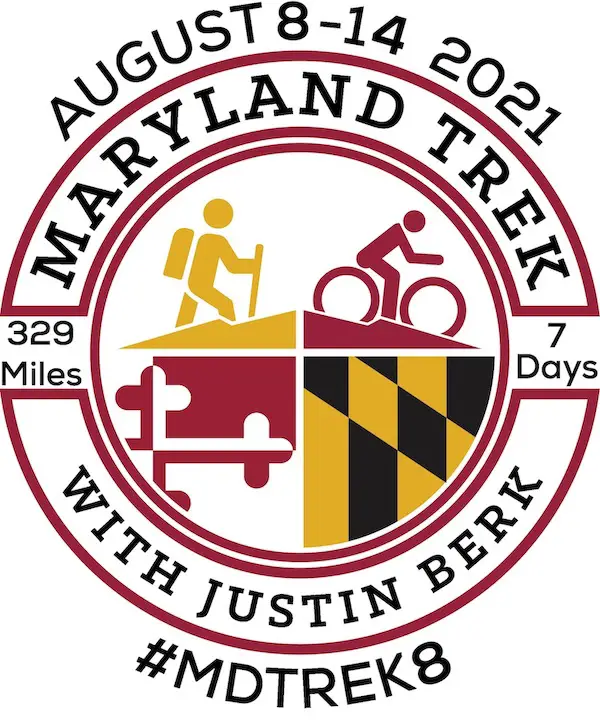 Sunshine State Of Mind
I am done with the cold and snow (for the season). I am embracing my wife's mantra of Sunshine State of Mind.
This was designed by Shannon Berk and we will be wearing it through spring and to the beach.
Double Benefit: Proceeds will be split between our nonprofit Just In Power Kids and the development of my new weather website. That has been scheduled to be ready to launch in May.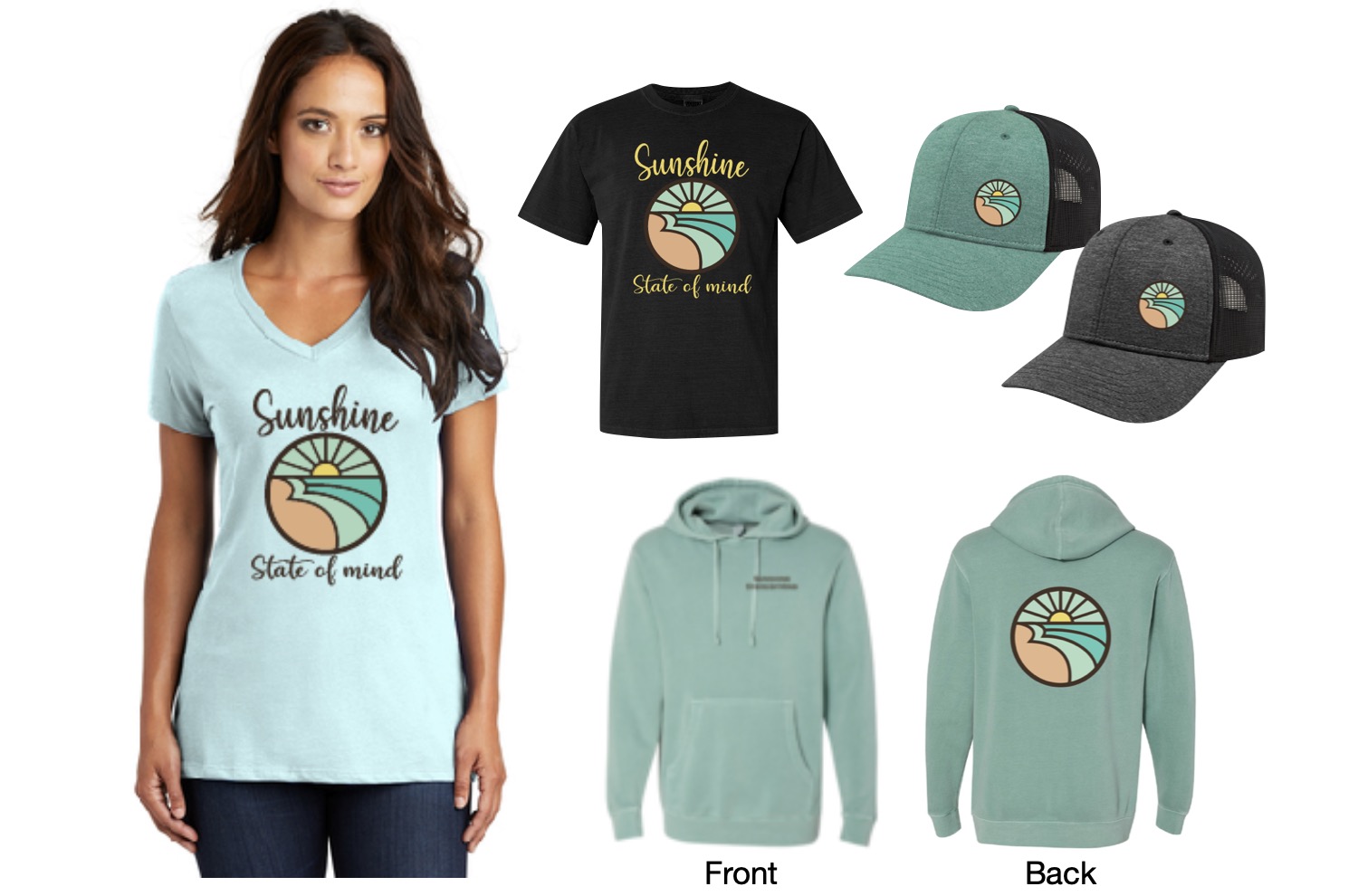 YOUR INTERACTIVE WEATHER PAGES
14 Local Maryland Pages (and York PA)
We have made a page for Maryland Weather which gives you the current conditions for 14 present area locations.
Local Hourly Forecasts and Local Radar
Central Maryland
Delmarva
Pennsylvania

Please share your thoughts, best weather pics/video, or just keep in touch via social media