Saturday June 19 2021
Tropical Storm Claudette was officially named by the National Hurricane Center. It had winds of 45 mph with gusts to 60 mph at 5 AM EDT. This may be simply academic as it was just around the time of landfall before sunrise.  It is inland now and already weakening. 
Tropical Satellite Loop
Tropical Storm force winds extend 205 mikes from the center. It is a large system, but bit well organized.
Heavy rain between between 4 to 12 inches is now pounding east of Louisiana into Alabama and Georgia.
Out Severe Storm Risk Today
With respect to our region in the Mid Atlantic, Claudette is NOT OUR STORM.  We have a different system affecting us today, and another cold front that will bring us strong storms Tuesday. However there will be tropical moisture from Claudette that will help enhance that.
Storms Today?
I have had so many requests for help about events today and storms. Today will bring pop up showers, and some may be strong. But they will be hit or miss. More widespread rain and storms will build in tonight after dark.
Radar Simulation —-> slider
In Case You Missed It:
Amazing Video of Baltimore Lightning and Storm Photos
TEMPERATURES
Weather Almanac Today: 
Climate Data For Baltimore
Normal Low in Baltimore:  62ºF; Record 48ºF in 1954
Normal High in Baltimore: 84ºF, Record 99º F 1994
Saturday Afternoon
FATHERS DAY: Warm and Humid
Sunday Morning
Sunday Afternoon
 Looking Ahead
Tropical Storm Claudette will fade to a depression by tomorrow in north Georgia,
This storm will pass to our south, then off of the coast, where it may regenerate. For most of us, it will send two impacts to our region.
Ripples in the atmosphere will help trigger more scattered storms our way Monday.
Additional tropical moisture will feed into the next cold front.
Forecast Animation: European ECMWF Model
7 Day Forecast
Sunshine State Of Mind
I am done with the cold and snow (for the season). I am embracing my wife's mantra of Sunshine State of Mind.
This was designed by Shannon Berk and we will be wearing it through spring and to the beach.
Double Benefit: Proceeds will be split between our nonprofit Just In Power Kids and the development of my new weather website. That has been scheduled to be ready to launch in May.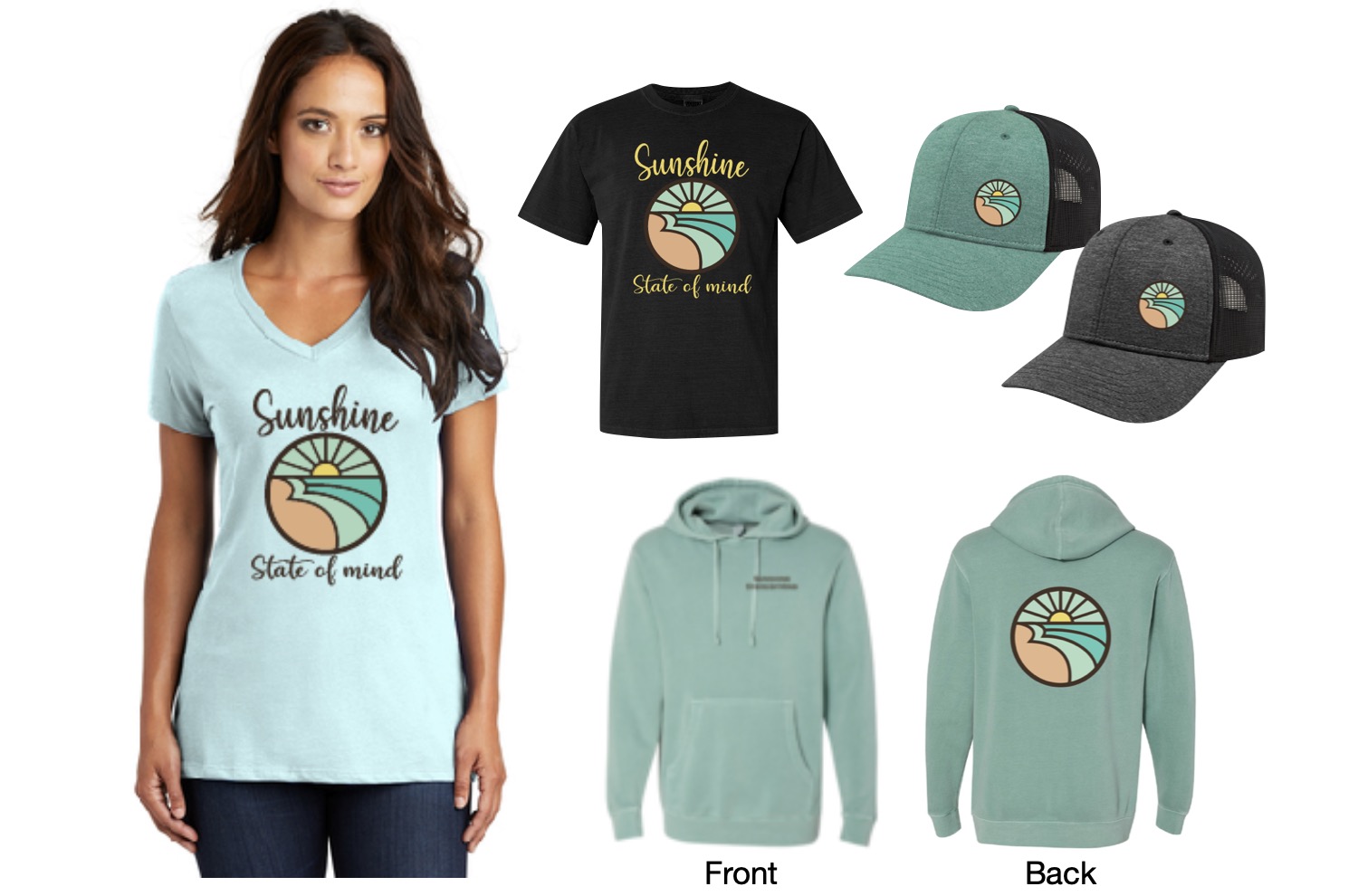 YOUR INTERACTIVE WEATHER PAGES
14 Local Maryland Pages (and York PA)
We have made a page for Maryland Weather which gives you the current conditions for 14 present area locations.
Local Hourly Forecasts and Local Radar
Central Maryland
Delmarva
Pennsylvania

Please share your thoughts, best weather pics/video, or just keep in touch via social media