Saturday May 29 2021
If you think this Memorial Weekend weather is unusual, we have the numbers to prove it. The rain that moved in Friday came with falling temperatures. They have kept falling and will not recover for two days. Both Saturday and Sunday may produce temperatures records for the coolest max each day! I really had to credit my wife and kids here: That is NOT COOL!
Let me give a little context, then we can explore the rain and rest of our forecast:
 74ºF = Friday's high temperature at Baltimore's BWI, which occurred at 1 PM. Temps fell through the 60s all afternoon.
57ºF  = Saturday's temperature at midnight. That is likely to be the warmest it will get all day.
Here are the hourly observations from BWI, with the newest at the top.
Pinch to zoom in. I know the numbers are small.
Time stamp and temperature readings are the first two columns.
Record Cool Max Temperatures 
Here are the numbers we are competing for:
May 29 = 57ºF in 2014
May 30 = 58ºF in 1915
If BWI does not get any warmer than it was a midnight, today we will tie the record set back 7 years ago.
On Sunday we have 'one' more degree cushion. If we do not get above 58ºF, that will be the coolest May 30th DAY in 106 YEARS!
Wind Forecast
This is a BIG reason for our cool weather: A persistent wind from the North-Northeast will range between 10 and 25 mph. That along with cloud cover and periods of rain will keep temps limited both today and tomorrow.
Weather Almanac: Climate Data For Baltimore
These records are extremes for the day. Note, we are aiming for how cool the temps remain in the afternoon. 
Normal Low in Baltimore:  56ºF; Record 41ºF in 1997
Normal High in Baltimore: 78ºF, Record 97 F 1969
Temperature Forecast
I've scanned four different computer models for guidance, and they all have come up with the essentially same numbers.  There was a hint yesterday that it would stay this chilly, but it was hard to believe:
Saturday Afternoon
If this verifies: The afternoon temp at Baltimore's BWI will be 27 degrees BELOW 'NORMAL',
and 5 degrees BELOW THE AVERAGE MORNING LOW!
Sunday Morning
Sunday Afternoon
Memorial Day Finally we recover…
Monday Morning
Monday Afternoon
About The Rain…
Morning Surface Weather (today)
A quasi-stationary frontal boundary is draped across the Mid Atlantic. Waves of Low Pressure will continue to ride along it.

Radar Simulation Simulation
Saturday 8 AM to Midnight
As our chilly wind remains 'from' the northeast, periods of rain will be moving from west to east.
Wide View Storm Animation
Sunday Through Tuesday
The final Low Pressure will form and move along the coast. This will seem like a Nor'easter to those vacationing at the beach.  It will finally move away on Memorial Day Monday. This will allow High Pressure to build in and warm us up a little. 
7 Day Forecast
Back closer to 'normal' next week:
Sunshine State Of Mind
I am done with the cold and snow (for the season). I am embracing my wife's mantra of Sunshine State of Mind.
This was designed by Shannon Berk and we will be wearing it through spring and to the beach.
Double Benefit: Proceeds will be split between our nonprofit Just In Power Kids and the development of my new weather website. That has been scheduled to be ready to launch in May.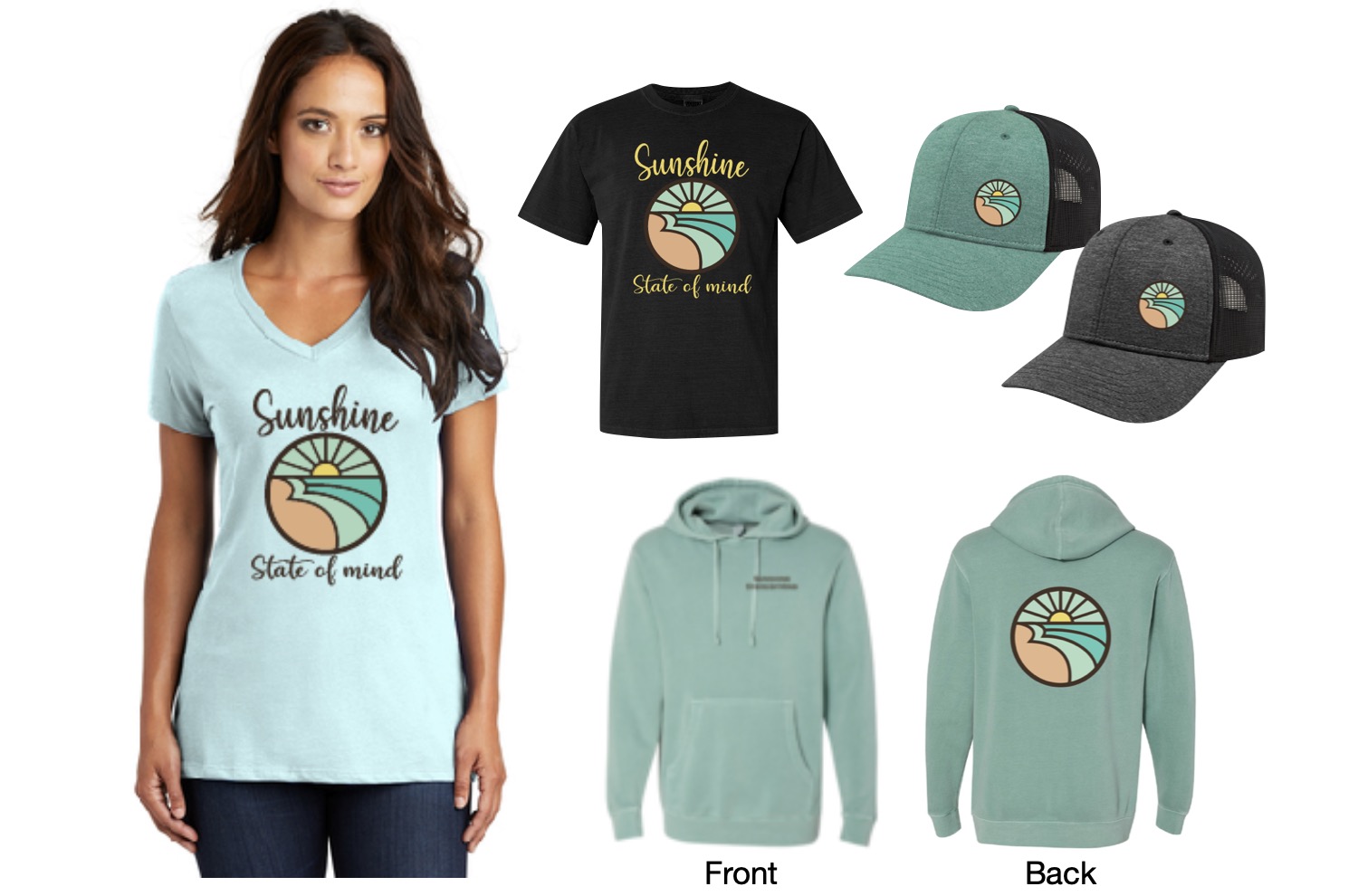 YOUR INTERACTIVE WEATHER PAGES
14 Local Maryland Pages (and York PA)
We have made a page for Maryland Weather which gives you the current conditions for 14 present area locations.
Local Hourly Forecasts and Local Radar
Central Maryland
Delmarva
Pennsylvania

Please share your thoughts, best weather pics/video, or just keep in touch via social media