Friday May 28 2021
There is a lot to unpack for this holiday weekend, and it will not be anything like the unofficial start of summer. This reminds me of a memorial weekend when I worked in Binghamton, NY in 1990s. But to have high temperatures in the 50s in the Mid Atlantic is almost unheard of. In fact, we could set a record for it.
Severe Storm Risk
Let's start with the storms erupting today. 
Slight Risk they turn severe in central Virginia.
Marginal Risk in Maryland west and south of Baltimore.

 
*Radar Simulation Below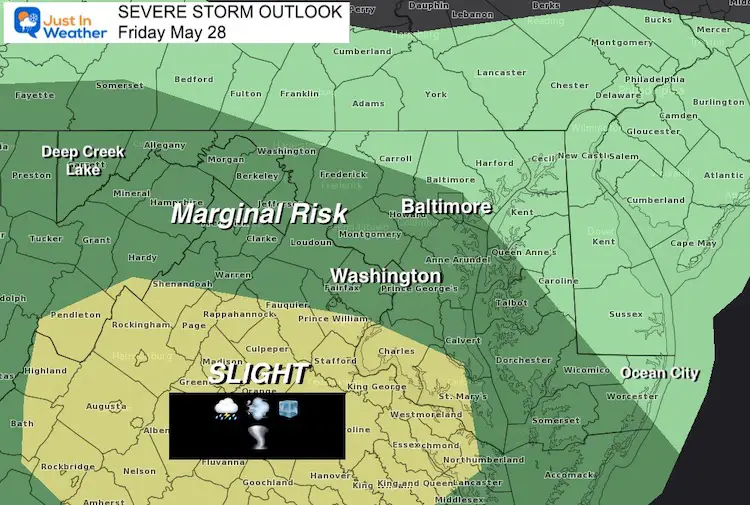 Risks:
Damaging Wind to 60 mph, Large Hail up tp 1 inch diameter, and isolated tornado. 
Alert Reminder:
Watch means it 'might' happen.
Warning: It IS HAPPENING NOW
Morning Surface Weather
A developing storm in Missouri will tap into very chilly air in New England and lock us in with rain for the next few days.
Today a brief push of storms more likely south of Washington on the other side of that front.  But the storms will ride northeast into central Maryland.
Low Pressure will swing the winds to the North, which will drag down chilly air and lock the weekend afternoons in the 50s.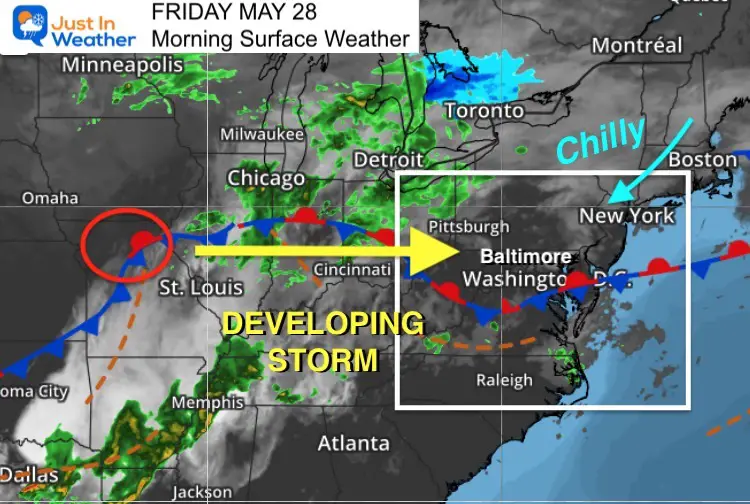 Falling Temperatures
Animation: 2 PM Fri to 2 PM Sat
This will be the most dramatic part of this weather event. Urban areas may reach 70ºF today, but most in the upper 60s.
We all fall into the 50s and suggestions shown here keep metro and beaches in the lower 50s tomorrow afternoon. Mountains and northern suburbs could be stuck in the 40s.
Record Low MAX TEMPERATURES AT BWI
May 29 (Sat) = 57ºF in 2014
May 30 (Sun) = 58ºF in 1915
Saturday's High may be in the lower 60s at midnight. 
But Sunday we have a chance to break the coldest max temperature set in 106 years ago!  Yes, it is NOT supposed to be this chilly now!
Wind Forecast
Today:
Easterly winds will keep us cool. This might also limit the severe storm risk as we watch cells arrive from Virginia.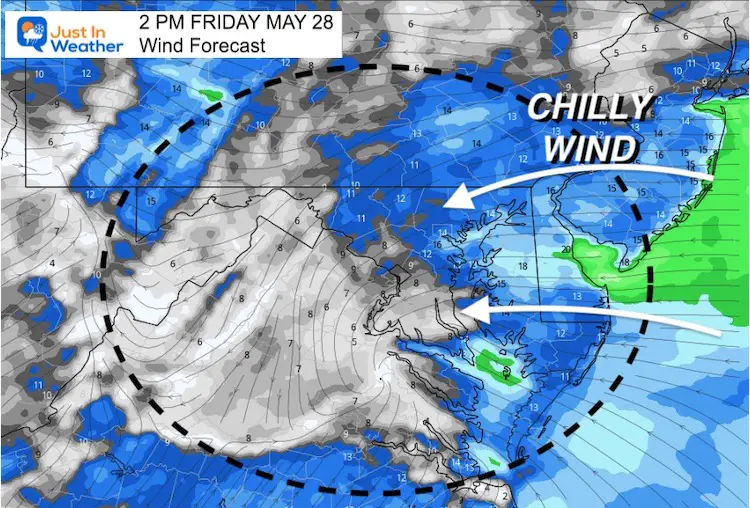 Saturday and Sunday:
Winds will be from the North-Northeast. This is what will lock in the chilly air, along with rain showers.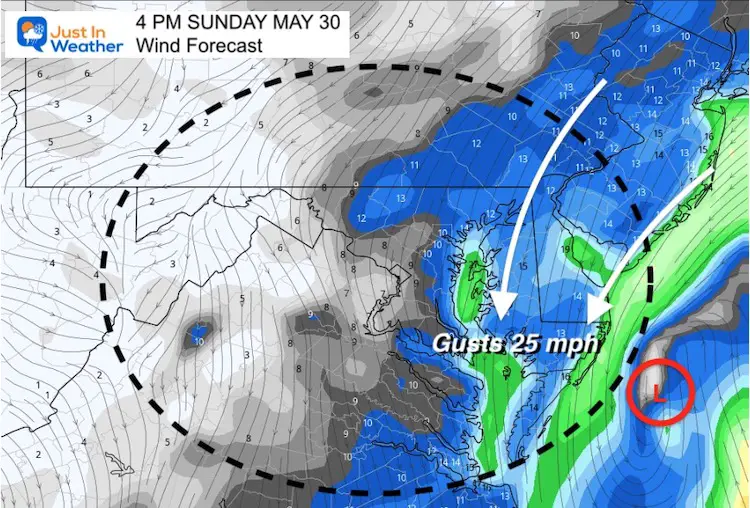 Radar Simulation 10 AM To Midnight
Developing showers become more widespread with rain during the afternoon.
A few storm cells may contain thunder. 
Severe Storm Risk increases west and south of the cities.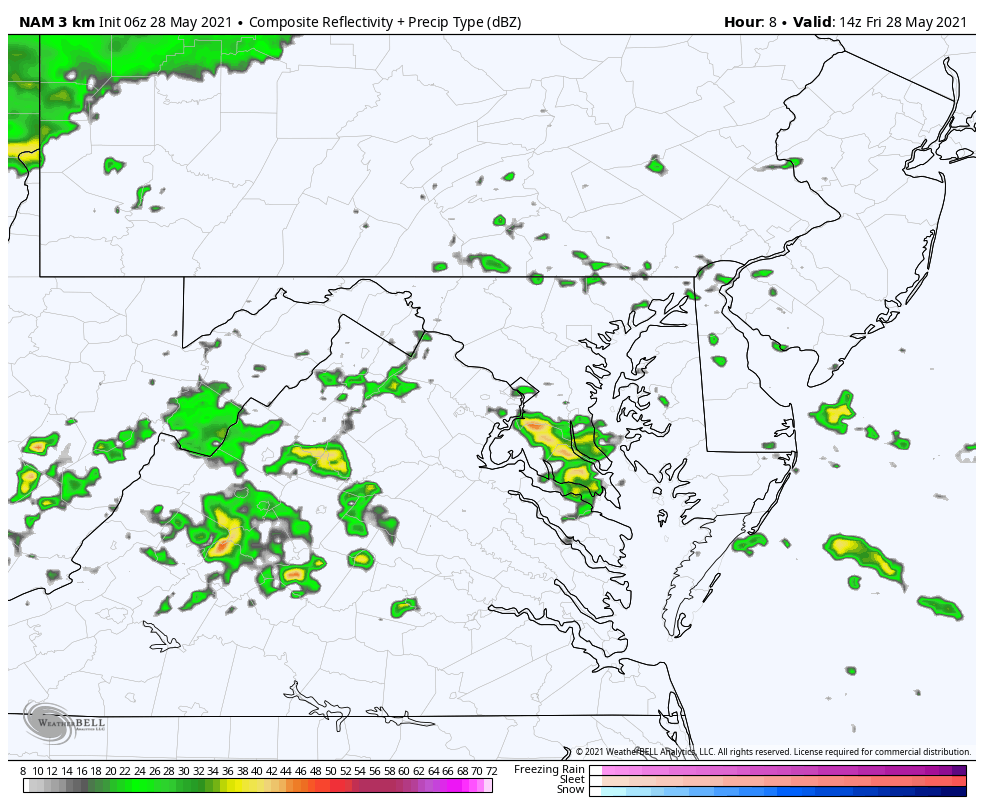 Weekend Rain
Saturday
Steadier rain will be around the Bay to the Beaches, with showers lingering west and north.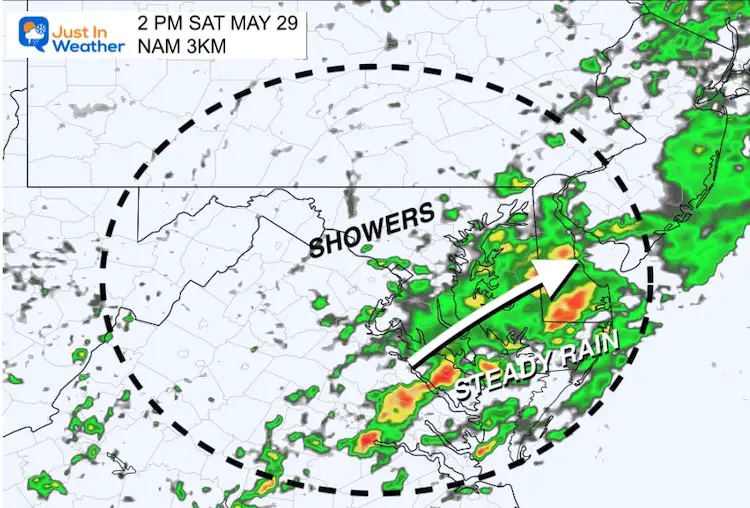 Sunday
Bands of rain will continue to move from south to north
(Reminder the winds will actually be from the opposite direction)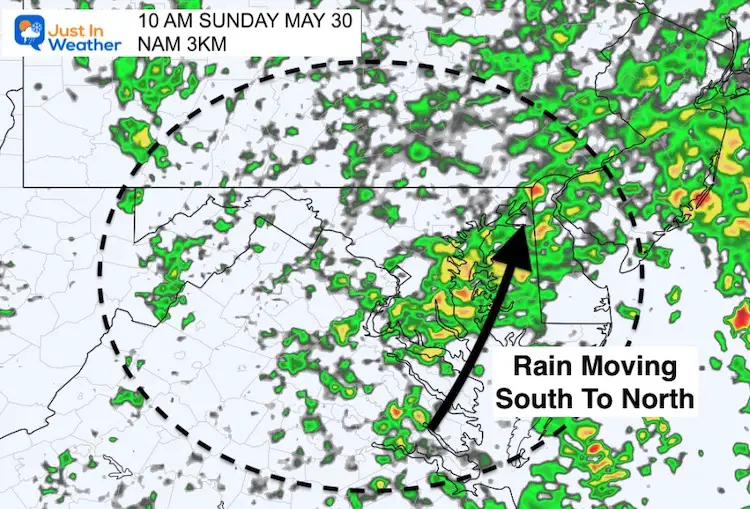 Rain Totals
We have a deficit, so this is actually beneficial rain.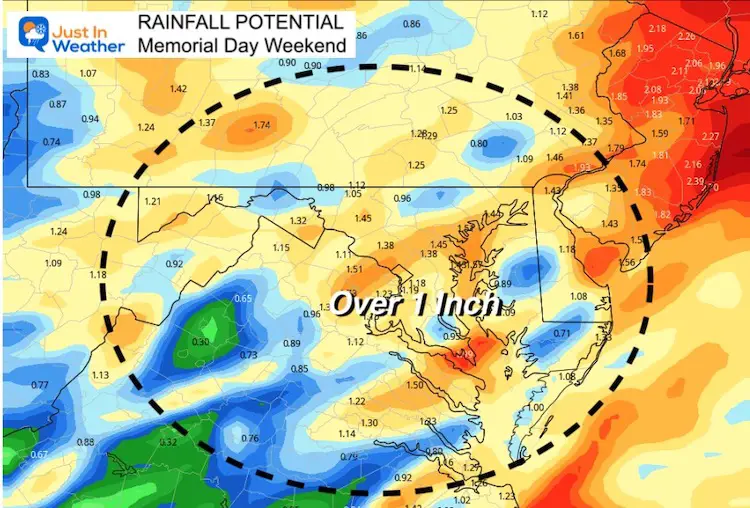 Beach Forecast
We've upgraded this graphic, but the info is not so great.
Winds will be strong on the coast. Even for the brave surfers, there will be strong rip currents.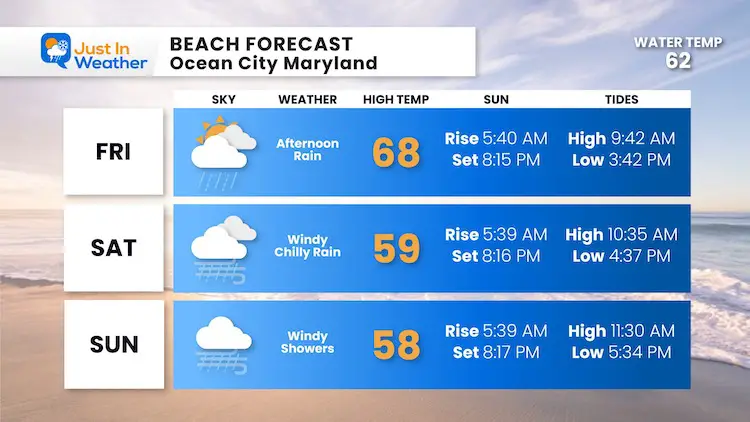 7 Day Forecast
The best part of the Holiday Weekend will be Memorial Day.
Next week we will get back to warmer air.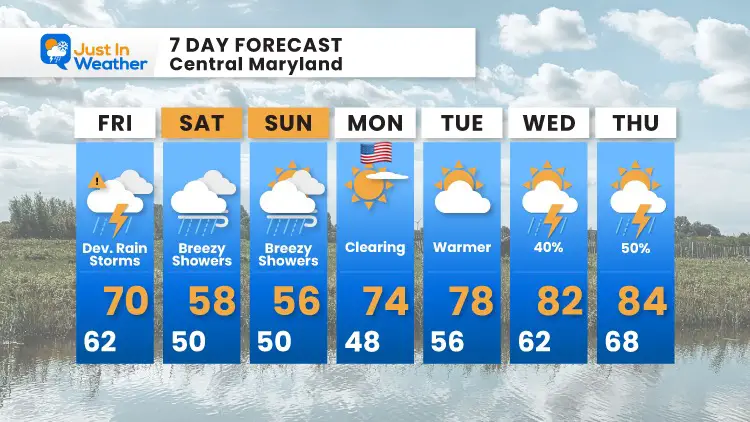 Sunshine State Of Mind
I am done with the cold and snow (for the season). I am embracing my wife's mantra of Sunshine State of Mind.
This was designed by Shannon Berk and we will be wearing it through spring and to the beach.
Double Benefit: Proceeds will be split between our nonprofit Just In Power Kids and the development of my new weather website. That has been scheduled to be ready to launch in May.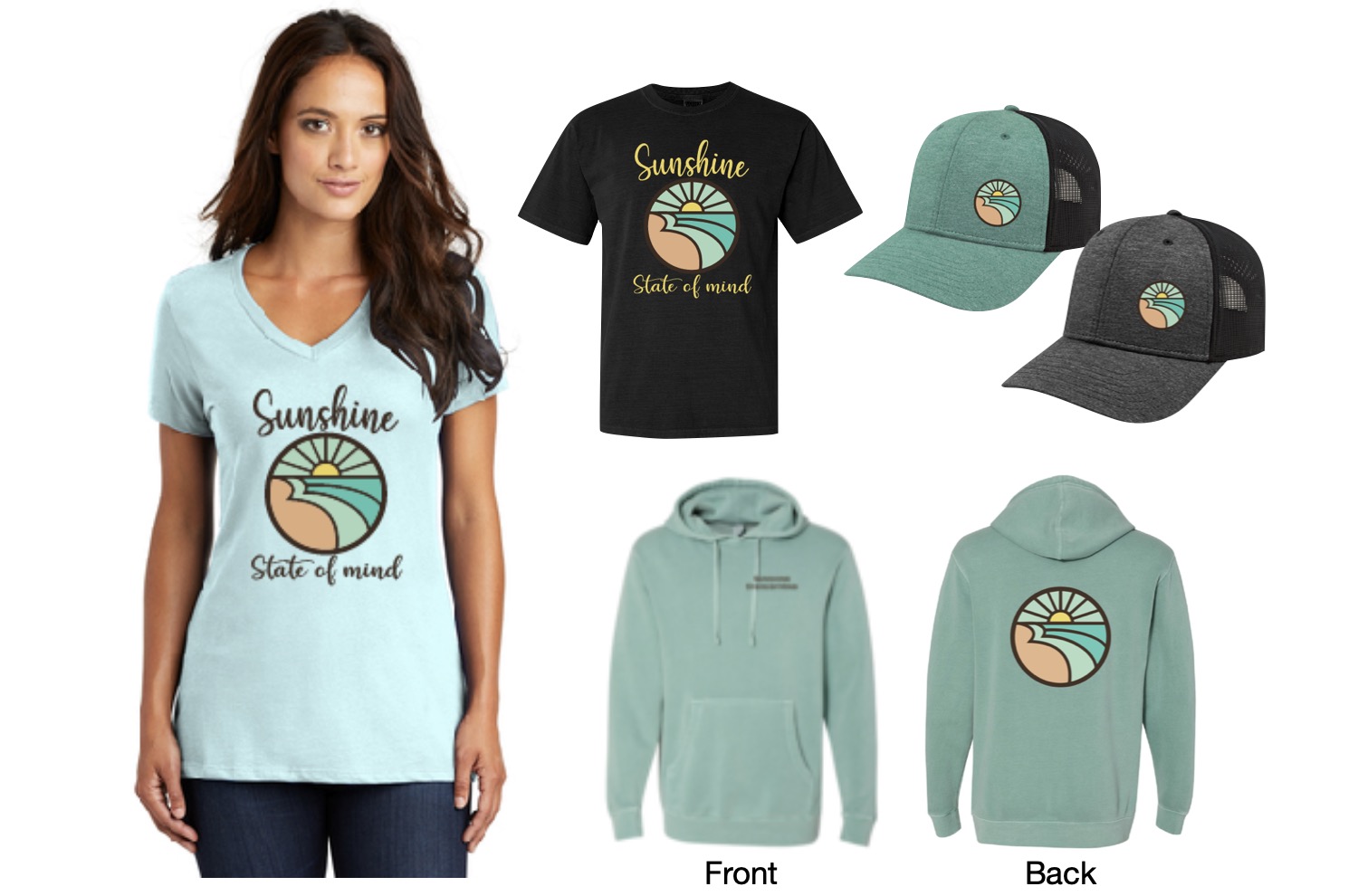 YOUR INTERACTIVE WEATHER PAGES
14 Local Maryland Pages (and York PA)
We have made a page for Maryland Weather which gives you the current conditions for 14 present area locations.
Local Hourly Forecasts and Local Radar
Central Maryland
Delmarva
Pennsylvania

Please share your thoughts, best weather pics/video, or just keep in touch via social media