Sunday May 30 2021
Baltimore officially broke the record for the coolest max daily temperature on Saturday. The observation had 56ºF at 12:37 AM, then fell through the lower 50s for the rest of the day.  
We are about to set a new mark for 'chill' again today.
But before we get to day, IT SNOWED in Vermont on Saturday!  I figured for those not happy about this weather, misery would love company, or may even make you realize it could be colder.
Check this out:
Snow found in Vermont this weekend. ❄️🏔 🇺🇸 #FITF
Faith in the 'Memorial Weekend' Flakes? https://t.co/bgpP541Fmj

— Justin Berk (@JustinWeather) May 30, 2021
It was also spotted on web cams:
Dumping snow is Stratton mtn in Vermont Now on this memorial Day weekend.

Live cam screenshot and YouTube webcam link.https://t.co/OU4nmJrsEl pic.twitter.com/dGjicY4joh

— Climate and Weather Realist Patriot (@NJSnowPatriot) May 29, 2021
Back Home
OUR Record Cool Max Temperatures 
May 30 = 58ºF in 1915
Note, we are aiming for how cool the temps remain in the afternoon.
Today will be the Coolest DAY in 106 YEARS!
Weather Almanac: Climate Data For Baltimore
These records are extremes for the day. 
Normal Low in Baltimore:  57ºF; Record 38ºF in 1996
Normal High in Baltimore: 78ºF, Record 98º F 2011
Wind Forecast
A persistent wind from the North-Northeast will range between 10 and 25 mph. That along with cloud cover and periods of rain will keep temps limited.
If you look closely on the left side, you can actually see the circulation of Low Pressure just off the coast from Ocean City.
Temperature Forecast
It looks like we may stay even cooler than yesterday in some places.  It will remain chilly, but improve as we clear out on Memorial Day.
Sunday Afternoon
Memorial Day
Monday Morning
Monday Afternoon
Morning Surface Weather
Low Pressure located on the coast will move north along the beaches. This will keep the north-northeast winds in place locking us with one more day of record cool temps. 
Radar Simulation Simulation
Sunday 10 AM to 2 AM Monday
Persistent bands of rain will continue most of the day. Metro Baltimore should have rain lingering through late afternoon or evening.
It will finally lift north tonight, and improve a lot on Monday!
Wide View Storm Animation
Sunday Through Tuesday
This final Low Pressure will move up north along the coast. This will seem like a Nor'easter to those vacationing at the beach, and inland.   
Chilly winds from the Northeast will hold temperatures way down for one more day!
This will finally move away on Memorial Day Monday. This will allow High Pressure to build in and warm us up a little. 
7 Day Forecast
Sunshine State Of Mind
I am done with the cold and snow (for the season). I am embracing my wife's mantra of Sunshine State of Mind.
This was designed by Shannon Berk and we will be wearing it through spring and to the beach.
Double Benefit: Proceeds will be split between our nonprofit Just In Power Kids and the development of my new weather website. That has been scheduled to be ready to launch in May.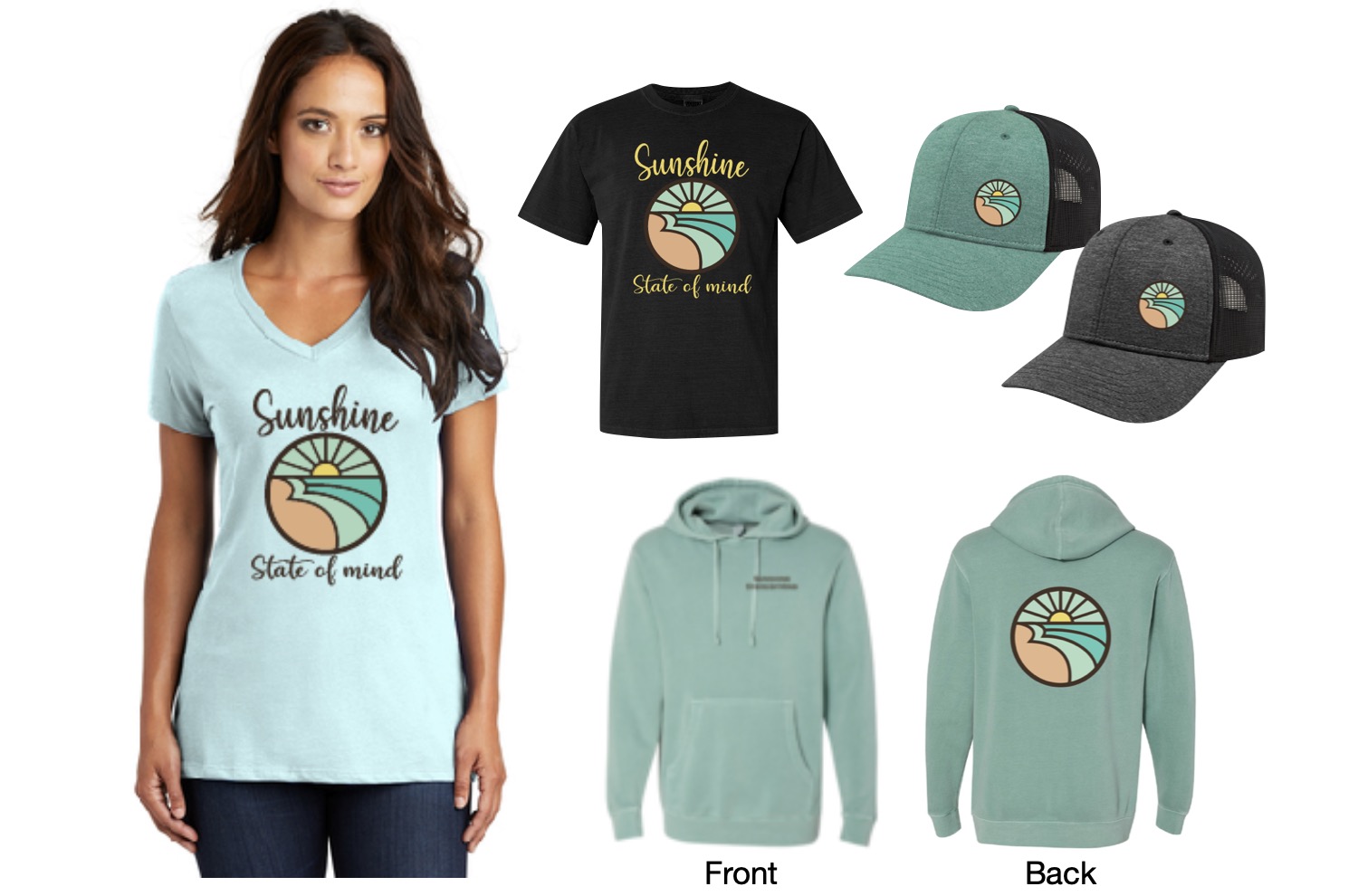 YOUR INTERACTIVE WEATHER PAGES
14 Local Maryland Pages (and York PA)
We have made a page for Maryland Weather which gives you the current conditions for 14 present area locations.
Local Hourly Forecasts and Local Radar
Central Maryland
Delmarva
Pennsylvania

Please share your thoughts, best weather pics/video, or just keep in touch via social media