The National Weather Service has completed their survey of the storm damage from Monday and determined that tornado did indeed touch the ground for just under 2 miles in Ranson, WV.  This was the storm cell that prompted numerous tornado warnings over an 80 miles stretch for 4 hours through Baltimore County MD.
Many other reports of wind and tree damage were in the path as seen here.  The complete NWS Tornado report is below.
Storm Reports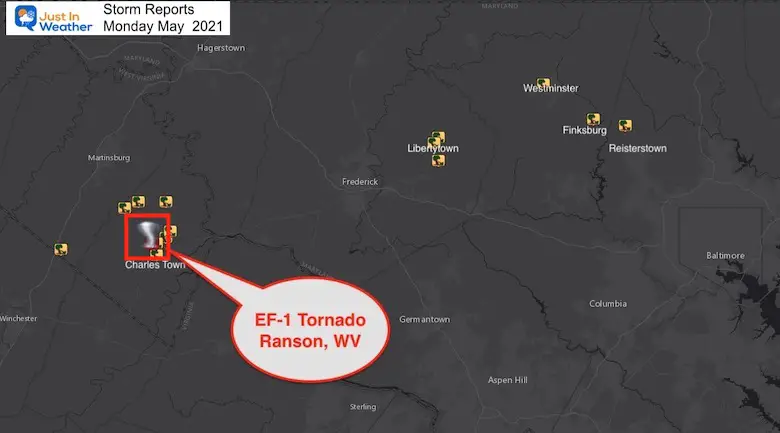 …NWS DAMAGE SURVEY FOR 05/03/21 TORNADO IN RANSON WV…
RATING:                 EF-1
ESTIMATED PEAK WIND:    90 MPH
PATH LENGTH /STATUTE/:  1.8 MILES
PATH WIDTH /MAXIMUM/:   125 YARDS
FATALITIES:             0
INJURIES:               1
START DATE:             MAY 3, 2021
START TIME:             6:27 PM EDT
START LOCATION:         RANSON WV
START LAT/LON:          39.3108 / -77.8655
END DATE:               MAY 3, 2021
END TIME:               6:32 PM EDT
END LOCATION:           RANSON WV
END LAT/LON:            39.3134 / -77.8318
Doppler Radar Snapshot
This was the Hook Echo over Ranson, just north of Charles Town.
NWS NARRATIVE (in all CAPS)
A TORNADO TOUCHED DOWN IN RANSON WEST VIRGINIA IN THE COMMUNITY 
ALONG ROBELEI DRIVE JUST WEST OF WEST VIRGINIA ROUTE 115/MILDRED 
STREET. THE SOUTHERNMOST HOMES IN THIS COMMUNITY WERE AFFECTED 
WITH MINOR SIDING AND SHINGLE DAMAGE. ONE HOMEOWNER WITH A
PERSONAL HOME ANEMOMETER MEASURED AN UNOFFICIAL 68MPH WIND GUST.
THE LAST TWO PROPERTIES, THOSE CLOSEST TO 115, HAD THE MOST 
SUBSTANTIAL DAMAGE. ONE OUTDOOR SHED WAS BLOWN FROM ITS 
FOUNDATION, AND ANOTHER SHED WAS SHIFTED FROM ITS FOUNDATION. THE 
TRAILER SECTION OF A TRACTOR TRAILER WAS PUSHED A FEW FEET 
LATERALLY, AND THEN PUSHED OVER ONTO ROUTE 115. THE TRAILER WAS 
BEING USED FOR STORAGE. LEAF SPATTER WAS NOTED ON THE HOMES, AND 
INSULATION AND CARDBOARD WAS LOFTED INTO THE POWER LINES ALONG THE
ROAD. THE MOST SUBSTANTIAL DAMAGE WAS FROM A WEST WIND. HOWEVER 
ONE PROPERTY HAD LAWN FURNITURE BLOWN IN THE OPPOSITE DIRECTION. 
SEVERAL LARGE TREE LIMBS WERE SNAPPED IN DIFFERING DIRECTIONS.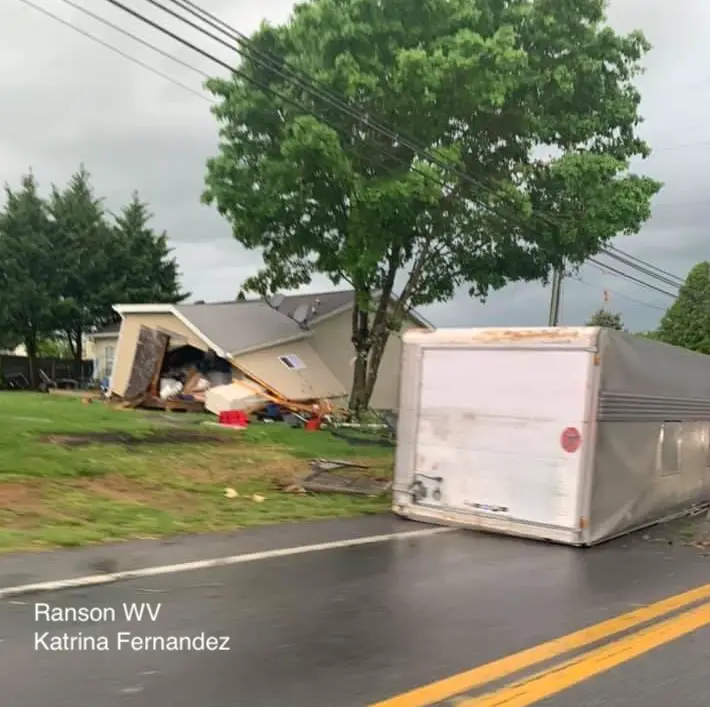 TWO SEPARATE RESIDENTS NOTED RECEIVING THE NWS TORNADO WARNING 
OVER THEIR CELL PHONES BEFORE THE TORNADO HIT, ALLOWING TIME TO 
SEEK SAFETY IN THEIR HOMES. THEY ALSO REPORTED SEEING THE TORNADO 
MOVING INTO THE NEXT PROPERTIES ACROSS WV-115.
AS THE STORM CROSSED WV-115, SEVERAL LARGE BRANCHES WERE SNAPPED
OFF TREES IN FRONT OF TWO CROWS ANTIQUE MALL. WHILE MANY BRANCHES
WERE THROWN EAST, A LARGE ONE WAS ALSO THROWN TO THE NORTHWEST.
THE TORNADO THEN STRUCK A WAREHOUSE AT UNIVERSAL FOREST PRODUCTS 
AND REACHED PEAK INTENSITY. ON THIS PROPERTY IT PUSHED OVER A 
LARGE WAREHOUSE BUILDING THAT WAS PARTIALLY OPENED ALONG ITS 
SIDES. THE MAIN BEAMS OF THE BUILDING WERE LARGE TIMBERS SECURED 
TO THE GROUND WITH BOLTS. THE ROOF WAS TIN AND SECTIONS OF THAT 
ROOF WERE CARRIED A HALF A MILE INTO AN ADJACENT COMMUNITY. PEOPLE
WERE IN THE BUILDING AT THE TIME, BUT FORTUNATELY THE ONLY INJURY
WAS A MINOR LEG ABRASION TO ONE PERSON. ANOTHER SMALLER WAREHOUSE
BUILDING WAS ALSO DESTROYED. IT ALSO CAUSED ROOF AND SIDING 
DAMAGE TO AT LEAST TWO OTHER BUILDINGS ON THIS PROPERTY.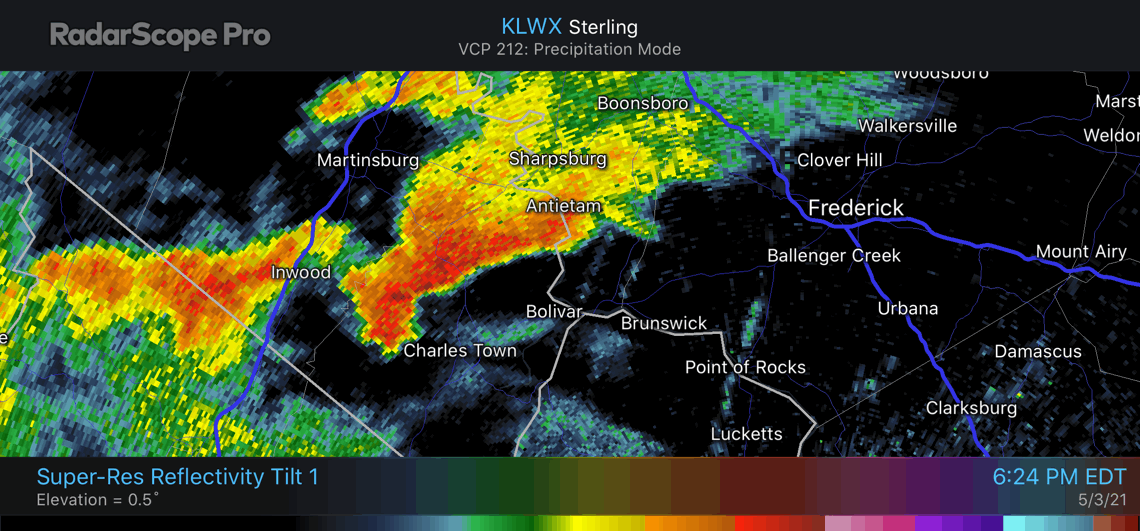 THE TORNADO WEAKENED SUBSTANTIALLY AS IT TRAVELED EAST FROM THE 
WAREHOUSES. DEBRIS, BUT NOT SIGNIFICANT TREE DAMAGE WAS NOTED 
ALONG FOAL STREET. SOME INTERMITTENT DAMAGE CONTINUED INTO THE 
NEW FAIRFAX CROSSING COMMUNITY WHERE SOME MINOR SIDING AND SHINGLE
DAMAGE WAS NOTED AS WELL AS A FEW SMALL ORNAMENTAL TREES THAT 
WERE DOWNED. SOME FINAL PIECES OF TIN ROOF WERE NOTED HERE AS 
WELL.
THE TORNADO WAS WITNESSED TO THE SOUTH BY SOMEONE IN THE NEARBY 
POTOMAC MARKETPLACE SHOPPING CENTER AS IT CROSSED WV ROUTE 9. FROM
THERE IT PASSED THROUGH MOBILE HOME COMMUNITIES ALONG GRAYROCK 
ROAD AND CAMBRIDGE DRIVE CAUSING A FEW LARGE BRANCHES TO BE 
SNAPPED AS WELL AS SOME ROOFING DAMAGE TO AT LEAST ONE MOBILE 
HOME. THE TORNADO LIFTED BEFORE REACHING FLOWING ACRES ROAD.
THE NATIONAL WEATHER SERVICE WOULD LIKE TO THANK THE OFFICE OF 
HOMELAND SECURITY AND EMERGENCY MANAGEMENT IN JEFFERSON COUNTY 
WEST VIRGINIA, AS WELL AS OUR TRAINED SKYWARN SPOTTERS IN THE AREA
THAT PROVIDED INVALUABLE INFORMATION TO US VERY QUICKLY.
EF SCALE: THE ENHANCED FUJITA SCALE CLASSIFIES TORNADOES INTO THE
FOLLOWING CATEGORIES:
EF0………65 TO 85 MPH
EF1………86 TO 110 MPH
EF2………111 TO 135 MPH
EF3………136 TO 165 MPH
EF4………166 TO 200 MPH
EF5………>200 MPH
Sunshine State Of Mind
I am done with the cold and snow (for the season). I am embracing my wife's mantra of Sunshine State of Mind.
This was designed by Shannon Berk and we will be wearing it through spring and to the beach.
Double Benefit: Proceeds will be split between our nonprofit Just In Power Kids and the development of my new weather website. That has been scheduled to be ready to launch in May.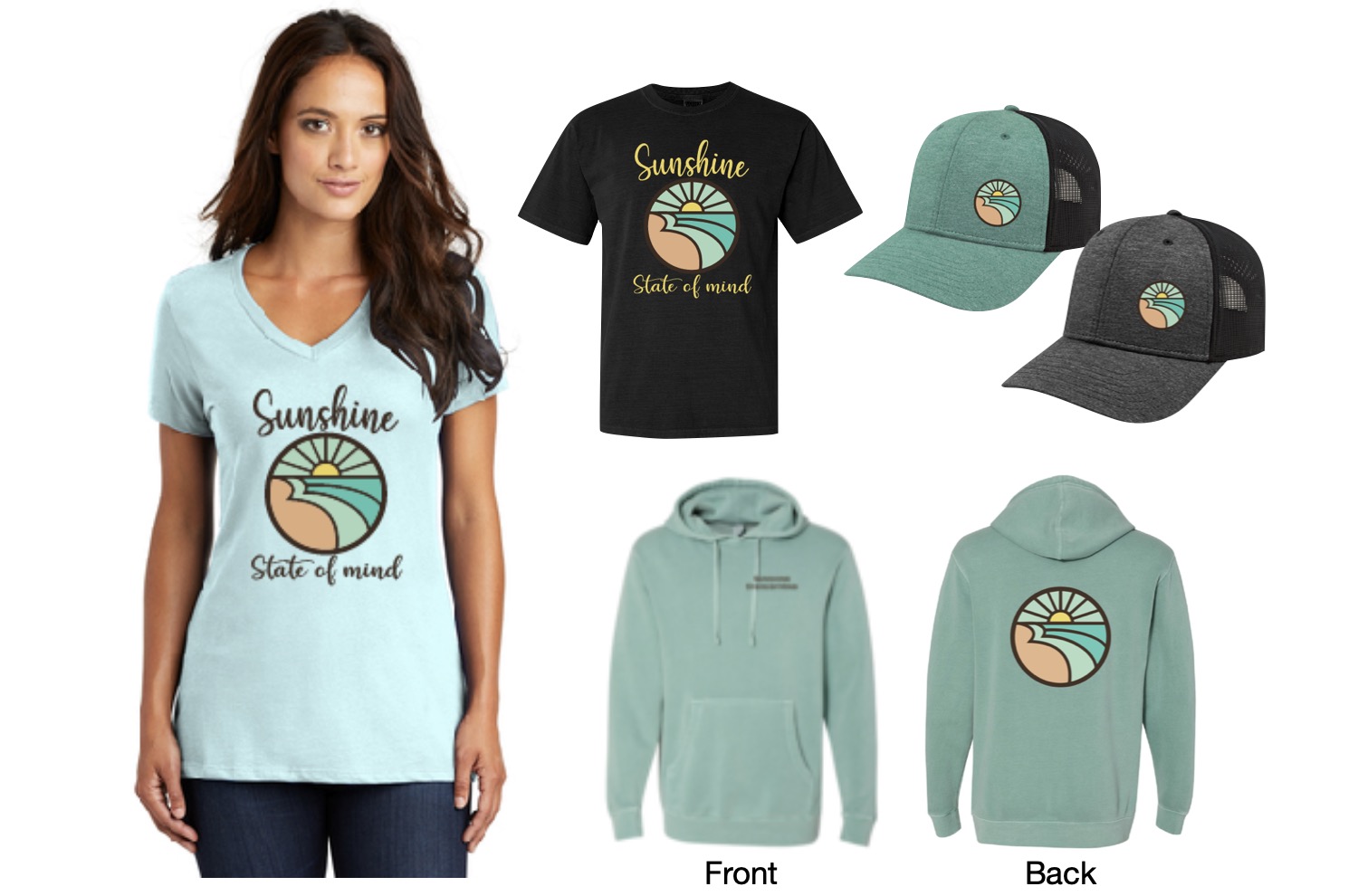 YOUR INTERACTIVE WEATHER PAGES
14 Local Maryland Pages (and York PA)
We have made a page for Maryland Weather which gives you the current conditions for 14 present area locations.
Local Hourly Forecasts and Local Radar
Central Maryland
Delmarva
Pennsylvania

Please share your thoughts, best weather pics/video, or just keep in touch via social media