The extreme weather that began in Ranson, WV on Monday May 3 produced a long path of damage.  We tracked this cell for about 80 miles over 4 hours with continuous tornado warnings even into Baltimore County MD. 
A second tornado touchdown was confirmed from this cell, this time in Frederick County MD.  
The National Weather Service (NWS) survey has produced a report with another EF-1 tornado that was on the ground for just under 1 mile between Libertytown and Mt. Pleasant, MD.  This was just south of Rt 26 and had top wind speeds of 90 mph.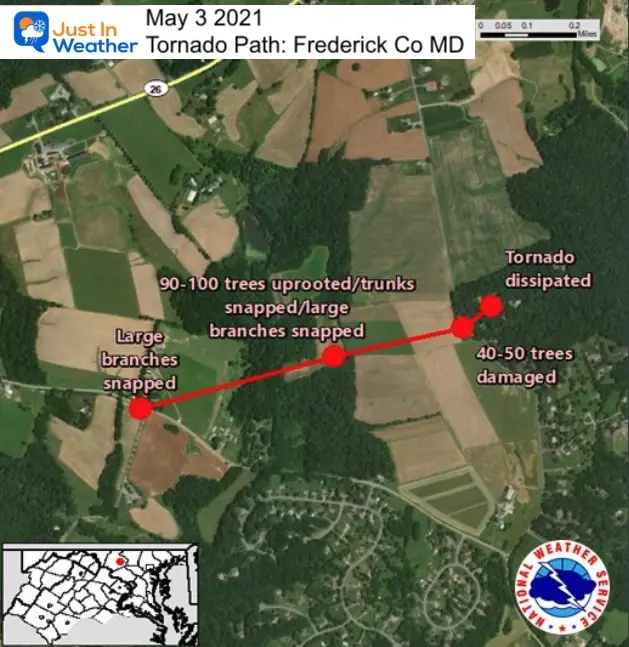 …NWS DAMAGE SURVEY FOR 05/03/21 TORNADO IN MT. PLEASANT MD…
RATING:                 EF-1
ESTIMATED PEAK WIND:    90 MPH
PATH LENGTH /STATUTE/:  0.8 MILES
PATH WIDTH /MAXIMUM/:   200 YARDS
FATALITIES:             0
INJURIES:               0
START DATE:             MAY 3, 2021
START TIME:             8:14 PM EDT
START LOCATION:         MT PLEASANT MD
START LAT/LON:          39.4520 / -77.2922
END DATE:               MAY 3, 2021
END TIME:               8:16 PM EDT
END LOCATION:           MT. PLEASANT MD
END LAT/LON:            39.4560 / -77.2785
NWS NARRATIVE (Report):
A SUPERCELL THUNDERSTORM PRODUCED A TORNADO DURING THE EVENING 
HOURS OF MONDAY, MAY 3RD IN A RURAL AREA OF FREDERICK COUNTY, MD, 
BETWEEN MT PLEASANT AND LIBERTYTOWN. AN ESTIMATED 150 TREES WERE 
UPROOTED, SNAPPED OR DAMAGED ALONG THE PATH OF THE TORNADO THAT 
MOVED IN AN EAST-NORTHEAST DIRECTION FOR APPROXIMATELY THREE-
QUARTERS OF A MILE.
TREE DAMAGE FROM THIS TORNADO BEGAN NEAR A RESIDENCE IN THE 10800
BLOCK OF OLD ANNAPOLIS ROAD, WITH A FEW SNAPPED LARGE BRANCHES 
THAT FELL ACROSS OLD ANNAPOLIS ROAD. THE TORNADO TRACKED EAST- 
NORTHEAST ACROSS A LARGE GROUPING OF TREES BETWEEN OLD ANNAPOLIS 
ROAD AND CHESTNUT GROVE ROAD, DAMAGING APPROXIMATELY 90-100 TREES 
WITH MULTIPLE LARGE BRANCHES SNAPPED, TREES UPROOTED AND TRUNKS 
SNAPPED IN VARYING DIRECTIONS.
AS THE TORNADO CROSSED CHESTNUT GROVE ROAD JUST NORTH OF ALTON 
ROAD, A LARGE AMOUNT OF TREE DAMAGE OCCURRED, WITH AN ESTIMATED 
40-50 TREES UPROOTED IN MULTIPLE DIRECTIONS WHILE ABOUT 20 TREES 
WERE SNAPPED. ISOLATED TREE DAMAGE WAS NOTED OUTSIDE OF THIS PATH 
ON THE SOUTHERN EXTENT OF THE TORNADO PATH, WITH A FEW TREE SNAPS 
NOTED. NO STRUCTURAL DAMAGE WAS OBSERVED ANYWHERE ALONG THE
TORNADO PATH.
AS THE TORNADO MOVED FURTHER EAST-NORTHEAST AND AWAY FROM 
CHESTNUT GROVE ROAD, IT LIFTED, AS NO DAMAGE WAS EVIDENT OR 
REPORTED ALONG WHAT WOULD HAVE BEEN A CONTINUATION OF THE 
TORNADO'S PATH. SPORADIC, STRAIGHT-LINE WIND DAMAGE WAS NOTED 
FURTHER NORTHEAST NEAR LIBERTYTOWN.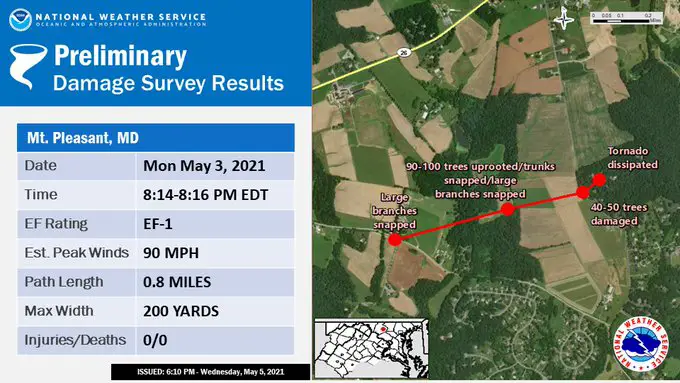 THE NATIONAL WEATHER SERVICE WOULD LIKE TO THANK FREDERICK 
COUNTY'S DIVISION OF EMERGENCY MANAGEMENT FOR THEIR ASSISTANCE 
WITH THIS SURVEY.
EF SCALE: THE ENHANCED FUJITA SCALE CLASSIFIES TORNADOES INTO THE
FOLLOWING CATEGORIES:
EF0………65 TO 85 MPH
EF1………86 TO 110 MPH
EF2………111 TO 135 MPH
EF3………136 TO 165 MPH
EF4………166 TO 200 MPH
EF5………>200 MPH
Also See The Other Report:
Tornado Confirmed in Ranson WV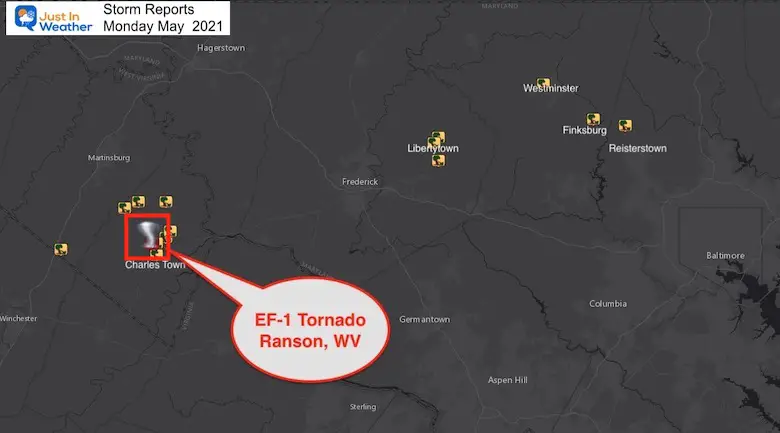 Please share your thoughts, best weather pics/video, or just keep in touch via social media
Sunshine State Of Mind
I am done with the cold and snow (for the season). I am embracing my wife's mantra of Sunshine State of Mind.
This was designed by Shannon Berk and we will be wearing it through spring and to the beach.
Double Benefit: Proceeds will be split between our nonprofit Just In Power Kids and the development of my new weather website. That has been scheduled to be ready to launch in May.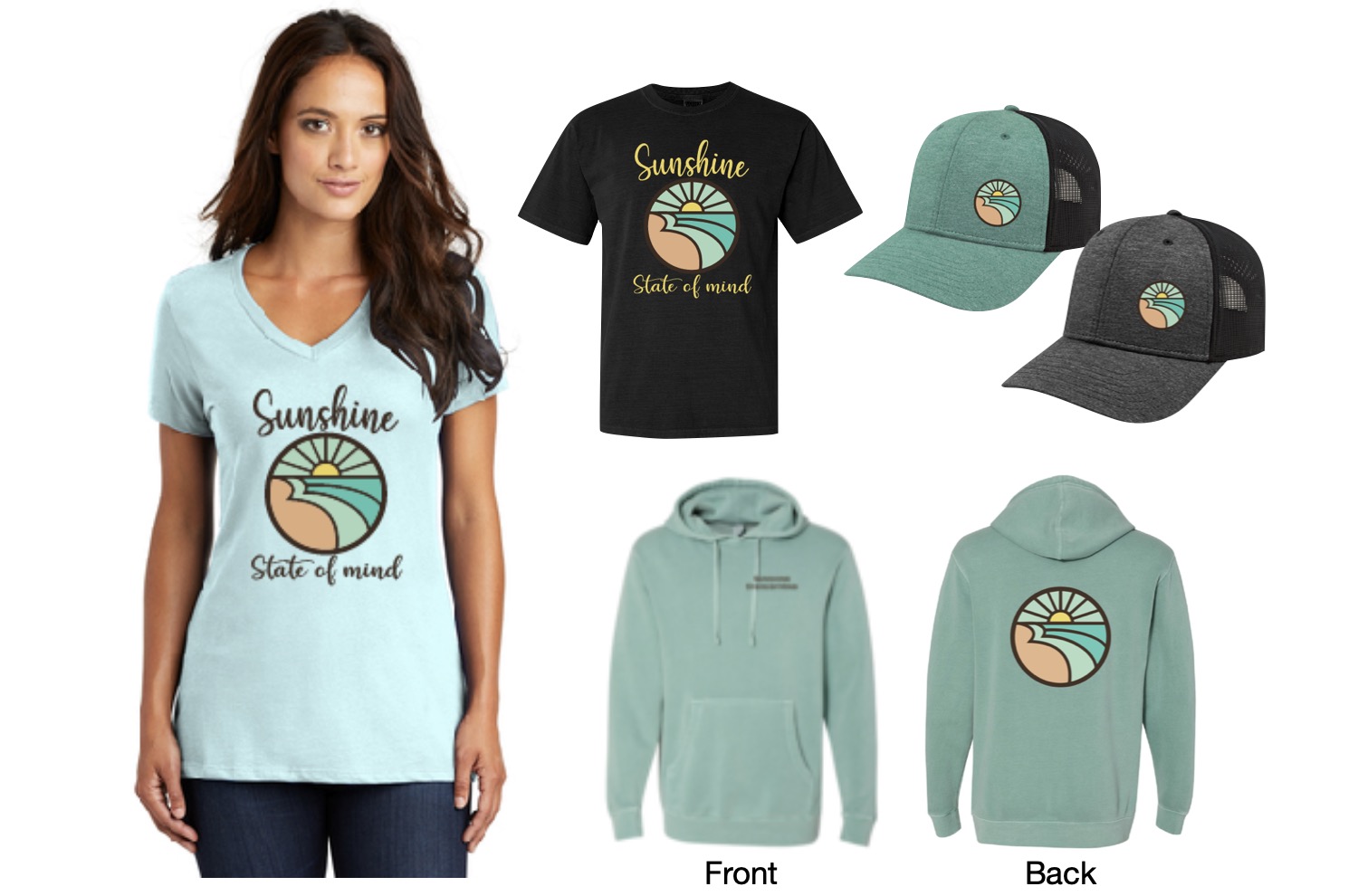 YOUR INTERACTIVE WEATHER PAGES
14 Local Maryland Pages (and York PA)
We have made a page for Maryland Weather which gives you the current conditions for 14 present area locations.
Local Hourly Forecasts and Local Radar
Central Maryland
Delmarva
Pennsylvania