Monday May 3 2021
This was an overachieving cell that began near Charles Town WV and extended across parts of central Maryland to the PA line after dark. It's been a challenge to keep up with the path and frequent updates. In this report I have a collection of some storm damage, radar images along the path, and what to expect on Tuesday. It should get even busier.
Tornado Damage
This damage in Ranson, WV appears to be from a tornado, but we can not confirm until the National Weather Service surveys the area on Tuesday. Katrina Fernandez saw this trailer flipped and blocking the road on Mildred St.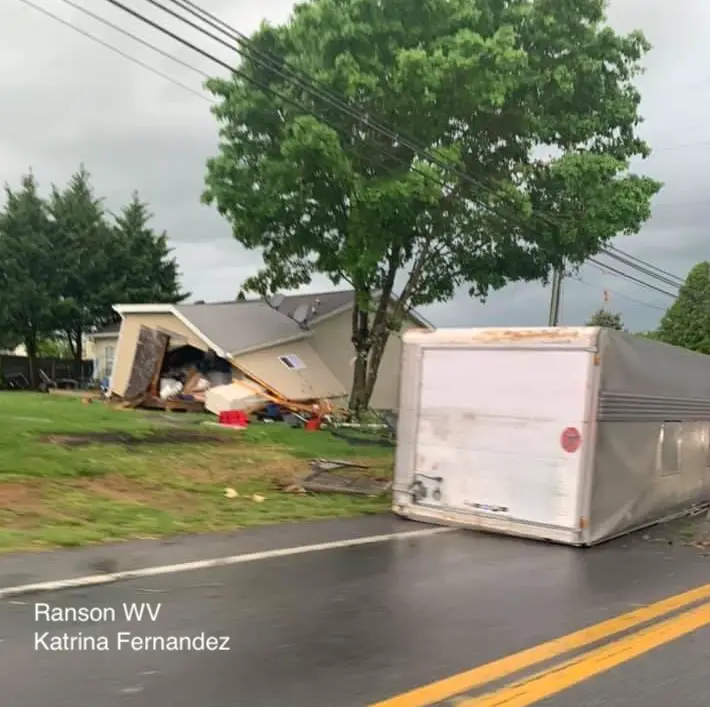 There was also fence damage…
https://t.co/uGI9xQMutV pic.twitter.com/fm1jKHLihM

— Lucinda Law (@specifix) May 3, 2021
Doppler Radar Of That Storm
This is the hook that prompted the warning. It looks like a classic image you would find in a textbook, which might be why the storm continued to produce warnings for nearly 100 miles over 4 hours into northern Baltimore County!
Radar Loop 6:24 PM to 7:08 PM
That classic hook image was short lived, but there was continued circulation with this mesocyclone.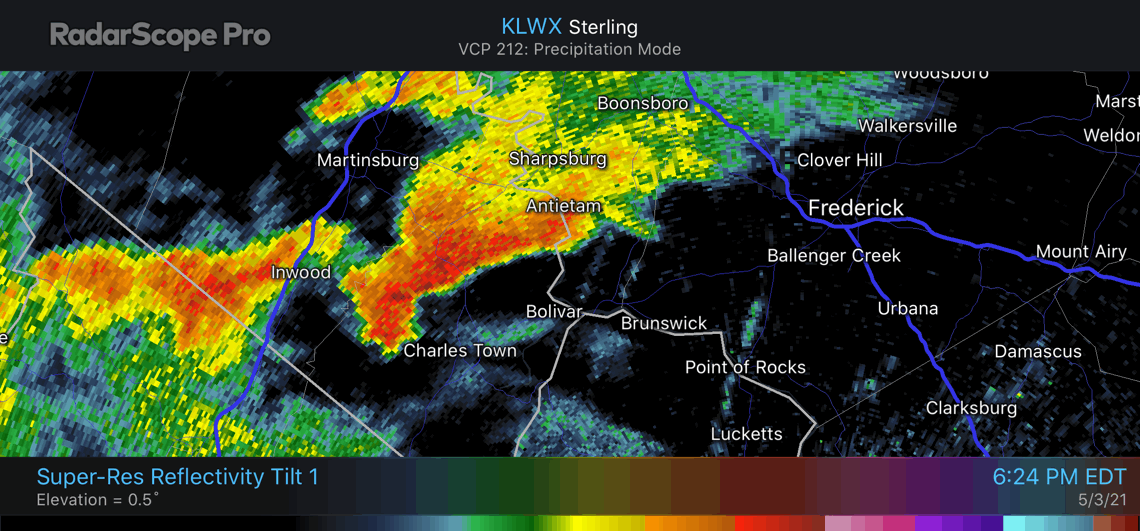 Snapshot Doppler Radar and Velocity Scan
Storm Reports
There have been multiple reports of trees down in and around Ranson and Charlestown, WV.
Notice that Tornado (red). That was in Virginia earlier today.  We have video of it.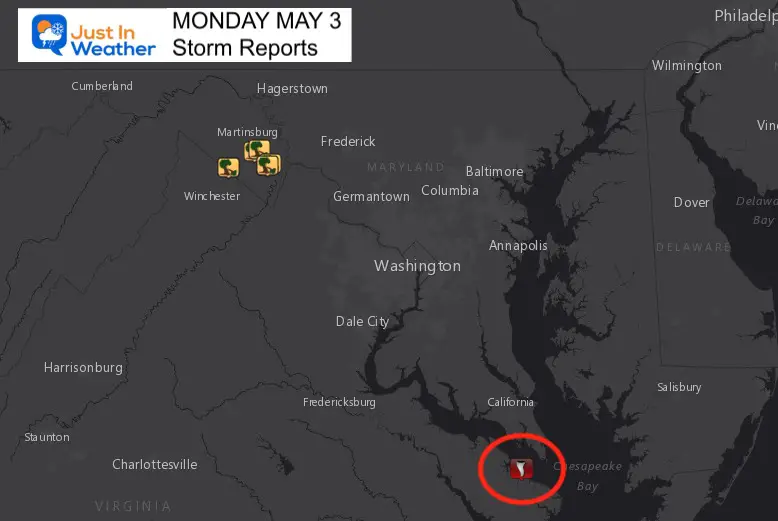 Tornado Video
VIDEO: Suspected tornado in the Northern Neck near Lewisetta in Northumberland County, Virginia today. @NBC12 @NBCNews #wxva

📹:Lisa Ann Heishman pic.twitter.com/LE9xHNFJ1h

— Michael Pegram (@MichaelNBC12) May 3, 2021
Follow Up Warnings
Frederick  County MD
7:30 PM to 8:30 PM
Carroll County MD
8:30 PM to 9:30 PM
Baltimore County
9:25 PM to 10 PM
This storm appears to turn more east into the Hereford Zone of northern Baltimore County
May The 4th or Storms Be With You
We are in an overcharged atmosphere and today's event was more than expected. 
Tuesday will be warmer and more humid. We need to treat this as though the chances for severe storms are higher than the suggestion here.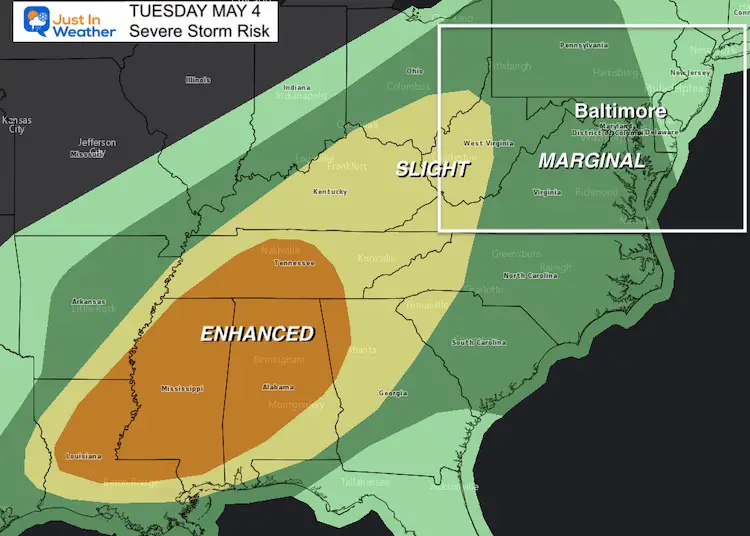 I expected we will see a bump in the expectations for Tuesday. I will have my full update before 7 AM. 
Sunshine State Of Mind
I am done with the cold and snow (for the season). I am embracing my wife's mantra of Sunshine State of Mind.
This was designed by Shannon Berk and we will be wearing it through spring and to the beach.
Double Benefit: Proceeds will be split between our nonprofit Just In Power Kids and the development of my new weather website. That has been scheduled to be ready to launch in May.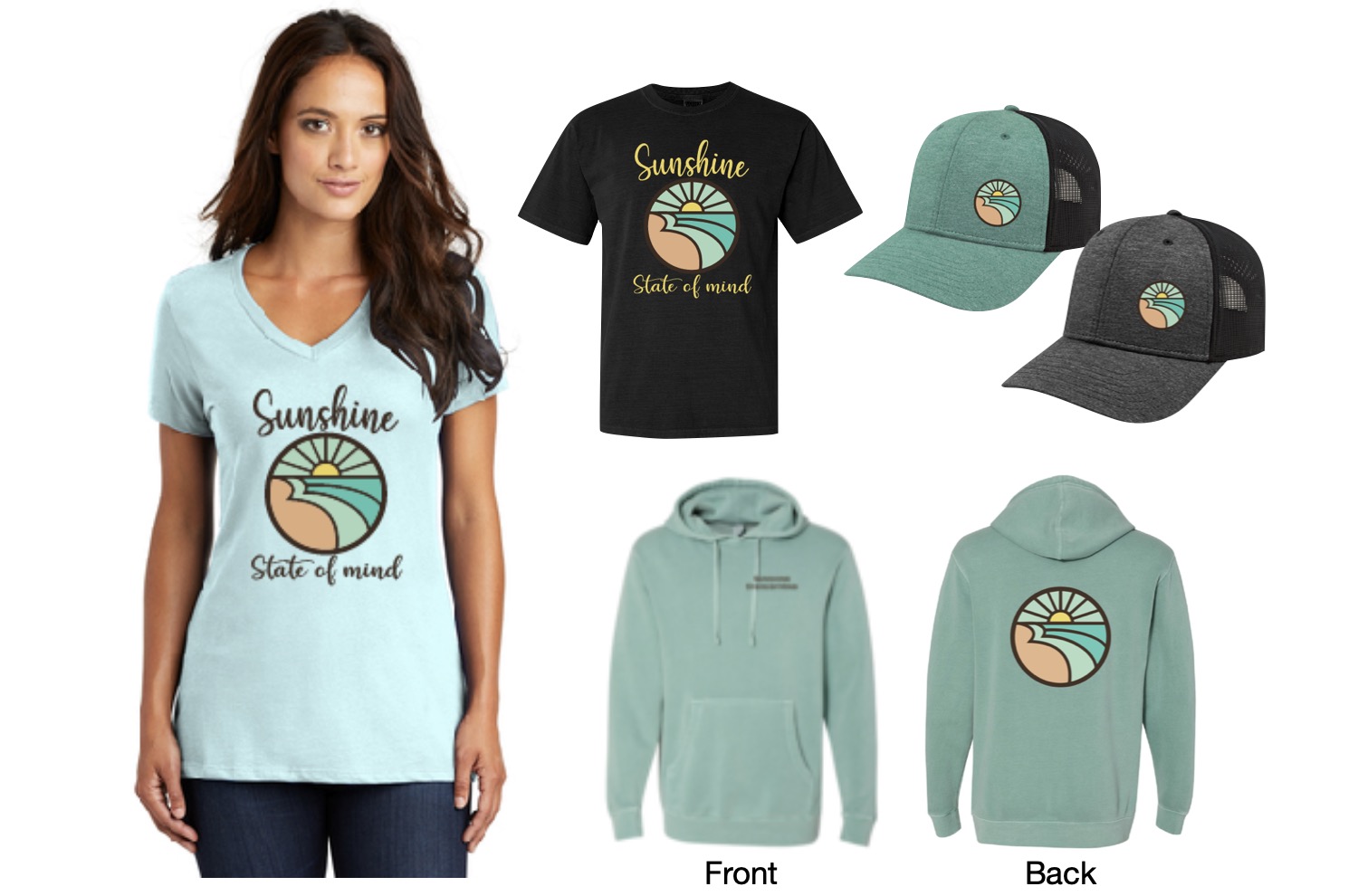 YOUR INTERACTIVE WEATHER PAGES
14 Local Maryland Pages (and York PA)
We have made a page for Maryland Weather which gives you the current conditions for 14 present area locations.
Local Hourly Forecasts and Local Radar
Central Maryland
Delmarva
Pennsylvania

Please share your thoughts, best weather pics/video, or just keep in touch via social media