This might be best known as a sleet storm, and it was the most many in our area have ever seen.  I said this would be the largest impact storm of the winter and it lived up to it, just not the way I fully expected.
Baltimore at BWI recorded 0.58″ liquid equivalent for the two day storm between February 18 and 19.  If that was all typical snow, it would have been nearly 6 inches. If just the first 3 hours were the fluffy snow I mentioned, it would have easily surpassed expectations.  However, it was sleet that dominated for many. It added up to an inch or more, which is quite rare and not easy forecast!
I have to give credit to one person who first identified this was going to be more sleet at the start. I'll show you in a moment.
Regional Snow From NWS Spotters for the Sterling VA Office
Below Please compare My Final Call forecast to the local County Maps and log your grade for my forecast.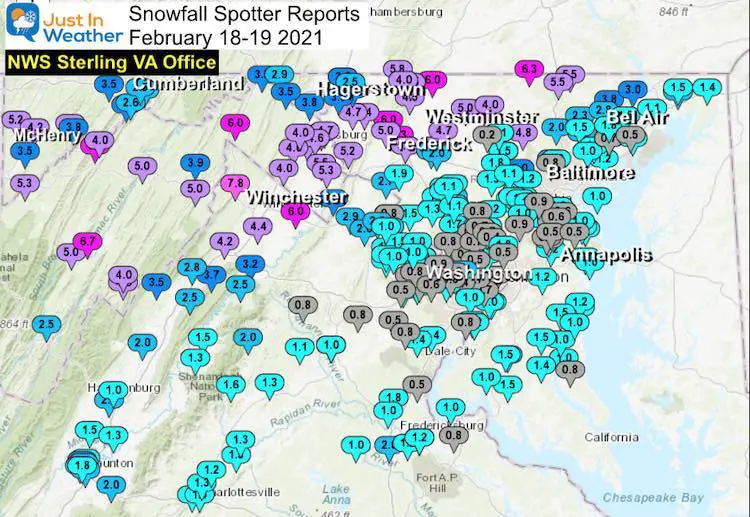 The night before this storm began I made a big point to highlight the initial surge of moisture and the cold temperatures that would lead to higher ratios.  I still stand by that, and that actually happened!  Heavy snow was reported within minutes of if beginning. Westminster was an example where they had 3 inches of snow in the first 90 minutes. That snow was fluffy and didn't pack well. But it didn't last, and they spend much of Thursday morning after sunrise switching back and forth from sleet to snow.
The layer of warm air in the atmosphere around 5,000 Ft up was what melted the snowflakes, then they refroze below on the way down, resulting in heavy sleet. This became evident as it began in metro Baltimore.
Who got that right?
My buddy and long lost Big Brother Tony Pann saw this shaping up the night before it began.
From LWX: "00Z IAD sounding showed a warm nose of 1.8C at the 809 mb level." What does that mean? Change over to sleet might be quicker, unless the dry air that's in place can trigger enough cooling at that level to support more snow. I know, it's all Greek to me too. 😉❄️🚂

— Tony Pann (@TonyPannWBAL) February 18, 2021
I didn't want to give full credit to that sounding. First, it was over Sterling, VA and I felt central Maryland was deeper into the cold air.
I did  show it in my morning report when I announced I was wrong as the storm began. I really had expected the dry air to let the storm dynamically cool that layer and work it out.
SOUNDINGS
Plotting weather conditions from weather balloon launches twice a day. IAD is the code fro Sterling, VA. This is the home of the National Weather Service Office by Dulles Airport.
Wednesday Night 7 PM (00Z)
Thursday Morning 7 AM (12Z)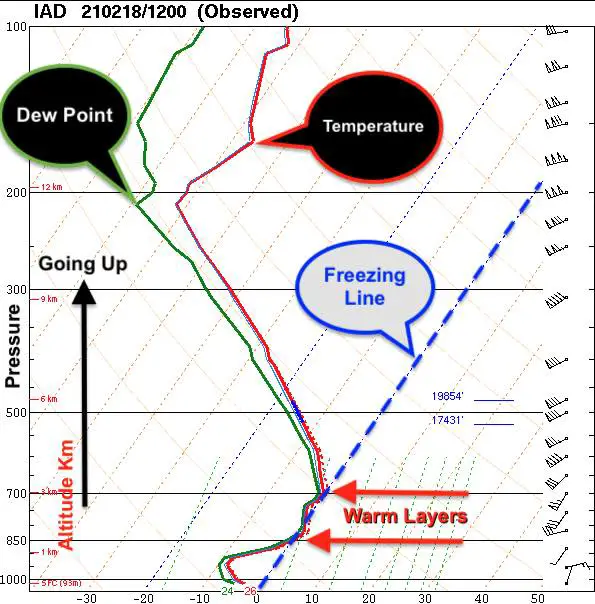 This is one of those times where I clearly state my expectations with realization were I was wrong. What you see is how you might grade me, but considering the entirety of the storm, there was still a lot that went right. If you prepared for snow and a lot of ice over two days, then it paid off.
Storm Surface Maps —-> slider
My Final Call For Snowfall
My

Heavy Ice

Zone was spot on, but needed to be expanded farther north,. 

Many in my 6″ to 12″  high zone hit or got close to 6″.  I did overplay this north of York.

Elkton, Bel Air,  to Mt. Airy was on the edge of my 4″ to 6″. The location of the word might be deceptive. 

Washington and Annapolis:  I put them on the edge of 2″ to 4″ on purpose. The location of the word might be deceptive.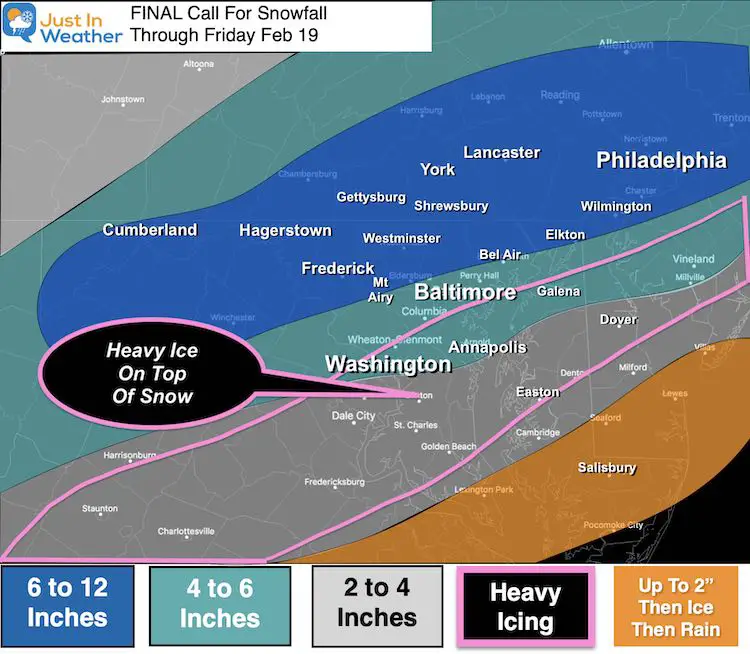 NWS Final Call For Snowfall
I wanted to show you that I had a lower end to my ranges for most of Maryland than NWS showed here the night before. hestomrm hit.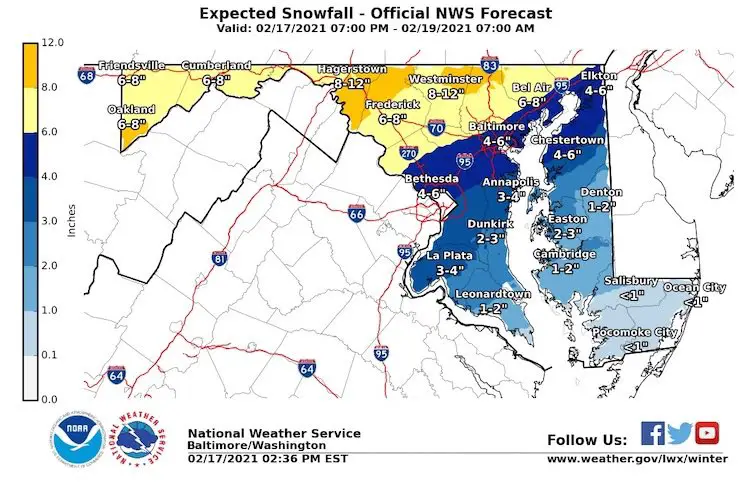 What went right With My Forecast:
Two Days and Two Part Storm

Lots of Ice On Top Of Snow

Results in 'Parts' of central and western Maryland, Southern Maryland and Delmarva
What Went Wrong With My Forecast:
The faster change to sleet and freezing rain.

 

I mentioned this right as it began in my Thursday morning report. I said I was wrong, but it was too late for many who wanted to measure more snow.
I was even wrong reporting I was wrong, because the storm was still producing snow in the colder northern suburbs and Southern PA. But just barely at the 6 inch mark.

 

Also, southern areas got what was expected with ice, and ending with some snow.

Results: Central/Metro areas I had 4" to 6" but ended up 1" to 3"

Results in northern Maryland and Southern PA: I had 6" to 12", many hit the 6" mark… so you can mark that as a win, but it barely got there.
Grade My Forecast
C <—– My grade for my work.
The Sleet Vs Snow was a big deal, but the extent of this storm, plus the accuracy in the northern and southern/eastern areas helped salvage this.
If you grade based on just snow totals, then this adds to a growing list of failed storms from Kent Island To Cecil County. I hear you loud and clear!
Please enter your honest grade for my forecast. See the local maps and spotter reports below.
Polling/Grading Open Until 11:59 PM Sun Feb 21

 Loading ...
Local Snow Spotter Maps And Reports
Northeast Maryland: Harford and Cecil Counties
My Forecast Zones: Low End 4″ High End 12″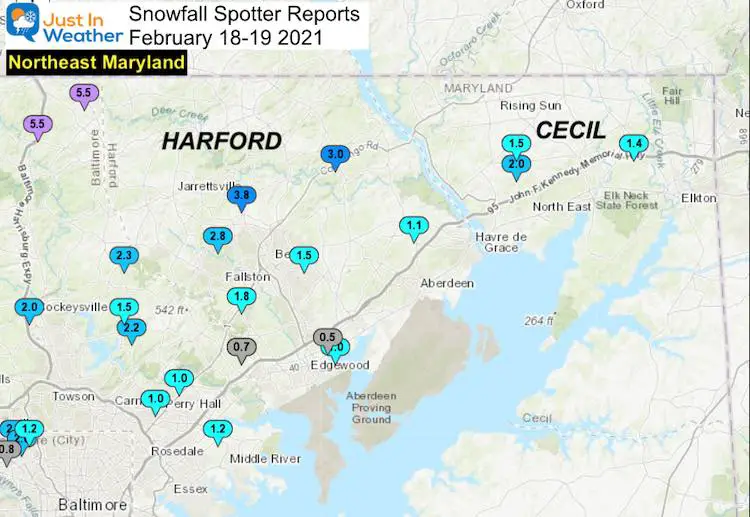 …Harford County…
  Forest Hill 1 NNW       3.8   420 PM  2/18  Trained Spotter        
  Scarboro 2 E            3.0   837 PM  2/18  Trained Spotter        
  Forest Hill 3 SW        2.8   800 PM  2/18  Trained Spotter        
  Fallston 2 ESE          1.8   800 AM  2/19  CoCoRaHS               
  Bel Air 2 E             1.5  1100 PM  2/18  Trained Spotter        
  Havre De Grace 4 WNW    1.1  1000 AM  2/18  CoCoRaHS               
  Abingdon 1 SE           1.0   124 PM  2/18  Trained Spotter        
  Abingdon                0.5  1110 AM  2/18  Trained Spotter        
…Cecil County…
  Woodlawn 2 E            2.0   130 PM  2/18  Trained Spotter        
  Woodlawn 2 ENE          1.5   140 PM  2/18  Trained Spotter        
  Elkton 5 NW             1.4   700 AM  2/19  CoCoRaHS               
Baltimore County/City
My Forecast Zones: Low End 4″ High End 12″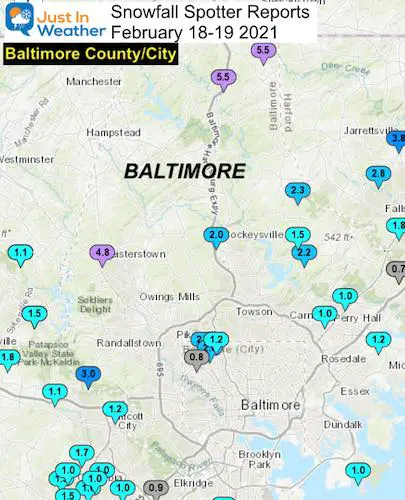 …Baltimore County…
  Norrisville 3 W         5.5   100 PM  2/18  Trained Spotter        
  Bentley Springs 1 E     5.5  1130 AM  2/18  Trained Spotter        
  Reisterstown 1 NW       4.8   700 PM  2/18  CoCoRaHS               
  Pimlico 1 NW            2.8   910 PM  2/18  Trained Spotter        
  Jacksonville 2 NE       2.3   858 AM  2/19  CoCoRaHS               
  Long Green 1 SW         2.2   700 AM  2/19  CoCoRaHS               
  Cockeysville 2 WNW      2.0  1203 PM  2/18  Broadcast Media        
  Long Green 2 NW         1.5  1230 PM  2/18  Trained Spotter        
  White Marsh 2 ESE       1.2   700 AM  2/19  CoCoRaHS               
  Perry Hall 1 NNE        1.0   345 PM  2/18  Trained Spotter        
  Edgemere  ESE           1.0  1124 AM  2/19  Trained Spotter        
  Perry Hall 1 SW         1.0  1135 AM  2/18  Trained Spotter        
  Upper Falls 1 NNE       0.7  1230 PM  2/18  Trained Spotter        
  Kingsville 1 E          0.7   700 AM  2/19  CoCoRaHS               
…Baltimore City…
  Pimlico  SE             2.0   200 PM  2/18  Trained Spotter        
  Mount Washington 1 N    1.2   750 AM  2/19  CoCoRaHS               
  Arlington 1 NNW         0.8   707 PM  2/18  Trained Spotter        
North Central Maryland: Frederick and Carroll Counties
My Forecast Zones: Low End 6″ High End 12″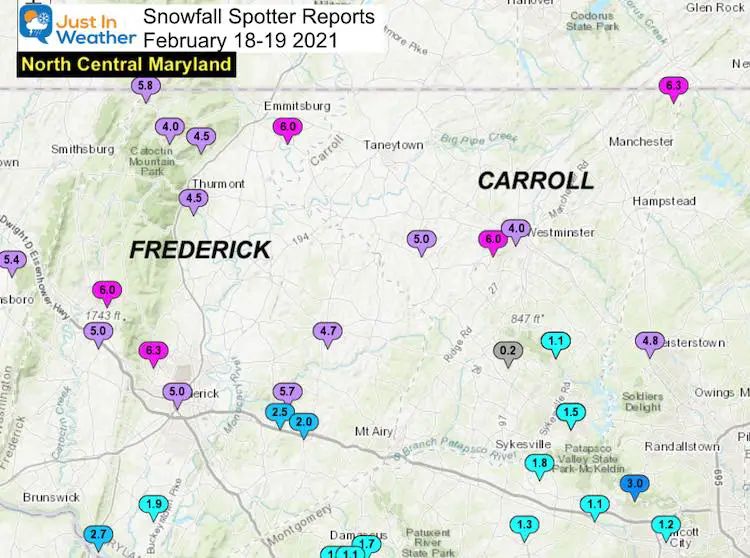 …Frederick County…
  Bloomfield 2 WSW        6.3  1100 AM  2/18  NWS Employee           
  Emmitsburg 2 SE         6.0   615 AM  2/19  Co-Op Observer         
  Myersville 2 ENE        6.0  1125 AM  2/18  Trained Spotter        
  Sabillasville 1 NNW     5.8  1130 AM  2/18  CoCoRaHS               
  New Market 3 NNW        5.7   730 AM  2/19  CoCoRaHS               
  Frederick 1 SW          5.0   830 AM  2/19  CoCoRaHS               
  Myersville 2 SE         5.0  1100 AM  2/18  Trained Spotter        
  Union Bridge 7 SSW      4.7   700 AM  2/19  CoCoRaHS               
  Thurmont 1 SSE          4.5  1000 AM  2/18  CoCoRaHS               
  Thurmont 3 N            4.5   700 AM  2/19  CoCoRaHS               
  Sabillasville 2 SSE     4.0   900 AM  2/19  Trained Spotter        
  Point of Rocks 1 NE     2.7   100 PM  2/18  Trained Spotter        
  New Market 2 NW         2.5   900 AM  2/19  CoCoRaHS               
  New Market  N           2.0   320 PM  2/18  Trained Spotter        
  Adamstown 1 ESE         1.9   100 PM  2/18  NWS Employee    
…Carroll County…
  Millers 4 NE            6.3   600 PM  2/18  Co-Op Observer         
  Wagners Mill 1 ENE      6.0  1210 PM  2/18  Trained Spotter        
  Uniontown 2 S           5.0   941 AM  2/19  Trained Spotter        
  Westminster  SE         4.0  1230 PM  2/18  Trained Spotter        
  Eldersburg 1 SE         1.5   700 AM  2/19  Trained Spotter        
  Eldersburg 1 E          1.5   700 AM  2/19  CoCoRaHS               
  Gamber 1 WNW            1.1  1200 AM  2/19  CoCoRaHS               
  Gamber 1 W              1.1   700 AM  2/19  CoCoRaHS               
  Sykesville 6 NNW        0.2   800 AM  2/19  CoCoRaHS        
Western Maryland: Garrett, Allegany, and Washington Counties
My Forecast Zones: Low End 4″ High End 12″
…Garrett County…
  Mc Henry 4 SW           5.2   600 AM  2/19  Co-Op Observer         
  McHenry 5 SSE           4.2   800 AM  2/19  CoCoRaHS               
  Warnocks 4 NW           4.0   700 AM  2/19  HADS                   
  Bloomington 3 WNW       3.8   200 PM  2/18  Trained Spotter        
  Mountain Lake Park      3.5   600 AM  2/19  CoCoRaHS         
..Allegany County…
  Cresaptown-Bel Air 1    3.8   700 AM  2/19  CoCoRaHS               
  Frostburg               3.5   700 AM  2/19  Co-Op Observer         
  Cumberland              2.9   700 AM  2/19  Co-Op Observer         
  Cresaptown  SSW         2.6  1045 AM  2/18  Trained Spotter        
  Ridgeley 1 NW           2.5   427 PM  2/18  Trained Spotter        
…Washington County…
  Boonsboro 3 NNE         5.4   600 AM  2/19  Trained Spotter        
  Sharpsburg 5 S          5.2   700 AM  2/19  Co-Op Observer         
  Fairplay 3 ENE          4.7   530 PM  2/18  Trained Spotter        
  Long Meadow 2 W         3.6   700 AM  2/19  Trained Spotter        
  Hagerstown 4 NNW        3.6   700 AM  2/19  CoCoRaHS               
  Hagerstown 1 ENE        3.6   700 AM  2/19  CoCoRaHS               
  Hancock 1 ESE           3.5   700 AM  2/19  CoCoRaHS               
  Williamsport 3 ENE      3.5   600 AM  2/19  CoCoRaHS               
  Pecktonville 3 NNW      2.9   700 AM  2/19  NWS Employee           
  Long Meadow 1 SSE       2.5   110 PM  2/18  Trained Spotter      
Capital Region: Montgomery, Howard, and Washington DC
My Forecast Zones: Low End 2″ High End 6″ Also: Heavy Ice On Top Of Snow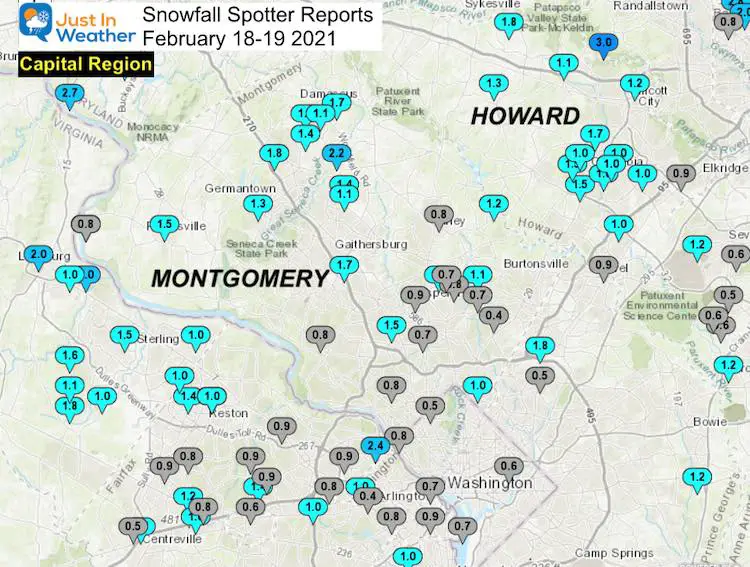 …Montgomery County…
  Laytonsville 2 WNW      2.2   727 PM  2/18  Trained Spotter        
  Clarksburg 1 SSE        1.8  1200 AM  2/19  CoCoRaHS               
  Laytonsville 5 NNW      1.7   700 AM  2/19  CoCoRaHS               
  Rockville 3 NNW         1.7   100 PM  2/18  NWS Employee           
  Poolesville  NE         1.5   315 PM  2/18  Trained Spotter        
  Garrett Park 2 NW       1.5   400 PM  2/18  Trained Spotter        
  Damascus 3 SSW          1.5   700 AM  2/19  Co-Op Observer         
  Montgomery Village 1    1.4   630 AM  2/19  CoCoRaHS               
  Germantown 5 NNE        1.4   600 AM  2/19  CoCoRaHS               
  Germantown 2 WSW        1.3  1230 PM  2/18  Trained Spotter        
  Gaithersburg 3 NE       1.1   700 AM  2/19  CoCoRaHS               
  Colesville 1 NNW        1.1   800 AM  2/19  CoCoRaHS               
  Norbeck 1 ESE           1.1   700 AM  2/19  CoCoRaHS               
  Damascus 1 S            1.1  1233 PM  2/18  Trained Spotter        
  Takoma Park 1 NNW       1.0   700 AM  2/19  CoCoRaHS               
  Aspen Hill 1 SW         0.9   730 AM  2/19  Trained Spotter        
  Leesburg 4 NE           0.8   130 PM  2/18  Trained Spotter        
  Bethesda                0.8   112 PM  2/18  County Emrg Mgmt       
  Potomac 1 NNW           0.8   700 AM  2/19  CoCoRaHS               
  Dickerson 7 SW          0.8   730 AM  2/19  CoCoRaHS               
  Olney 1 ENE             0.8   630 AM  2/19  CoCoRaHS               
  Colesville 2 W          0.8   700 AM  2/19  CoCoRaHS               
  Garrett Park 1 ENE      0.7  1100 AM  2/18  Trained Spotter        
  Rossmoor 1 ESE          0.7   700 AM  2/19  CoCoRaHS               
  Silver Spring 6 NNE     0.7   546 AM  2/19  CoCoRaHS               
  Somerset 1 ENE          0.5   117 PM  2/18  Trained Spotter        
  White Oak 1 N           0.4   700 AM  2/19  CoCoRaHS              
…Howard County…
  Granite 1 SSE           3.0   100 PM  2/18  Trained Spotter        
  Sykesville 2 SSE        1.8   700 AM  2/19  CoCoRaHS               
  Columbia 2 N            1.7   700 AM  2/19  CoCoRaHS               
  Simpsonville 2 NNW      1.5   647 PM  2/18  Trained Spotter        
  Simpsonville  E         1.5   500 PM  2/18  Trained Spotter        
  Glenelg 2 N             1.3  1200 PM  2/19  Trained Spotter        
  Brinklow 1 ENE          1.2  1138 AM  2/18  Trained Spotter        
  Oella 1 NW              1.2  1130 AM  2/18  Trained Spotter        
  Marriottsville 3 S      1.1   700 AM  2/19  CoCoRaHS               
  Columbia                1.0  1230 PM  2/18  NWS Employee           
  Columbia 2 NE           1.0   300 PM  2/18  Trained Spotter        
  Columbia 2 NW           1.0   100 PM  2/18  Trained Spotter        
  Columbia 1 NE           1.0   215 PM  2/18  Trained Spotter        
  Elkridge 2 W            1.0  1115 AM  2/18  Trained Spotter        
  Savage 1 N              1.0  1200 PM  2/18  Trained Spotter        
  Laurel 1 NNE            0.9   700 AM  2/19  CoCoRaHS               
  Elkridge                0.9  1230 PM  2/18  NWS Employee          
…District of Columbia…
  Dalecarlia Reservoir    0.8   800 AM  2/19  Co-Op Observer         
  National Arboretum      0.6   800 AM  2/19  Co-Op Observer         
Anne Arundel County
My Forecast Zones: Low End 2″ High End 6″ Also: Heavy Ice On Top Of Snow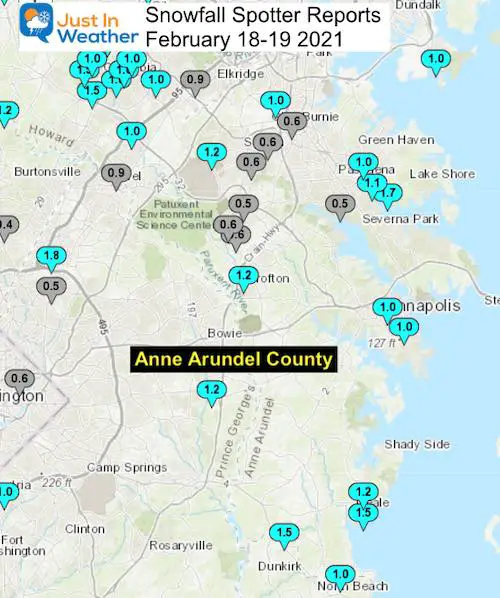 Pasadena 3 ESE          1.7   800 AM  2/19  CoCoRaHS               
  Deale 1 SE              1.5   700 AM  2/19  CoCoRaHS               
  Churchton  ENE          1.2   105 PM  2/18  Trained Spotter        
  Crofton 2 NNE           1.2  1200 PM  2/18  NWS Employee           
  Severn 2 W              1.2   700 AM  2/19  CoCoRaHS               
  Chelsea Beach           1.1  1200 PM  2/18  Trained Spotter        
  Bwi Airport             1.0   100 PM  2/19  Airport                
  Pasadena 1 ENE          1.0   242 PM  2/18  Trained Spotter        
  Annapolis 1 NNW         1.0  1100 AM  2/18  Trained Spotter        
  Annapolis 1 SE          1.0   750 AM  2/19  CoCoRaHS               
  Odenton 1 S             0.6   459 PM  2/18  Trained Spotter        
  Glen Burnie 1 WSW       0.6   300 PM  2/18  Trained Spotter        
  Severn 1 SSE            0.6   700 AM  2/19  CoCoRaHS               
  Severn 2 E              0.6   810 AM  2/19  CoCoRaHS               
  Odenton 1 WNW           0.6   447 PM  2/18  Trained Spotter        
  Odenton 1 N             0.5   730 AM  2/19  CoCoRaHS               
  Severna Park            0.5   130 PM  2/18  Trained Spotter        
Southern Maryland
My Forecast Zones: Low End 2″ High End 4″  Also: Heavy Ice On Top Of Snow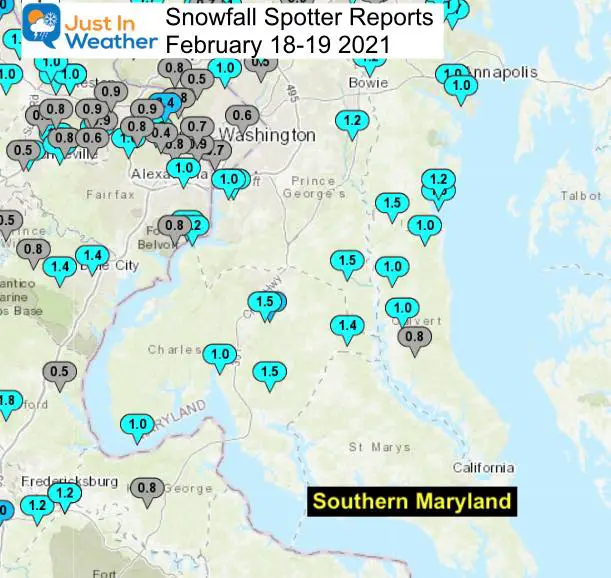 …Calvert County…
  Tracys Landing 2 WSW    1.5  1201 PM  2/18  Trained Spotter        
  Huntingtown 3 SSW       1.0   300 PM  2/18  Trained Spotter        
  Huntingtown 3 NNW       1.0   700 AM  2/19  CoCoRaHS               
  North Beach 2 WNW       1.0   730 AM  2/19  CoCoRaHS               
  Prince Frederick 1 S    0.8  1120 AM  2/18  Trained Spotter
…Charles County…
  Waldorf 3 S             2.4   800 AM  2/19  CoCoRaHS               
  Dentsville 1 SW         1.5  1130 AM  2/18  Trained Spotter        
  St. Charles 1 SSE       1.5  1120 AM  2/18  Trained Spotter        
  Hughesville 2 ENE       1.4  1140 AM  2/19  Trained Spotter        
  Nanjemoy 5 S            1.0   300 PM  2/18  CoCoRaHS               
  Port Tobacco Village    1.0   700 PM  2/18  CoCoRaHS               
…Prince Georges County…
  Beltsville 1 SW         1.8   800 AM  2/19  Co-Op Observer         
  Brandywine 7 ESE        1.5   700 AM  2/19  CoCoRaHS               
  Bowie 4 S               1.2   700 AM  2/19  CoCoRaHS               
  Oxon Hill 1 SW          1.0   800 AM  2/19  Co-Op Observer         
  Oxon Hill 1 W           1.0   800 AM  2/19  CoCoRaHS               
  College Park 1 ENE      0.5   500 PM  2/18  Trained Spotter        
Southern Pennsylvania
My Forecast Zones: Low End 6″ High End 12″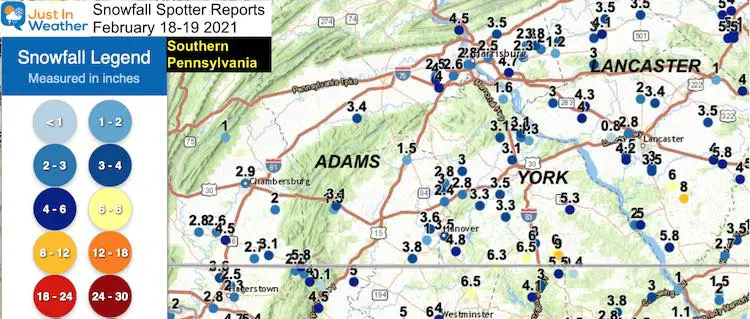 …York County…
Stewartstown 0.5 S           9.0 in    0700 AM 02/19   COCORAHS
New Freedom                  6.5 in    1100 AM 02/18   Public
Shrewsbury                   6.0 in    1240 PM 02/18   Public
1 NE Felton                  5.3 in    0100 PM 02/18   Public
2 SE Parkville               4.8 in    0130 PM 02/18   Trained Spotter
New Salem                    3.5 in    1120 AM 02/18   Trained Spotter
Spring Grove                 3.3 in    0203 PM 02/18   Trained Spotter
Manchester                   3.1 in    1110 AM 02/18   Trained Spotter
Manchester 3.6 W             3.1 in    0700 AM 02/19   COCORAHS
York 2.5 NNW                 3.1 in    0700 AM 02/19   COCORAHS
Dover 4.2 WSW                3.0 in    0445 AM 02/19   COCORAHS
East Berlin 3.4 ESE          2.8 in    0600 AM 02/19   COCORAHS
…Lancaster County…
Quarryville                  8.0 in    0200 PM 02/18   Public
3 E Smithville               6.0 in    1100 AM 02/18   Public
2 WNW Wakefield              5.8 in    1215 PM 02/18   Public
Gap                          5.8 in    0404 PM 02/18   Trained Spotter
2 NNE Mount Joy              4.3 in    1109 AM 02/18
Millersville                 4.2 in    1232 PM 02/18   Trained Spotter
Mount Joy                    4.0 in    1230 PM 02/18   Public
New Holland                  3.5 in    1015 AM 02/18   CO-OP Observer
1 S Willow Street            3.5 in    1047 AM 02/18   Trained Spotter
1 W Rothsville               3.4 in    1245 PM 02/18   Public
Delmarva
My Forecast Zones: Low End UP TO 2″ High End 6″ Also: Heavy Ice On Top Of Snow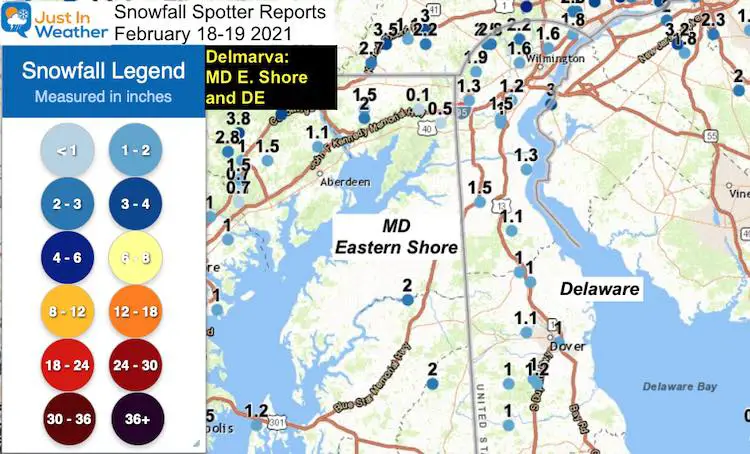 …Maryland…
…Caroline County…
4 SSE Ingleside              2.0 in    1245 PM 02/18   Trained Spotter      
…Queen Annes County…
Crumpton                     2.0 in    0324 PM 02/18   Public               
2 SW Stevensville            1.2 in    0700 AM 02/19   CO-OP Observer       
…Delaware…
…Kent County…
1 SSE Woodside               1.2 in    0115 PM 02/18   Trained Spotter      
West Dover                   1.1 in    0230 PM 02/19   Mesonet              
4 S Hazlettville             1.0 in    0230 PM 02/19   Mesonet              
1 ESE Dover                  1.0 in    0230 PM 02/19   Mesonet              
2 S Smyrna Landing           1.0 in    0230 PM 02/19   Mesonet              
4 SW Felton                  1.0 in    0345 PM 02/18 <