Sunday Morning February 21
This morning we bottomed out in this cold spell. Baltimore at BWI reached 19ºF, the first time in the teens since January 30. There were a lot of teens, west of the Bay, with single digits in far western Maryland and York,  PA.  Across the water, much of Delmarva were in the 20s.
Morning Low Temperatures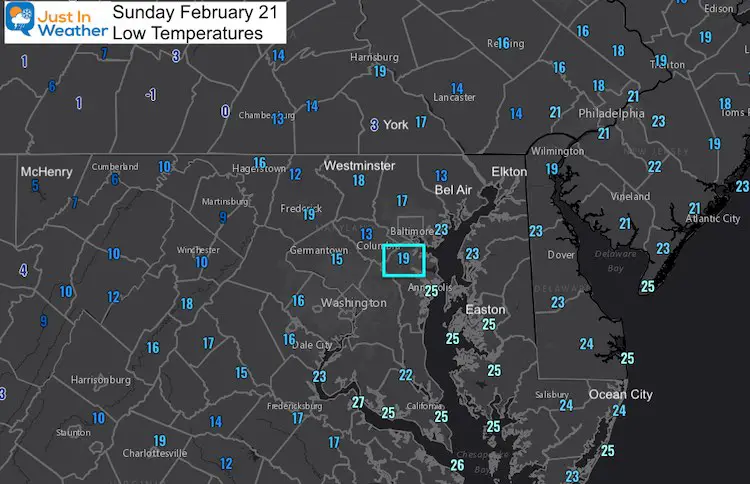 Sunday Morning Weather
We remain cold and quiet today, but the next weather maker is on the map and will race in here with a burst of snow Monday morning. But this is the end of the pattern. We warm significantly by mid week!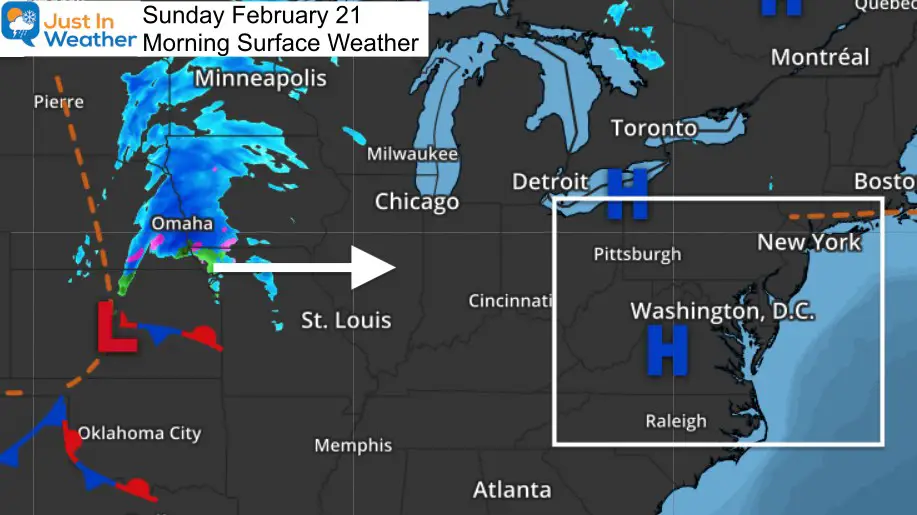 Afternoon Temperatures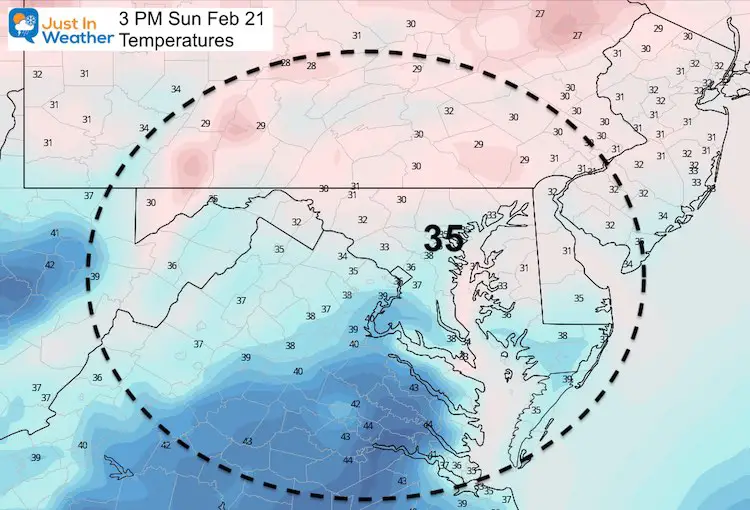 Monday Morning Snow
I am still cautious about the timing. Most models have the snow into metro areas by 10 AM. But we have had a history of early arrivals all winter. Just a fee hours can make all the difference with commute and school busses (where they are in person).
GFS Model —-> slider
Other Global Models show precipitation in 3 hour blocks… They are not in place at 7 AM, but jump too 10 AM and here is what we see…
European Model: Snow in place already by 10 AM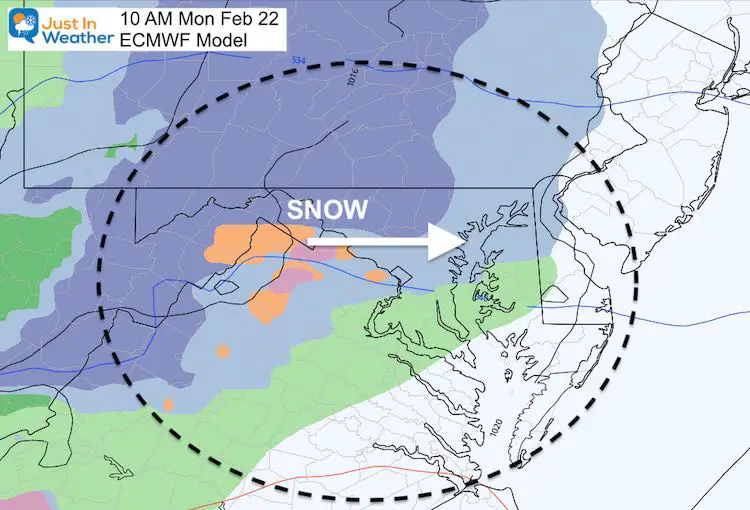 Canadian Model: Snow in place already by 10 AM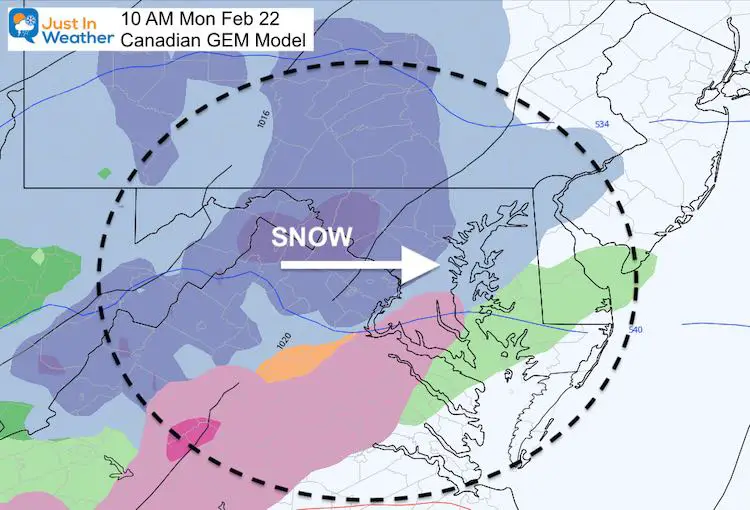 Temperatures will also be right on the edge of freezing. Once the snow begins, they burst will last a few hours into early afternoon as temperatures are warming.
The Higher Resolution NAM 3 Km Model shows the change over at Noon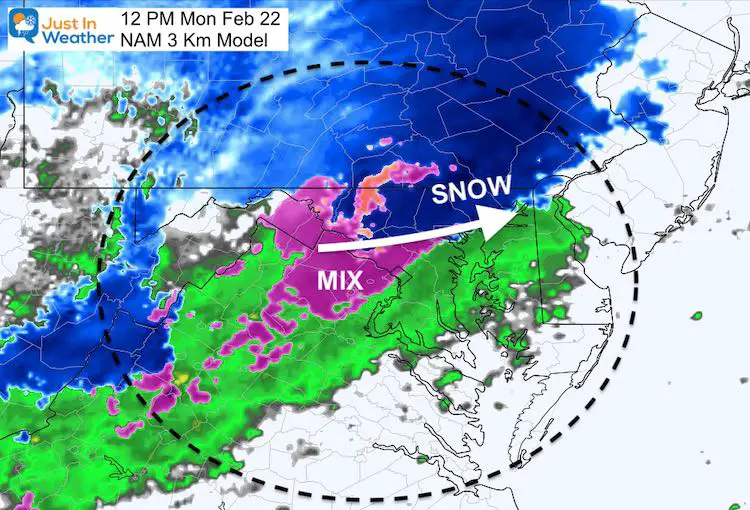 Temperature Timeline —-> slider
How Much Snow?
This is just the GFS Model to give you an idea.  I still think we are in for a 1 to 3 inch snow, but slushy coating on the southern end with wet pavement.  I will refine this in my next report.
Will We Get A Winter Weather Advisory?
I believe this qualifies. If The National Weather Service  posts them, it would come this afternoon.  Assuming that happens it would surely be for the normally inland counties and maybe metro Baltimore/I-95.
However, Annapolis to Washington I think will have minimal impact from this based on timing after sunrise and temps at or above freezing.  Even a burst of snow should result in a little slush or wet roads after 10 AM.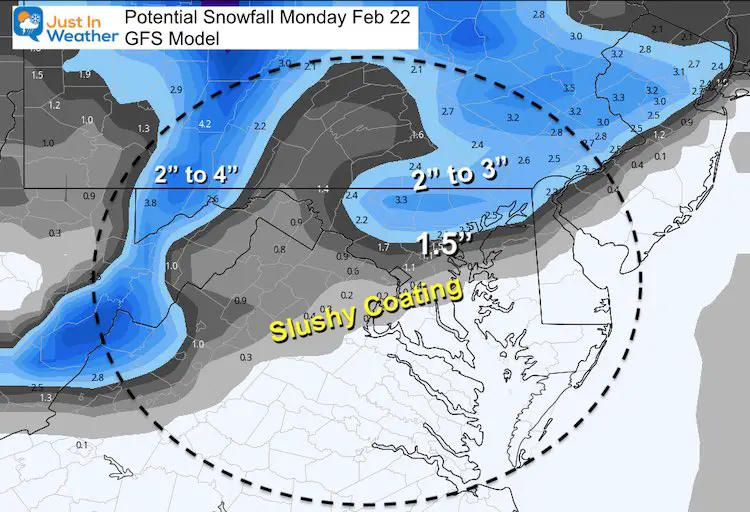 Last Storm Recap: Feb 18 to 19
If you missed it, please see my Storm Recap and Grade My Forecast.
Warming Up!
Here's the temperature outlook, showing our approach to near 60ºF on Wednesday, but another warming trend to follow.  This is spring trying to come in, but winter will not give up it's grip yet.  March is set up to be a very active month.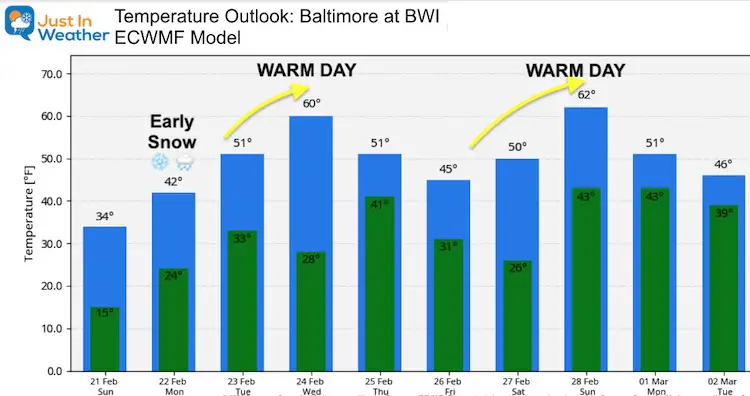 Please share your thoughts, best weather pics/video, or just keep in touch via social media
YOUR INTERACTIVE WEATHER PAGES
14 Local Maryland Pages (and York PA)
We have made a page for Maryland Weather which gives you the current conditions for 14 present area locations.
Local Hourly Forecasts and Local Radar
Central Maryland
Delmarva
Pennsylvania