9 AM Thursday February 18
I realized I was ding frequent updates in social media, but you might only see my repots here on the web site.
With all the angry 'BUST' calls, this is still RAGING for others and ICY FOR ALL! We still have an active Winter Storm Warning.
Earlier this morning I declared this a Bust as sleet and freezing rain took over in central Maryland.  Even saying I was wrong was wrong (for some). I was bombarded with reports of snow still falling in northern Maryland, the mountains, and southern PA.
Now at 9 AM snow is trying to make a return. This includes reports from Owings Mills to Bel Air. This can abruptly change just a few miles in either direction.
It was impossible to pin all of this in a forecast, especially with different results from one town to another.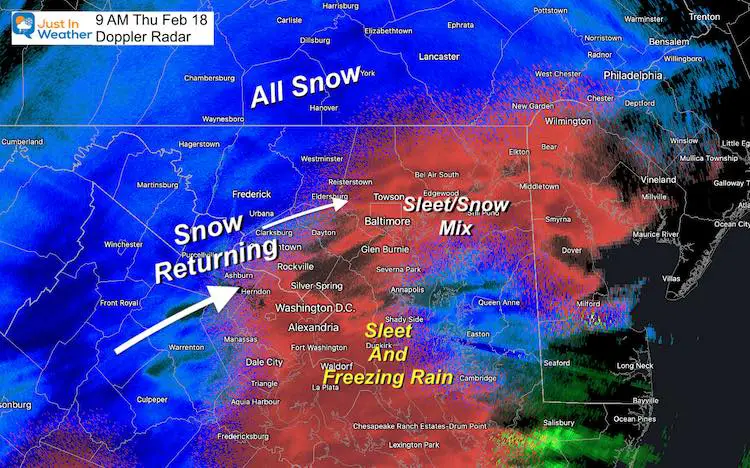 Temperatures 
The dynamics of the storm have still turned colder as expected.
20s and either snow, sleet, or freezing rain. We were Catfished!
Washington reporting sleet and freezing rain.
Baltimore reporting sleet and snow.
Essex: Martin State Airport reporting snow.
Westminster: Snow
Bel Air: Snow and sleet mix.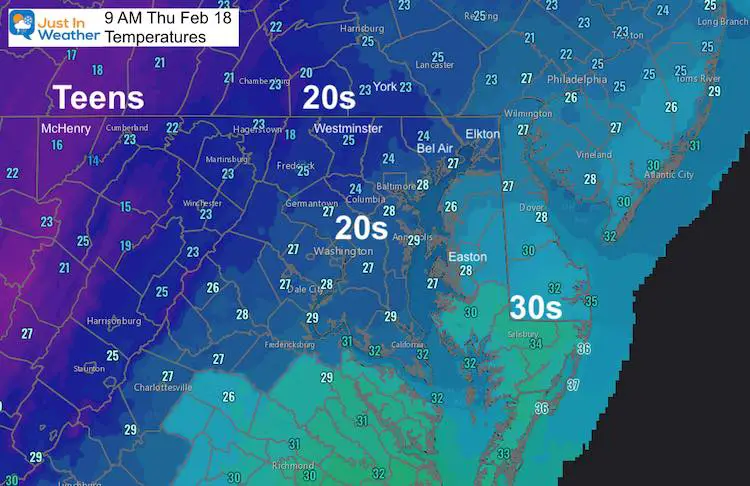 If you 'get back into the snow', it can still quickly dump a few inches in a short time.
In the mix or ice, it will remain icy all day. Total ICE accumulation can reach 1/2 inch or more leading to tree and power problems.
Still aiming for a lull arriving between 11 AM and 1 PM
More showers of icy mix or snow overnight again.
One of my clients texted that he didn't envy my job.  I don't envy it either.
Radar Simulation 6 AM to 3 PM
HRRR Model
The mixed precipitation (orange) and freezing rain (pink) are not perfect…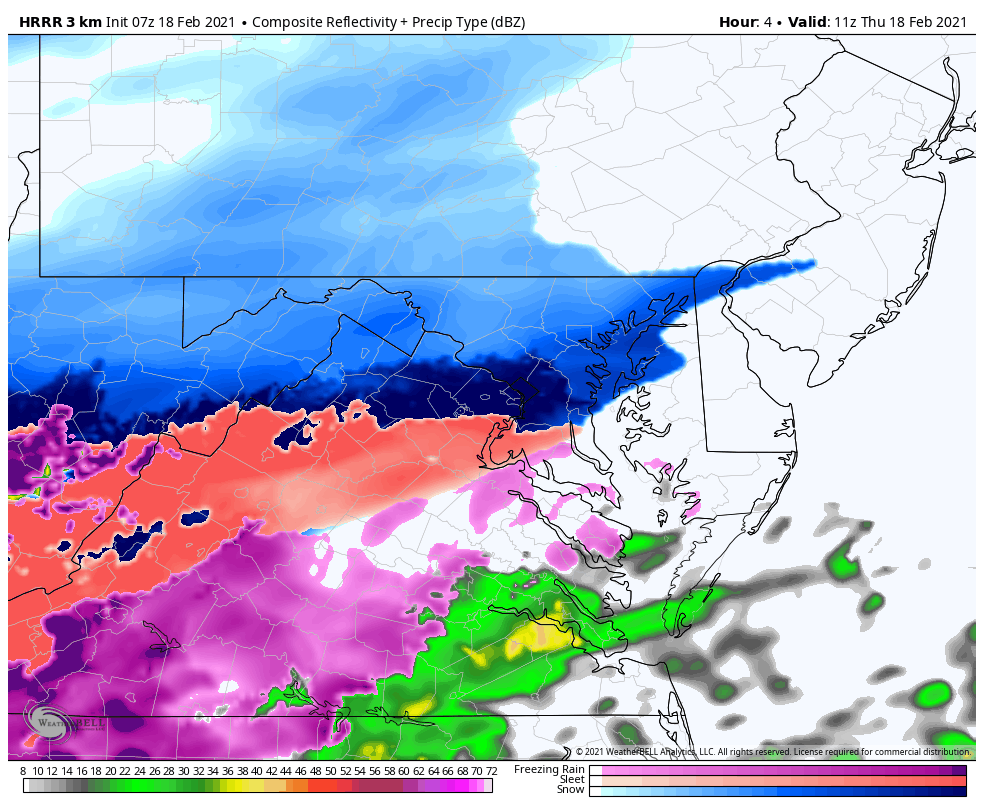 Radar Simulation Today at 4 PM to Friday at 10 AM
Canadian GEM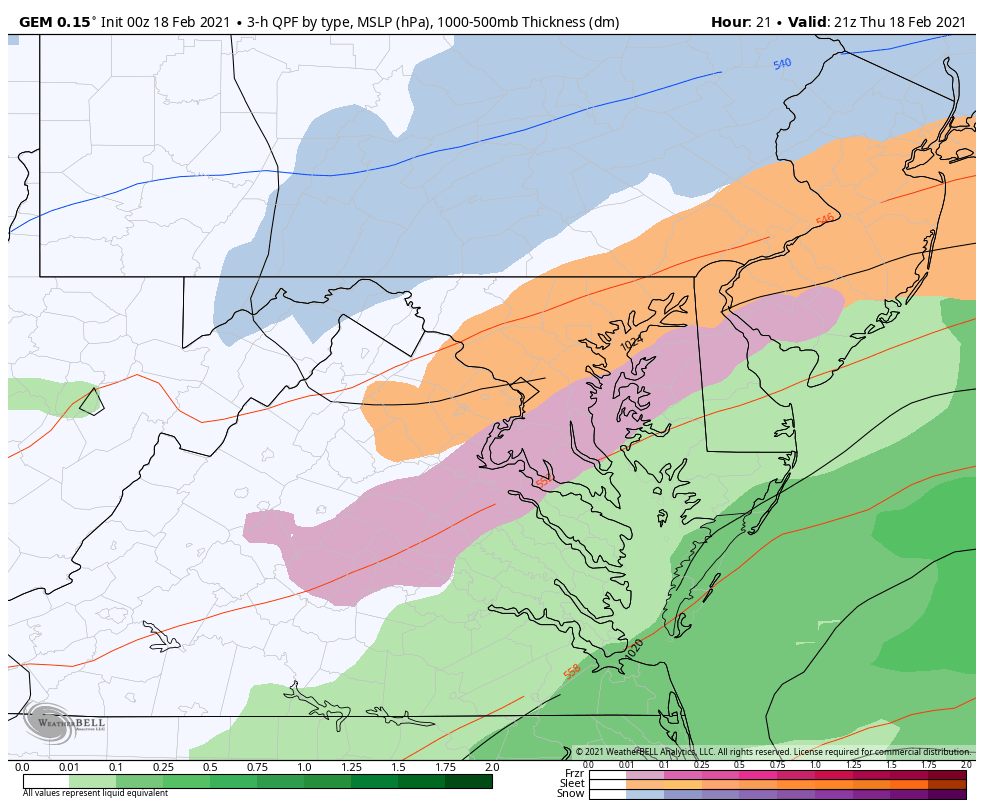 Winter Storm Warning/Winter Weather Advisory
Warning Areas should remain below freezing all day.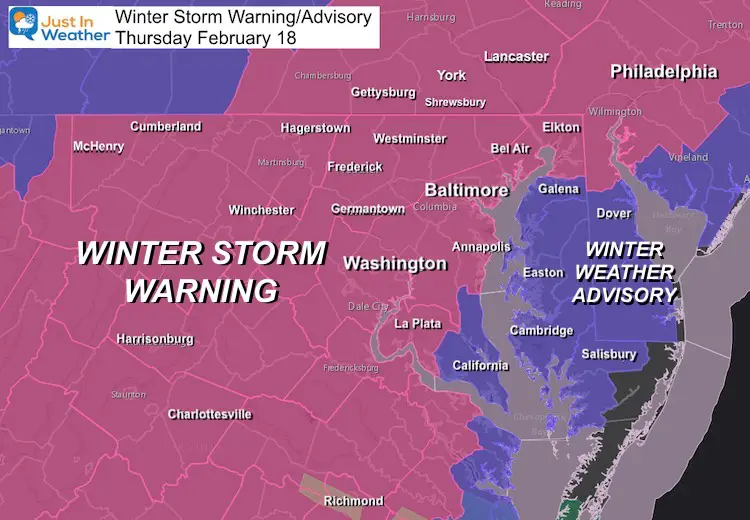 Please share your thoughts, best weather pics/video, or just keep in touch via social media
YOUR INTERACTIVE WEATHER PAGES
14 Local Maryland Pages (and York PA)
We have made a page for Maryland Weather which gives you the current conditions for 14 present area locations.
Local Hourly Forecasts and Local Radar
Central Maryland
Delmarva
Pennsylvania