Thursday February 18 2021
Morning Report at 6 AM
I was wrong! This large storm hit hard and fast with heavy snow as it began. Rates were 2″ an hour! Then, sleet and freezing rain was reported around BWI to Ellicott City, up to Towson at the start, and may mix back  and forth for a while with snow. If this had lasted just 3 hours my snowcast would have verified. But it didn't.
This will be hard to track and there is big bust potential with snow depth, but a promise all area roads are going to be very slippery. 
My fear is that this will be more of an ice storm for many. Less to measure and more dangerous! Please be careful now and beat up on me later.
Morning Radar
The radar algorithm can't even keep up with this…. There is a lot more sleet and freezing rain than indicated here.
Snow may last longer and verify along the PA line.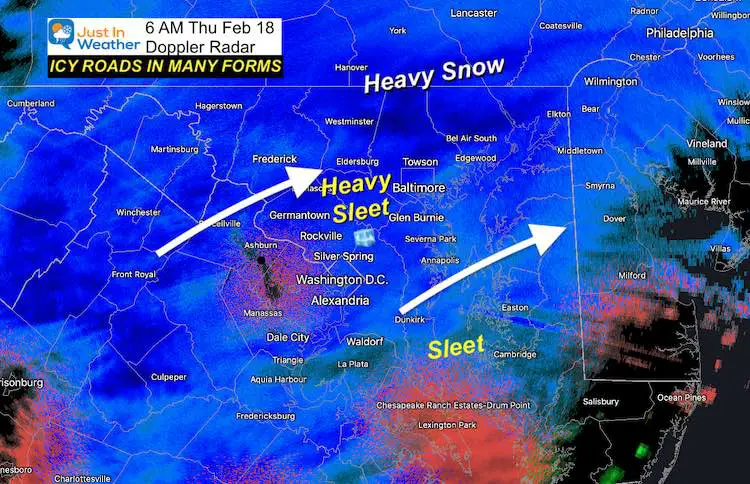 If you need to drive, you can turn the corner and go from heavy snow to sleet, and may switch back to snow without much warning.  This will be very difficult to track and can hinder snow results.
The icing will be more widespread from south and spread north during the morning. We might see a lull in the afternoon. No doubt about the impact this morning.
Temperatures
It is cold enough to stick! Most of the region is in the 20s. BWI Began with 30ºF then dropped to 28ºF as it went from snow to sleet and freezing rain.  More frozen liquid as it gets colder.  That was the cooling I expected but warmer air aloft is winning.
ROADS WILL BECOME ICY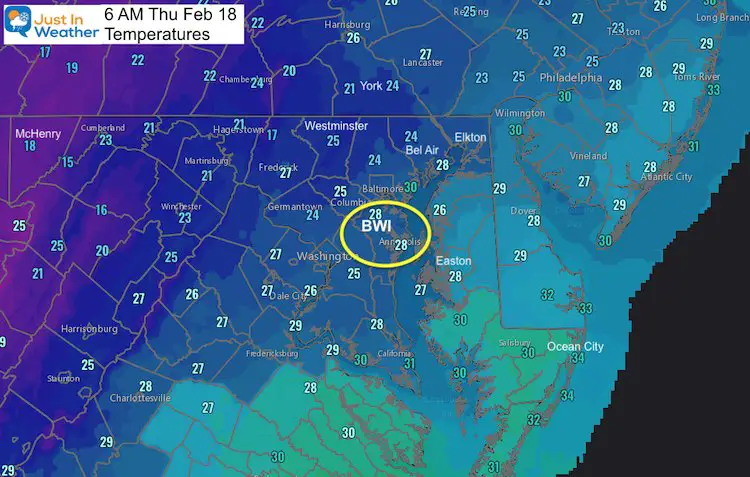 Air Aloft
Last night the weather balloon sounding from Sterling VA showed the warmer air around 5,000 Ft.  That is why we do not have a pure snow.  As cold air the air is at the surface, this pocket is melting flakes aloft, then the refreeze to sleet on the way down.
I thought it would work itself out with the onset, but it is holding strong.  If my snow forecast busts for you, this will be the reason why.
Surface Map
I began tracking the snow across Maryland and Pennsylvania at 4 AM. The radar was lit up while many places were dry at the surface. Once that virga broke through the dry air, it got heavy in a hurry.
Flurries to Heavy Snow and covered roads in minutes. Snowfall rates will initiate at 1 to 2 inches per hour.
One report from Westminster dropped 1 inch of snow in the first 30 minutes.
One of my clients reported the same on the Capital Beltway around Washington DC.
Visibility can drop to near zero with little to no warning! So please be careful if you plan to head out. I grew up in very snowy places and drive an AWD vehicle, but this can get dangerous almost instantly.  If you have not seen it yet as you read it, it will happen shortly.
Expectation:
The hardest hit will be this morning, regardless of snow or sleet. 

Mixing will be gradual and hard for models to pick out.

We will rely on nowcasting and crowdsourcing to see how far north it can make it.

 

Some areas will remain all snow in this colder air.

Afternoon: A lull possible between 12 PM and 4 PM

Evening and Tonight: A return of snow and ice will try to build back into morning.
Radar Simulation 6 AM to 3 PM
HRRR Model
The mixed precipitation (orange) and freezing rain (pink) are not perfect…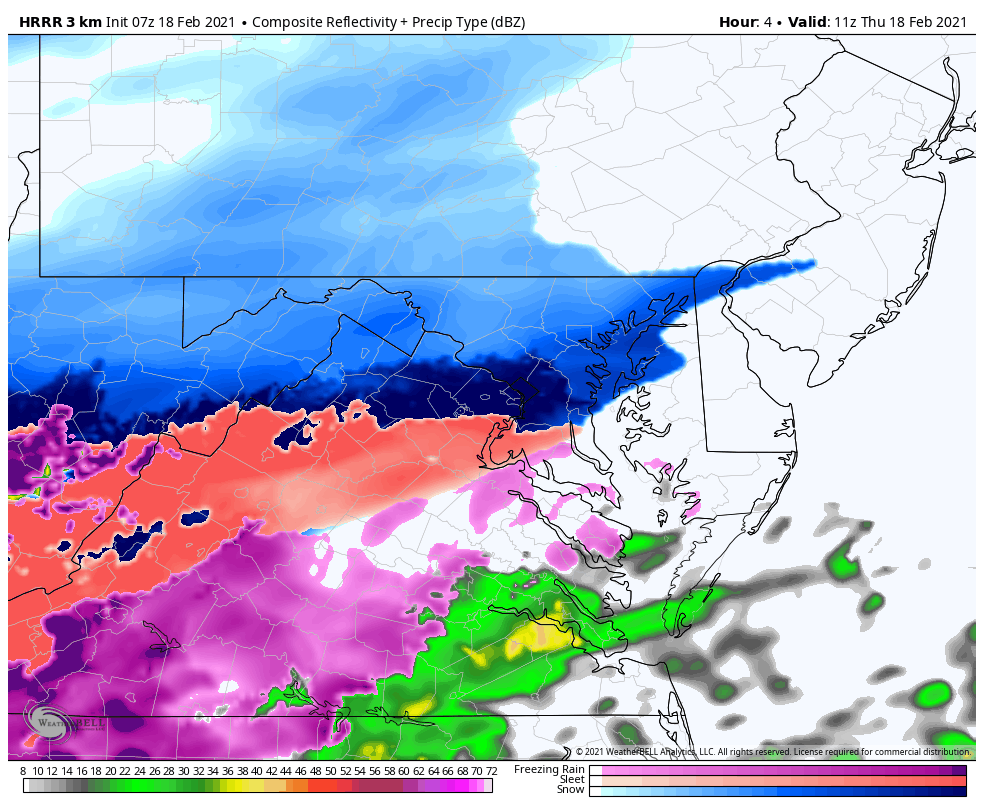 Radar Simulation Today at 4 PM to Friday at 10 AM
Canadian GEM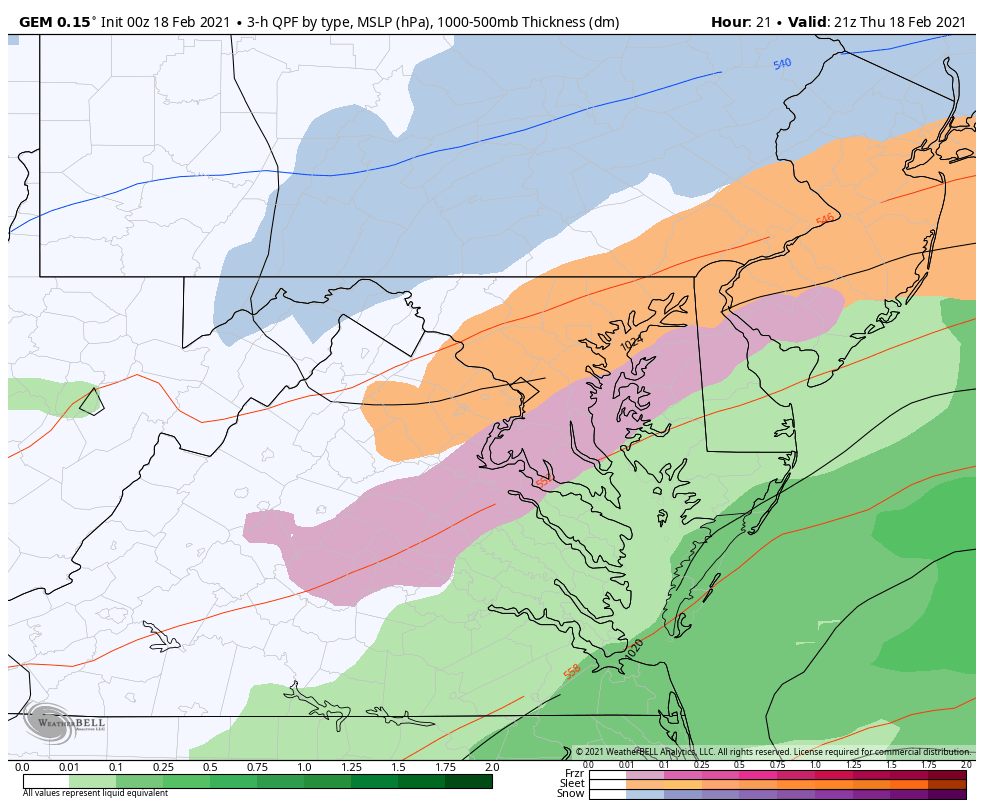 Winter Storm Warning/Winter Weather Advisory
Warning Areas should remain below freezing all day.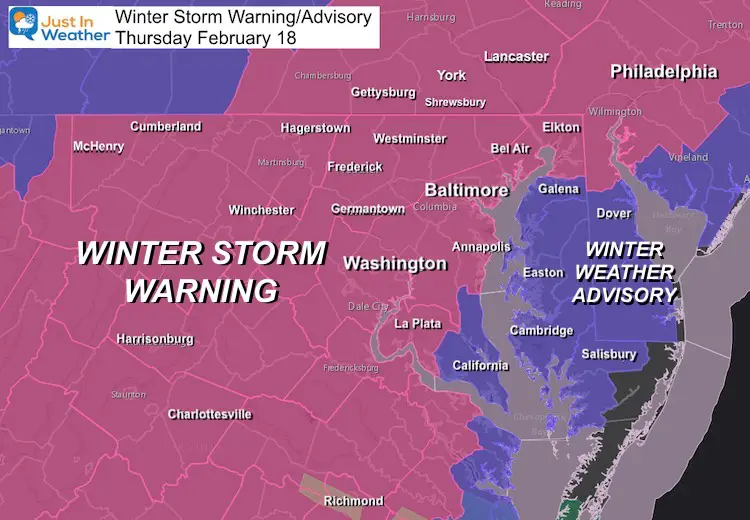 My Final Call For Snowfall
Note: Initial snowfall rates were 1 to 2 inches per hour.
This will be a BUST for many areas. That ICE part won this battle. I am sorry to let you down.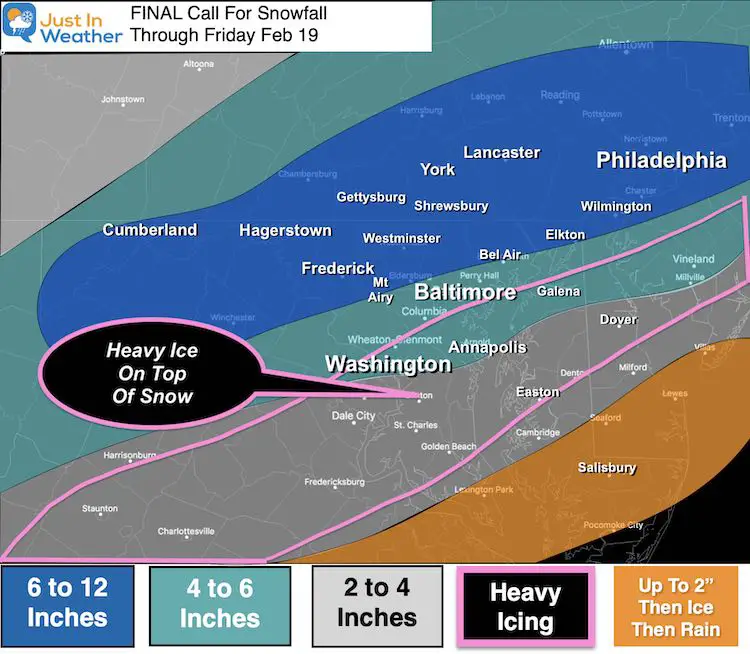 Please share your thoughts, best weather pics/video, or just keep in touch via social media
YOUR INTERACTIVE WEATHER PAGES
14 Local Maryland Pages (and York PA)
We have made a page for Maryland Weather which gives you the current conditions for 14 present area locations.
Local Hourly Forecasts and Local Radar
Central Maryland
Delmarva
Pennsylvania