February 17 2021 Wednesday Night Report
On the night before a winter storm,
Many questions were asked by a lot:
When will it start? When will it mix?
What will happen at my spot?
I've shared all of the analysis I could fit in today, but wanted to give you at least one model solution for how this storm might play out.  The High Resolution Rapid Refresh (HRRR) Model simulation is below.
First, here's a look at the set up tonight:
Wednesday Night Surface Weather
The radar has been showing snow reaching into central PA, but the leading edge is not reaching the ground.
The air is cold and very dry. This suggests the atmosphere will generate its own cold air as the storm arrives.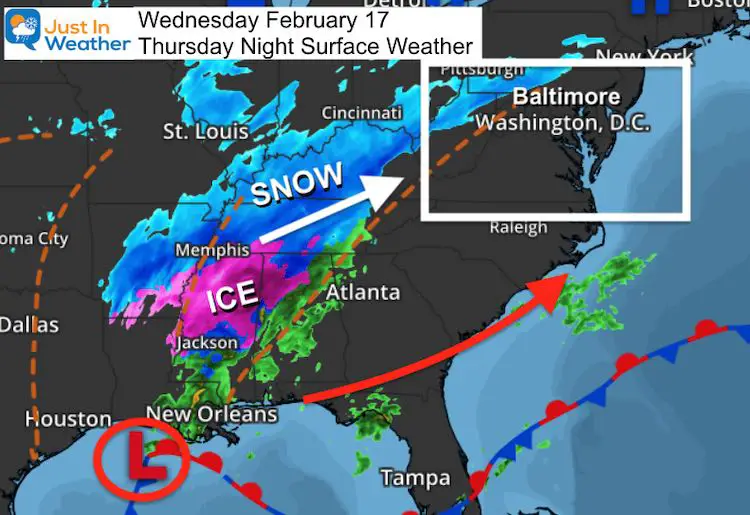 Temperatures At 10:30 PM
Note: BWI = 28ºF. The Dew Point is 9ºF, which is VERY DRY!
As cold as the air is, it will get colder when the precipitation arrives.  But that also means the first few hours seen on radar might be virga.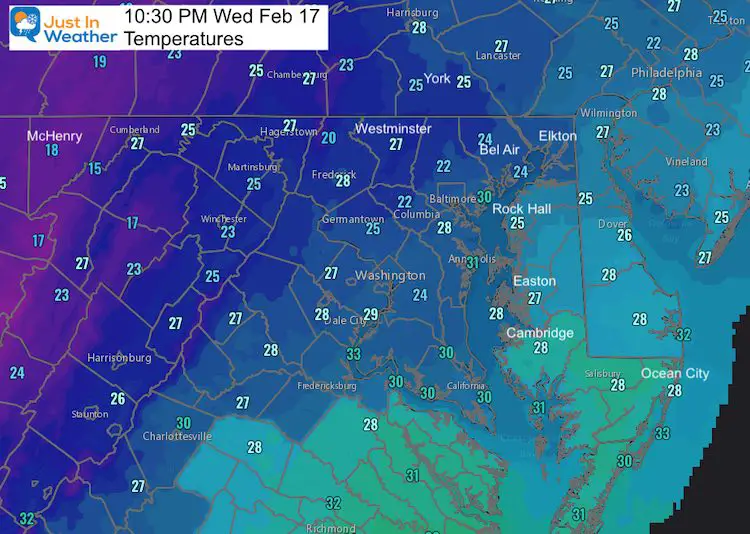 Forecast Temperatures In The Morning
This was the forecast I showed in my prior report. Based on the current conditions, when the snow begins the readings in Baltimore and Washington should be colder than highlighted here.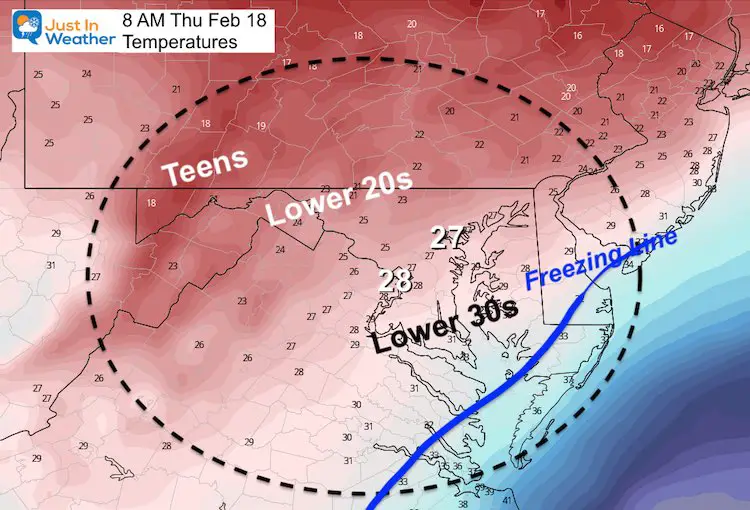 Radar Simulation Thursday 5 AM to Friday 12 AM
HRRR Model —> slider
This is only one possible solution, and not perfect.
I believe the cold air is not being handled well, so please consider this with a grain of salt.
Important Factors
Starting: Before sunrise. The air is dry, so it may look like snow on radar for a few hours overnight before it reaches the ground (virga).

The trend this winter has been for storms to arrive early, and maybe end early. 

Temperatures: Remain below freezing in most of our region all day Thursday!

This mean maximum stickage!

That is vital to decision making and road maintenance.

Snow totals might be a game for us, and I expect overachieving in some areas.

Ice from sleet and freezing rain will cut into some totals. This can turn extremely dangerous on top of new snow. I will spell that out below.
Winter Storm Warning/Winter Weather Advisory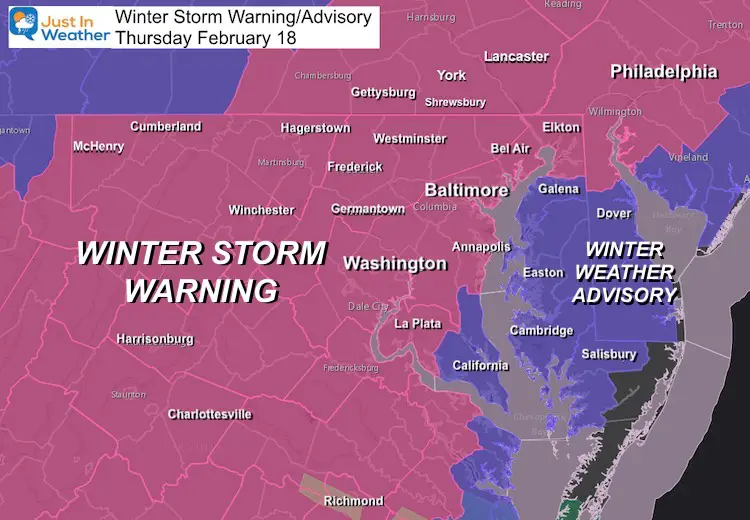 How Much Snow?
My Final Call For Snowfall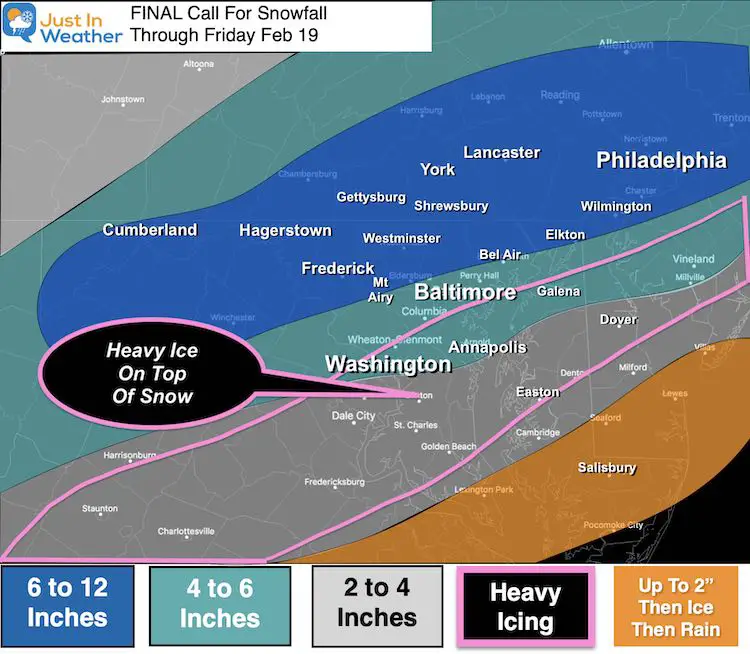 NWS Snow Forecasts
Explore more. Click here or the image for:
This is the latest for Maryland. See Virginia, Pennsylvania, New Jersey, and Delaware on our Snow and Ice forecast page.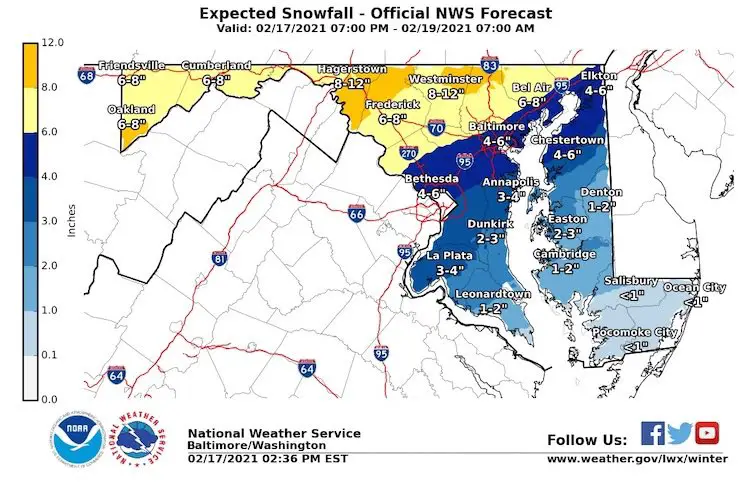 Please share your thoughts, best weather pics/video, or just keep in touch via social media
YOUR INTERACTIVE WEATHER PAGES
14 Local Maryland Pages (and York PA)
We have made a page for Maryland Weather which gives you the current conditions for 14 present area locations.
Local Hourly Forecasts and Local Radar
Central Maryland
Delmarva
Pennsylvania