February 16 2021 Tuesday Afternoon Update
In advance of the impending snow and ice, The National Weather Service as issued a Winter Storm Watch for most of our region beginning Thursday morning. The end times vary based on location and expected impact and temperatures.
The short version is this: Thursday is going to be a snow and ice day limiting travel for a large area west and north of the Chesapeake Bay. Temperatures are expected to remain below freezing in Baltimore and Washington, along with all points inland.
Winter Storm Watch
These counties shaded in blue are expecting the largest impact from the storm.
Eastern Shore/Delmarva:

 

There will be some 'stuff' at the start to contend with that may still prompt and 'advisory' to be issued.
This is the first phase of public alerts.

 

Often within 24 hours of the start, these will get upgraded to A Winter Storm Warning or Winter Weather Advisory. We should see the upgrades Wednesday morning.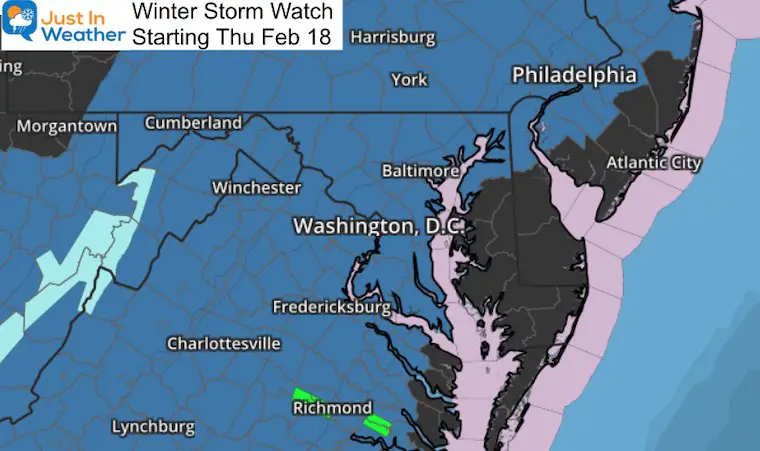 What to Expect:
See the model maps below
Quick Cast: Central Maryland Snapshot
Wednesday: Temps start off cold and stay near or below freezing.
Thursday:
Heavy snow starts before sunrise
Mixes with sleet and freezing rain from south to north during the day.
Northern areas will stay snow longer and get higher accumulation.
Thursday Night: Freezing Rain likely in metro areas, but snow might hang on inland if this colder trend continues. *That arctic air about to arrive is strong and sturdy!
Friday Morning: Ending with Freezing Rain or Snow Showers.

My Call For Snowfall 
This is my 'low end' confidence number. There is upside potential from here.

My forecast may be a little different from NWS or your other sources.

This falls in line with my thinking of a storm trending colder.

 

Many areas are expected to get colder when this beings and remain below freezing for the entire event.
I will cap off the top range of snow by tonight or tomorrow morning's report.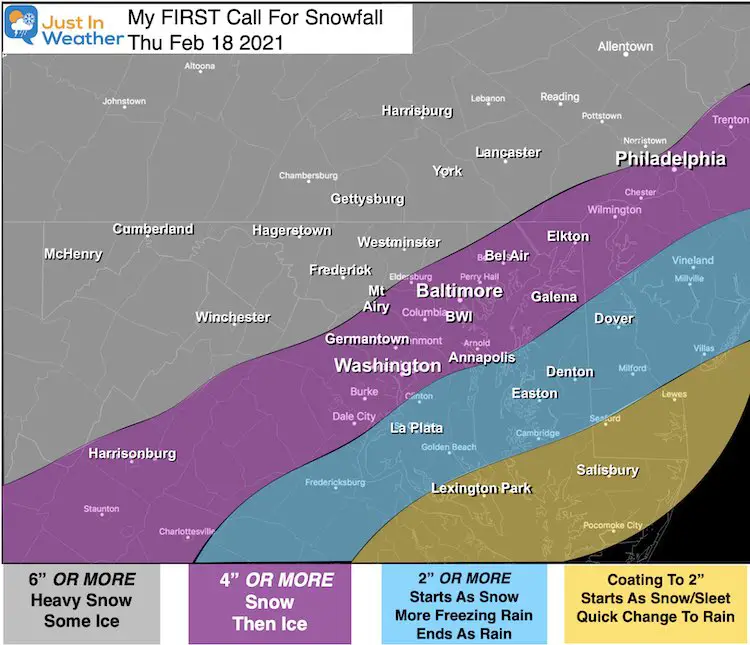 Temperatures Remain Below Freezing For Big Cities
—-> slider
Compare to the Canadian GEM Model Animation
This solution has trended even colder, and is now trying to keep snow in the region through Friday as well.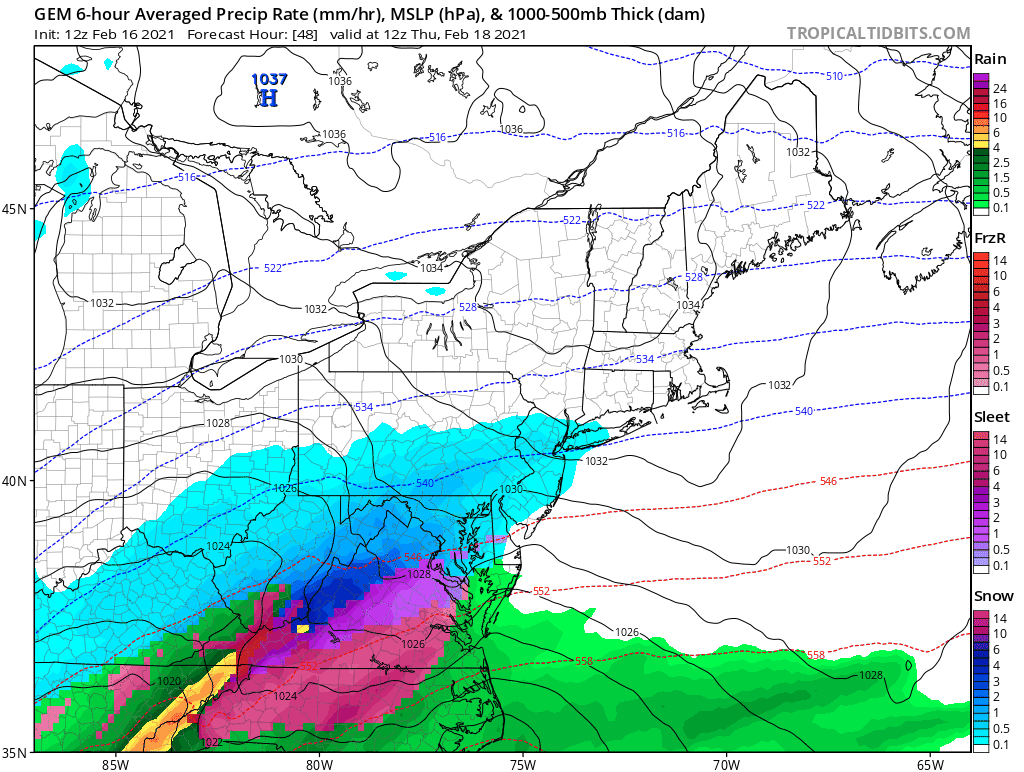 GFS Model —-> slider
I showed this in my last report. Here we see a different solution with the storm ending as freezing rain early Friday
Please share your thoughts, best weather pics/video, or just keep in touch via social media
YOUR INTERACTIVE WEATHER PAGES
14 Local Maryland Pages (and York PA)
We have made a page for Maryland Weather which gives you the current conditions for 14 present area locations.
Local Hourly Forecasts and Local Radar
Central Maryland
Delmarva
Pennsylvania