We remain on the edge of the arctic air mass dominating the country.  But the storm on Thursday should allow more of the cold air to spread our way and shift the storm track.  The result will be more snow and ice. I have confidence in that part. How much we can get take a lot more work, but my first call mp is below.
I want to make this point clear:
No Single Computer Model has the perfect solution. I like to show you the visuals, but it is my job as a meteorologist to sort through the noise and make a solid call. There is (as usual) a debate over the snow/ice/rain line.  I believe some high numbers on snow maps might possibly be confusing sleet into total snow accumulation. My map below has factored all of that in.
Quick Cast: Central Maryland Snapshot
Wednesday: Temps stay near or below freezing
Thursday:
Heavy snow starts before sunrise
Mixes with sleet and freezing rain from south to north
Thursday Night: Freezing Rain
Friday Morning: Ending with Freezing Rain or Snow Showers.

Consider this:
Before you pick on meteorologists and share Memes with a large range of snow on maps, we are not alone:
I have been renovating my kitchen this winter, and recently ordered a new microwave and stove.  The store said the microwave is in stock and would arrive within 2 weeks.  OK.
The stove either had 1 in the warehouse or was out of stock.  The sales person was not sure.  I literally was given potential delivery between 1 and 12 weeks.
I rest my case 🙂
My Goal:
This FIRST CALL is my best 'early guess' at the 'low end' confident number. You will see a map with Or More, meaning there is upside potential
Calling snow and ice is always tricky a few days away.  One factor that helps is the agreement of the European and GFS Models keeping freezing air in Baltimore for the entire storm.
But that is only part of the story:
We should begin with snow before sunrise, but at some point sleet and freezing rain will advance from the south. When and where that line sets up can make or break the call.
Please note that as little 100 miles can adjust heavy snow to ice or rain. A slight shift in the track and move one area from one of these results to the other.
My First Call For Snowfall
See the latest GFS Model timeline slider below
This map may change, but this is how I see it now.
I will cap off the top range of snow by tonight or tomorrow morning's report.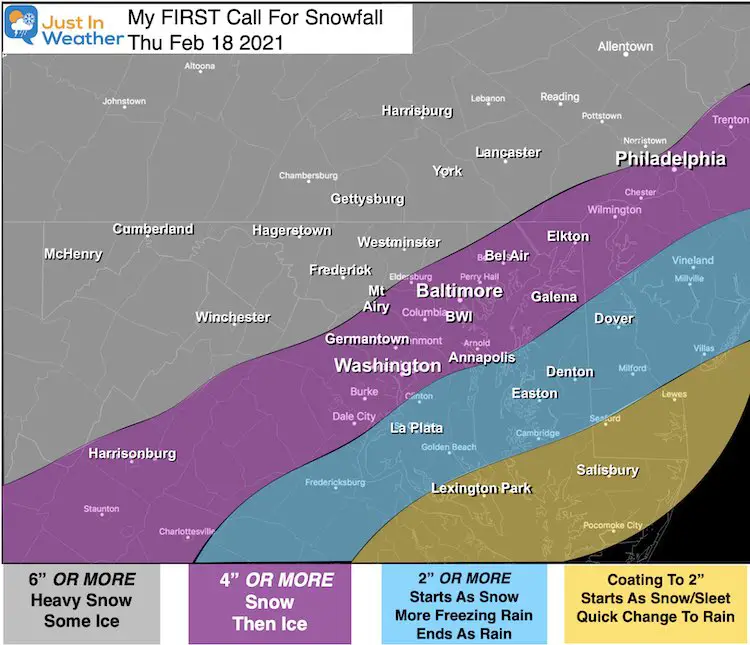 UPDATE: NWS ISSUED A WINTER STORM WATCH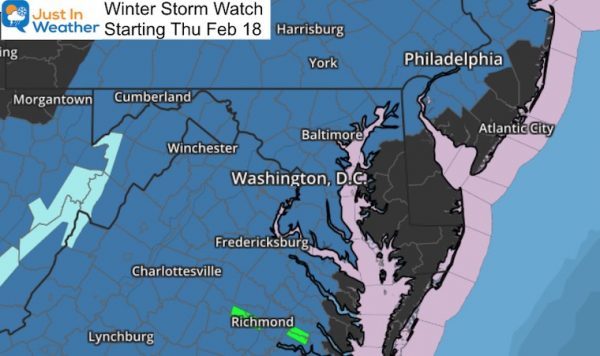 GFS Model —-> slider
Temperatures Remain Below Freezing For Big Cities
—-> slider
Other Models:
The European led this colder charge and is still here. The Canadian was warmer, but is now in agreement here.  The NAM however keeps trying to push the warmer air in. I don't buy that as this low level air is strong and will not be easy to move.
Please share your thoughts, best weather pics/video, or just keep in touch via social media
YOUR INTERACTIVE WEATHER PAGES
14 Local Maryland Pages (and York PA)
We have made a page for Maryland Weather which gives you the current conditions for 14 present area locations.
Local Hourly Forecasts and Local Radar
Central Maryland
Delmarva
Pennsylvania