Thursday February 11 2021
Have you seen the movie The Day After Tomorrow?  That might come to mind when you see what is on the way over the next week and maybe help warm you with a laugh. That will not become reality, but it may become some popular memes.
I compare this to active patterns in 2009-2010, and even parts of 2014 and 2015.  Not specific to storms, but the frequency of events keep hitting and may make your head spin.
We are just wrapping up a solid hit of snow in the Mid Atlantic that behaved mostly as expected. I will have a recap of that event by tonight.  However, no rest for the weary.
In this report I want to touch on this very busy week including:
Tonight: Snow in southern Maryland
Saturday Night: Ice Storm
Epic Arctic Air Entering The US: We are only on the edge
Monday Night/Tuesday: Coastal Storm with snow and ice
Next Thursday: Another Possible Ice Event
Set Up Today:
This little weather event is moving off of the coast. The next waves arrives tonight, but mainly south of Washington.
Freezing Rain: Ice has been a problems from Tennessee to Texas.  That is important because it shows how far south the cold air has dropped, and the breeding ground for what is on the way. Please take note as hundreds of cars were involved in accidents like this.
Hint: We have freezing rain expected a few times over the week ahead…
The camera just panned over the wreckage in I-35W in Fort Worth and it is jaw-dropping | https://t.co/IV8re79ilk via @wfaa pic.twitter.com/YrrW4dgCGi

— Evan Schreiber (@SchreiberEvan) February 11, 2021
Pacific Northwest: This is another part of the storm breeding ground. Our next event is there today, and more is on the way.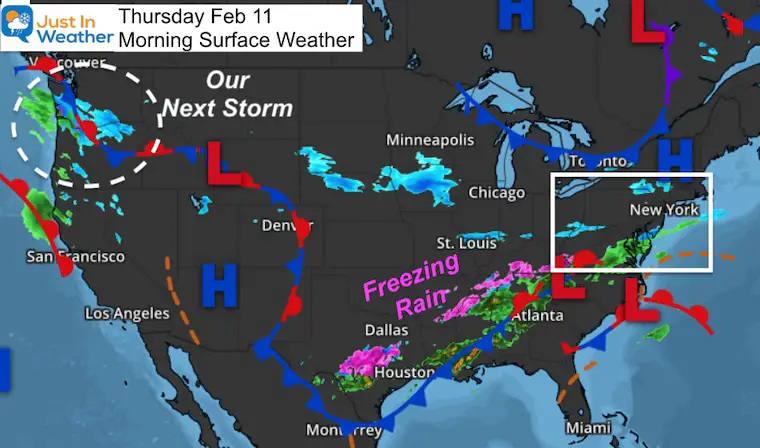 Water Vapor Satellite
This upper level flow has everything we need to keep pumping in more winter storms.:
Pacific Northwest breeding ground for more energy
Gulf of Mexico supplying more moisture and a path to the eastern US
Arctic Air: Oh! Wait until you see this..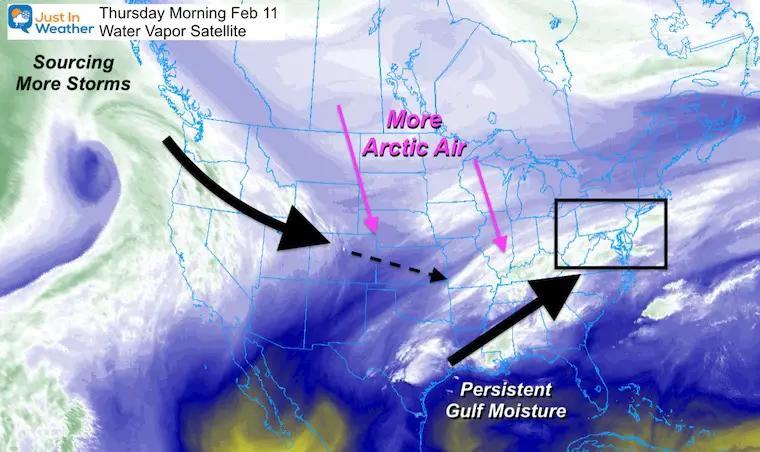 Winter Event Tonight:
Winter Weather Advisory: Lower Eastern Shore and Southern Virginia
Radar Simulation —-> slider
GFS Model: Snowfall expected on the last image.
Friday Morning Temperatures
Cold enough there for the snow to stick. This is a region that does not get snow often, but 1 to 3 inches is enough to be a larger impact.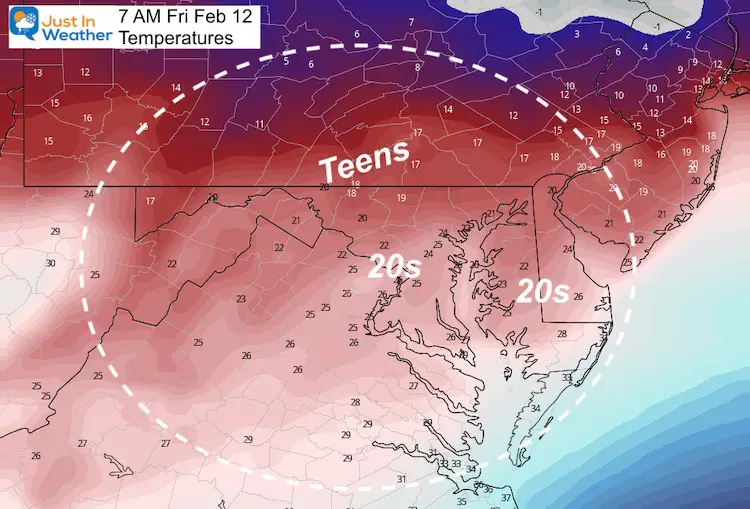 Weekend Ice Storm
I touched on this in my last report.  Cold surface temperatures and warming at cloud level from a coastal brings in freeing rain.
Timing: Saturday Night into Sunday Morning
Impact: The European Model has us with nearly .50 inches of ice! If that verifies, we could look for power outages, and the ice will linger after the storm ends…
If even some of this verifies, we establish ice on top of snowpack, which will play a role in a colder solution for the next event(s)
This may be the bigger problem for a larger area.
As of now it appears to develop Saturday evening and end Sunday morning.
The early call form the European Model is for up to 1/2 inch of ice.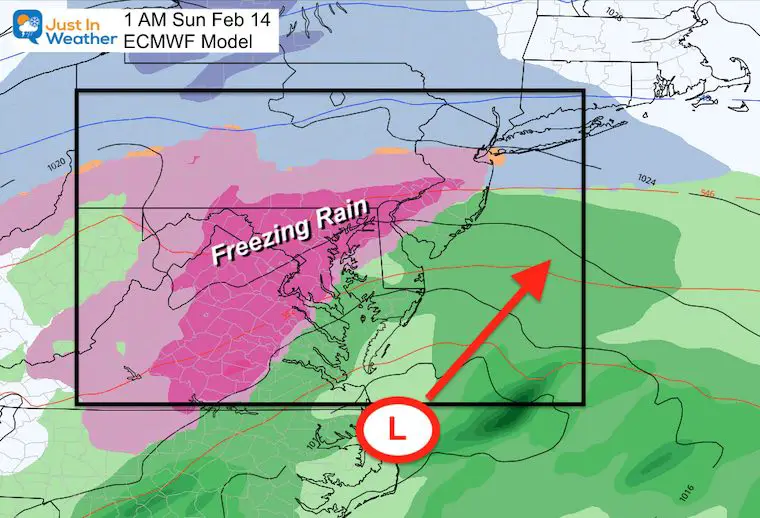 'Potential' Ice Accumulation 
This may be a little over aggressive with the totals. But even 'half of this' would create problems.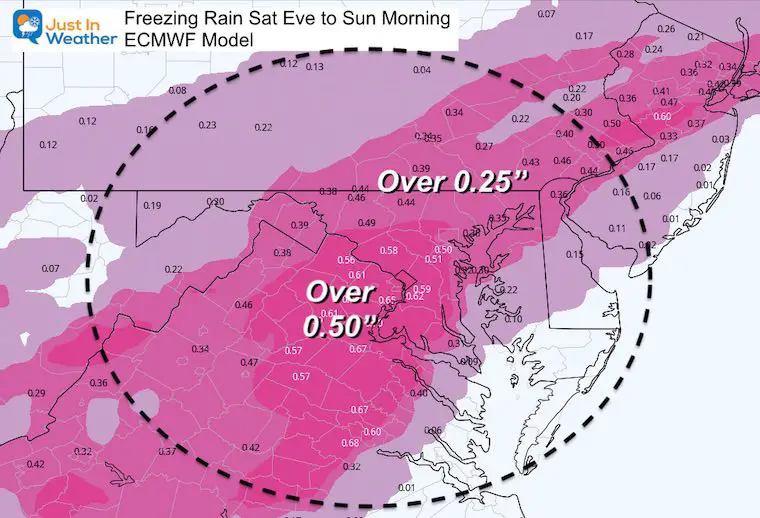 Arctic Air
This is Epic!  How do I know?  I am part of a group with broadcast meteorologists from all over the country. I saw some in Texas hesitating about the consist numbers of record cold by Tuesday Morning.
Dallas forecast to drop BELOW ZERO!
Houston forecast to be in the single digits to teens!

 

The concern was how to forecast a high in the 20s for a semi tropical location.

 

Models have shown that for a few days.
The impact on vegetation would be devastating. Also structures not build for that cold that could have water pipes freezing and bursting.
Texas Forecast Map: Next Tuesday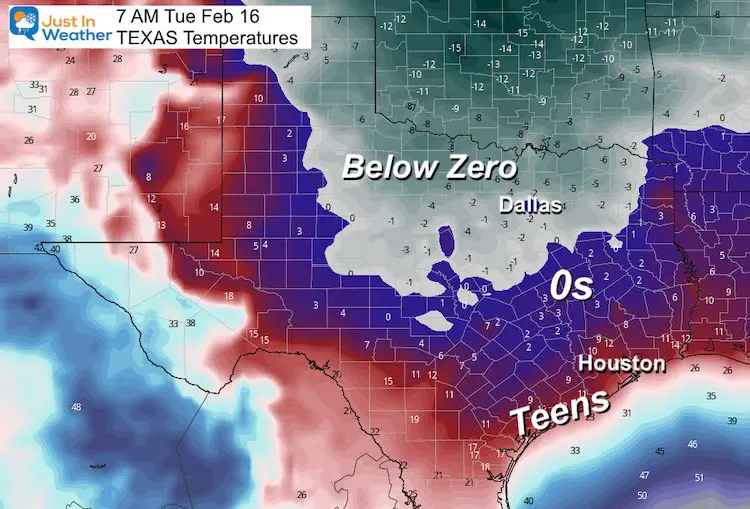 USA Forecast Map: Next Tuesday
This cold air is diving directly out of the Arctic into Texas with morning readings below zero!
Notice the eastern US will be cold, but not 'as cold'.

 

Locally we can plan for teens and 20s, while the next coastal storm will be in progress.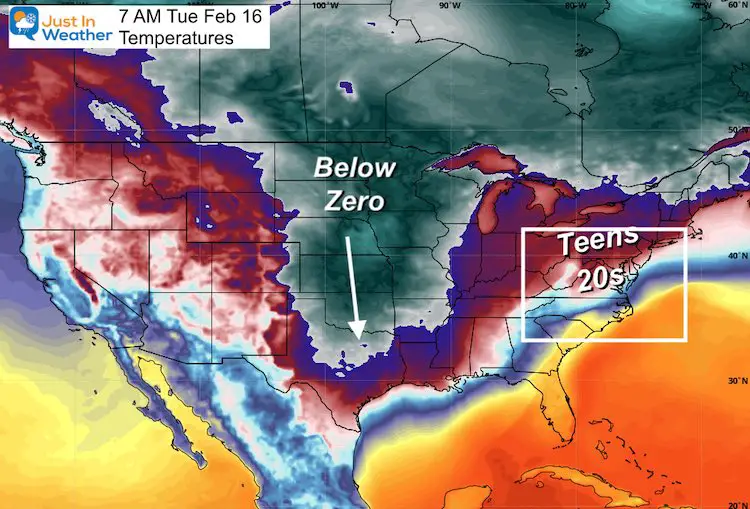 Coastal Storm
Often on the leading edge of arctic air in a set up nudged agains the coast, storms like to develop.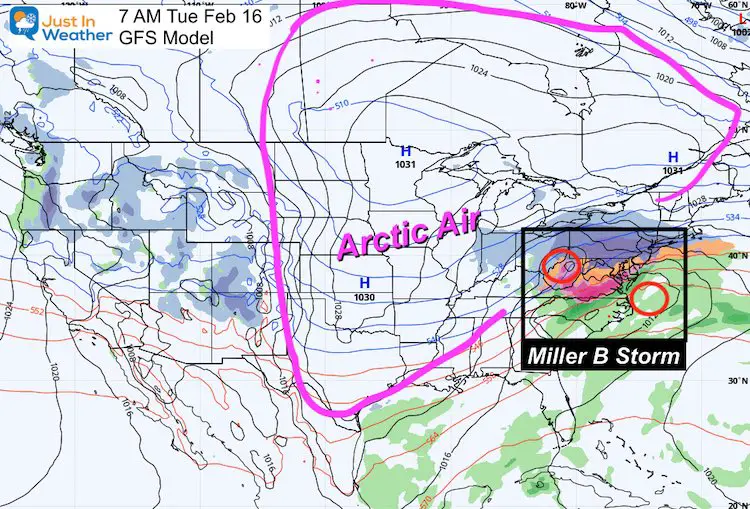 Closer Look
This may be a Miller B, with an inland Low redeveloping on the coast.  This are tricky as we saw last month… Please consider this a good possibility, but too early to split hairs on details.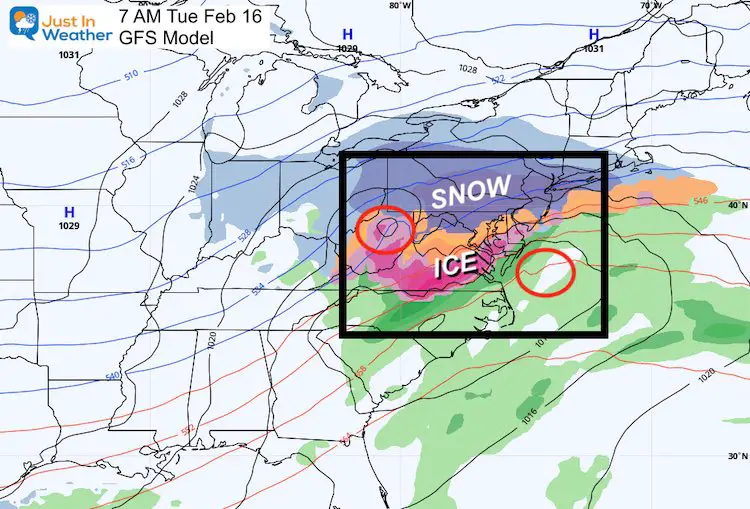 Following Up: Next Thursday
Yet anther storm in the pipeline. This is shown as ice with warming from an inland track.  It is one week away, so never expect this to be locked in.
Temperature Outlook
I believe the models really don't know how to handle this arctic air.  It is that rare of an intrusion. That is why this product appears to fluctuate each time I show you.  That is also why I continue to emphasize 'Continued Cold' remaining near or below freezing for over a week.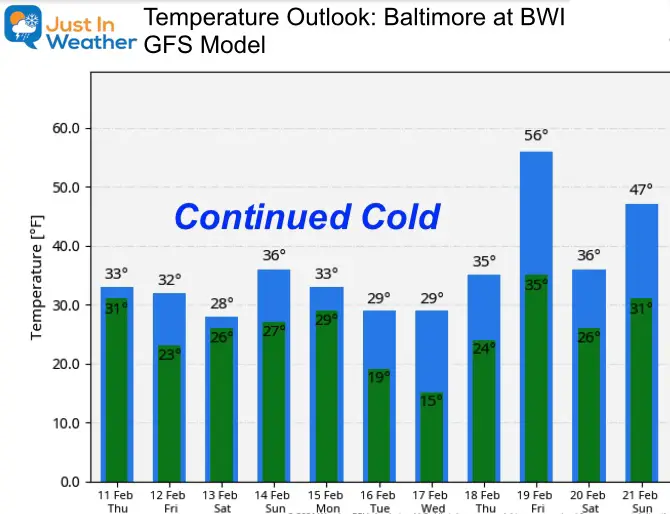 Next Update: I hope to have final snow totals and a recap with you grading my forecast by this evening.
Please keep the other events in mind for your planning.  It is possible one or two don't play out as shown.  But any of them can impact a wide area.
Faith In The Flakes
Please share your thoughts, best weather pics/video, or just keep in touch via social media
YOUR INTERACTIVE WEATHER PAGES
14 Local Maryland Pages (and York PA)
We have made a page for Maryland Weather which gives you the current conditions for 14 present area locations.
Local Hourly Forecasts and Local Radar
Central Maryland
Delmarva
Pennsylvania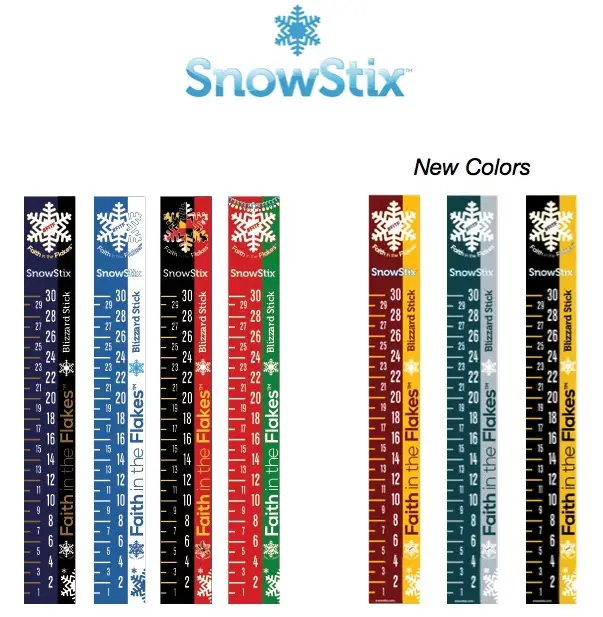 FITF Shop Open
My 'bonus' daughter Jaiden and wife showing off our popular Maryland Hoodies. Unisex and women's items all produced in Maryland.
Click here to see this and many other new items.