February 10 2021
We have a very busy stretch of weather starting tonight and going to the weekend. It does look like we are in a pattern for quick movers, mostly hitting us at night, and ending in the mornings.  If you have Faith in the Flakes, this is your weather pattern.
The Winter Weather Advisory in place covers most of our region for Part 1 or Event 1, ending Thursday morning. This will be snow.  Part 2 will be a second event Thursday night into Friday morning, with snow impacting southern areas more.   Then event 3 arrives Saturday night into Sunday with more ice, which may impact Valentine's Day plans.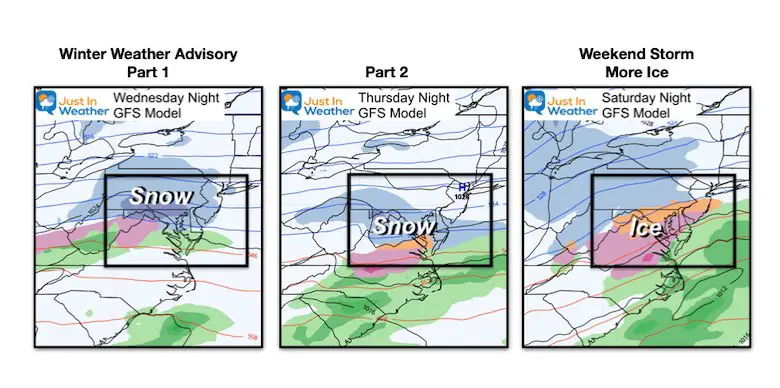 Winter Weather Advisory
Note: The Winter Storm Warning for the mountains.
Winter Storm Watch for southern areas to get more snow in Part 2.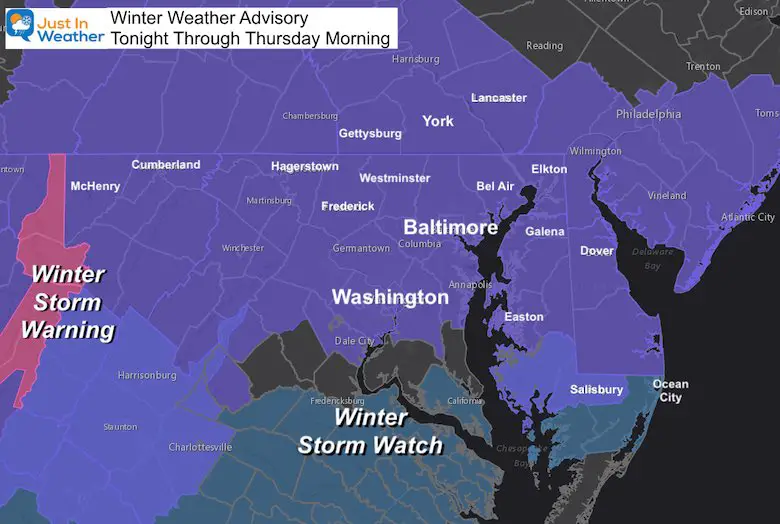 UPDATED MONDAY AFTERNOON:
Click to see a 'little adjustment' to My Call For Snowfall
Morning Set Up: It's all about the Arctic Air
Temperatures
These temperatures are the driving force, where the weather events will be riding on the southern edge. Check out the numbers BELOW ZERO!  These are not wind chills, they are ACTUALLY TEMPERATURES!
Freezing air has reached south into Texas, now trying to push east.
Single Digits and Teens has reaches as close as Ohio.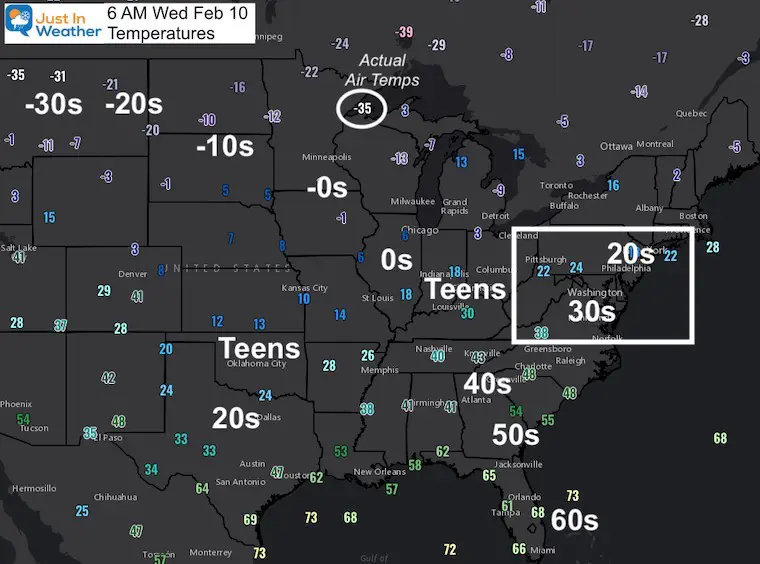 Surface Weather Map
This does not look like much, but it is expected to enhance tonight when it reaches us.  There will be a second part from the energy along the southern part of that front.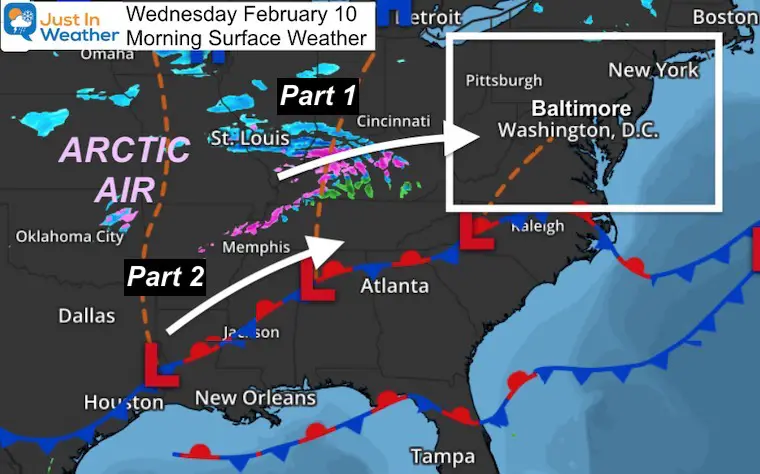 Forecast Snapshot: Central Maryland
Click here to see you local weather timeline

Snow Animation:
Notice the two waves: Part 2 shifts the focus a little farther south.
My Call For Snowfall:
Part 1: Tonight Ending Thursday Morning.
*I had to spread the range:
Support for widespread 1 to 3 inches, but some spots will reach 4" with enhanced impulses.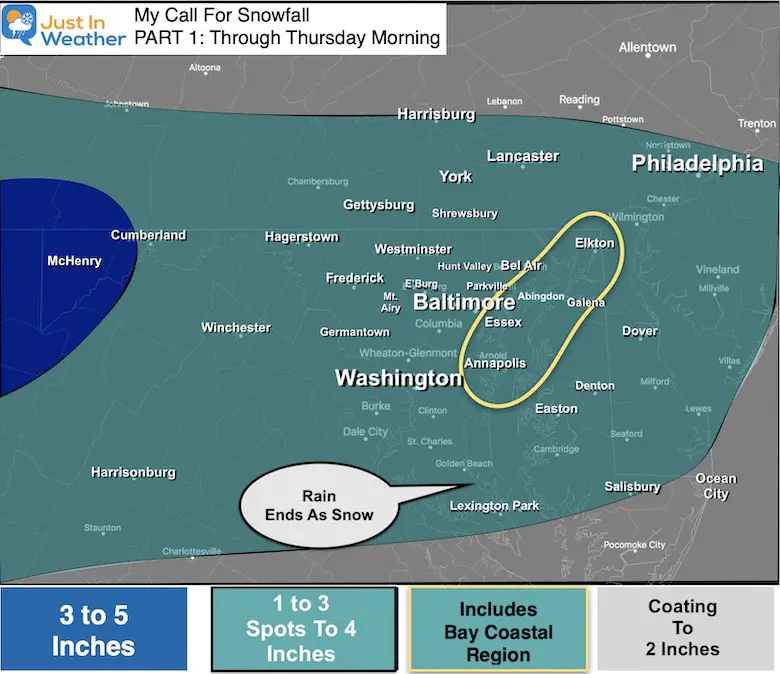 Computer Model Snow Maps –> slider
Notice the wide range of guidance here.  It is important to not just look for the highest numbers… those don't always play out.
Recap:
Part 1: Winter Weather Advisory Tonight
Snow arrives after 7 PM for most; Ends Thursday morning.
Totals Mostly 1" to 3", Up to 4"
Part 2: Winter Storm Watch for southern Maryland
Snow arrives Thursday evening; ends Friday morning.
Heavier snow may shift south.

 

I will have more on this in my next report.
Event 3: Coastal Storm Saturday night into Sunday morning.
Next Week: There may be yet another snow event by Tuesday.
Temperature Outlook: Sustained Cold
You may notice the extremely cold air has fluctuated out of this plot.  That is all based on the upper air pattern. The important part here is the sustained cold near or below freezing that remains in place.