February  9 2021
The arctic air we've been talking about has made a move into the central US and will be the driving force for a few impulses of snow for The Mid Atlantic.
Once again we find ourselves with a long duration event that will span three days, but actually contain two different waves of snow. A Winter Storm or Advisory may be issued by local NWS offices this afternoon.
After that, there may be more over Valentine's Weekend, but I will leave that to my next report.
Here you will see my First Call For Snowfall Wednesday Feb 10 to Friday Feb 12 and can compare that to three computer models.  Hint: I am hedging my bet lower than the modeling, so there is upside potential.
Set Up Today:
Temperatures at 1 PM EST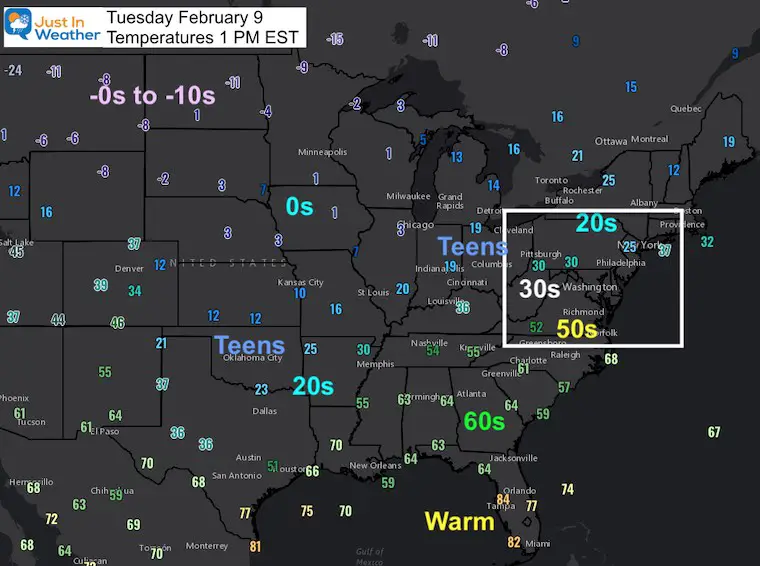 Surface Weather Map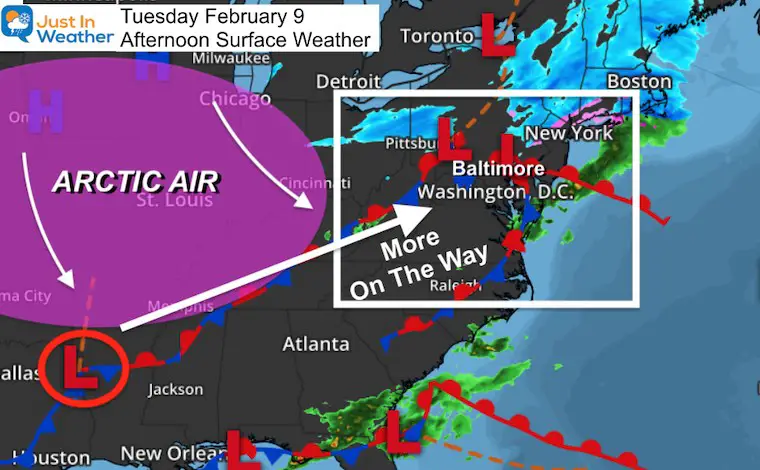 Snow Short Notes:
Wave 1 Begins: 7 PM to 10 PM Wednesday 

Heaviest: Around sunrise Thursday

Wave 1 Ends: By Noon Thursday

LULL

Wave 2 Beings: After 10 PM Thursday

Heaviest: Just Before Sunrise Friday

Wave 2 Ends: By Noon Friday
Computer Model Simulations
NAM 3 KM (Just Wave 1 into Thursday)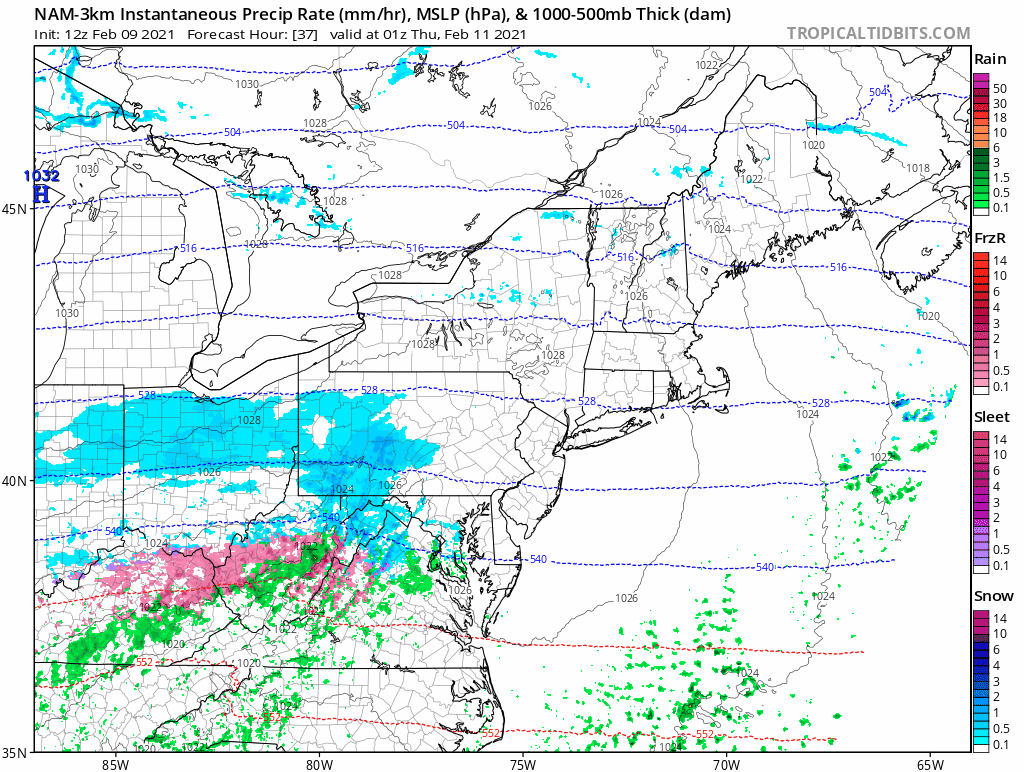 GFS Model —-> slider
This shows both Wave 1 and Wave 2.
It is important to consider:
Dry air may erode away some early snowfall.
The southern edge may have mixing with marginal temps.
The arctic boundary will focus the snow in a narrow band. There have been a tendency for a late bump north.
Temperature Forecast:
It will be cold enough to stick in most areas.
Wednesday Night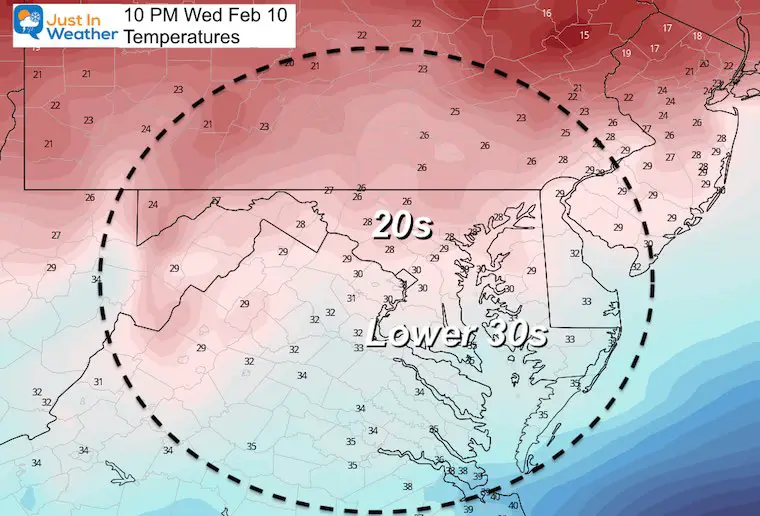 Thursday Morning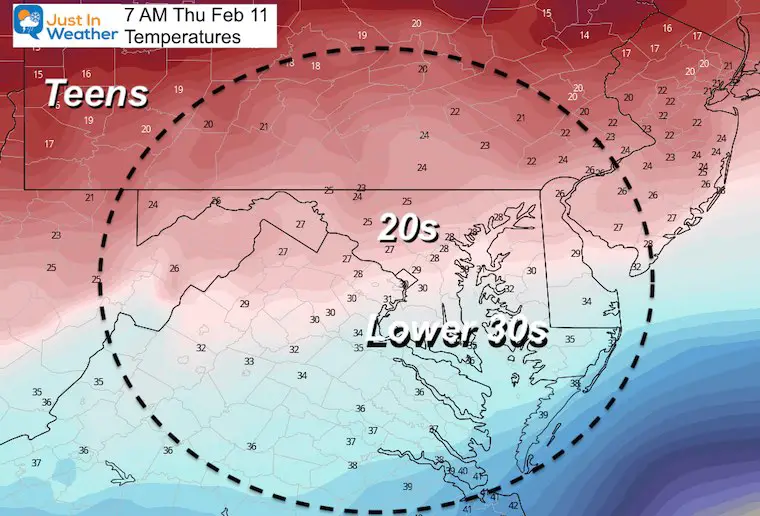 Compare Snowfall Forecasts
My Call For Snowfall
Low End Confident Numbers! I went LOWER than the computer guidance below. 

Notice the legend I used 'Over' that number…

I am paying extra close attention to coastal areas in the northern Chesapeake Bay.

 

The last event did not work out due to melting.

 

This part will be colder, but I hear you and will be more specific for your area.
EDIT: The map should read Wed Feb 10 to Fri Feb 12
This is the COMBINED total for BOTH Events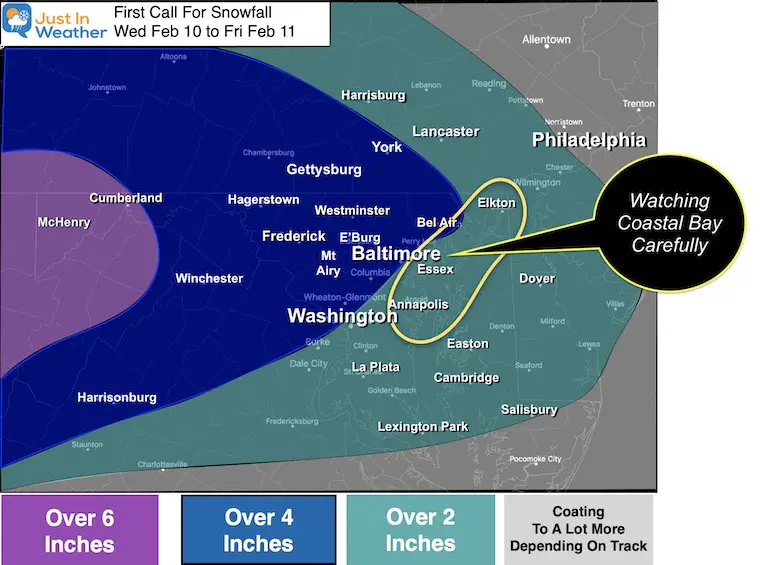 Computer Model Snow Forecasts: Through Friday
GFS Model: This is actually the lowest…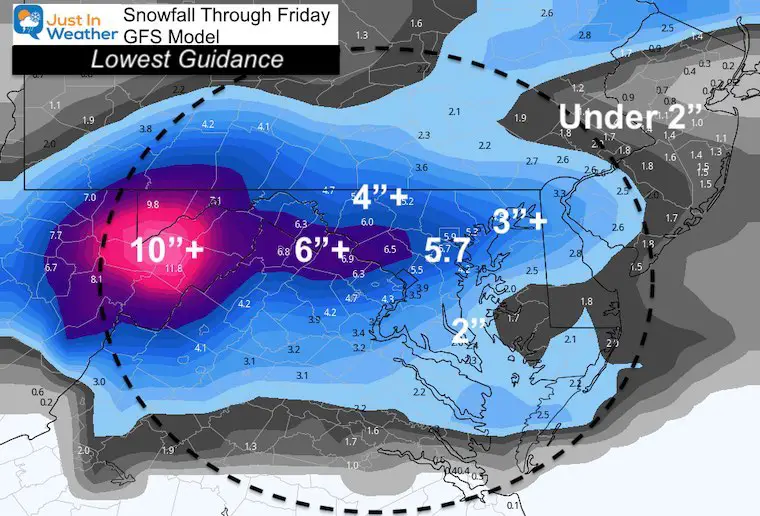 Canadian: A little higher on the numbers and more widespread..
European Model: The highest guidance, but I possibly overdone. Especially with southern areas on the edge of freezing and may have some melting of snow in he process.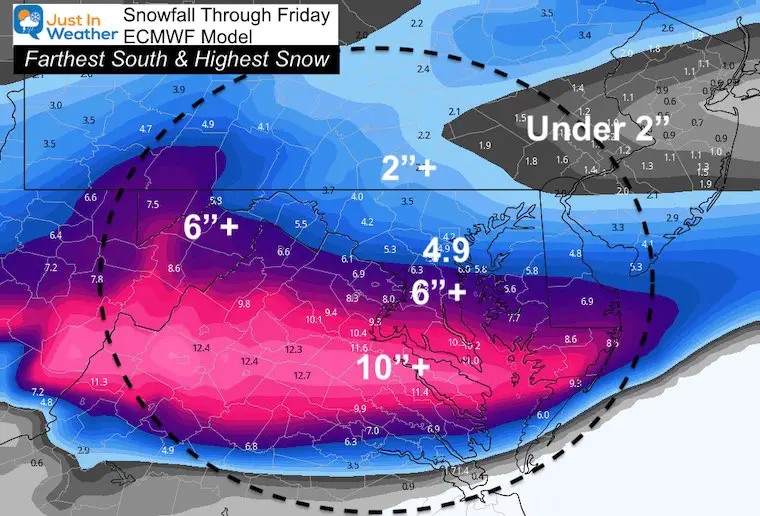 After This: Next Up A Valentine's Day Storm
This is the expectation… A Third Sunday in a row with Low Pressure off of the Delmarva Coast (Atmospheric Memory).
At this time it looks like an icy mix. However, once there is new snowpack on the ground, I expect the modeling to incorporate that and this will adjust.
So take this as an idea of a winter event that should be watched closely for changes and possible impact on your plans.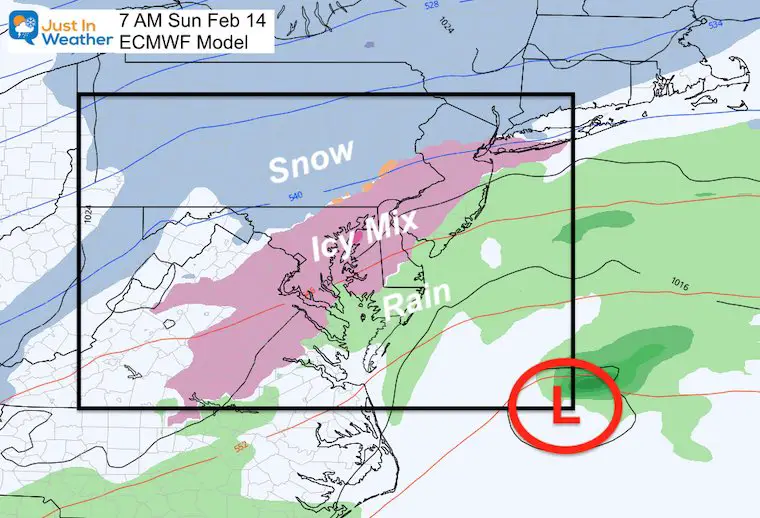 Temperature Outlook
The trend holds sustained cold….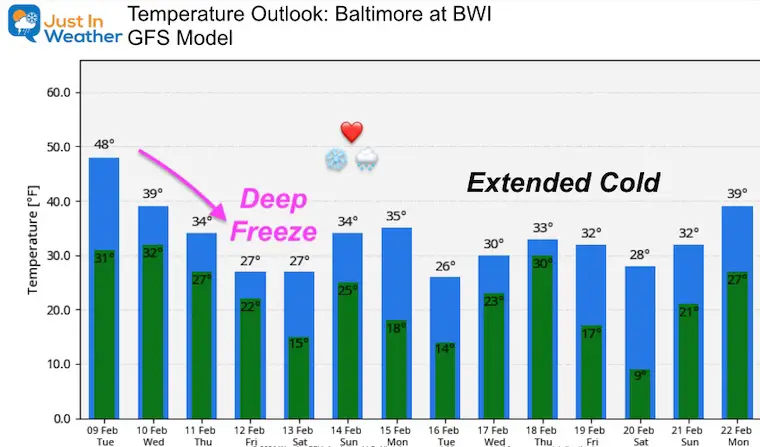 Next Update: Tuesday Evening, or sooner if Winter Storm Watches are issued.
Please share your thoughts, best weather pics/video, or just keep in touch via social media
YOUR INTERACTIVE WEATHER PAGES
14 Local Maryland Pages (and York PA)
We have made a page for Maryland Weather which gives you the current conditions for 14 present area locations.
Local Hourly Forecasts and Local Radar
Central Maryland
Delmarva
Pennsylvania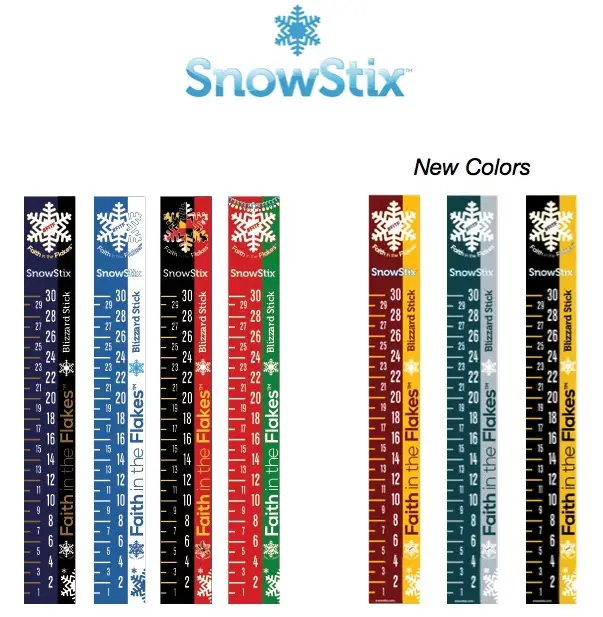 FITF Shop Open
My 'bonus' daughter Jaiden and wife showing off our popular Maryland Hoodies. Unisex and women's items all produced in Maryland.
Click here to see this and many other new items.