Monday February 8 2021 – Afternoon Update
The cold air in place today is just a taste of what is on the way.  This is going to be an active weather week driven by a large pool of arctic air.  We can already see that on the weather map, and on the leading edge a narrow ribbon of snow and ice will break out.
The short version is that we will have a few days with wintry weather. In fact, almost every day.
Tuesday Morning:

 

Light freezing rain showers and rain
Wednesday Night to Friday: Snow
Saturday: Flurries
Sunday to Monday: Snow/Ice/Rain with a Coastal Storm
Beyond: Really cold air may hold strong for a few weeks.
Here's An Idea Of What I Mean
See the full animation simulation below…
Thursday Morning Weather Map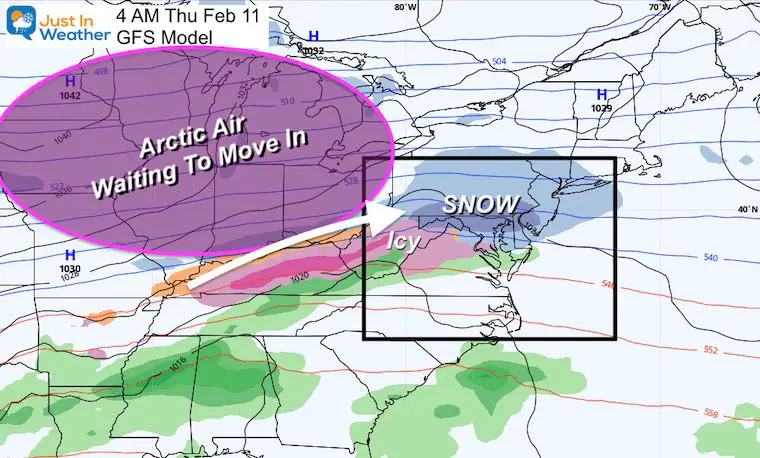 Back To Today:
Temperatures at 2 PM EST
This map shows 'actual' temperatures. Not wind chill!
The freezing line is near our big cities, with 20s inland.  But look at the central US!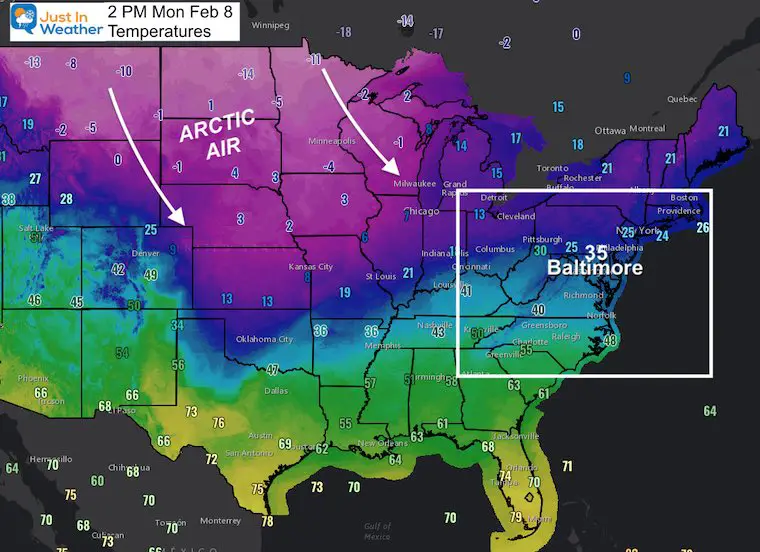 Weather Map:
That little band of snow near Chicago is part of a partial phasing that will pass through the eastern US.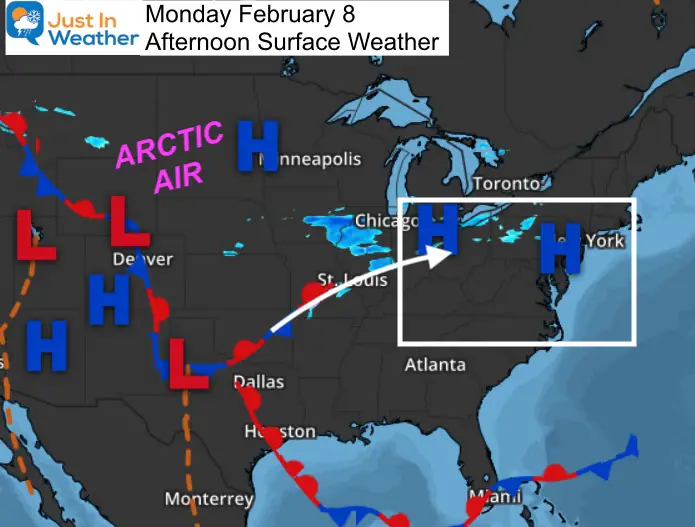 Tuesday Morning:
Two pieces of energy just miss joining forces, but they will play off of each other.
We will be in the middle, with the southern/warmer piece driving influence on our weather.
Between 5 AM and 8 AM: A few hours of light freezing rain or drizzle is possible just inland from I-95. Not by the water or south.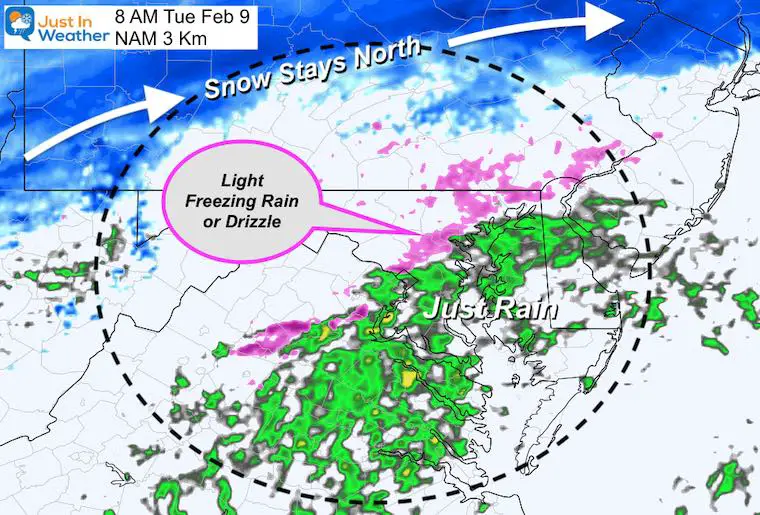 Temperatures
Here we can see the freezing line right around I-95. 
Just wet closer to the Bay, but just inland might be cold enough for the need to put down salt on the pavement.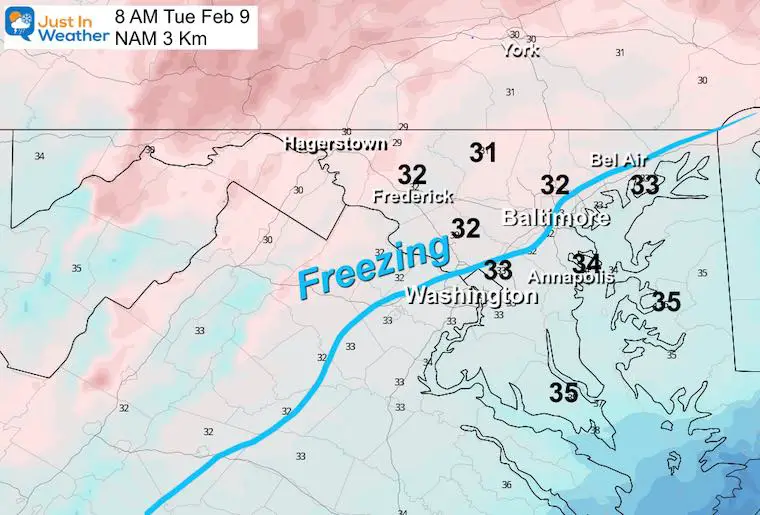 Forecast Snapshot:  Central Maryland
Here's a sample of how it's about to get busy.
Wednesday Evening: We begin to see that ribbon of snow…

GFS Model Forecast Animation
Wednesday through Sunday
I want to point out that this model has trended colder to join the European Model I showed you this morning.
This looks like three separate hits… but the last one on Valentine's Day will be the strongest in the form of a coastal storm.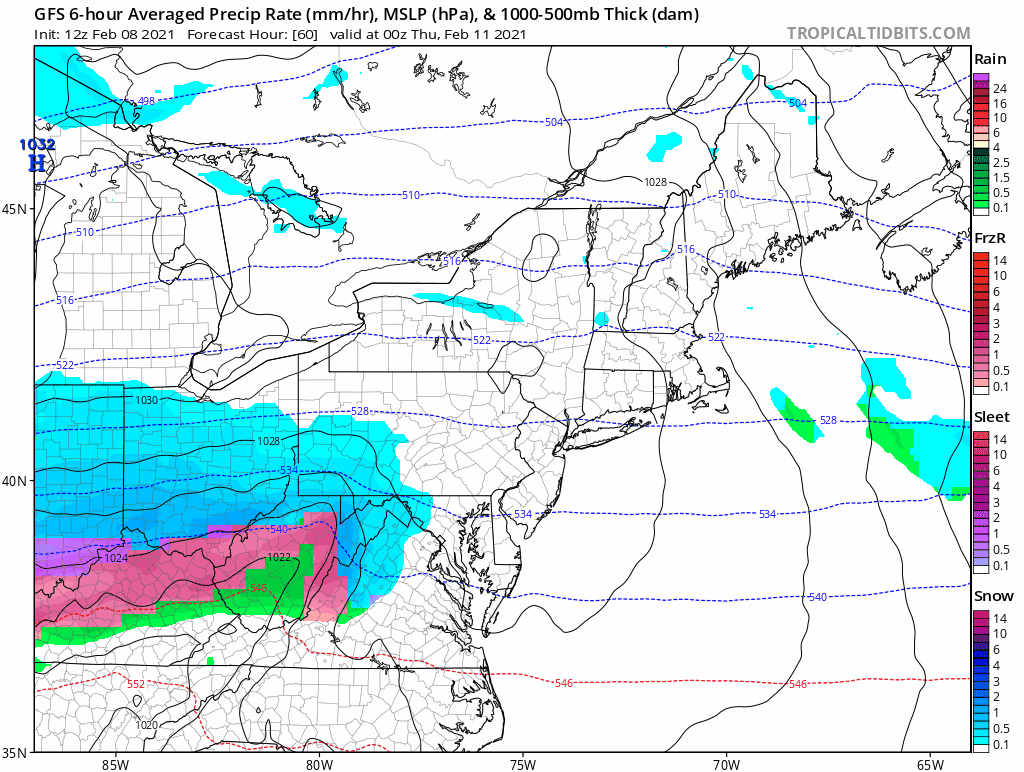 Temperature Trend
Tuesday Evening To Monday Morning
This forecast animation shows the predicted cold air really taking force by the end of that storm.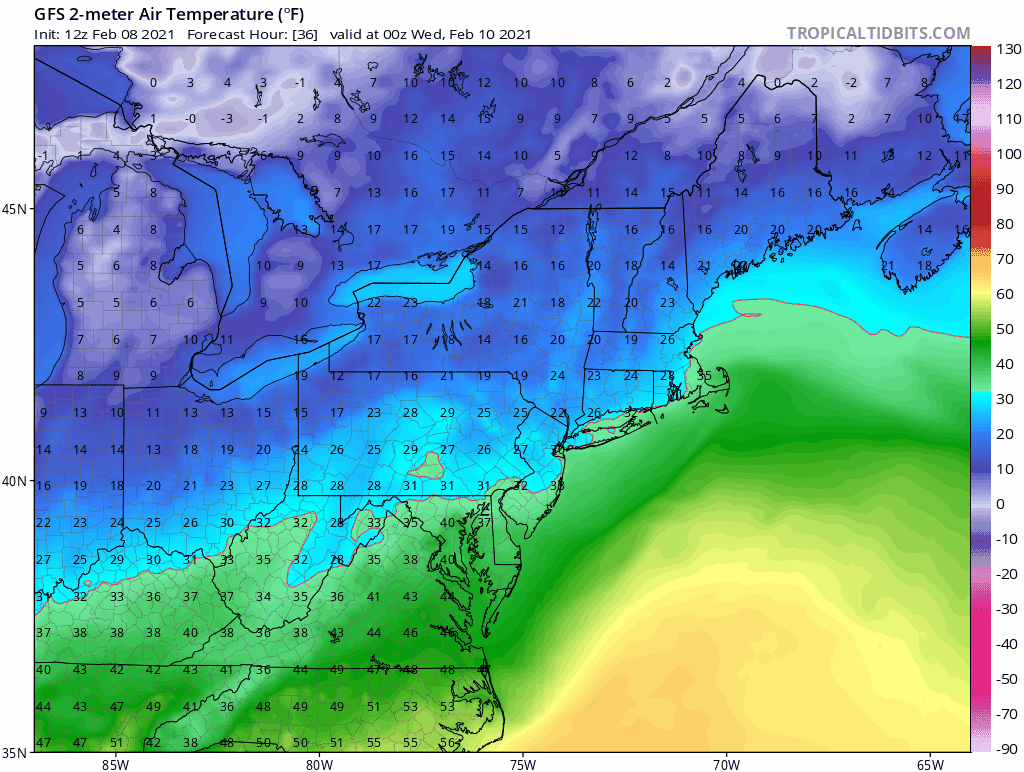 Temperature Outlook
This is impressive! Also a trend colder and holding that cold longer!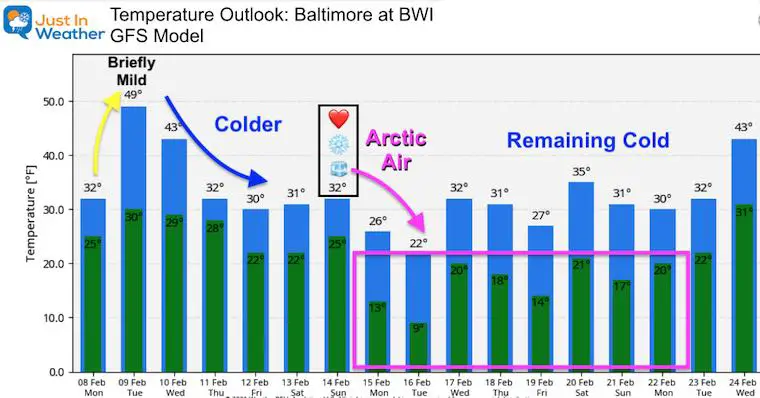 My Take Away:
This is the time to identify the 'Pattern'. Plotting the days with wintry weather and intensity of the cold air to follow.
I hope we all agree that predicting snow numbers are complicated across our area.
It is TOO EARLY to say how much.
With snow possibly over a few days, we can start to post low end confidence numbers tonight or tomorrow morning.
It is too early to lock in specific temps as well.
The trend has lead the direction that it will be Busy, Cold, and Hold For A Few Weeks.
Did You Grade My Forecast?
So far a wide spread of 'Perfect' to 'BUST and FAIL'. Here's another chance to contribute to this Poll.
Poll is open until 8 PM Tue Feb 9
Grade My Forecast: Feb 7 2021
A (36%, 1,365 Votes)
B (27%, 1,006 Votes)
C (16%, 585 Votes)
D (11%, 429 Votes)
F (10%, 384 Votes)
Total Voters: 3,769

 Loading ...
Please share your thoughts, best weather pics/video, or just keep in touch via social media
YOUR INTERACTIVE WEATHER PAGES
14 Local Maryland Pages (and York PA)
We have made a page for Maryland Weather which gives you the current conditions for 14 present area locations.
Local Hourly Forecasts and Local Radar
Central Maryland
Delmarva
Pennsylvania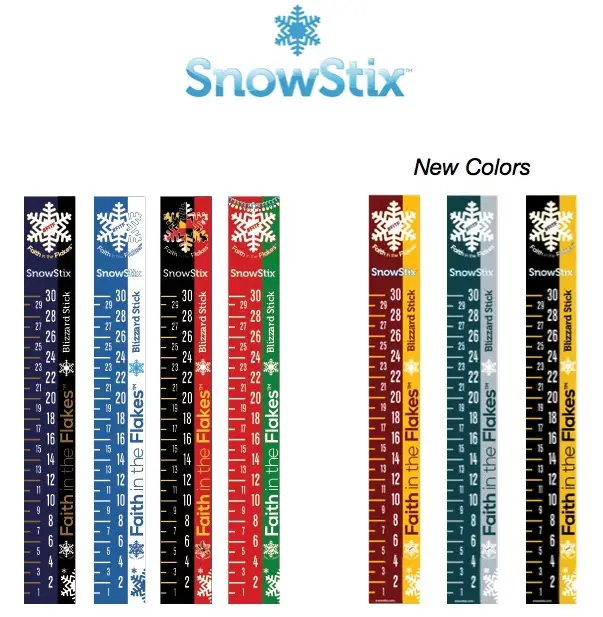 FITF Shop Open
My 'bonus' daughter Jaiden and wife showing off our popular Maryland Hoodies. Unisex and women's items all produced in Maryland.
Click here to see this and many other new items.