Tuesday Morning we will watch a developing system to our north and south.  Our region is caught in the middle as they 'almost phase'.  The net result could be some light freezing rain breaking out just before sunrise.
This is NOT a major event. It is that sometimes the little things can be a big deal, so it is worth being aware.
I will be up early for clients, and will make any posts should this be of any concern.
Morning Forecast Map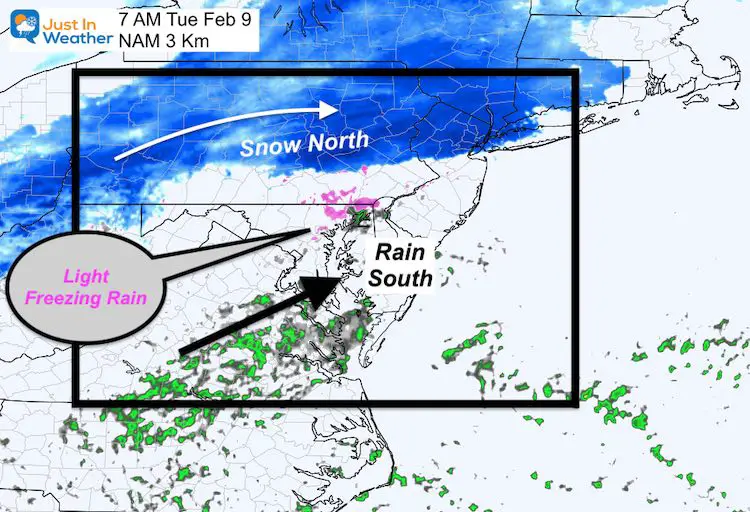 Evening Surface Weather
Snow is falling in the Ohio Valley. This is along the arctic boundary that will be responsible for our multiple hits of snow later this week.  It will not quite get here yet, but it will try to influence our weather with another system arriving from the south.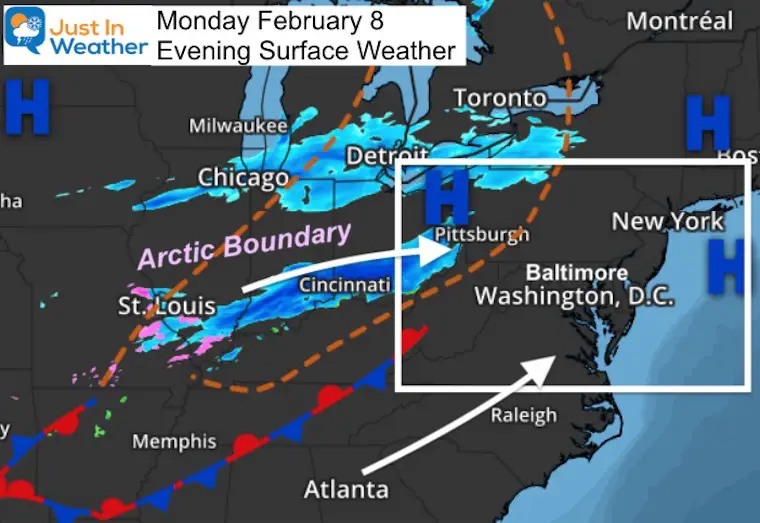 Evening IR Satellite
Here we can see the cloud band across the arctic boundary to our west.  Also note the strong of moisture from eat Texas moving up out of the Gulf Of Mexico.
If these could meet up, a larger storm would form.  They are just out of reach, but will influence expanding moisture between them.  That is where we are.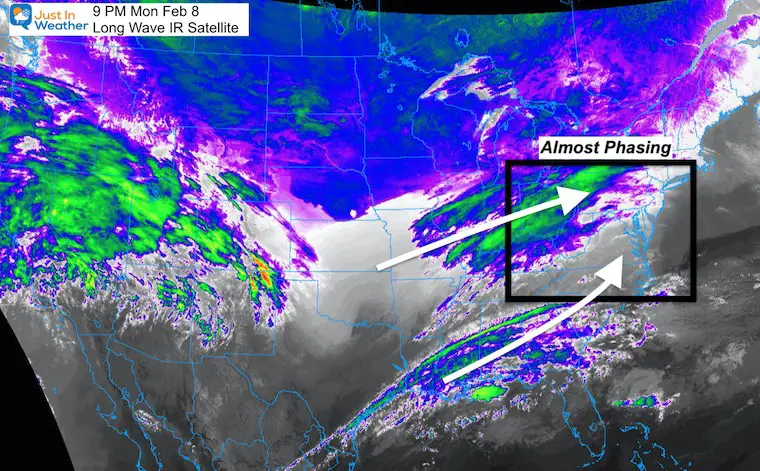 Evening IR Satellite Loop
Putting this into motion may help set the stage.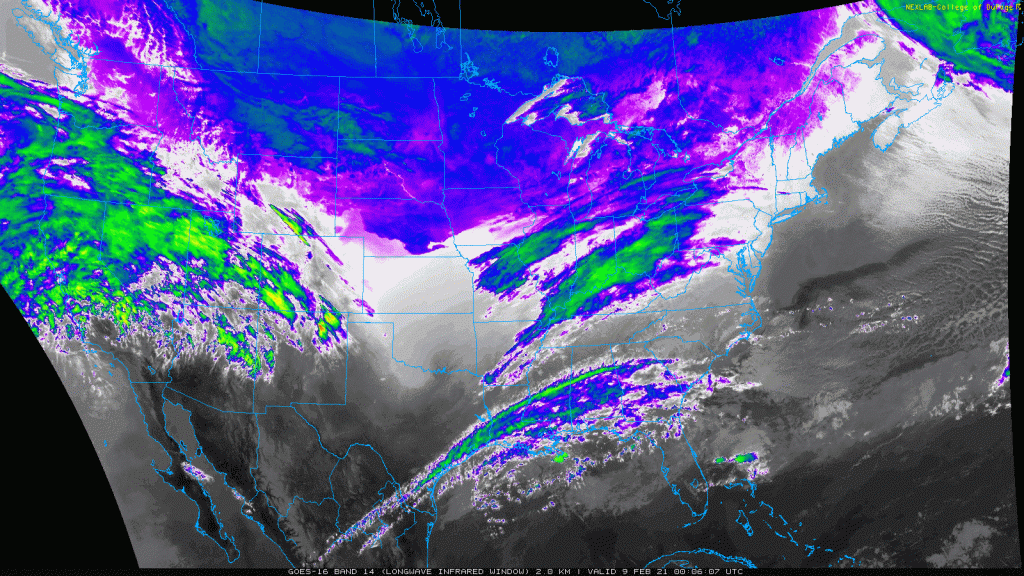 Evening Temperatures
9 PM at BWI
30º F = Temperature
16ºF = Dew Point
That is important!  The dry air will allow any light rain that may fall in the morning, to further cool the air.
I think we may end up colder than the models are suggesting. So any precipitation could fall and freeze in contact.
Radar Simulation —-> slider
Snow should stay north of York, perhaps clipping Harrisburg.
Rain develops from the south.
Freezing rain or drizzle (pink) will try to expand for a few hours in between. This will be light, and normally not worth much mention.

 

But just a glaze of icing can be concerning to drivers.
Temperatures
This is from the NAM Model and might be a little warmer considering the current conditions.
Of most importance: This will be light, quick, and marginal.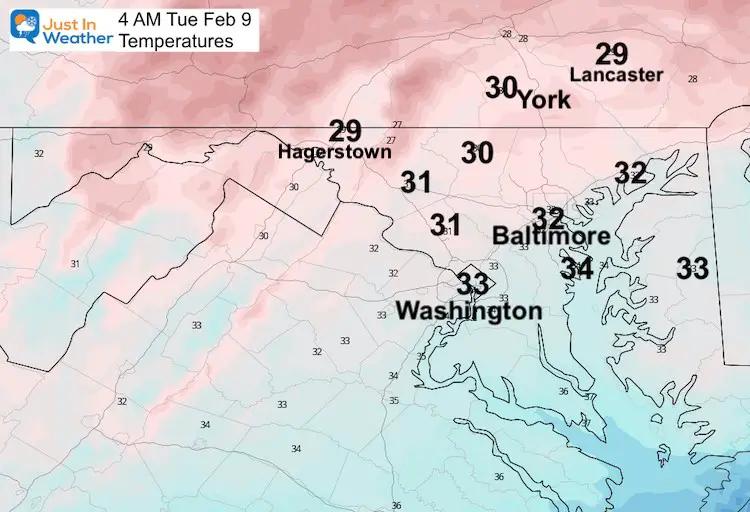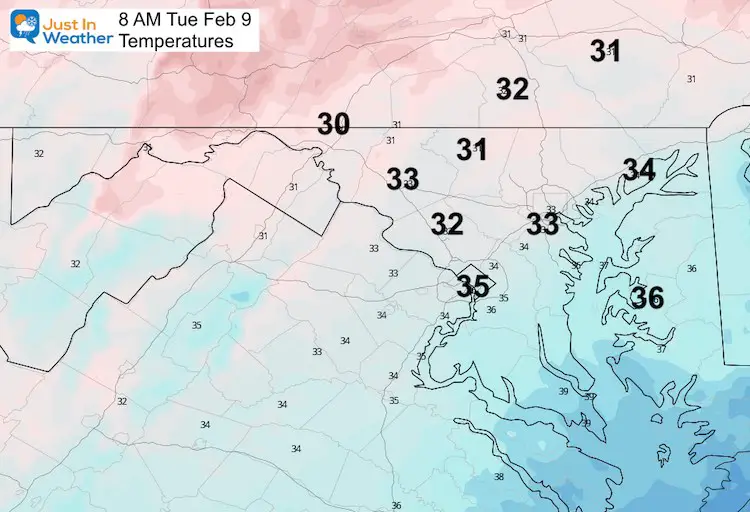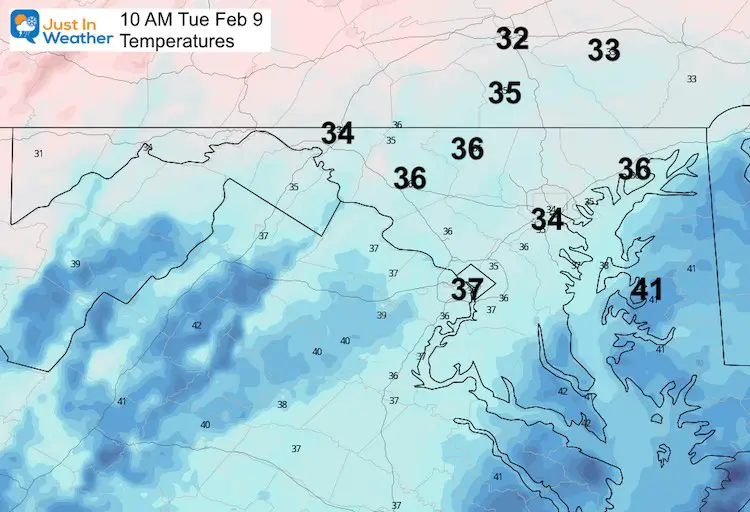 Note: I have seen situations like this catch many off guard. Just a little icing can cause a big problem.  I hope it doesn't materialize. But if it does, you have an advanced idea to look for it in the morning.
I will be up early to assist my clients on calls. I will aim to make a post close to 6 AM if there is anything developing.
Rest of the week:
Wednesday Night to Friday: Snow
Saturday: Flurries
Sunday to Monday: Snow/Ice/Rain with a Coastal Storm
Beyond: Really cold air may hold strong for a few weeks.
GFS Model Forecast Animation
Wednesday through Sunday
I want to point out that this model has trended colder to join the European Model I showed you this morning.
This looks like three separate hits… but the last one on Valentine's Day will be the strongest in the form of a coastal storm.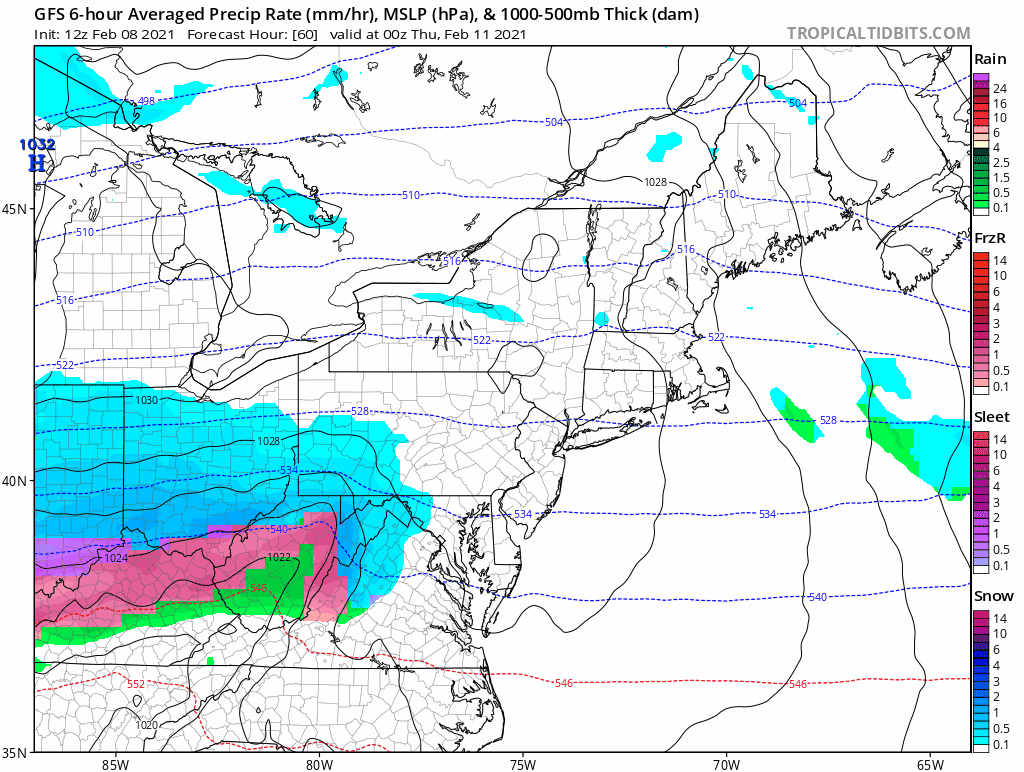 Temperature Trend
Tuesday Evening To Monday Morning
This forecast animation shows the predicted cold air really taking force by the end of that storm.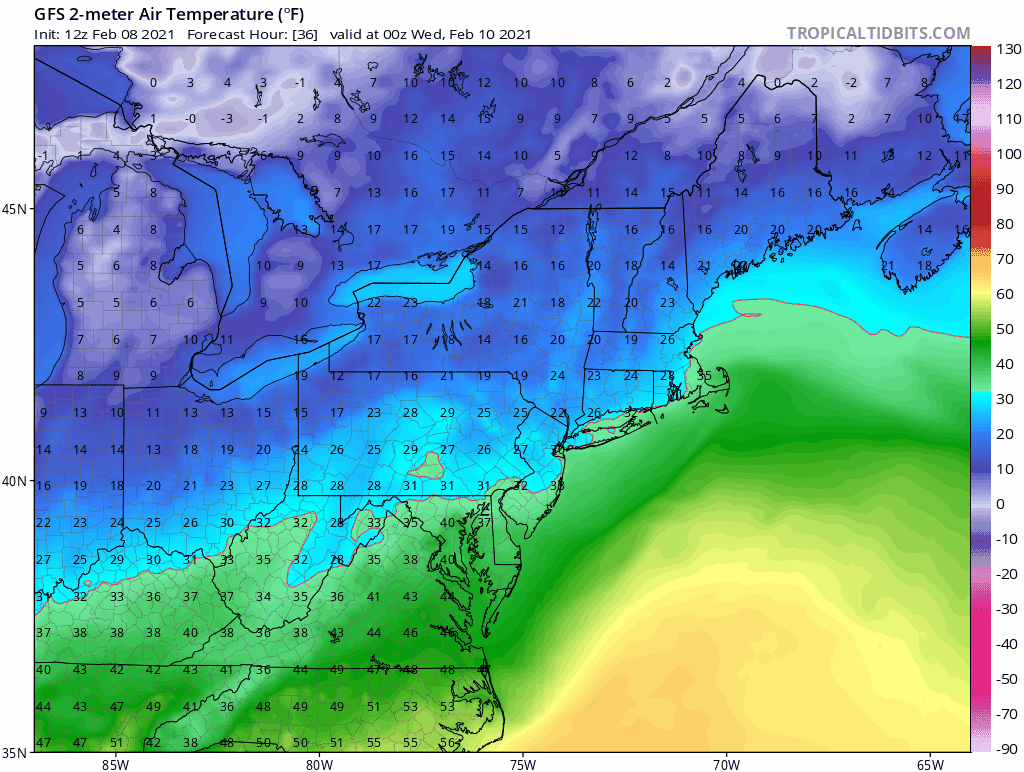 Temperature Outlook
This is impressive! Also a trend colder and holding that cold longer!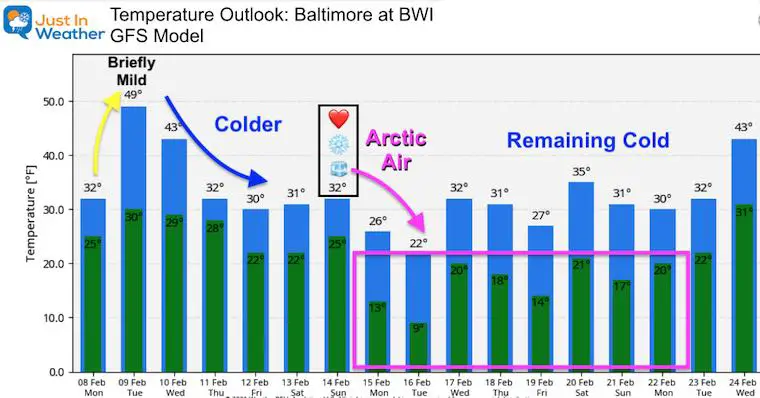 My Take Away:
This is the time to identify the 'Pattern'. Plotting the days with wintry weather and intensity of the cold air to follow.
I hope we all agree that predicting snow numbers are complicated across our area.
It is TOO EARLY to say how much.
With snow possibly over a few days, we can start to post low end confidence numbers tonight or tomorrow morning.
It is too early to lock in specific temps as well.
The trend has lead the direction that it will be Busy, Cold, and Hold For A Few Weeks.
Please share your thoughts, best weather pics/video, or just keep in touch via social media
YOUR INTERACTIVE WEATHER PAGES
14 Local Maryland Pages (and York PA)
We have made a page for Maryland Weather which gives you the current conditions for 14 present area locations.
Local Hourly Forecasts and Local Radar
Central Maryland
Delmarva
Pennsylvania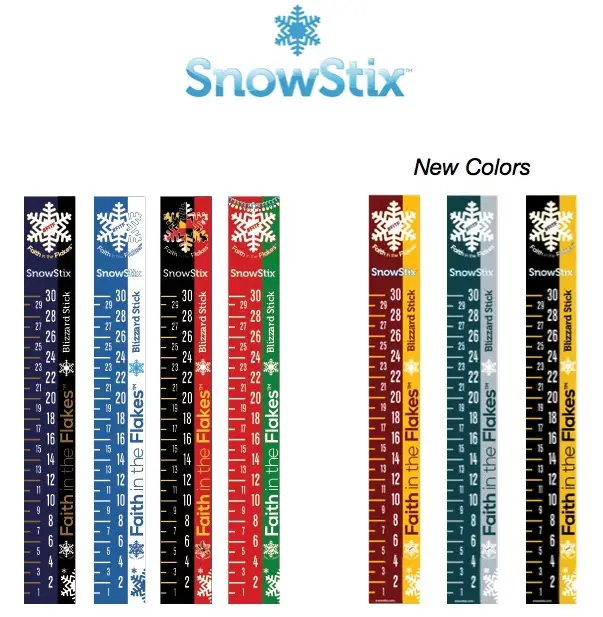 FITF Shop Open
My 'bonus' daughter Jaiden and wife showing off our popular Maryland Hoodies. Unisex and women's items all produced in Maryland.
Click here to see this and many other new items.