Sunday February 7 2021
Snow and rain began earlier this morning as expected, with temperatures above freezing as expected.  Our region remains under either a Winter Storm Warning or Winter Weather Advisory (depending on your location).
I state this because you may look outside and question it if you don't have snow 'yet' or the ground is wet.   So far, this is behaving, and according to some of my friend… The snow is winning.
Sunday Morning Weather Map
Snow is winning…
Baltimore at BWI begin with rain and 41ºF at 4 AM, then mixed with snow at 5:23 AM as temps dropped to 39ºF.  By 7 AM it was 36ºF with the report of snow.
That is still quite mild for stickage.   But temps continued to cool as the precipitation increased.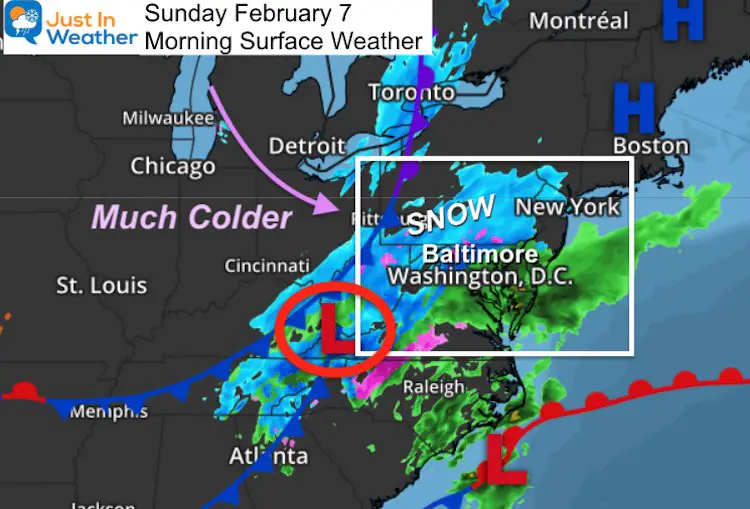 Here is a round up of morning conditions as the quick storm arrives.
Winter Storm Alerts (updated Sunday morning)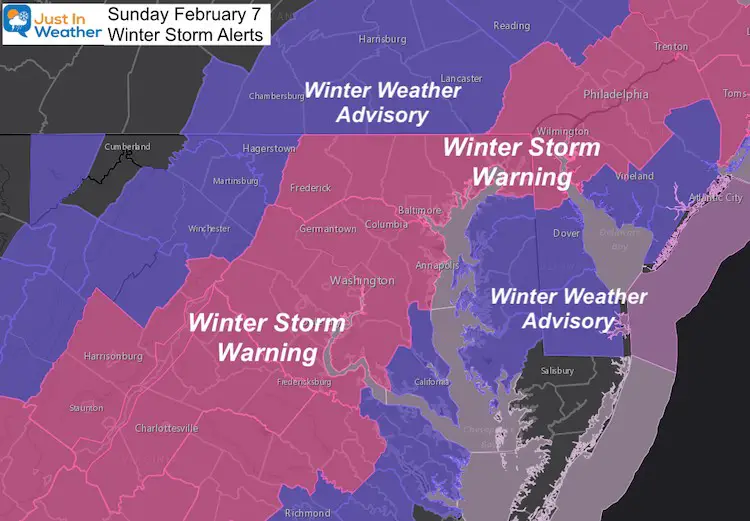 The storm is still forming as it moves in and will generate its own cold air. The rapid intensification will cool the clouds and drag down colder air.  That is why we expect snow in many metro areas while surface temps remain above 32ºF.
Text Messages
At 5:50 AM Charlie Miller of C & C had this text exchange as he was working to clear one of his properties…
We spoke on the phone and he wanted to emphasize that it was snowing even when it looked like rain in radar.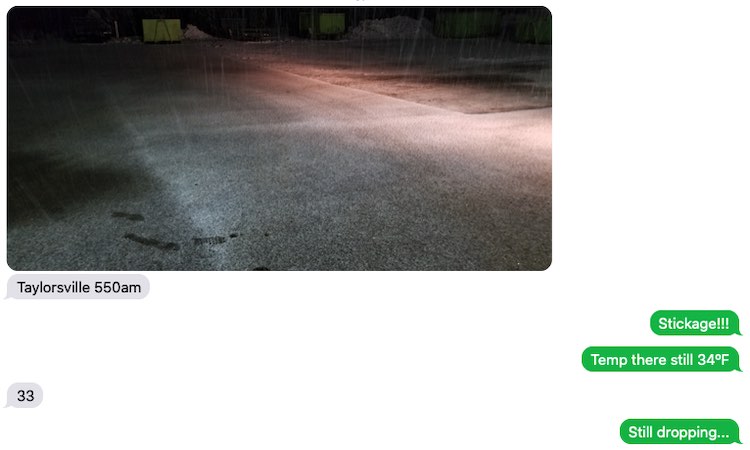 At 6:19 AM, Susan Rill sent me this on her way in (passenger) to Dutch Corner in Manchester (Carroll Co MD). People need their breakfast 🙂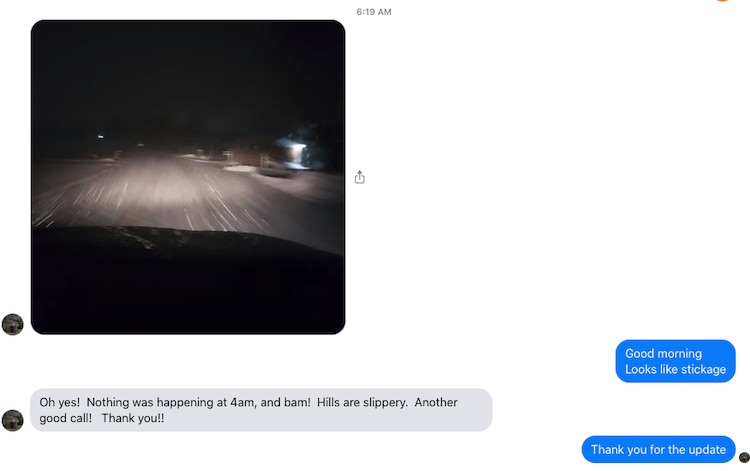 I wanted to share this with you
One of my favorite videos this morning.
🐴 ❄️
It is sticking in many areas even with temps above 32ºF
If you don't have it yet, it should change ever soon. https://t.co/QIUHTxZH4D

— Justin Berk (@JustinWeather) February 7, 2021
Temperatures at 6 AM
Doppler Radar Winter Mode: Not Perfect
As Charlie Miller reported, snow in Mount Airy and Damascus the entire time, but it looked like rain in radar.   Eventually this will catch up showing BLUE for more areas.
Tweet RADAR LOOP
6:46 AM
Race between the heavy precip and warmer ground.
Snow west and starting to mix around Baltimore. BWI reporting it.
*Where it is snowing, and above freezing it is sticking (Carroll, western Howard, MoCo, Frederick, York)
Heavy stuff drags in colder air pic.twitter.com/9iqRBw8VbF

— Justin Berk (@JustinWeather) February 7, 2021
WEATHER NOTES I MADE YESTERDAY
This will mostly a Sunday 'morning' event.

This may start and end with some rain.

Heavier precipitation will drag down colder air and turn any mix over to snow.

The heaviest snow will likely be between 6 AM and 10 AM.

I went lower than model guidance on purpose: To account for melting.

My final call map is below: I shaved a little back.

The NWS maps match what prompted their 'Watches' yesterday and 'Warnings'/'Advisories' today.
More Snow Will Fall Than Sticks
This makes the forecast tough, but always the expectation that you can measure more with your SnowStix and less to shovel.
Radar Simulation —-> slider
NAM 3 KM: Suggesting more mixing by the water. Also this may end with rain as the intensity decreases.  This should end between Noon to 2 PM for most areas.
Temperature Highlights —-> slider
Thaw this afternoon, and hopefully time to dry out.  Quick refreeze after dark. Deep freeze Monday morning! Lows in the teens and 20s.
My Final Call For Snowfall
NWS lowered their snow totals overnight 
Click the map to see all the regional NWS state snow maps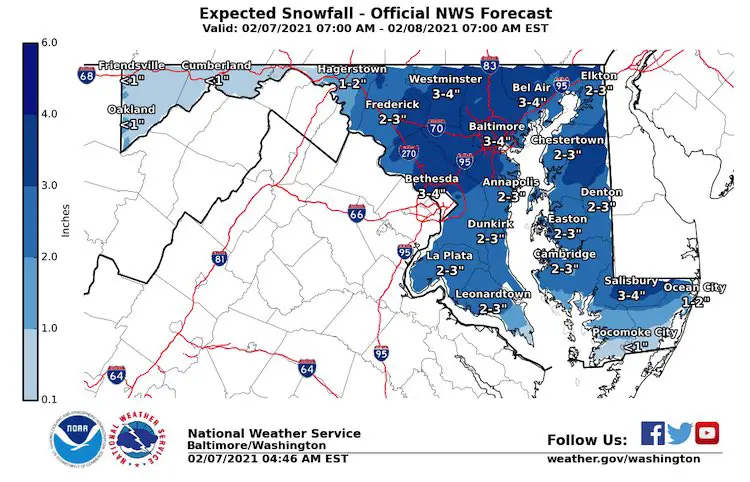 Looking Ahead:
An active week brings:
Wednesday Night into Thursday a snow or mix

Sunday: Another snow event (that would be 3 weeks in a row)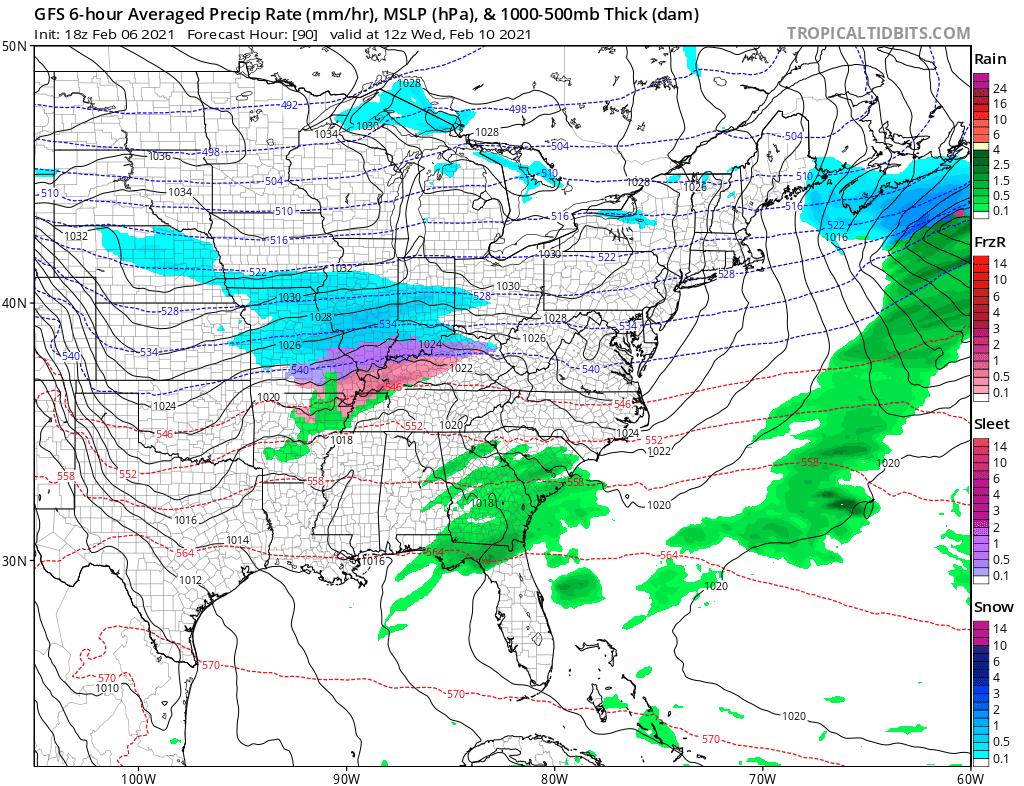 Temperature Outlook:  Arctic Air For Valentines Day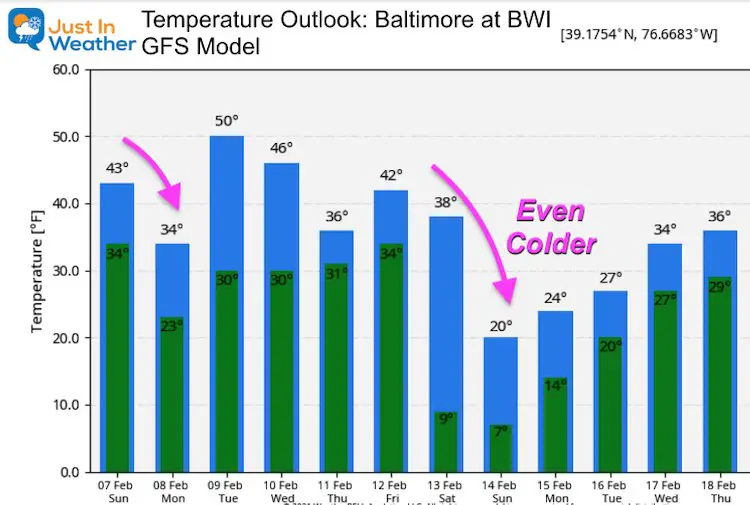 Please share your thoughts, best weather pics/video, or just keep in touch via social media
YOUR INTERACTIVE WEATHER PAGES
14 Local Maryland Pages (and York PA)
We have made a page for Maryland Weather which gives you the current conditions for 14 present area locations.
Local Hourly Forecasts and Local Radar
Central Maryland
Delmarva
Pennsylvania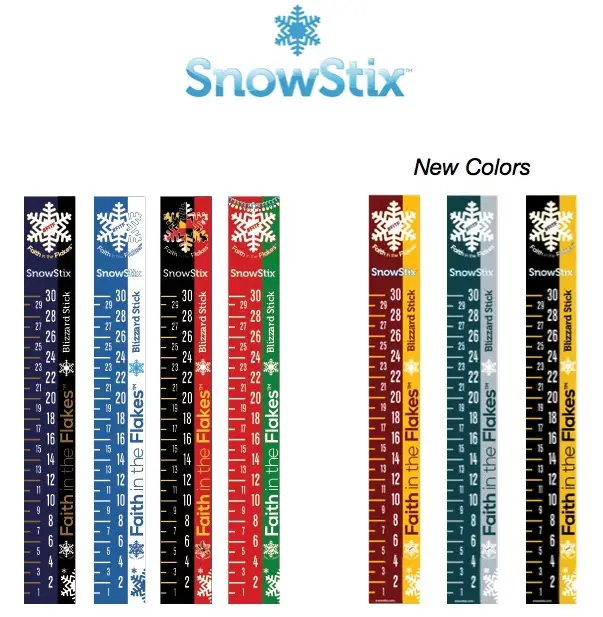 FITF Shop Open
My 'bonus' daughter Jaiden and wife showing off our popular Maryland Hoodies. Unisex and women's items all produced in Maryland.
Click here to see this and many other new items.