Saturday February 6 2021
The storm looks impressive on the weather map as multiple pieces of energy are coming together. This will be a race of the cold air trying to move in from PA and the battle of the developing system from the south. There will be more snow that falls on the grass than on pavement to shovel.
Here is a look at the evening set up ahead of the storm.  While colder air is moving in to the north end, there will be a delay across southern areas until the precipitation arrives in the morning.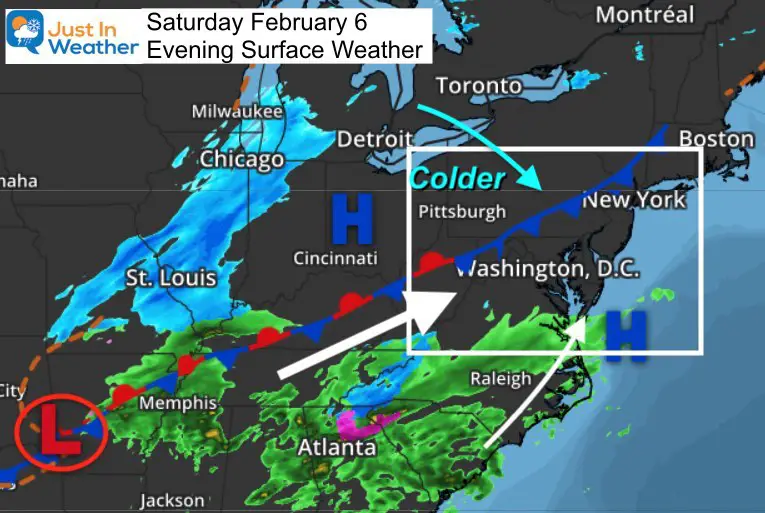 Water Vapor Satellite Loop
Here we can see three clusters of moisture moving in our direction. This is part of the complex 'phasing' for the storm to develop.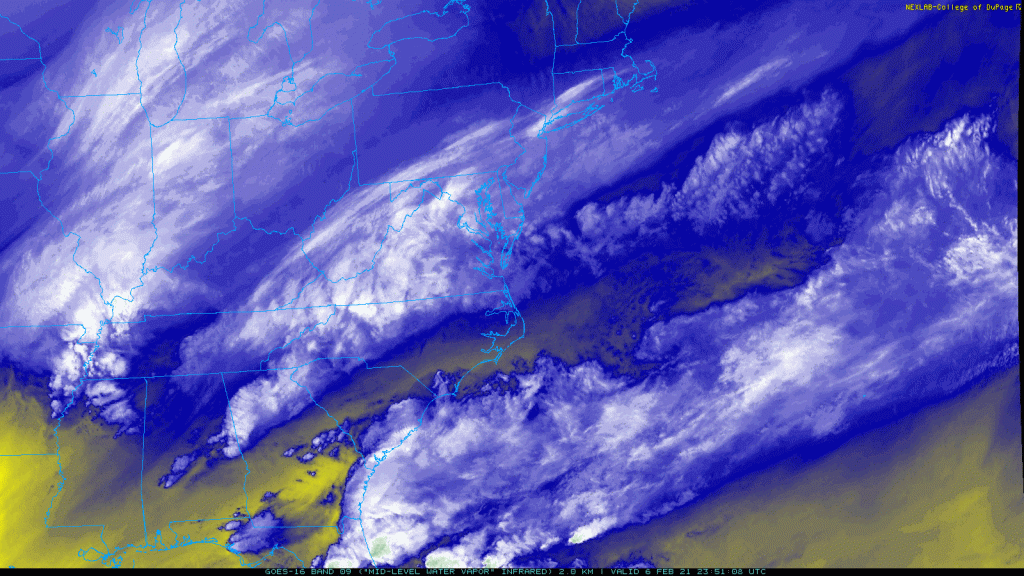 Evening Temperatures 
Temps inland are already near freezing. But a jump to the upper 30s and lower 40s from Baltimore to Washington/ south and east…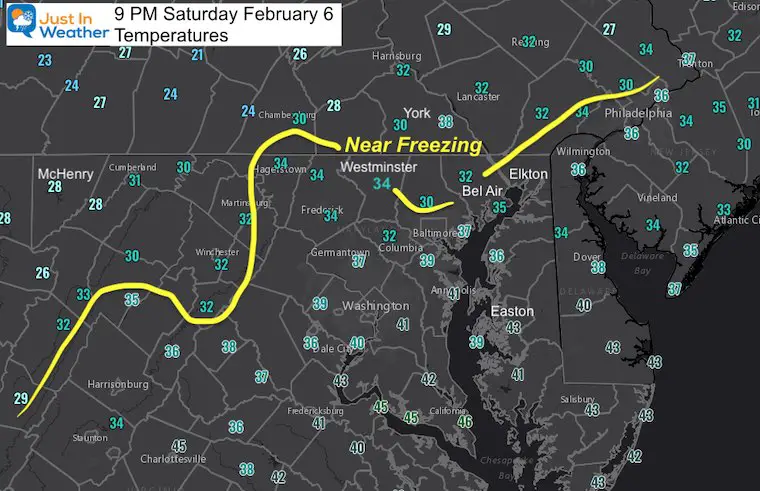 I want to make a few points clear: 
This will mostly a Sunday 'morning' event.

This may start and end with some rain.

Heavier precipitation will drag down colder air and turn any mix over to snow.

The heaviest snow will likely be between 6 AM and 10 AM.

I went lower than model guidance on purpose: To account for melting.

My final call map is below: I shaved a little back.

The NWS maps match what prompted their 'Watches' yesterday and 'Warnings'/'Advisories' today.
Bust Potential Based On Temperatures:
At least half of our region will remain above freezing in the morning. That is my main hesitation about how much moisture can fall and stick. I have shaved just a little off the north and south end.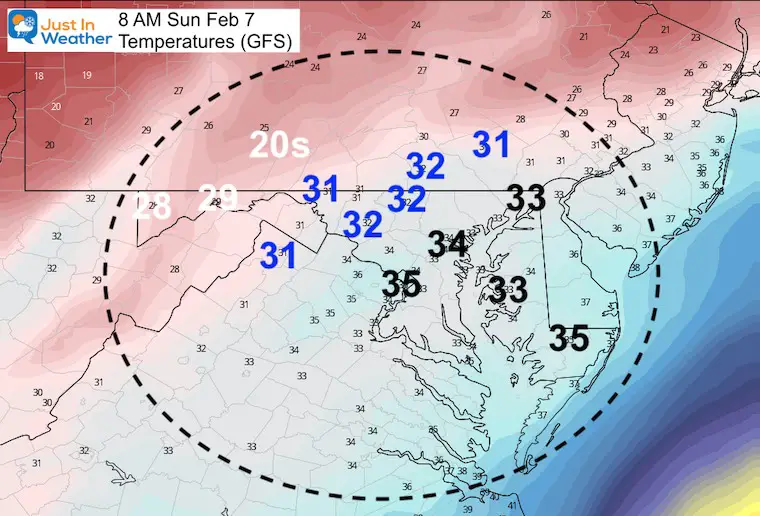 Storm Animation
Quick hit!  Arrival before sunrise and most will be done by noon or early afternoon. 
BOOM or BUST
This set up can drop heavy snow rates of 1 to 2 inches per hour at times.

Inland temperatures will be below freezing. Roads there will be slick later into the morning, but they get less moisture.

Metro and Bay areas get heavier snow/mix, but with temps between 33ºF and 35ºF.

The snow that falls in the dark has a better chance to stick.

More will stick on snow already in place and grass.

   

On the pavement? That is the wild card! Some roads stay wet, others can get covered for a few hours.

After higher sun angle (8 or 9 AM) its more likely to melt.
Winter Storm Warning and Winter Weather Advisory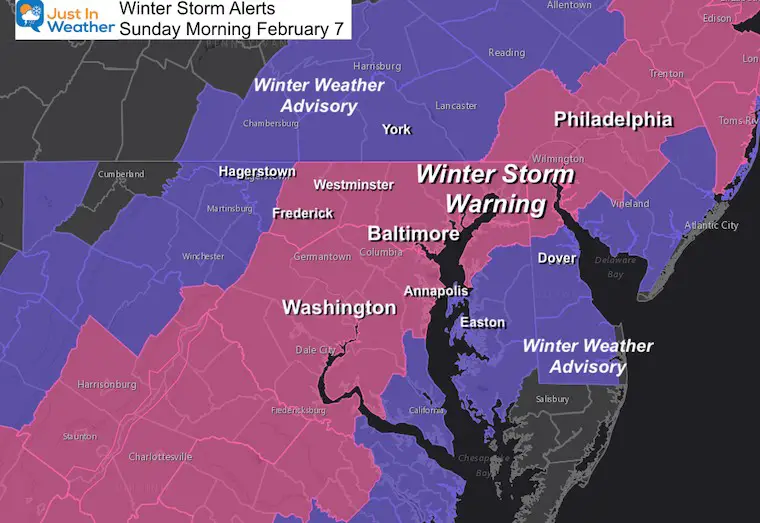 NWS Forecast
Maryland 'Warning' Zone in : 3 to 6 inches

Southern Pennsylvania 'Advisory': 3 to 5 inches.

 

*They have different criteria

Maryland 'Advisory' zone: 1 to 3 inches
NWS Regional Snow Forecast Maps —> slider
My Final Call For Snowfall
I don't often change at the last update, but this time I did. 
This is lower than my first call AND lower than NWS.

My main adjustment lowered snow in two spots: North/West for less moisture. South and Delmarva to account for a little more melting. 

Central Areas: My range of  3 to 5 inches allows for variables of melting and some local bursts of heavier snow. I dropped the high end from 6″. If anyone gets there, I'd rather it be a pleasant surprise than lead you to think too high.
Sunday Afternoon:
Storm ends and temps allow for melting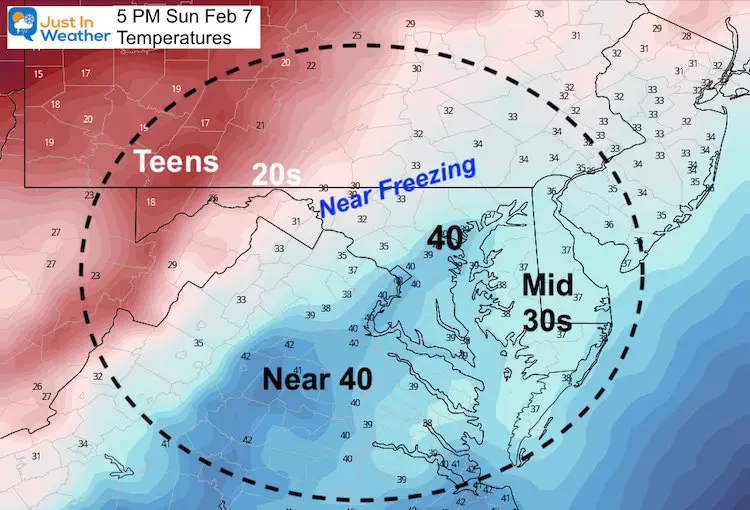 Sunday Evening:
Back below freezing again. Whatever is wet, will have a chance to refreeze.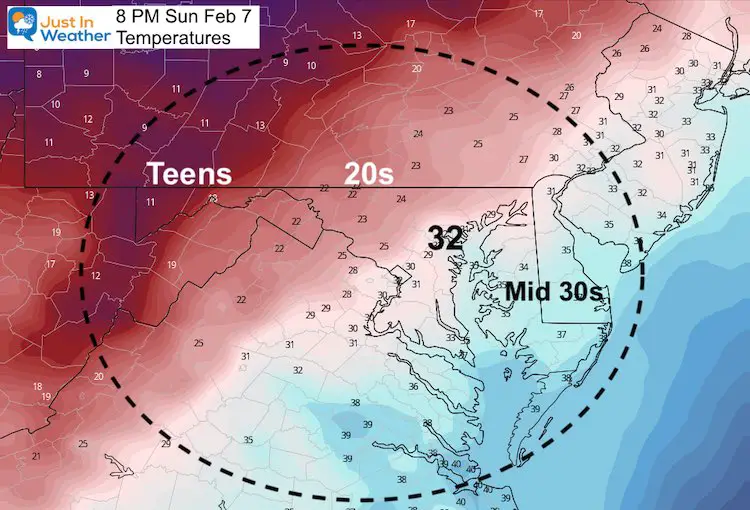 Monday Morning: Deep Freeze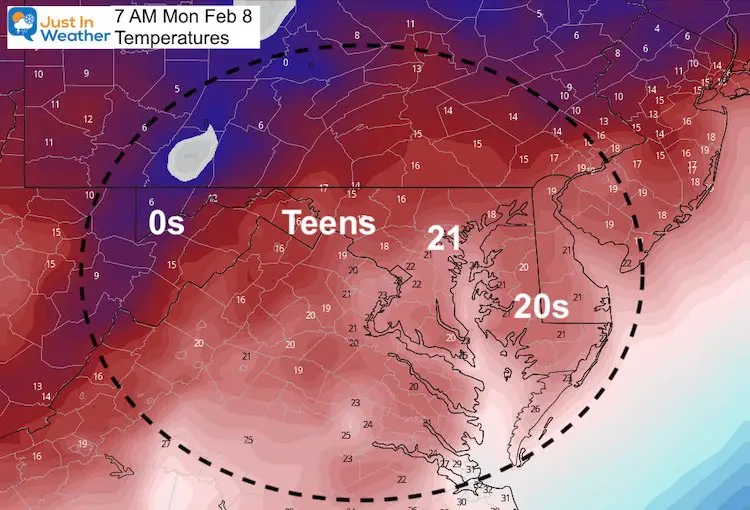 Getting Even Colder Over The Next Two Weeks
Please share your thoughts, best weather pics/video, or just keep in touch via social media
YOUR INTERACTIVE WEATHER PAGES
14 Local Maryland Pages (and York PA)
We have made a page for Maryland Weather which gives you the current conditions for 14 present area locations.
Local Hourly Forecasts and Local Radar
Central Maryland
Delmarva
Pennsylvania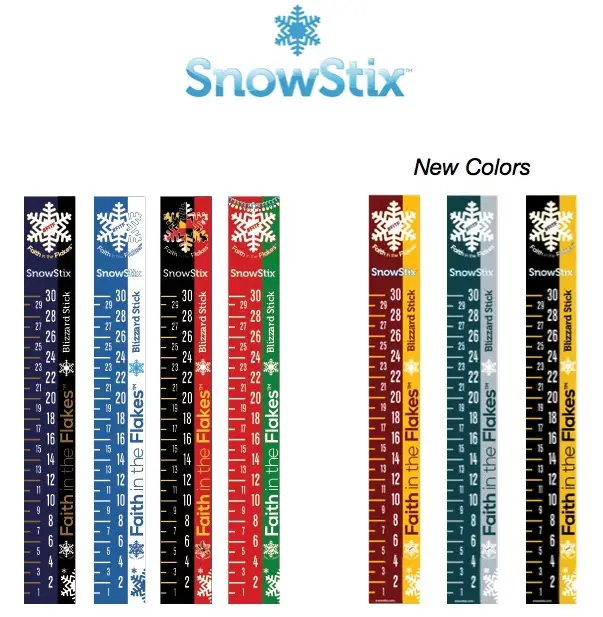 FITF Shop Open
My 'bonus' daughter Jaiden and wife showing off our popular Maryland Hoodies. Unisex and women's items all produced in Maryland.
Click here to see this and many other new items.