Saturday February 6 2021
Today will be the nicer of the two weekend days, but Sunday will not be a complete loss.  Th Winter Storm Warning is an upgrade for many just getting closer to the weather event.  But it will be a small window mainly in the morning.
I have made some adjustment to My Call For Snowfall. Compare that to the latest models and temperatures below.
Storm Snow Snapshot: European Model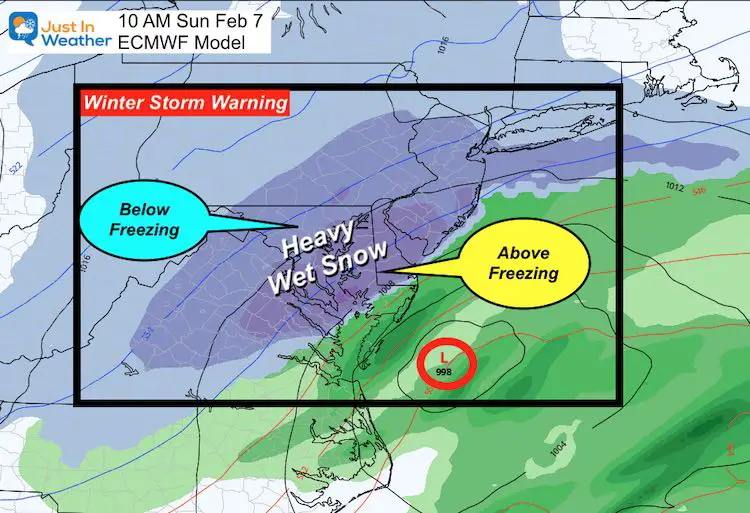 Complicated and Simple:
This will be like a spring storm, but very cold air will follow.
Some of the heavy snow area will be in central Maryland to Delaware where air temperatures will be above freezing.
Heavy snow rates can overtake the warmer ground for stickage.
Roads may be bad early in the morning, but solar radiation after 9 AM will help melting.
Inland will be colder. There may be less intense snow, but more will stick and accumulate.
NEW POST AVAILABLE: Click to see the
Winter Storm Warning/Winter Weather Advisory
Note: The 'Watch' in southern PA is just a delay from NWS State College to update. This region is on the fence for snow criteria to fall into either category.  This will be updated to an Advisory or Warning shortly when they make their final snow call. (I am leaning towards a warning there)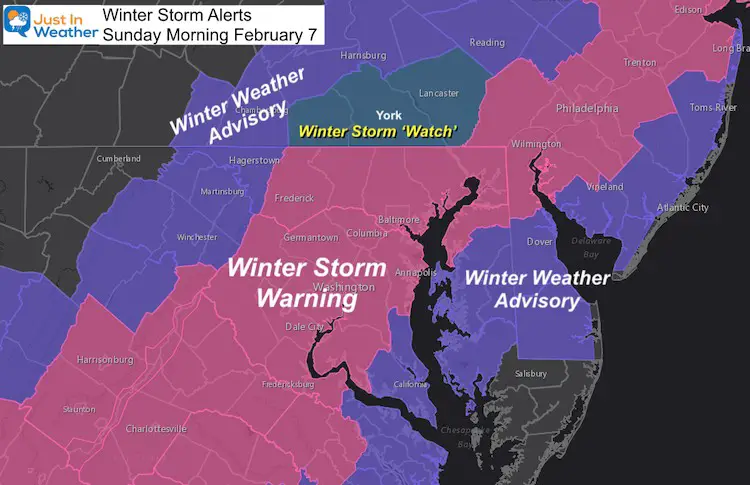 How Can It Snow With Highs In The 40s?
Your weather app might show 40s today and near 40ºF on Sunday. How can it snow, right? I get that question a lot.
The snow period will be: 'After Midnight, ending close to Noon'. This may be above freezing for some, but colder clouds can support flakes reaching the ground and some stickage in the darker hours.

Sunday Snow Simulation —- slider
Like a spring event, this may begin as rain or sleet in the warmer areas around the Bay. As the precipitation get heavier, it will drag down colder air and change to 'wet' slushy snow in many areas.
As it ends, lighter precipitation may mix back to rain.
Temperature Highlights —-> slider
Many near and south of Baltimore will be above 32ºF. This complicates what can fall AND stick/accumulate.
Inland will be colder in the typical areas, allowing for roads to be more slick through the morning.
Quick Cast:
Snow Begins: 2 AM to 6 AM.
Snow Ends: Noon to 2 PM
Snow: Most of the region will get a four hours of moderate to heavy snow.
Mixing: Possible in southern MD and The Beaches
Temperatures: From the cities, around the Bay and Delmarva will be above 32ºF. That complicated stickage and accumulation during the daylight.
My UPDATED Call For Snowfall
I accounted for the 'wet snow' factor. This can compress accumulation AND lead to more wet roads mid day.
'Possibly More' area: This depends on heavy snow bands and local temps for what can stick and pile up.  There could be some thundersnow around daybreak.
Also see: NWS Snow Maps from regional offices
Model Guidance
ECMWF Model Snow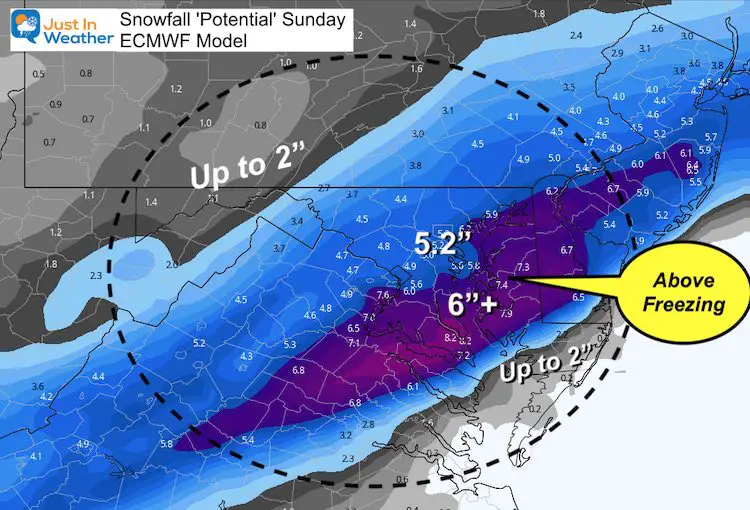 NAM 3Km Snow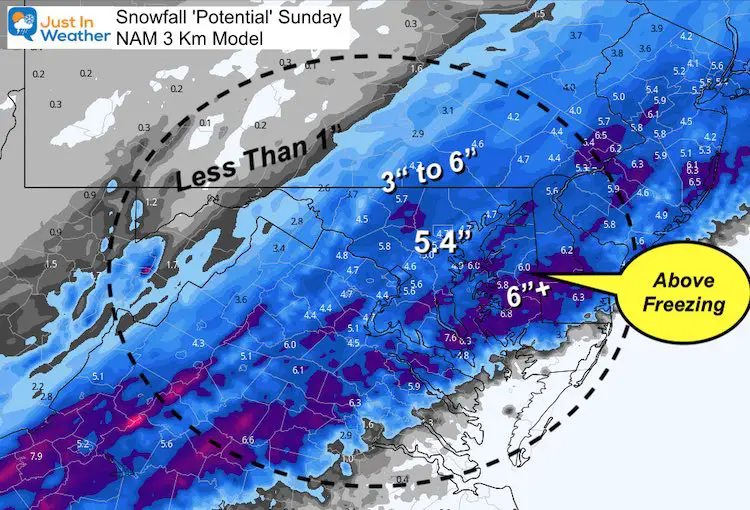 GFS Model Snow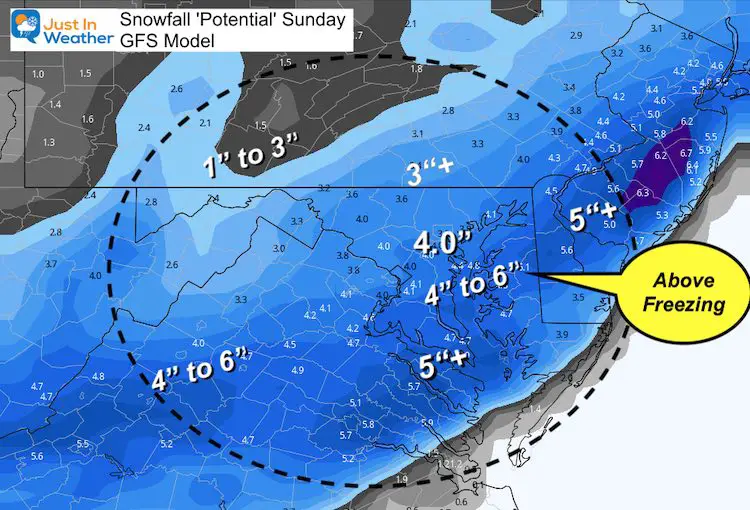 Canadian GEM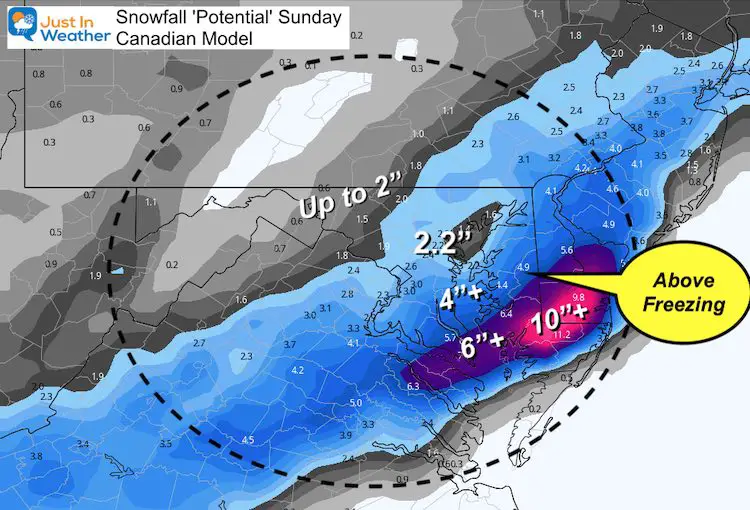 Wrap Up
This will be a moderate hit over the first part of Sunday.
We wake up to it, but should be able to get out by evening (for most areas that are treated)
Evening Icing: Quick drop in temps will freeze anything wet that' untreated.
Monday morning: Among the coldest of the year so far…
Temperature Outlook
Much Colder Air On The Way
Please share your thoughts, best weather pics/video, or just keep in touch via social media
YOUR INTERACTIVE WEATHER PAGES
14 Local Maryland Pages (and York PA)
We have made a page for Maryland Weather which gives you the current conditions for 14 present area locations.
Local Hourly Forecasts and Local Radar
Central Maryland
Delmarva
Pennsylvania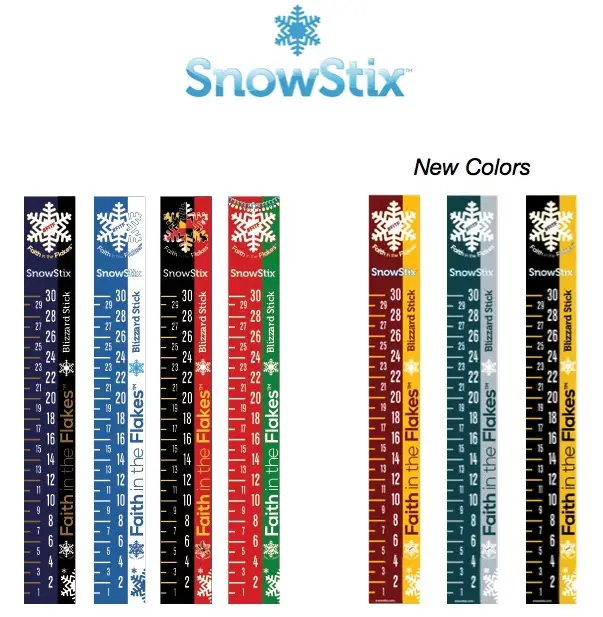 FITF Shop Open
My 'bonus' daughter Jaiden and wife showing off our popular Maryland Hoodies. Unisex and women's items all produced in Maryland.
Click here to see this and many other new items.