Friday February 5 2021
We can expect a quick 'Thumping' of snow on Sunday.  It should be a quick hit of moderate snow that will begin before sunrise and end in the afternoon.  A few hours should bring some heavy snow.  However, marginal temps will make this a 'wet snow'. Then very cold air will follow by evening and Monday morning.
I don't know if you have SuperBowl viewing plans, and I am not here to judge. But you might want to consider the storm will be over by game time yet  some icing will follow.
This forecast invites memes saying,  "That escalated quickly".  If you have Faith in the Flakes, winter is just getting going for us.   
I want to give you my take of how this breaks down. Please take a moment to read my notes and the modeling.  Then compare my snowfall forecast to the computer model guidance below.
Sunday Storm
Not the same as last week.
This is a quick mover: In before sunrise; Out before sunset.
This snapshot looks like the last storm, for location, but it will keep moving.  Do you remember my Atmospheric Memory Theory? The Low will want to go close to the last location. It is conceivable that this may still verify a little farther north.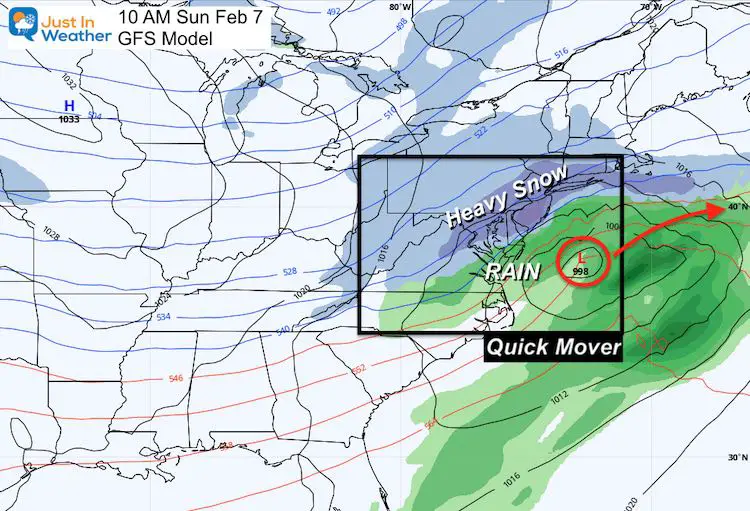 Storm Notes:
Recall:
3 days ago this looked like a big storm

2 days ago it looked like it was gone

1 day ago, it return on some models…
*This reinforce my mottos:
Let's finish the first storm to see how the next will behave.

 

I don't I've snow forecasts with confidence beyond 48 to 72 hours.
We are in that window now!
UPDATED REPORT: Click to see
Winter Storm Watch Posted.  Also just added ECMWF and NAM 3Km Model maps
Quick Cast:
Snow Begins: 2 AM to 6 AM.
Snow Ends: Noon to 2 PM
Snow: Most of the region will get a four hours of moderate to heavy snow. 
Mixing: Possible in southern MD and The Beaches
Temperatures: From the cities, around the Bay and Delmarva will be above 32ºF. That complicated stickage and accumulation during the daylight.
SnapShot: NAM 3Km
I do not agree with all this model shows. But I do thing this Transition Zone needs to be considered a reality.
This can really bust a forecast. Some places could get heavy snow with temps above 32ºF, but there will be a region where rain mixes in or takes over.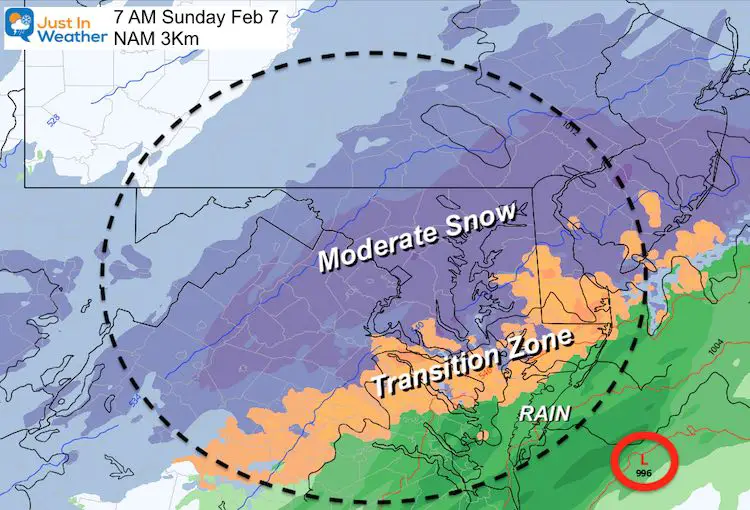 Radar Simulation GFS Model —->  Slider
Snow arrives before sunrise; Ends in the afternoon.
Temperatures —-> slider
Just a simple look at: Sunrise, Evening, and Monday Morning
My Call For Snowfall
I purposely went lower than model guidance. 
I needed to account for the 'wet snow' factor. This can compress accumulation AND lead to more wet roads mid day.
But there is potential for a region to get a bust of heavy snow that over a few hours can overshoot the mark.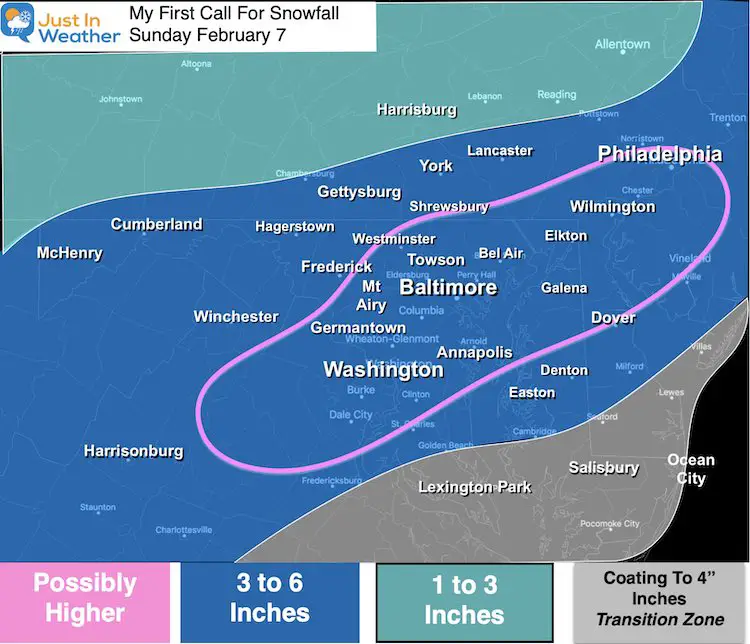 Model Guidance
GFS Model
This seems very reasonable.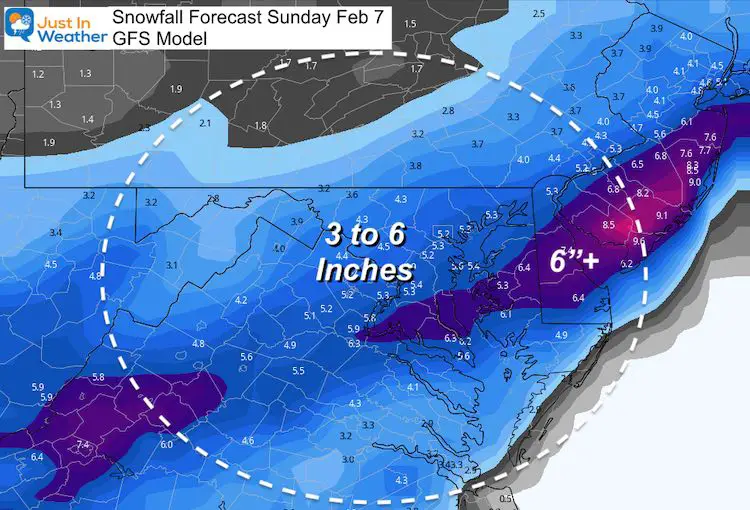 Canadian GEM
This is the most aggressive model with high totals. It was the first to show high totals for last week's storm, but was too far south.  The verification was abot 100+ miles north. It's safe to assume that bias might occur again…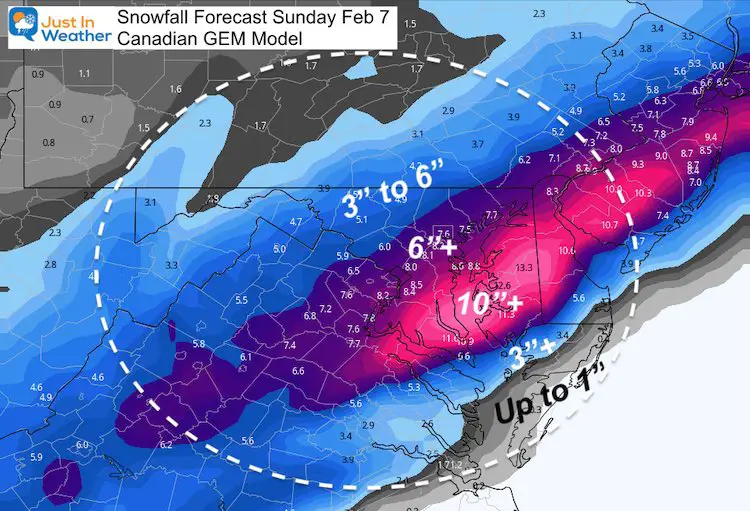 NAM 3Km
This also has very high snow across Delmarva  and southern Maryland. I need to consider the more likely scenario that the verified track will be a little farther north.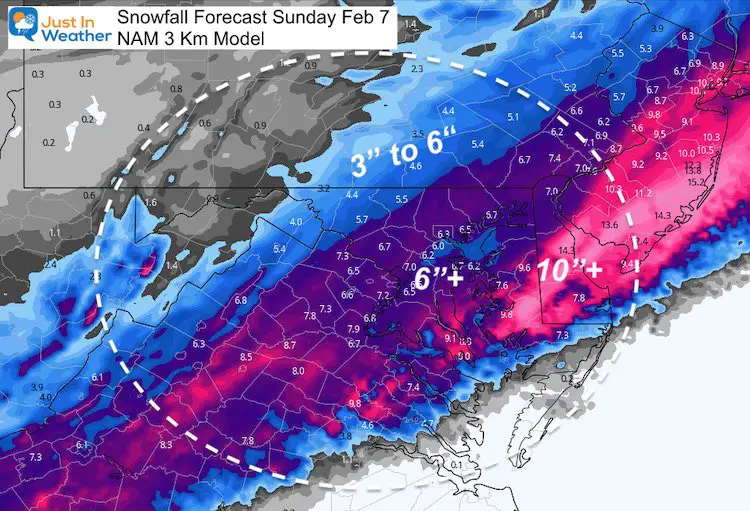 Wrap Up
This will be a moderate hit over the first part of Sunday.

We wake up to it, but should be able to get out by evening (for most areas that are treated)

Evening Icing: Quick drop in temps will freeze anything wet that' untreated.

Monday morning: Among the coldest of the year so far…
My next Update will be This Evening. #FITF
Please share your thoughts, best weather pics/video, or just keep in touch via social media
YOUR INTERACTIVE WEATHER PAGES
14 Local Maryland Pages (and York PA)
We have made a page for Maryland Weather which gives you the current conditions for 14 present area locations.
Local Hourly Forecasts and Local Radar
Central Maryland
Delmarva
Pennsylvania

FITF Shop Open
My 'bonus' daughter Jaiden and wife showing off our popular Maryland Hoodies. Unisex and women's items all produced in Maryland.
Click here to see this and many other new items.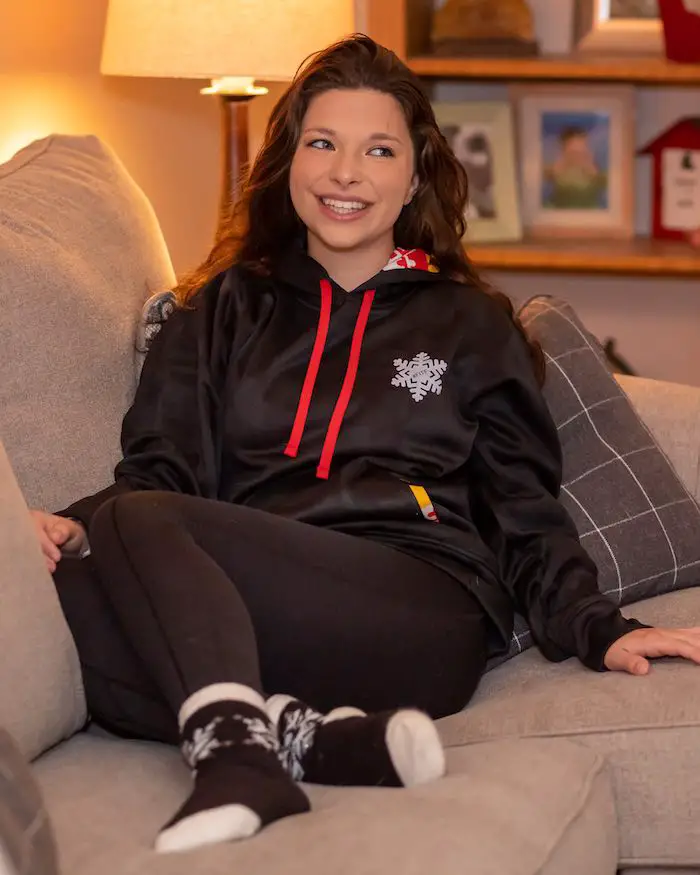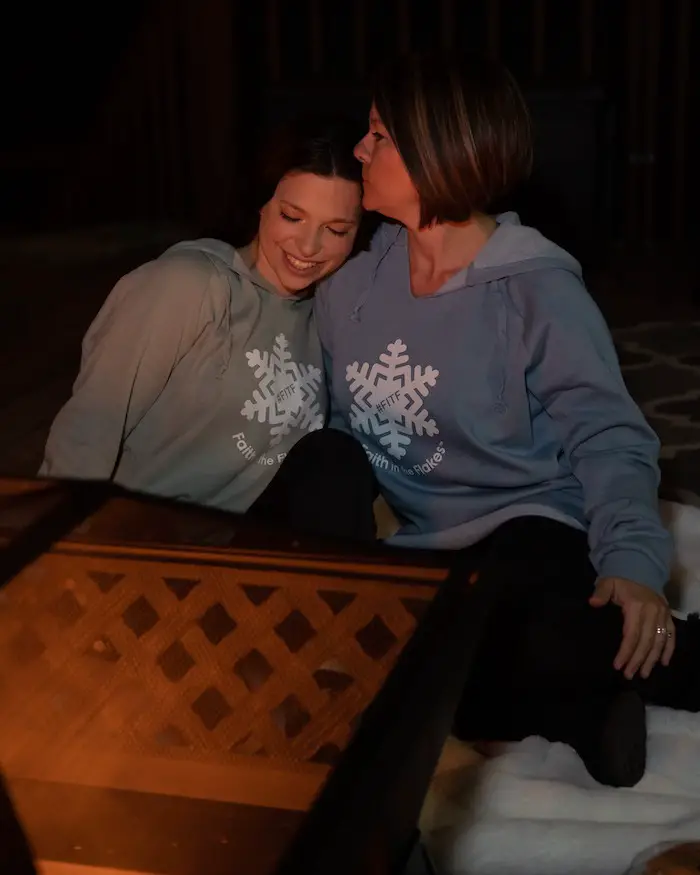 Also see:
Maryland Weather Page
I wanted to keep it simple. Just the basics for a quick view at any time.