Wednesday February 3 Evening Update
After the overtime work with the 3 day storm, I have a goal with this report. There is still a lot to discuss, but I am going to attempt to be a minimalist if possible.
Of top billing, NOAA's Climate Prediction Center put out strong confidence for a very cold February. At least through Valentines Day. This is the probability of below normal temperatures through the middle of the month.  It's all based on the jet stream. While The Polar Vortex is playing a role, I will not mention it anymore in this post.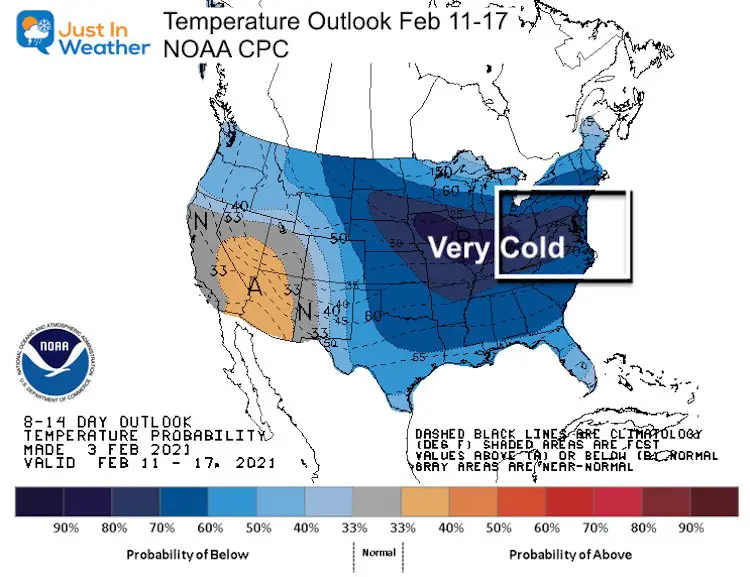 Do you recall me saying..?
"Let's not look at the next storm until this one is done"
Well, the coastal storm finally moved out, after still dropping snow showers today. That slower departure is playing a role in the next big storm. Before we get to that, please see my prior report and Grade My Forecast. If you don't want the recap, you can add you vote or see the Poll results here: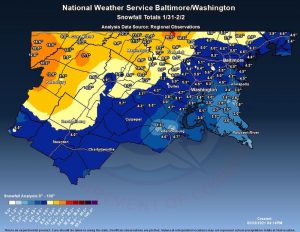 Poll Open Until 7 PM Thursday
Grader My Forecast: Jan 31 to Feb 2 2021
A (Thanks) (53%, 1,813 Votes)
B (33%, 1,139 Votes)
C (10%, 359 Votes)
D (3%, 91 Votes)
F (come on, really?) (1%, 23 Votes)
Total Voters: 3,425

 Loading ...
Friday Morning Snow?
There is agreement for light snow around sunrise on Friday, but there is one catch:
Here's the snapshot plot from the NAM, GFS, and ECMWF Models.   This looks like a better chance near Baltimore and especially in the colder inland areas.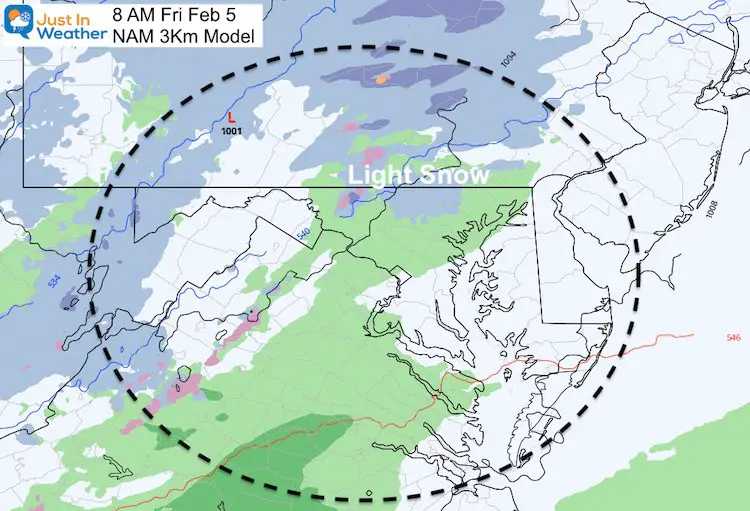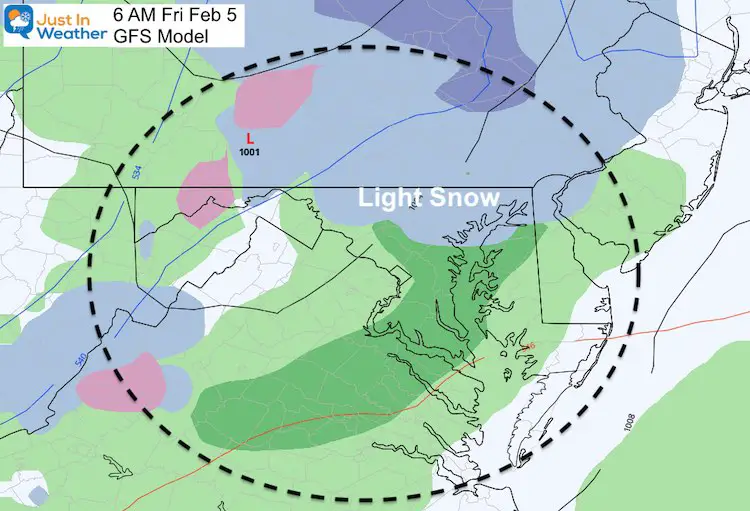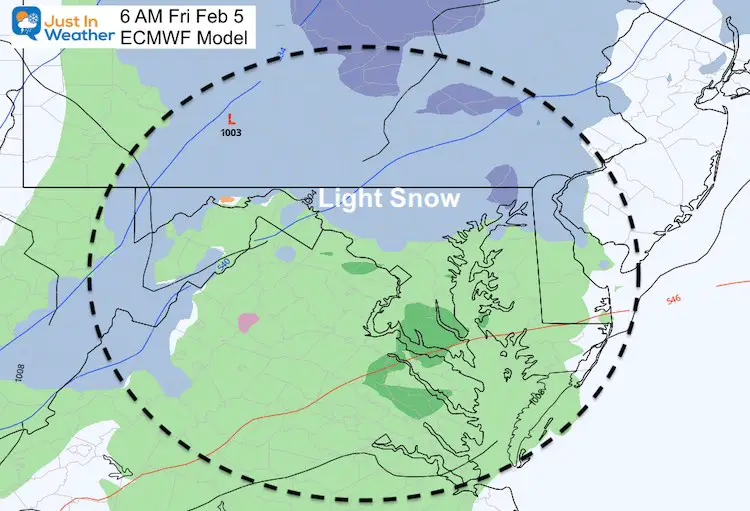 The Catch: The Temperatures 
That system will be the leading edge of warmer air on the way this weekend. But it will already by warmer than freezing.  If this verifies, we will be looking at academic snow with little impact on the roads.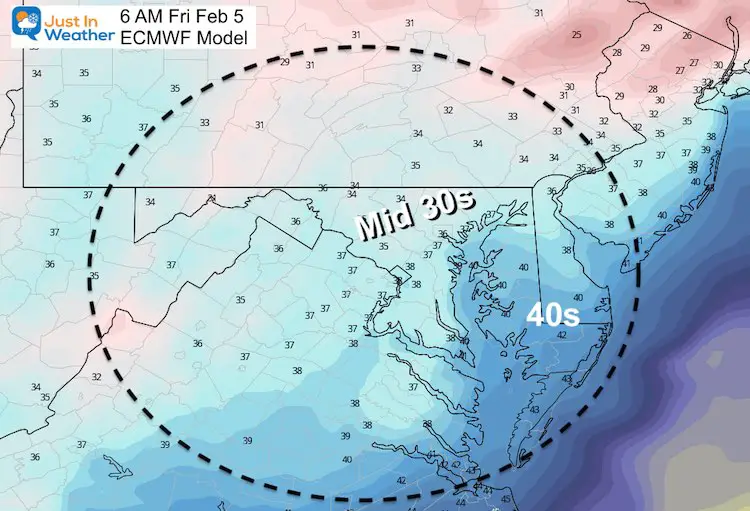 UPDATE THURSDAY MORNING:
What About That Weekend Storm?
The energy needed to phase and produce that storm now does not appear to team up.  I believe the long delay departure of our east coast storm has blocked things upstream in the atmosphere. This adds to my reasons for waiting for the 5 day window to hop on any notion of a big storm event.
The net result:
European Model:
Has the two pieces very far apart. This is. VERY DIFFERENT than just one day ago…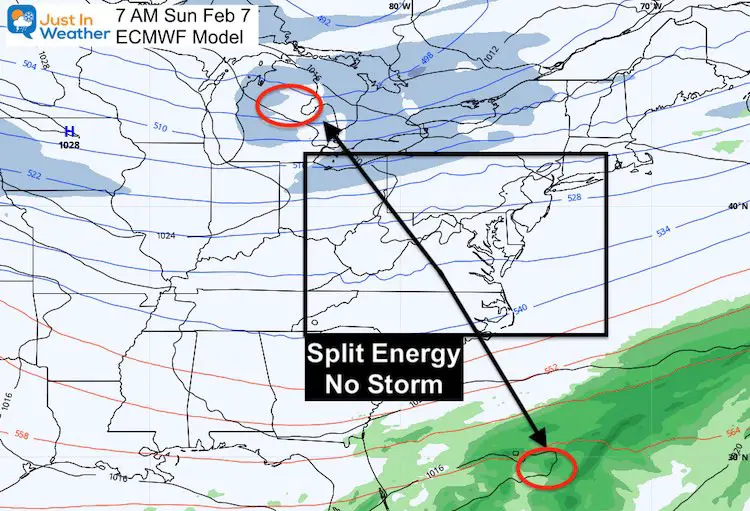 GFS Model
This has the two pieces a little closer, but still a miss for us.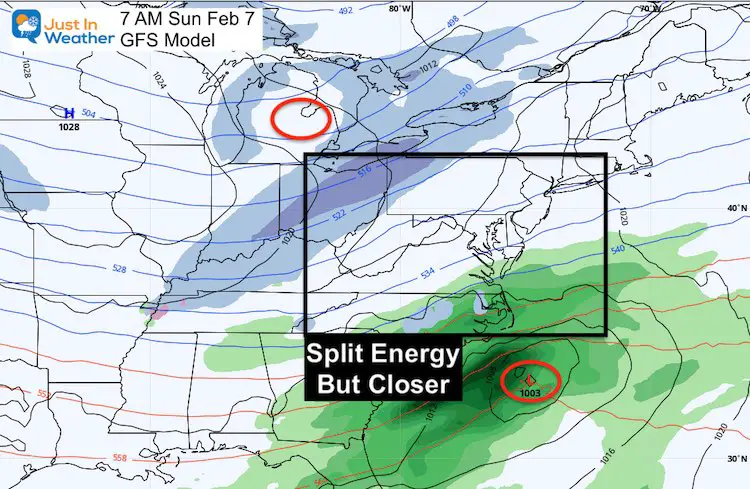 About That Cold Air
The jet stream will bring some brutally cold air to the northern US early next week.
Since we are now not expecting that Sunday storm on the coast, there is not feature to pull that our way… yet.   It will happen, just delayed a few days.
Jet Stream Feb 8 to 15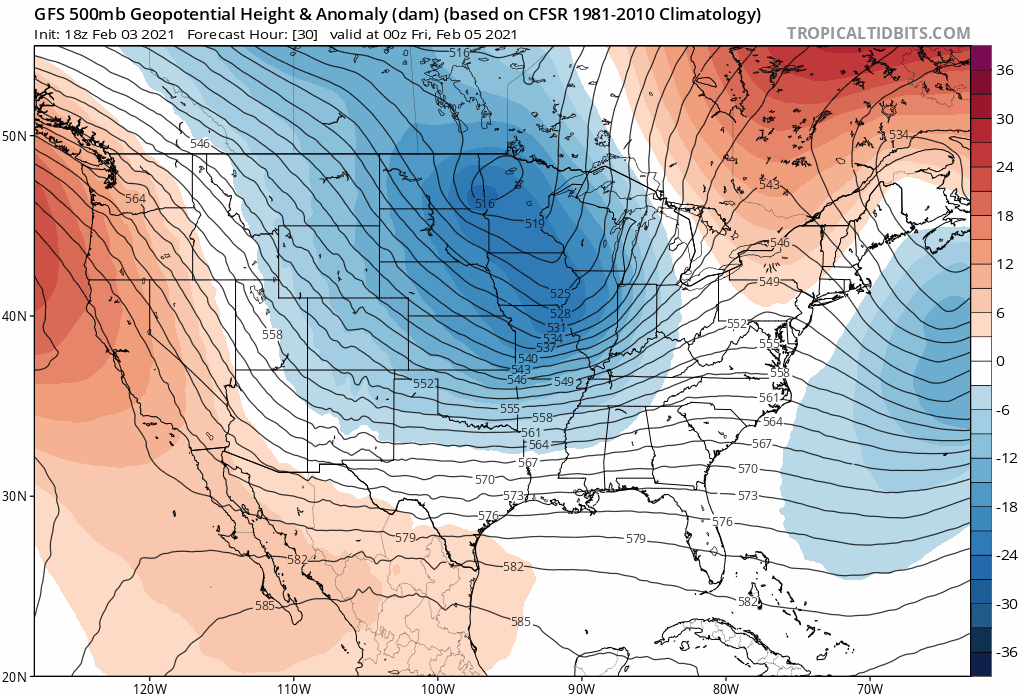 Temperature Outlook 
The cold air is on the way, just a little delayed with no storm to pull it in.  It should arrive by the end of next week.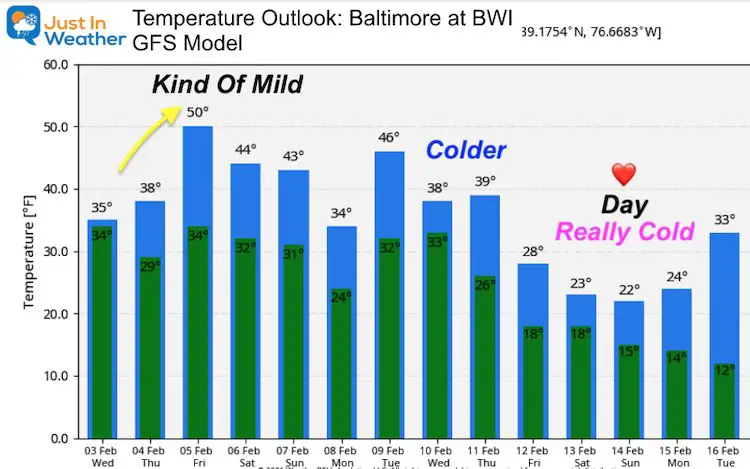 Please share your thoughts, best weather pics/video, or just keep in touch via social media
Maryland Weather Page
I wanted to keep it simple. Just the basics for a quick view at any time.
Winter Weather Resource Pages
Click Here For My Complete Winter Resource Info
YOUR INTERACTIVE WEATHER PAGES
14 Local Maryland Pages (and York PA)
We have made a page for Maryland Weather which gives you the current conditions for 14 present area locations.
Local Hourly Forecasts and Local Radar
Central Maryland
Delmarva
Pennsylvania

FITF Shop Open
My 'bonus' daughter Jaiden and wife showing off our popular Maryland Hoodies. Unisex and women's items all produced in Maryland.
Click here to see this and many other new items.