Wednesday February 3 2021
A narrow band of snow was falling across Frederick County MD to the west side of Washington and south into Virginia. This was influence by snow in New York and around the very back side of the departing coastal Low. Some areas in the path have a fresh coating of snow on the ground this morning.
Morning Surface Weather
Winds will be more gusty today as the Low slowly departs and High Pressure builds in from the west.  This should help break up the clouds later as well.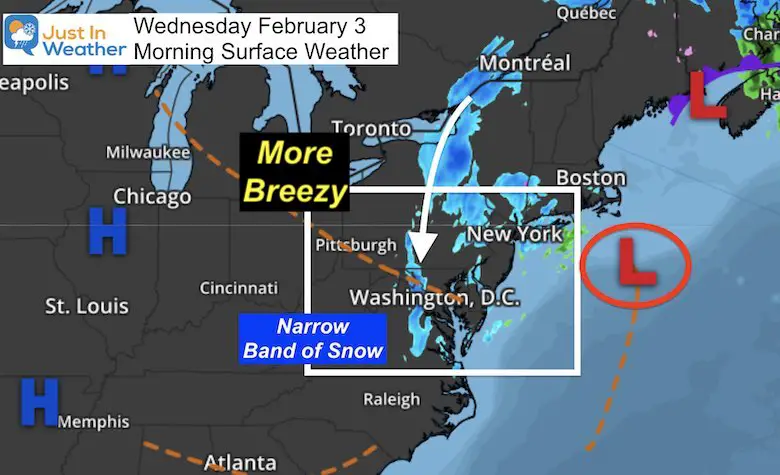 Radar Loop
DAY 4 WITH SNOW. ❄️ Sort of …
A narrow band continued over Frederick County Maryland this morning.
Might be a fresh coating or so…
*2 Hour loop ending at 4:20 AM pic.twitter.com/PG6eM1DPpo

— Justin Berk (@JustinWeather) February 3, 2021
Radar Snapshot 
These bands were sturdy overnight, but are breaking up and finally fading away this morning.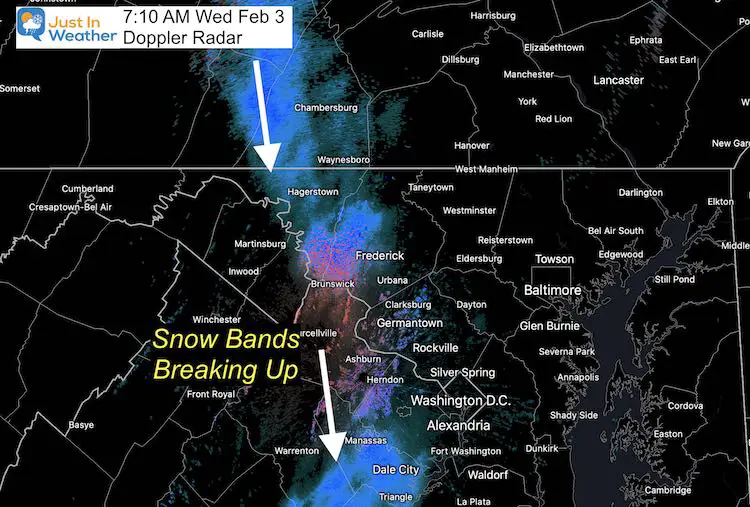 This is important for two reasons:
It is Day 4 with snow for some areas and might still impact local roads in the path.
With that storm being slower to depart, it will have rippled effects for the timing and placement of the next two potential systems.
Today: Focus on Temperatures
Morning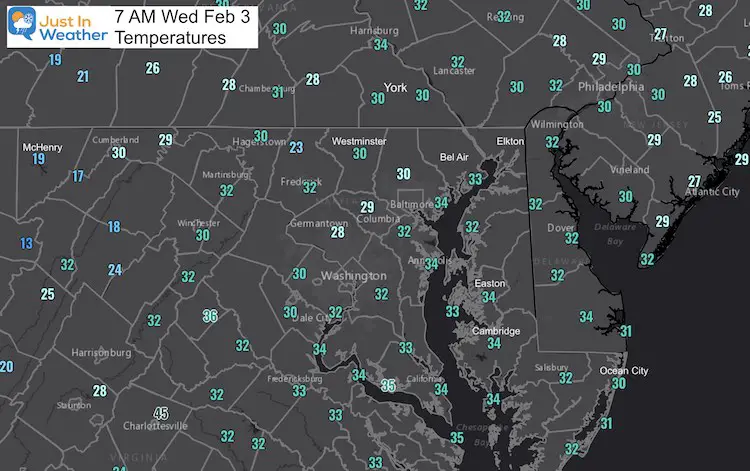 Afternoon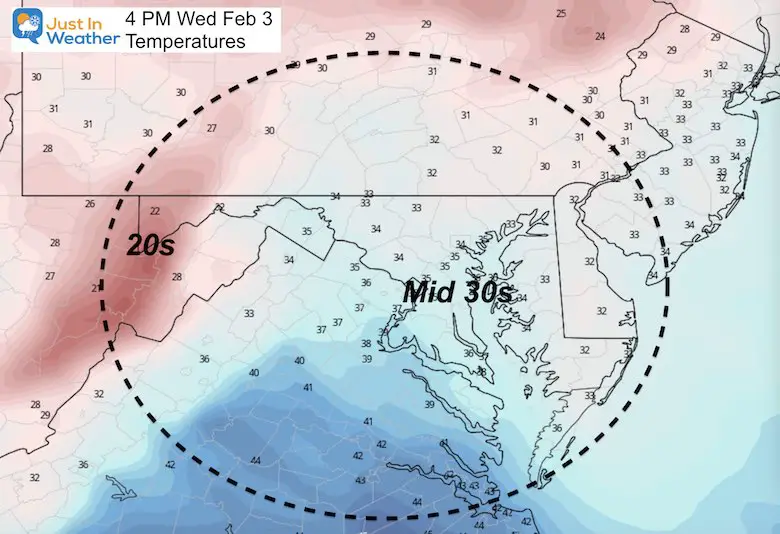 Thursday
Morning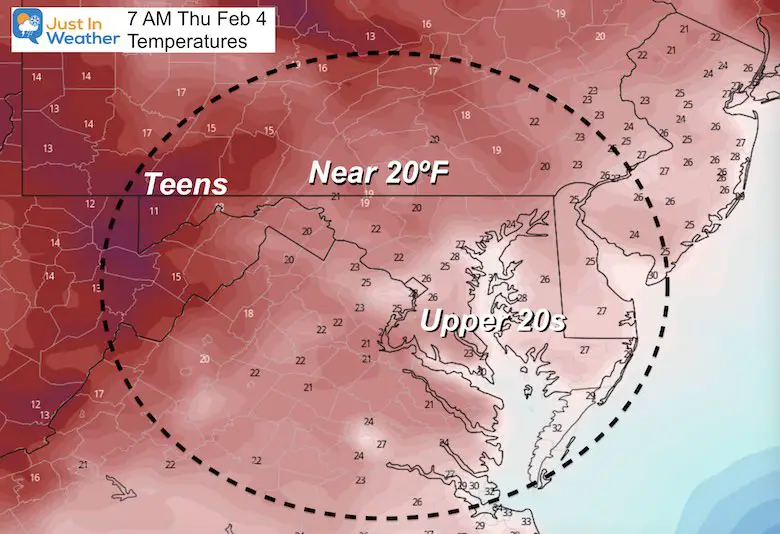 Afternoon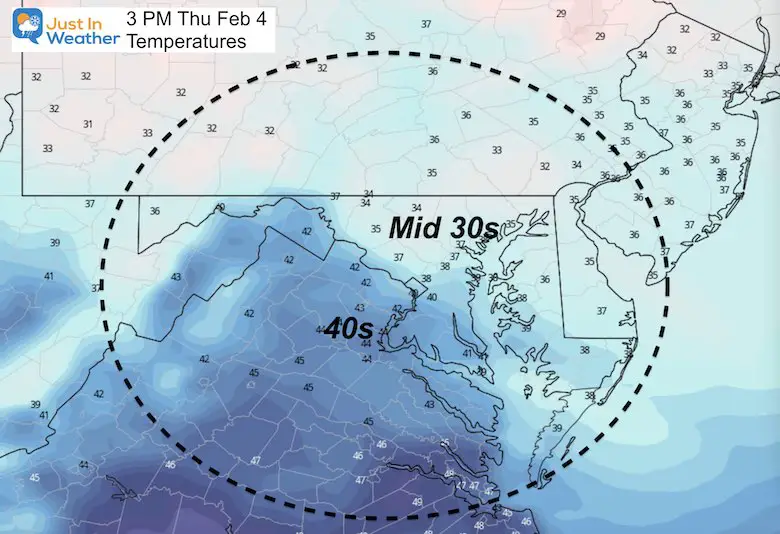 Quick Cast: Central Maryland Snapshot

About Those Next Two Systems
Friday:
I expected this to be light, followed by warming air during the day.
The delay in the atmosphere might lead to this arriving just a few hours later.
We can watch for a light snow or mix at sunrise, followed by rain. This all may end by the end of the day.
*A minor event.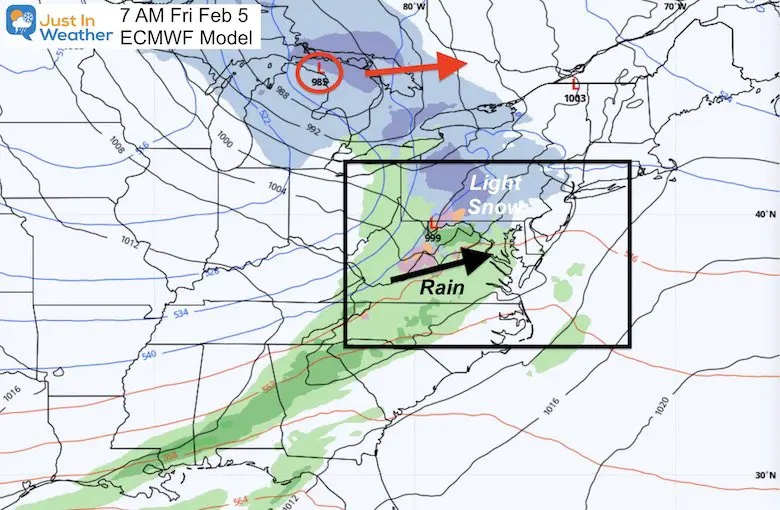 Sunday:
I waited to mention this until last night.  Then the next model run lost the storm!
Why? I blame this first storm off of the coast in part.  Being slower to depart, there are ripple effects through the atmosphere.   
There are two pieces of energy that need to combine for this storm to form.  The modeling last night leaned against it.   I do not like to make abrupt flips, so let's see this morning's run if it was a blip or really out of phase.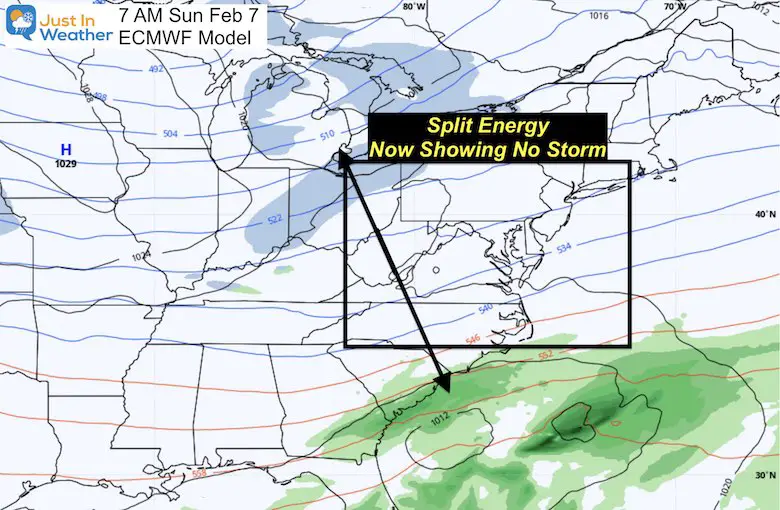 Arctic Blast:
We are still in for a polar blast next week. Temperature will tank after the weekend to the lowest readings of the season (so far)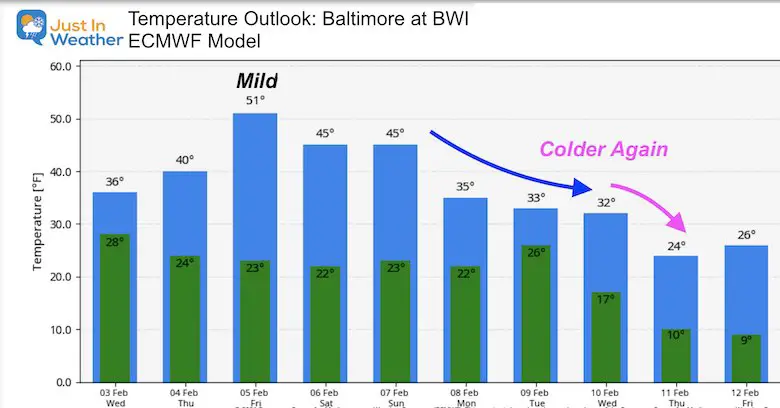 Maryland Weather Page
I wanted to keep it simple. Just the basics for a quick view at any time.
Please share your thoughts, best weather pics/video, or just keep in touch via social media
Winter Weather Resource Pages
Click Here For My Complete Winter Resource Info
YOUR INTERACTIVE WEATHER PAGES
14 Local Maryland Pages (and York PA)
We have made a page for Maryland Weather which gives you the current conditions for 14 present area locations.
Local Hourly Forecasts and Local Radar
Central Maryland
Delmarva
Pennsylvania

FITF Shop Open
My 'bonus' daughter Jaiden and wife showing off our popular Maryland Hoodies. Unisex and women's items all produced in Maryland.
Click here to see this and many other new items.