Tuesday February 2 2021
I figured it was time to look ahead to the next two snow events on the way, even though this system is not done yet. I mean, the Groundhog did say winter was going to last 6 more weeks.  We must follow his lead. (Ha!)
Snow showers have been persistent this evening on the very back side of that coastal storm.  This is the 3rd day of a drawn out event and it is not done yet.  I had every intension of doing a wrap up of snow totals and grade my forecast, however there may be more added to the finale AND the snow reports from BWI did not include today's powder.
Evening Surface Weather
This storm has been the gift that keeps on giving.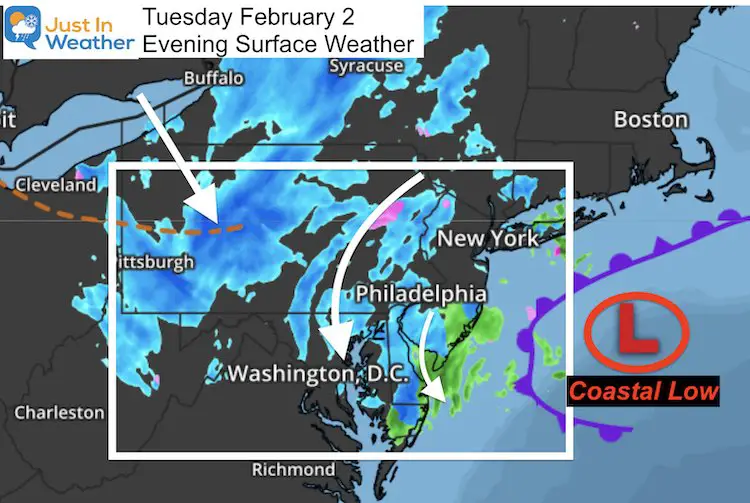 Evening Doppler Radar
Bands of snow have been dropping an additional coating up to 1 inch in spots. The most intense snow bands have been across Delmarva.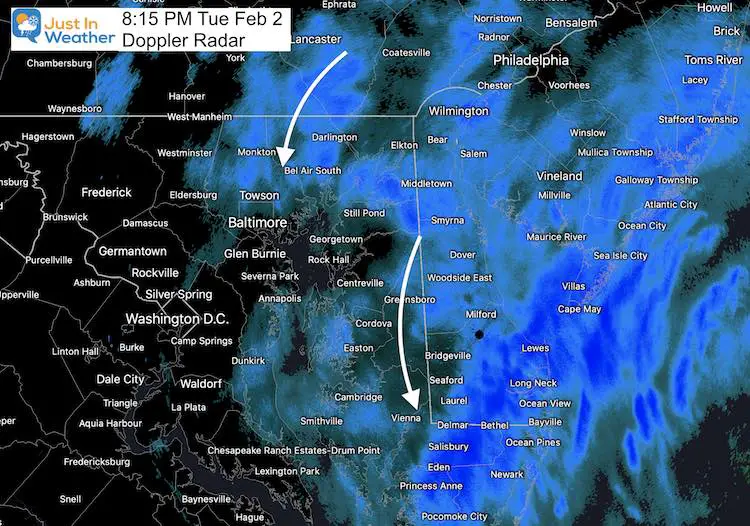 Regardless of what fell, melted, and stuck, refreezing will be a widespread issue Wednesday morning. 
Here's a look at the temperatures.
Morning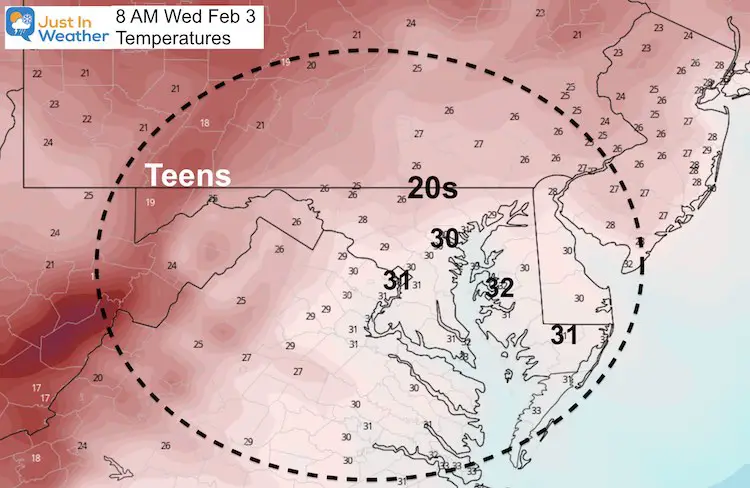 Afternoon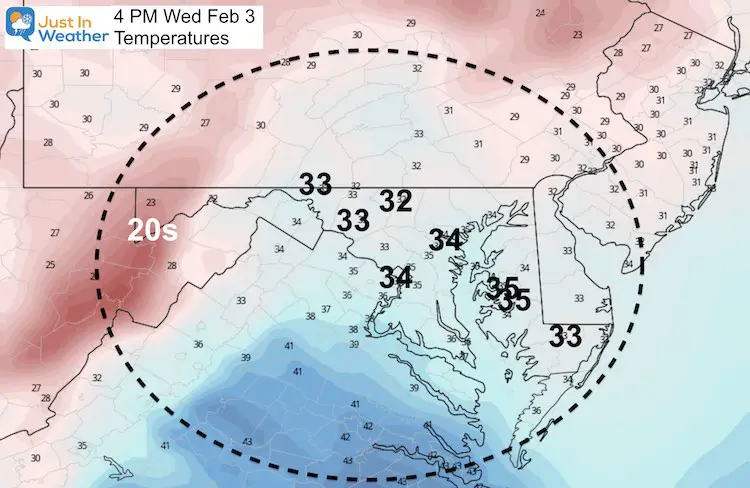 Friday:
This will be a storm passing through the Great Lakes.  We will get moisture well ahead of it in the morning. This may start with light snow and sleet… for some of us.  Warmer air will be pushed in with this and we should thaw during the day.
Closer View
Sunday Storm?
Does this look familiar?
I have talked many times about Atmospheric Memory, and a snapshot of the next storm might look like the same thing. It is not!  This should be one single Low moving up the coast, and moving out all in the same day.   But there is a weakness in the atmosphere that this Low Pressure Center will want to follow.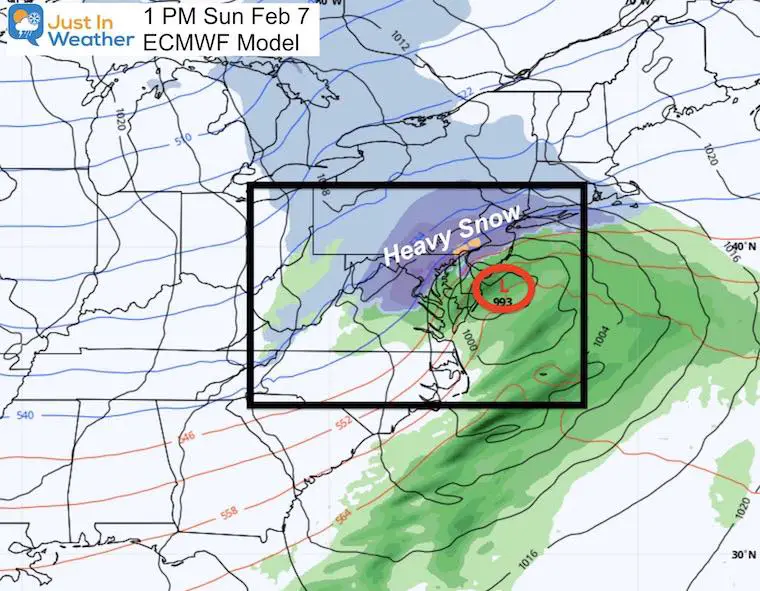 Estimated Storm Timeline —-> slider
Here is how the European Model is plotting this event.
It looks like another morning arrival, with rain on Delmarva closer to the coast.
How Much Snow?
I will not even venture this early.  I don't think anyone should 5 days ahead of time.  There are still many things that can cause this to shift time and track, but we will follow it.
Colder Air To Follow
The main take away is that the Sunday storm should be a one day event and be followed much colder air!
A little piece of the Polar Vortex is expected to push the coldest air of the season next week.
Jet Stream Animation
This is the GFS Model, less robust with the cold air next week, but it does show it pushing in behind the weekend storm.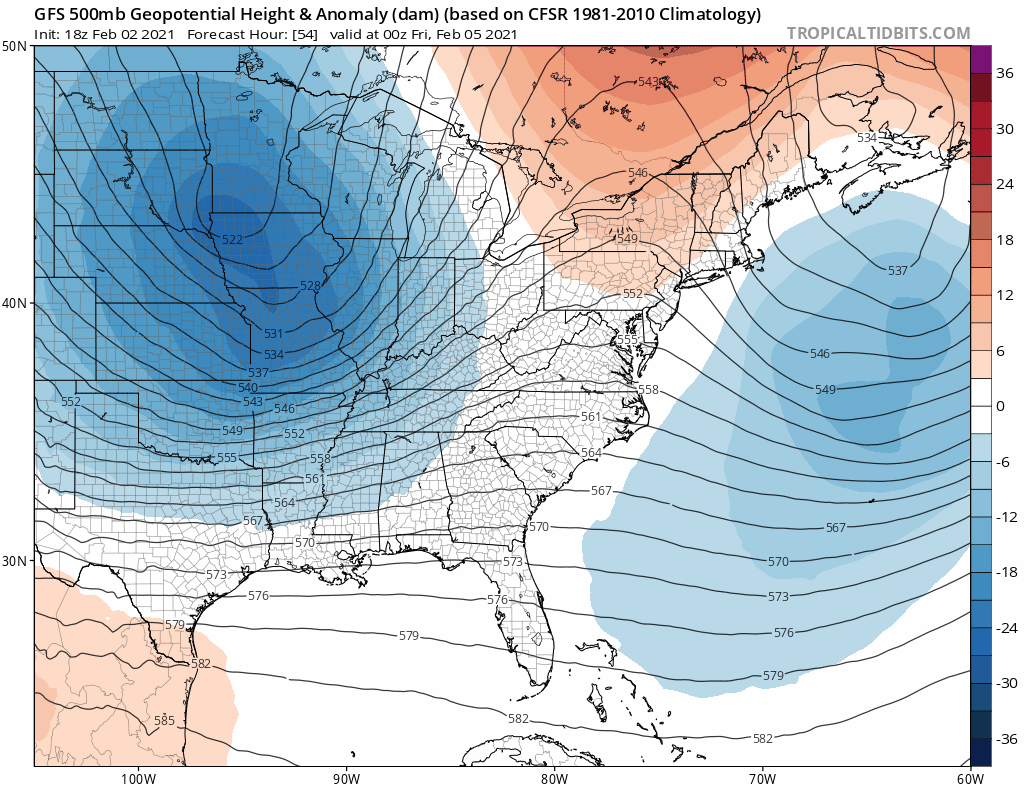 Temperature Outlook
The European Model is much more aggressive with the polar air than the GFS. That might be why this might look colder than your favorite weather app.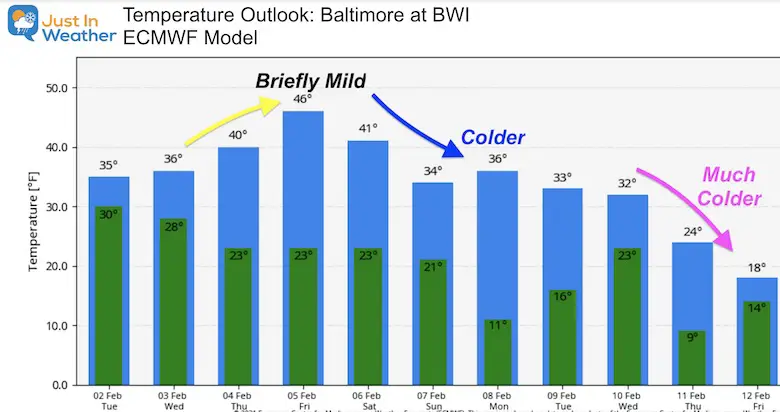 Maryland Weather Page
I wanted to keep it simple. Just the basics for a quick view at any time.
Please share your thoughts, best weather pics/video, or just keep in touch via social media
Winter Weather Resource Pages
Click Here For My Complete Winter Resource Info
YOUR INTERACTIVE WEATHER PAGES
14 Local Maryland Pages (and York PA)
We have made a page for Maryland Weather which gives you the current conditions for 14 present area locations.
Local Hourly Forecasts and Local Radar
Central Maryland
Delmarva
Pennsylvania

FITF Shop Open
My 'bonus' daughter Jaiden and wife showing off our popular Maryland Hoodies. Unisex and women's items all produced in Maryland.
Click here to see this and many other new items.