Sunday January 31 2021
The first flakes reached Washington DC at 4 AM and slowly has been trying to push into Baltimore.  As of 6:30 AM, it had not been reported yet at BWI. It will shortly.
This may be a factor of the dry air. You might see snow falling by the time you read this report, but if not do not fret. It might actually be a good thing.
The dry air will actually help establish colder air as the snow finally reaches the surface. Sublimation on the way down helps to cool the atmosphere. That will establish sub freezing temps most of the day.
Aiming For Snow Record Today
January 31 = 3.7″ snow in 1985 in Baltimore.

January 31 = 5.7″ in 1949 in Washington DC.
My forecast (and many others) has us expecting 3 to 6 inches of snow by tonight.  We have a better chance at BWI than National Airport, but both may reach the mark. If we get that, it will more than double our current season total AND beat all of last winter as well.
Part 1: Snow Today (Sunday) through evening
Lull Overnight into Monday morning: Cities get icy mix, rain, and spotty showers.  Light snow north, rain or break south.
Part 2:  Monday snow returns mid day to early afternoon. Heavy snow and strong winds at night into Tuesday morning.
Morning Surface Weather
The Primary Low is near St. Louis. This will bring our snow today.  Tonight we will watch the transition to the coastal Low.  See the timeline slider below for how this is expected to evolve.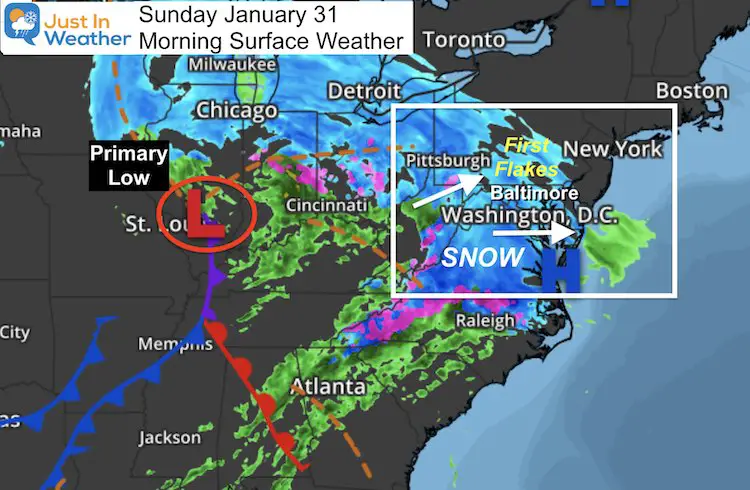 Doppler Radar
If you are not seeing snow yet, you will shortly as the dry air saturates.
Morning Conditions
Temperatures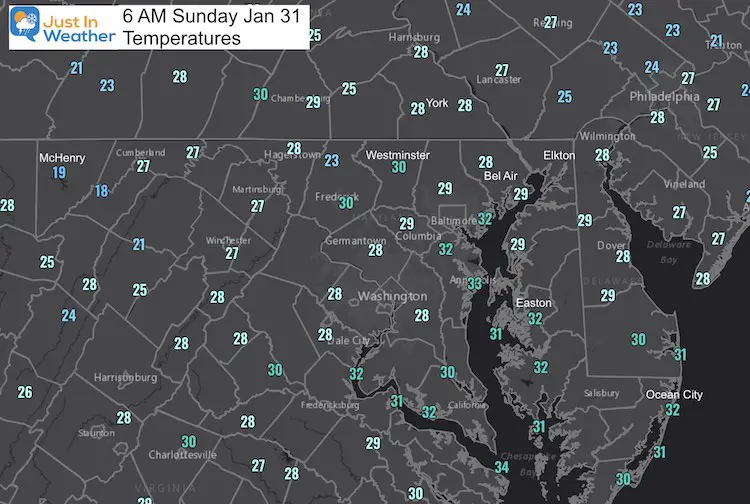 Dew Point
This reflects the dry air.  As the snow begins to saturate the atmosphere and reach the ground, the temps may droop as much as 2 or 3 degrees.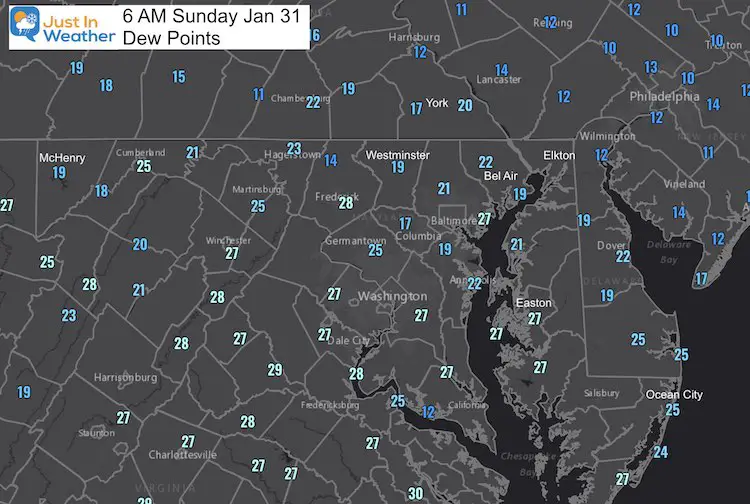 Storm Development Timeline —> slider
Watch the timing for the transfer of energy to the coast tonight and Monday.
A lull with the icy mix in metro areas may last 6 to 12 hours. Then heavy snow with strong winds returns by Monday afternoon and evening.
See my bullet point timeline and the new model snow maps below.
Timeline Highlight List
Sunday Morning:
First flakes will arrive between 6 AM and 11 AM. This may rain into dry air, and appear on radar for a few hours before reaching the ground (virga).
Flakes will be light and powdery at the start.
Sunday Afternoon:
Moderate to Heavy snow. Much of the region will get 3 to 6 inches by sunset.
Flakes get heavier/wetter and more slushy before the mixing.
Sunday Evening:
Rain begins to advance north up the Bay.
Cities will mix with sleet and freezing rain between 6 PM and midnight.
Still snow on norther counties.
Sunday Night- Monday Morning
Lull in the action as the coast Low takes over.
Light mix or rain for cities.
Mix or light snow north.
Monday Afternoon/Evening:
Monday Night:
Snow will be heavy at times. This may be the peak of the storm!
Flakes gradually turn lighter/dryer due to colder air aloft.
Winds may gust to 35 mph overnight, making for near blizzard conditions. Midnight to Tuesday morning snow will be blowing around reducing visibility and covering over some roads faster after being treated.
Winds: 
The coastal Low will crank and be in full effect Monday night.
Steady winds 15 to 20 mph may gust to 35 mph. This will bring near blizzard conditions at times.
Tuesday:
Snow tapers to snow showers and flurries by mid day. Blowing snow may cover treated roads.
NEW Model Snow Forecasts: Through Tuesday
There is more agreement now as the Big Kahuna Canadian shifted the bullseye farther northeast.  We are still in the running for double digit (10″+) snow in metro areas and north.
GFS Model Snow
Still expecting over 10 inches of snow for Baltimore.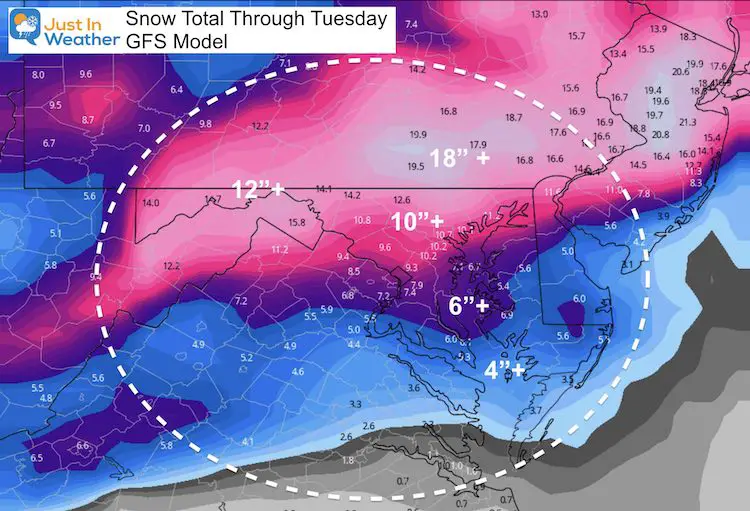 European Model Snow
Still expecting over 10 inches of snow for Baltimore.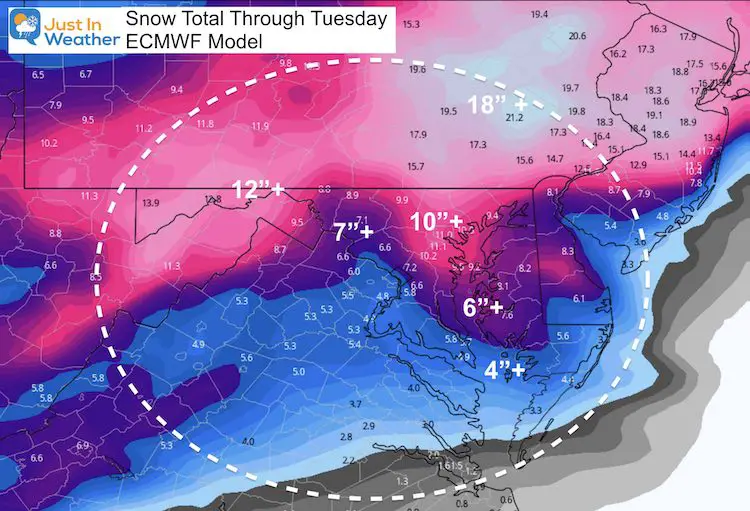 Canadian Model Snow
Still expecting over 10 inches of snow for Baltimore.
Bulls Eye Heaviest Snow shifted north of Philadelphia.
My Call For Snowfall
My original forecast is still in place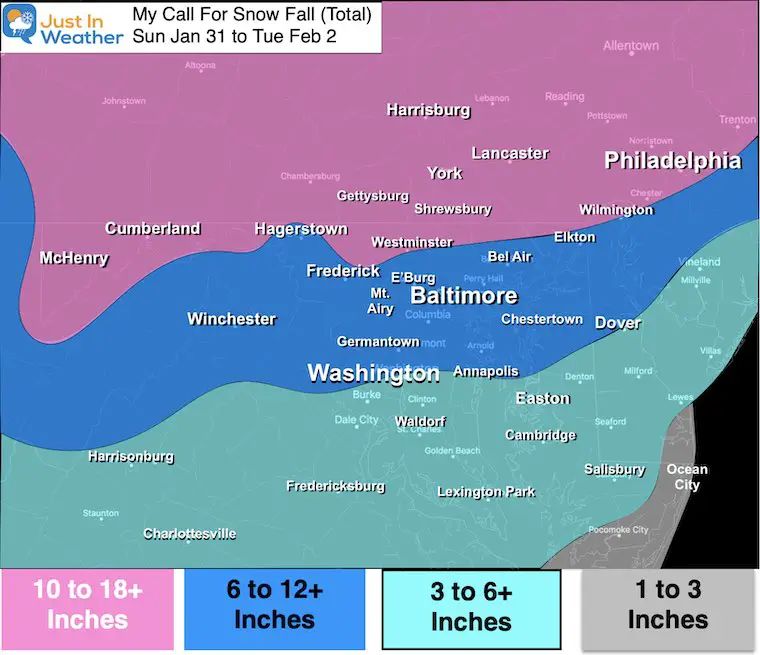 Winter Storm Warning Through Tuesday Morning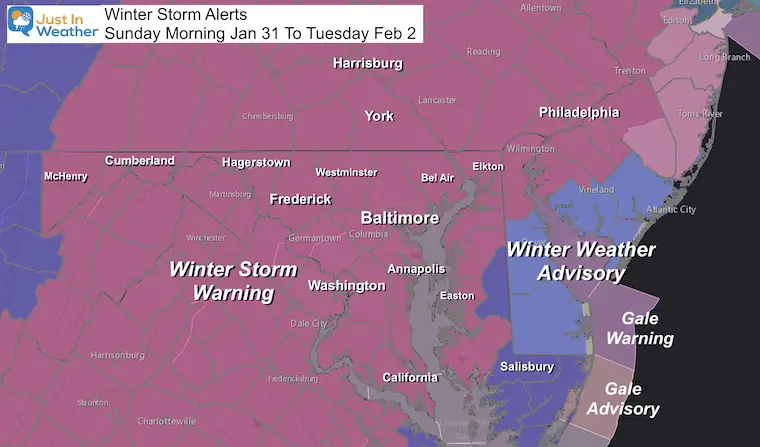 Please share your thoughts, best weather pics/video, or just keep in touch via social media
Winter Weather Resource Pages
Click Here For My Complete Winter Resource Info
YOUR INTERACTIVE WEATHER PAGES
14 Local Maryland Pages (and York PA)
We have made a page for Maryland Weather which gives you the current conditions for 14 present area locations.
Local Hourly Forecasts and Local Radar
Central Maryland
Delmarva
Pennsylvania

FITF Shop Open
My 'bonus' daughter Jaiden and wife showing off our popular Maryland Hoodies. Unisex and women's items all produced in Maryland.
Click here to see this and many other new items.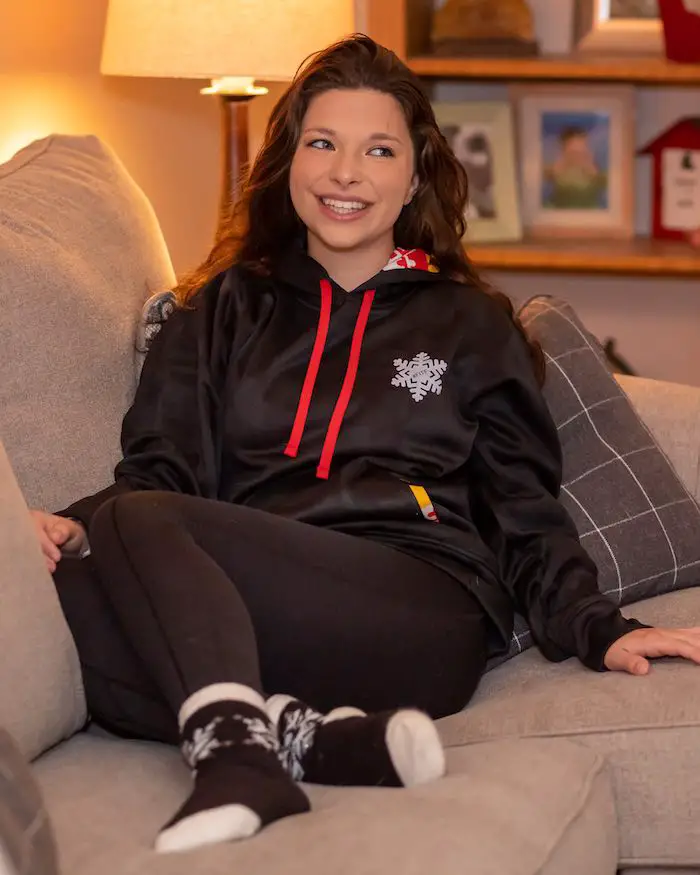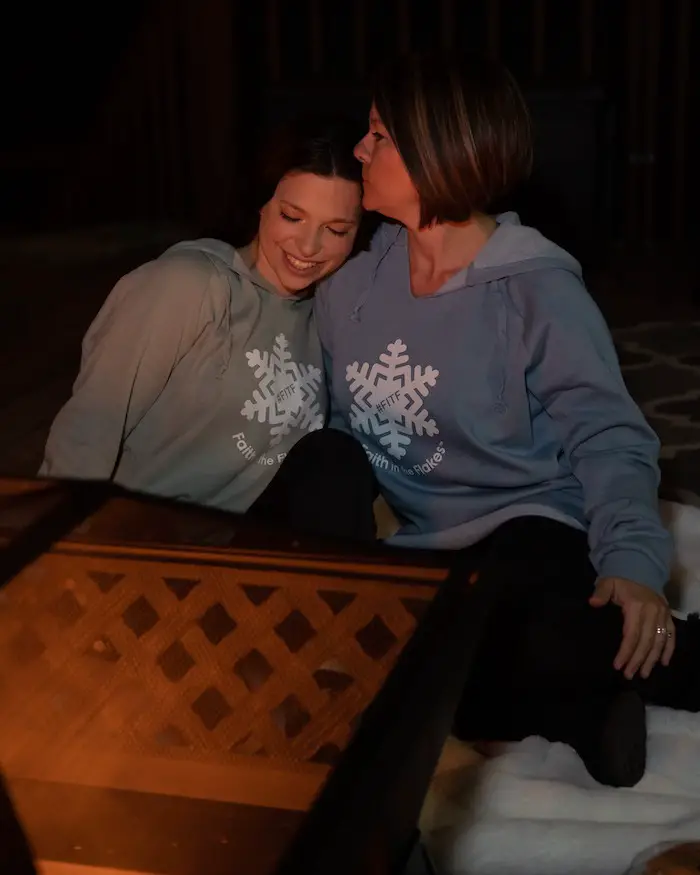 Also see:
Maryland Weather Page
I wanted to keep it simple. Just the basics for a quick view at any time.