Sunday January 31 2021
At 9 PM Baltimore's BWI is still reporting snow.  This leftover snow has been light but it is important because it does not fit with what the computer model guidance suggested would be a sleet and freezing rain mix at this point.
Something doesn't fit.
We already have the 3 inch snow report from BWI to fit in my forecast for today's Part 1 of the storm. There is still more snow falling inland with some higher totals.
But I understand that the overall the public feel has been that this was underwhelming.
Adjusted Warnings And Advisories
This evening the National Weather Service cancelled the Winter Storm Warning for metro Baltimore and south. They changed this to a Winter Weather Advisory ending at 10 AM.
Meanwhile the Winter Storm Warning in northern zones remains.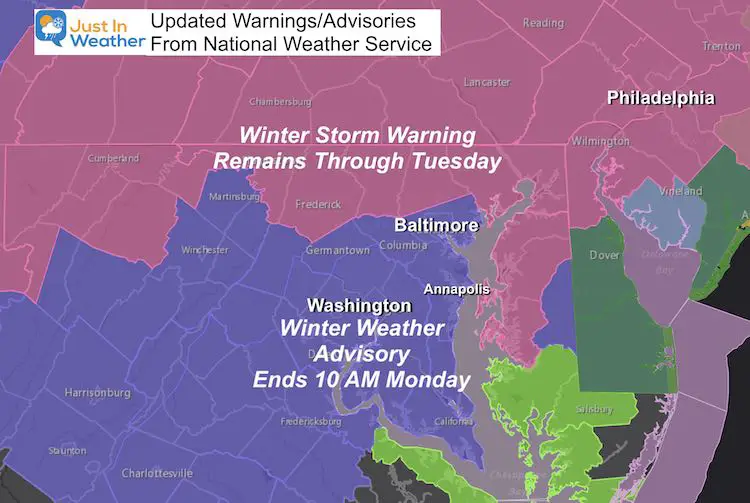 Why did they do this?
I believe it has been based off of the short range modeling from the NAM 3 Km and HRRR brining the coastal Low farther east and north. Just out of our reach.
The surface analysis this evening lends an argument agains that.  Check this out:
UPDATE MONDAY MORNING:
ICY AND PROOF THE LOW STAYED CLOSER TO THE COAST
Click here or the image for the new report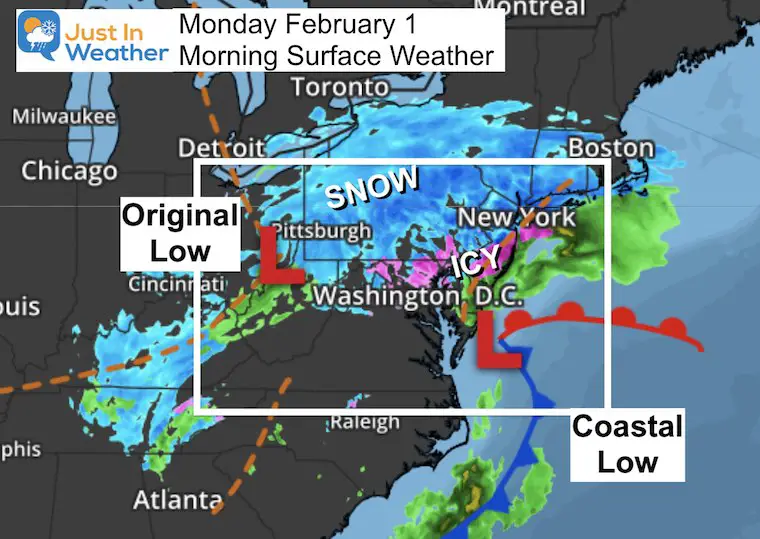 9 PM Mesoscale Surface Analysis
Here we see the Primary Low in southern Ohio.
The new Coastal Low is forming over Myrtle Beach, SC.
Surface Winds suggest a path along the coast….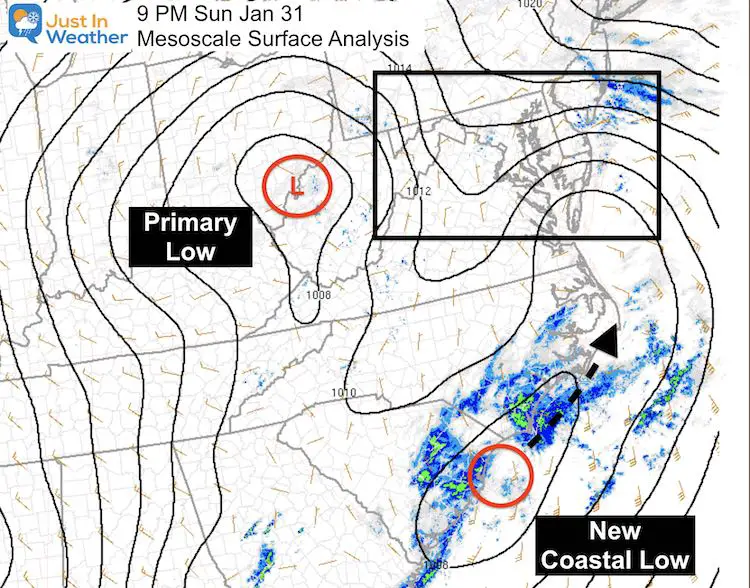 9 PM Mesoscale Theta-e (3 Hour Change).
A new low will most likely follow a path based on this.  Rising Theta -E in the Atlantic supports an atmospheric path for this to stay closer, along the coast as well. I'll show why this is important below.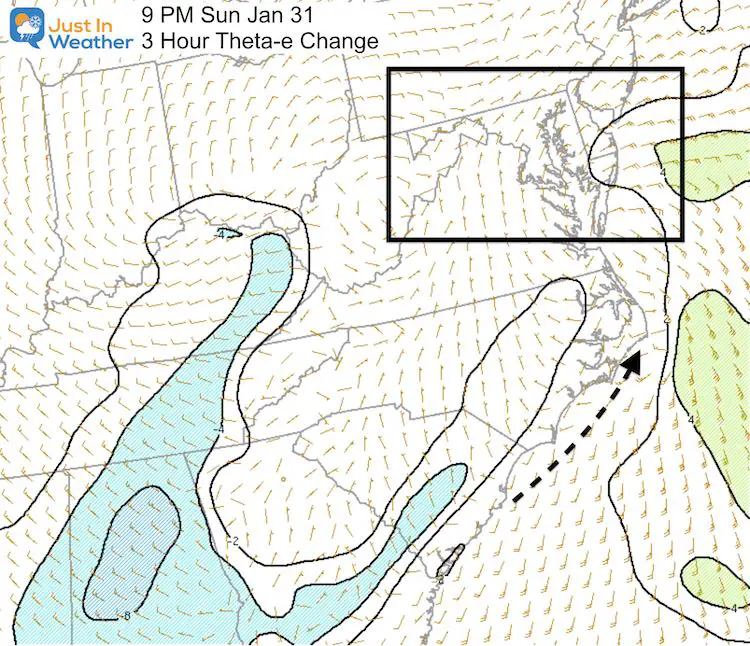 NAM 3 Km Model FORECAST for 9 PM
This was from earlier this afternoon, showing the coastal Low at this hour near Cape Hatteras, NC.  That is a big miss too far Northeast already. So we can toss out any further tracking on this model run.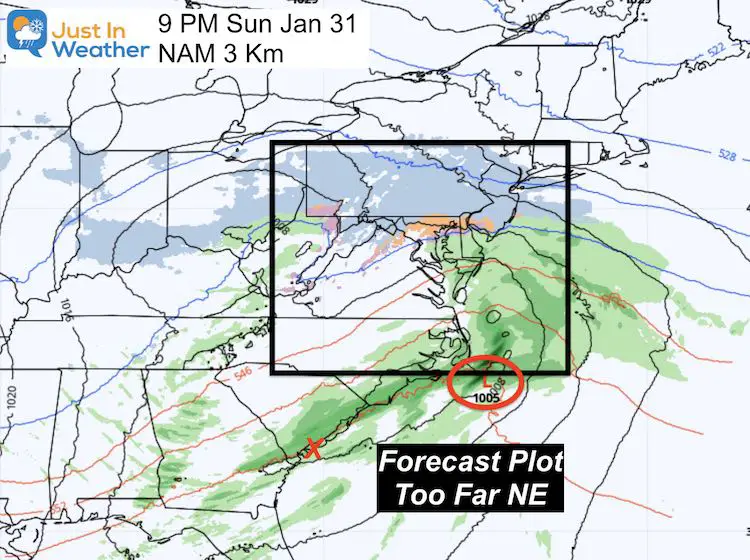 HRRR Model 10 PM
This more recent rapid update model plotted the Low Pressure near the current analysis. However, the forecast shoots it way off the coast, then brings it back off NJ tomorrow afternoon. That is why it shifted the heavy snow to the north of our region into eastern PA.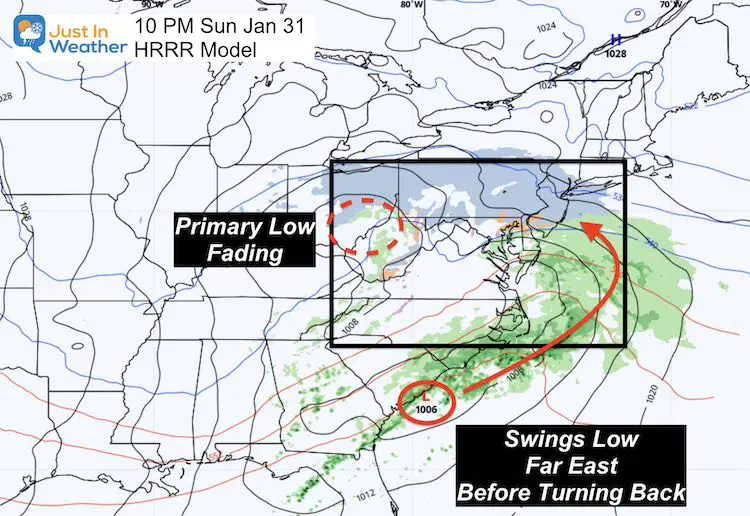 Here is the HRRR Model Animation
I believe this is not correct.  It is based off of the Primary Low weakening too fast, which allows it to push farther out to see.
But a stronger Primary Low would capture the Coastal and hold it closer.
We still see snow dropping in Monday.  I  do not think it will be a complete miss, but I do think it will be closer to us that the afternoon models had shown.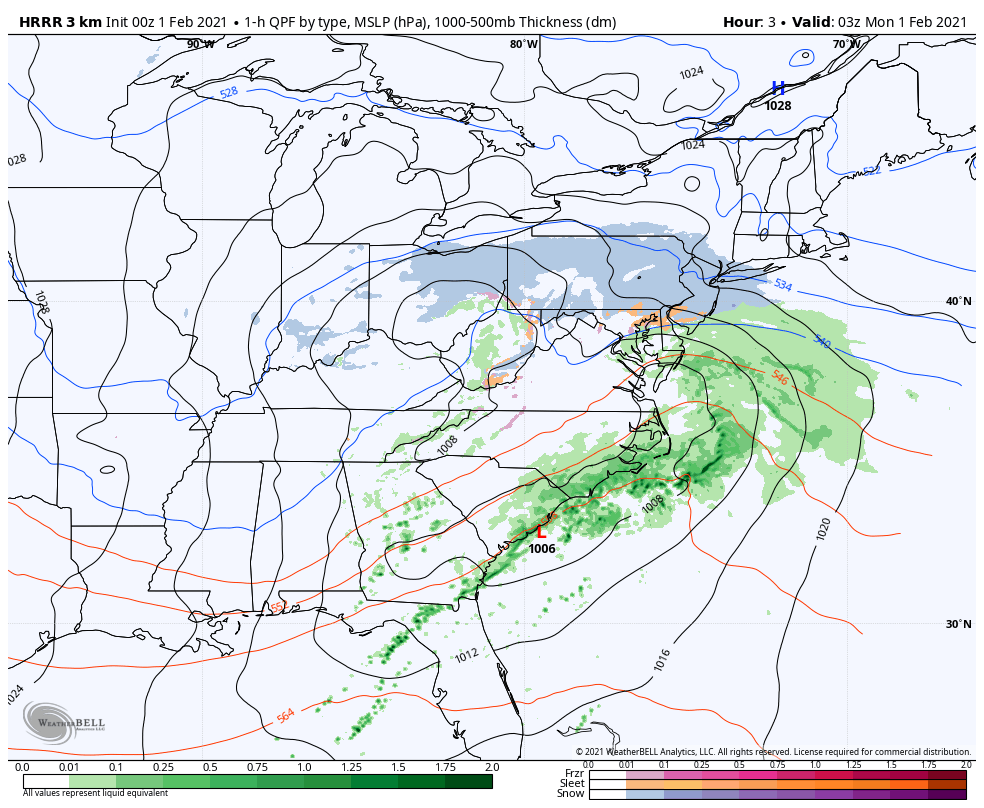 Doppler Radar
At 9:30 PM Doppler Radar still showed a band of snow inland.  This suggests there is still more influence from the Primary Low.
There is also a mid level warm front at 700mb right along I-95. This was originally expected to lift north along the PA line and bring our "Lull" overnight.   
Weather Geeks: you might remember the record snow in Binghamton in December. That was a 700mb Low funneling the moisture.  It can get overlooked.  I am NOT saying that is what will happen here. But that feature is a factor.
This set up does bring more support to help coastal moisture get pulled back wet.
Quick Version Of What I Am Trying To Share
I believe the coastal Low forming now will not shoot well out east, but stay closer to the coast.  We will still be under the influence, even if not the full barrage.
I can not change my forecast at this time so mine remains the same.
I will post an update here from the 00Z models if there is anything of importance. That includes if it agrees or disagrees with my expectation.
10 PM Mesoscale Surface Weather:
I made some annotations. Also a suggested track. Is it me or did the isobars beg to drop that hint?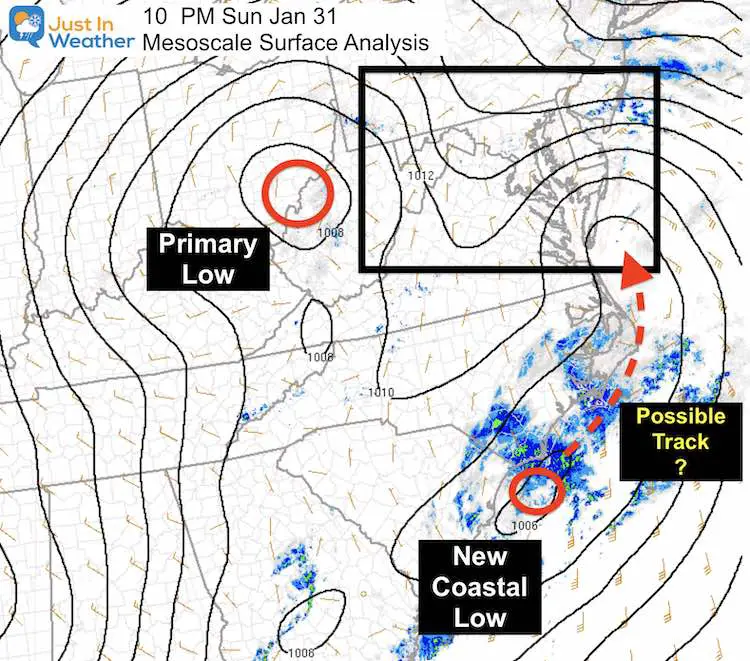 00Z Run of the GFS
The GFS is on to my theory. It brings the Coastal Low off Delmarva:
This plot for 4 PM Monday is back to the original set up for moderate/heavy snow into central Maryland.
Let's see if Canadian and Euro join the party.
Yes, there's a chance this still behaves as originally expected.
Please recall my forecast breakdown:
Today = Part 1: Snow 3 to 6 inches by evening.
Tonight: Mixing and lull.
Monday is Part 2: Snow returns mid day and afternoon. May be heavy at times with stronger winds. Additional Accumulation.
Tuesday: Snow showers end as the storm moves away.

   
THEN We measure the FINAL TOTAL
Please share your thoughts, best weather pics/video, or just keep in touch via social media
Winter Weather Resource Pages
Click Here For My Complete Winter Resource Info
YOUR INTERACTIVE WEATHER PAGES
14 Local Maryland Pages (and York PA)
We have made a page for Maryland Weather which gives you the current conditions for 14 present area locations.
Local Hourly Forecasts and Local Radar
Central Maryland
Delmarva
Pennsylvania

FITF Shop Open
My 'bonus' daughter Jaiden and wife showing off our popular Maryland Hoodies. Unisex and women's items all produced in Maryland.
Click here to see this and many other new items.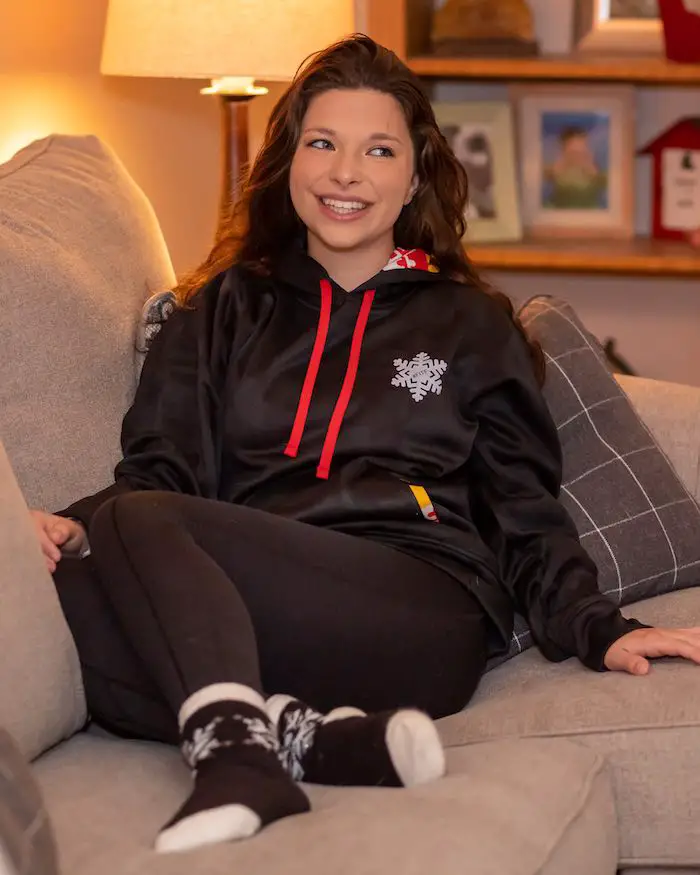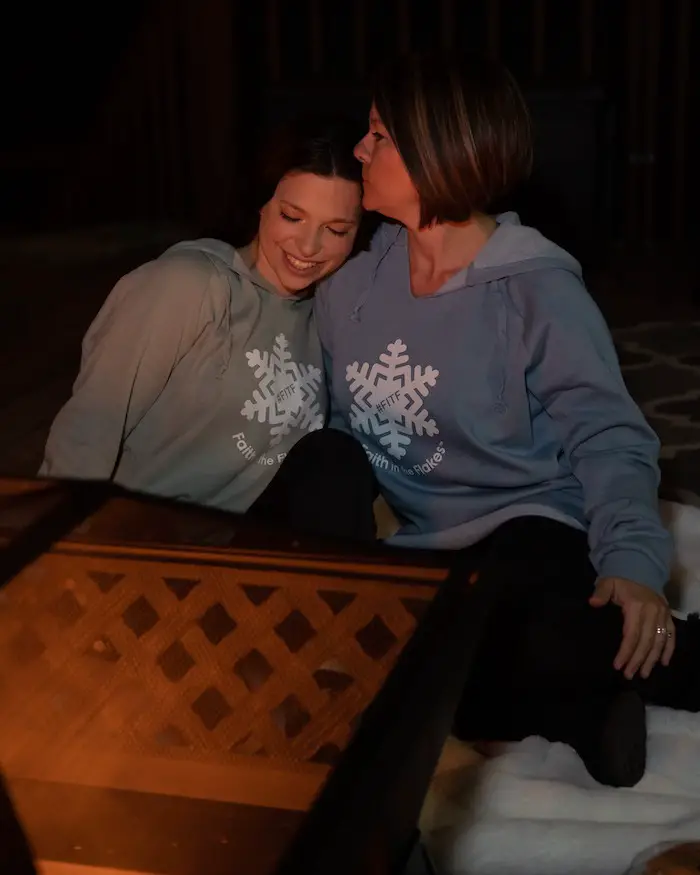 Also see:
Maryland Weather Page
I wanted to keep it simple. Just the basics for a quick view at any time.