Monday February 1 2021
This storm is not done!  It may not seem like it, but so far the numbers show this storm has already behaved within the range expected. That also includes a record daily snow report in Baltimore. More to go today.
Temperatures are colder this morning that suggested by models or NWS local forecasts. That is important as freezing rain has redeveloped in metro areas. Light mist or snow farther inland.
The roads are icy this morning!  There is also a layer of ice on top of untreated snow.
We are in the light icy mix 'lull' we expected…
Temperatures at 7 AM
Notice BOTH Baltimore AND Washington are at 30ºF.  Most metro areas never got above freezing.
There is ice and slush around both beltways, in and out of the cities. Even more ice with the 20s inland.
Icy mix falling this morning will turn to snow later this morning.
Later this morning winds will increase and snow will return.  Then we remain with bands of snow or snow showers through Tuesday.
Before you say BUST, please let me explain what happened already and then what may still be on the way…
What Happened Already
Record Daily Snow Sunday at BWI
NWS reported:
Daily Snow = 3.8" Jan 31, 2021

The old record was 3.7" on Jan 31, 1985
Checking In: My Forecast for Part 1 (Sunday): Region Average 3" to 6"
Snow Spotter Reports: 2.5" to 5" Locally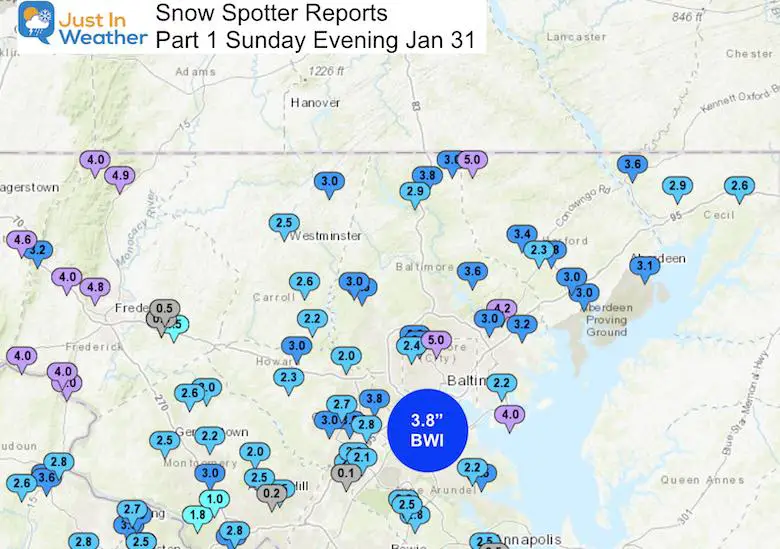 Wider View:
Mountains: 6″ to 10″ 
Southern Maryland:  Dusting To 3 Inches
What May Be On The Way
Doppler Radar Snapshot
Morning Surface Weather
The Coastal Low development I was tracking yesterday and reported last night has developed and is closer to the coast.
This is captured by the Upper Low in Ohio and getting pulled back west. It will bring us:
Increased Wind

Colder Air

Return To Snow Between 10 AM to 2 PM

Snow Bands and Showers Through Tuesday

Additional Accumulation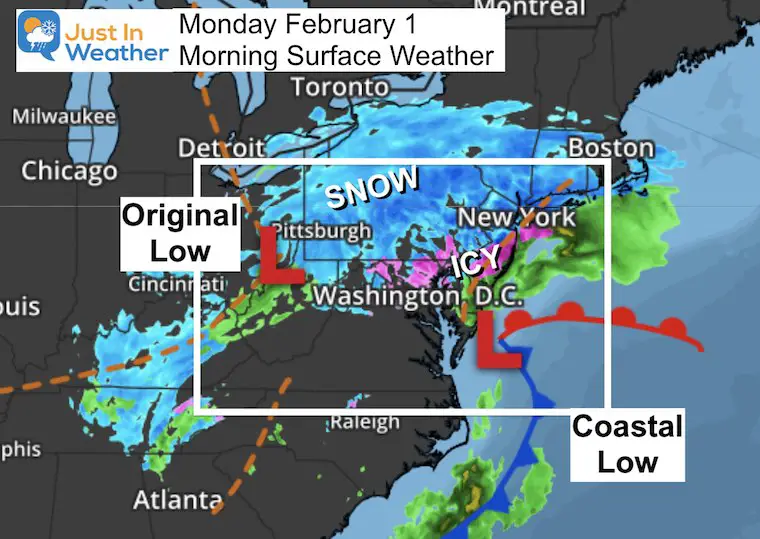 Computer Model Guidance
We are now in low confidence territory with a wide split of storm plots.
The heaviest snow will be to the northeast of our region, but we get in on some of it.
Wind Forecast
Strong Winds from the Coastal will average 15 mph with gusts 25 to 40 mph.
Even stronger on the coast.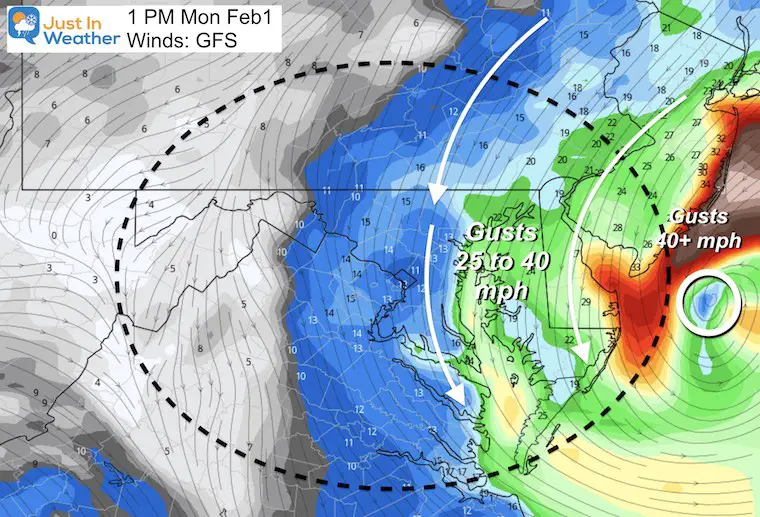 European ECMWF Model Storm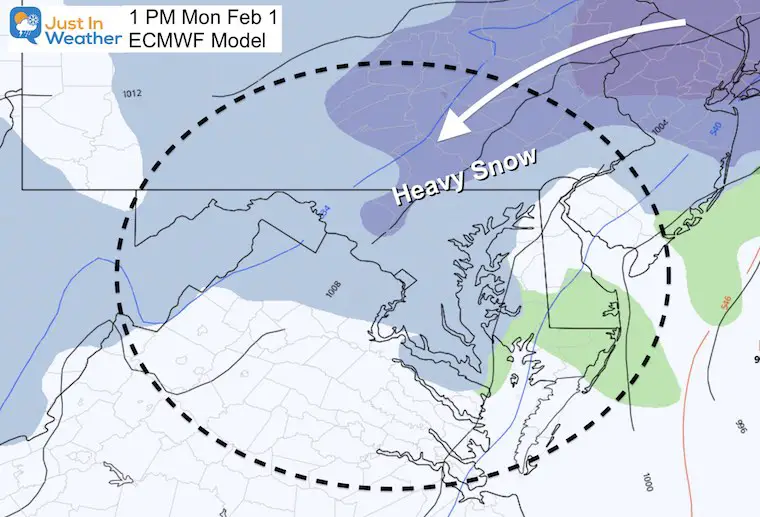 GFS Model Storm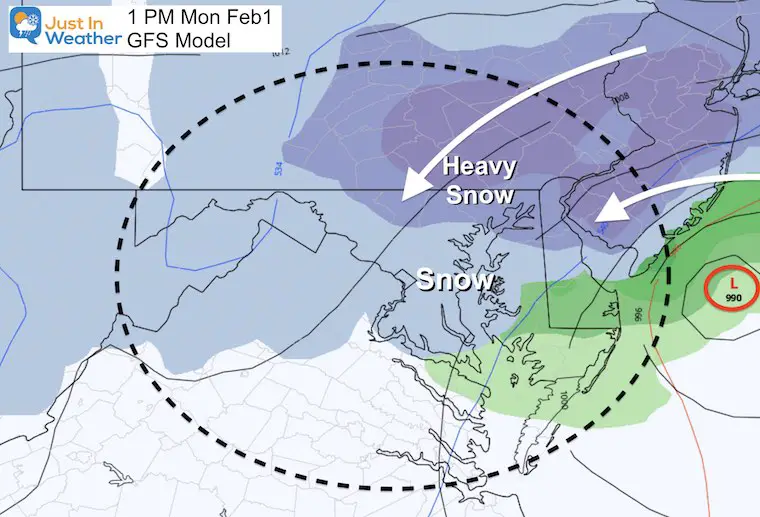 Storm Animation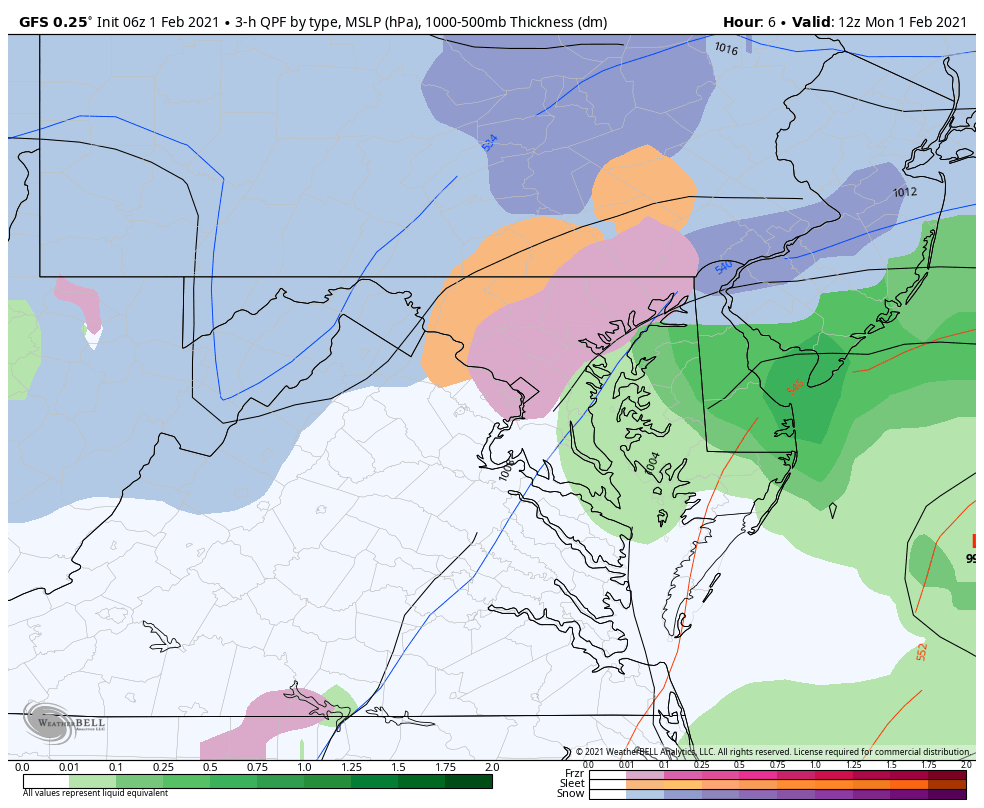 Temperatures
With ice on the ground early and temperatures already colder than models suggest, I must consider some wiggle room here with a lower hint.
Monday Afternoon
Expected to be below freezing from Baltimore inland from the Bay WEST AND NORTH.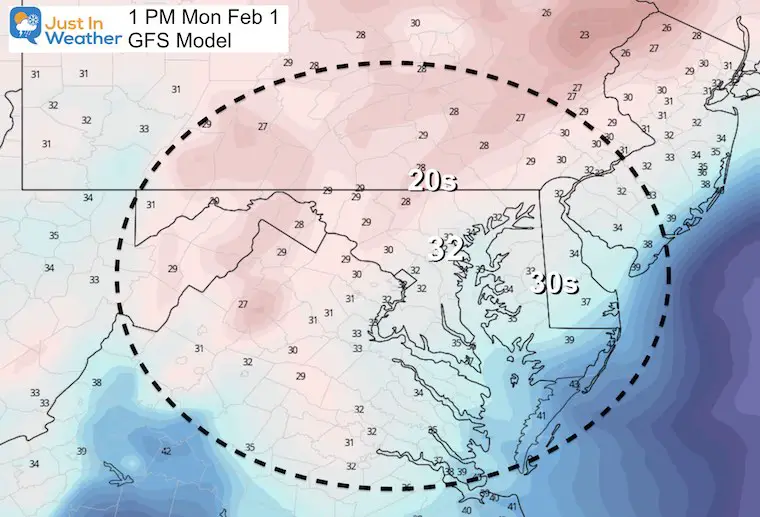 Tuesday Morning
Below Freezing will lead to more icy spots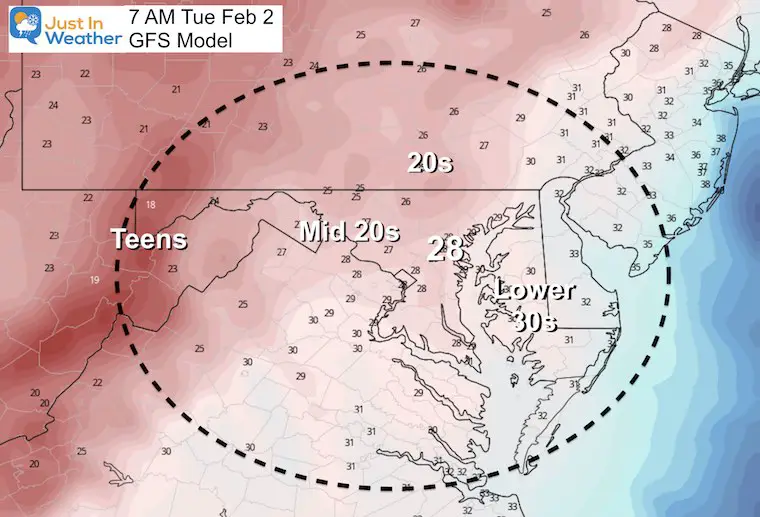 Snow Forecast Guidance
Central Maryland:
Additional 1 to 4 inches.  The wide range depends on the banding that sets up. Get under a few and you hit the higher mark.
Bust Potential: If we get into the 'comma head' of the snow, these amounts could double.
If you were in my Storm Total of 6" to 12" by Tuesday, there is a good chance that verifies, even if on the lower end.
Northern Maryland and Southern PA:
Additional Accumulation of 4" to 8"+
Bust Potential: If we get into the 'comma head' of the snow, these amounts could double.
My Original Forecast of 10" to 18": There is still a chance to 'get there' through Tuesday.
Computer Guidance: Additional Snow
These maps are on the higher end of my forecast numbers below.  You will see how close the really heavy snow will be. So if you want it, a small shift or wobble can make or break the forecast.
European ECMWF Model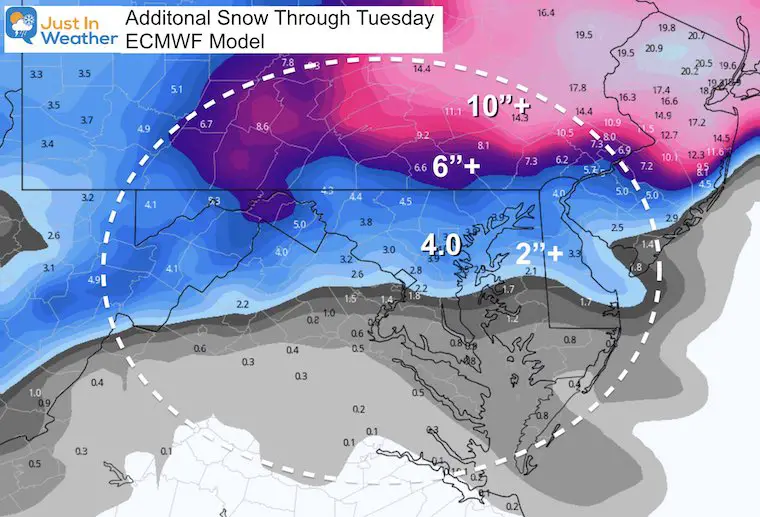 GFS Model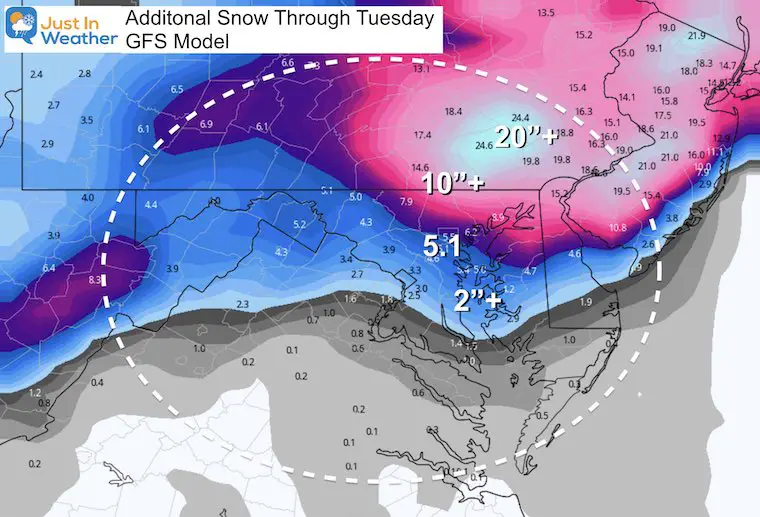 Adjusted Warnings And Advisories
This evening the National Weather Service cancelled the Winter Storm Warning for metro Baltimore and south. They changed this to a Winter Weather Advisory ending at 10 AM.
I believe this will be EXTENDED!  I has to be based on all the info I have seen and shown you.
Meanwhile the Winter Storm Warning in northern zones remains.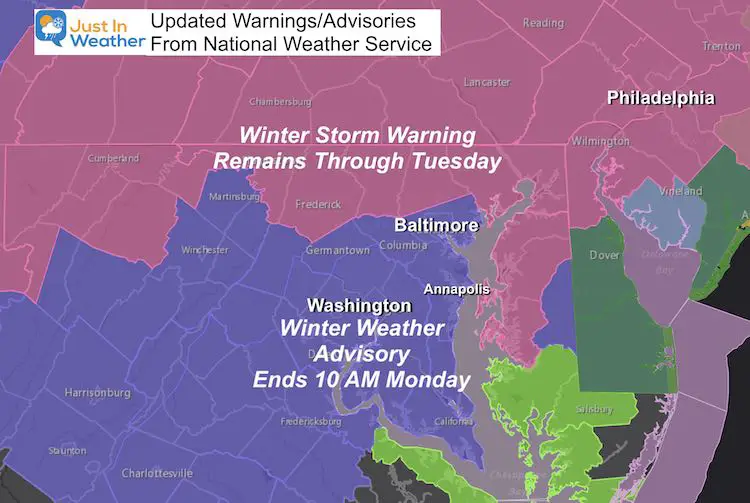 Maryland Weather Page
I wanted to keep it simple. Just the basics for a quick view at any time.
Looking Ahead:
I know there is chatter about a repeat storm next Sunday.  Honestly, it doesn't look so promising from the overnight guidance package.  I would like to get through this one yet before getting into the validity of that.  But here is a look at next Sunday.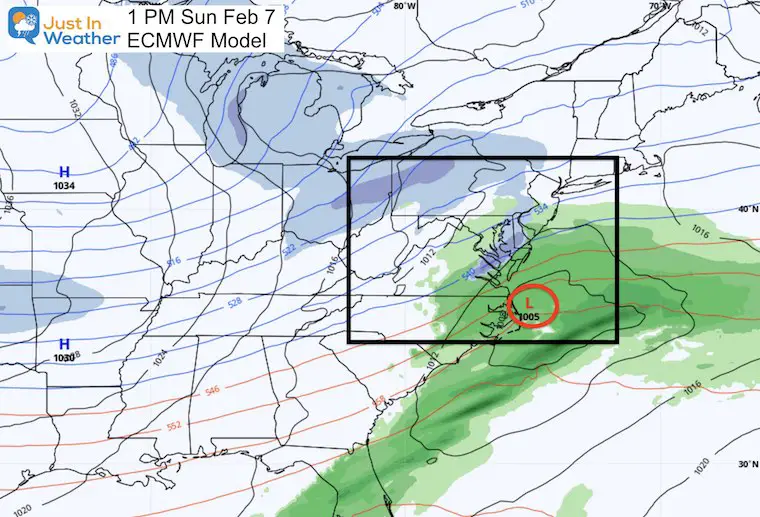 Temperature Outlook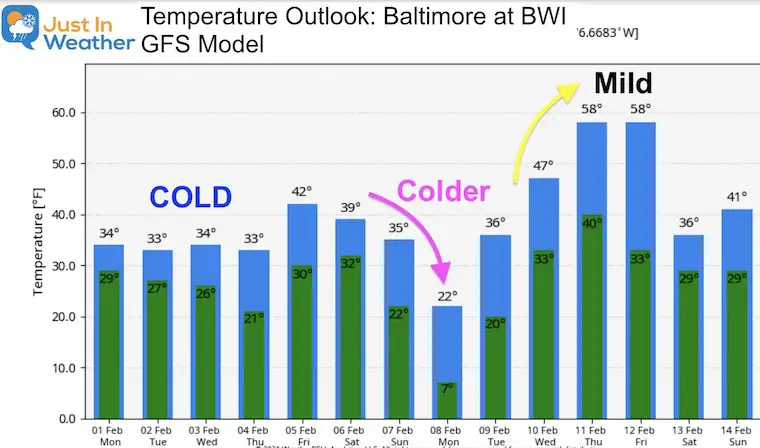 Please share your thoughts, best weather pics/video, or just keep in touch via social media
Winter Weather Resource Pages
Click Here For My Complete Winter Resource Info
YOUR INTERACTIVE WEATHER PAGES
14 Local Maryland Pages (and York PA)
We have made a page for Maryland Weather which gives you the current conditions for 14 present area locations.
Local Hourly Forecasts and Local Radar
Central Maryland
Delmarva
Pennsylvania

FITF Shop Open
My 'bonus' daughter Jaiden and wife showing off our popular Maryland Hoodies. Unisex and women's items all produced in Maryland.
Click here to see this and many other new items.