Thursday January 28 2021
If you have Faith in the Flakes, it is OK to get excited now with lots to talk about. This morning the radar was lit up with snow into the southern part of Delmarva.  It is cold enough for stickage there! A coating to 1 inch between Salisbury and Ocean City.  That was our 'near miss' storm.   However, it will have a wider impact with cold winds for all of us.
Strong winds will feed into this departing Low and gust up to 40 mph as it ushers in our arctic air.  I suspect no one will question that Polar Vortex split after today and the next few days.
Then we shift our focus on a long duration storm complex arriving with snow Sunday, with Monday bringing heavy snow and that dreaded mix into our region.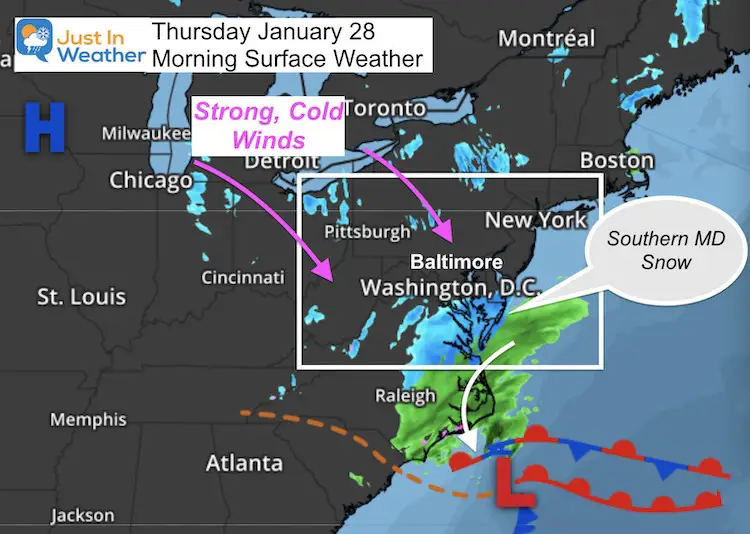 Morning Doppler Radar
This band of snow looks moderate and could drop up to 1 inch between Salisbury and the beaches.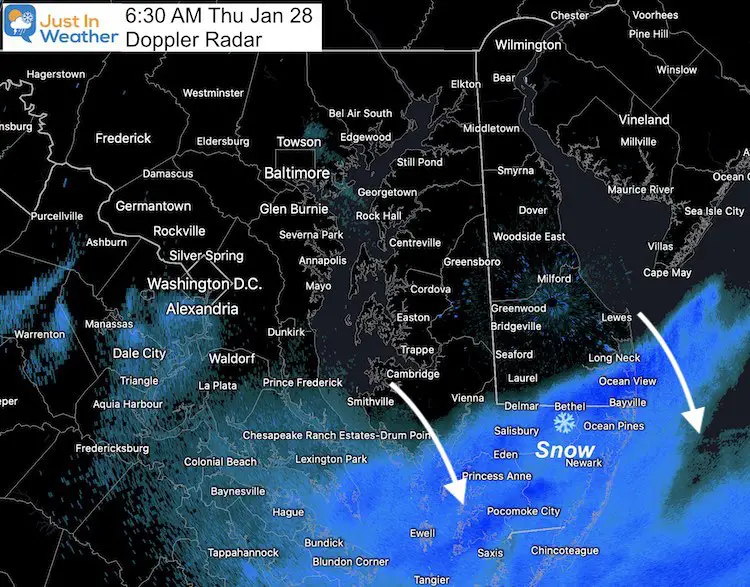 Morning Temperatures
Notice the readings in the snow area. That is why stickage and perhaps some slick roads might impact travel on the Lower Eastern Shore to the beaches.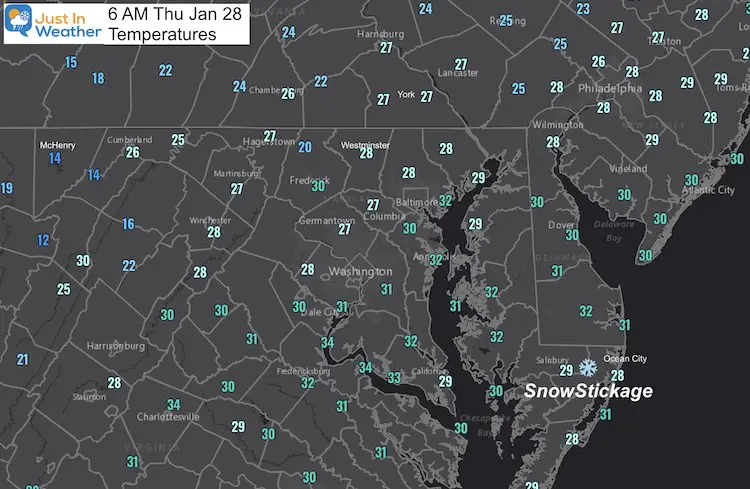 COLD DAY!
Winds will range from 20 to 40 mph from the northwest. This will make it feel like 10 to 20 degrees colder.
Wind Forecast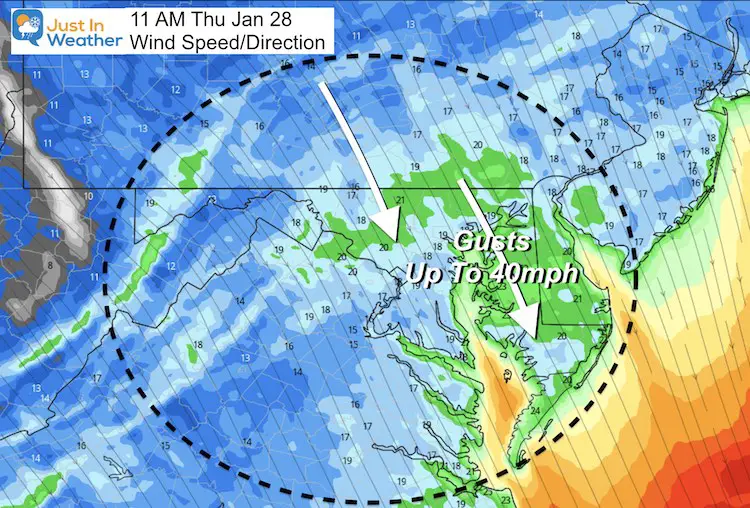 Afternoon Temperatures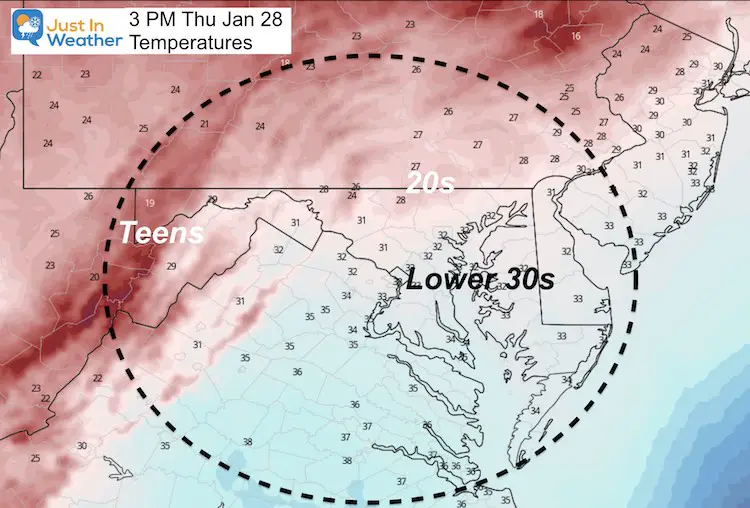 Afternoon Wind Chill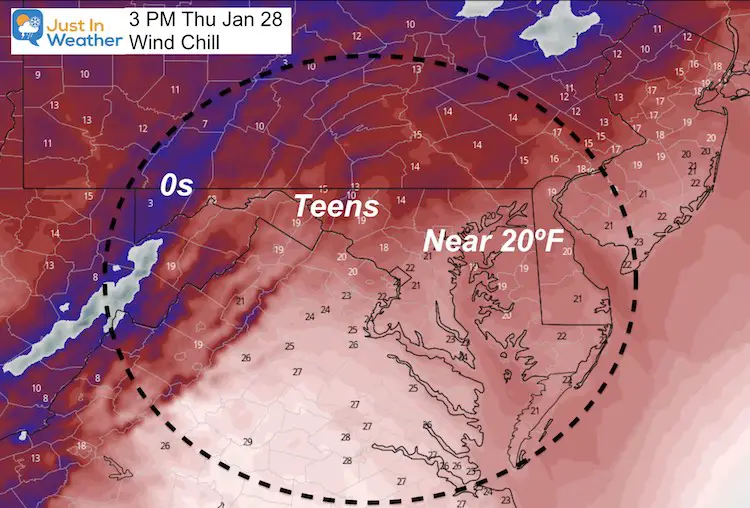 Temperatures Friday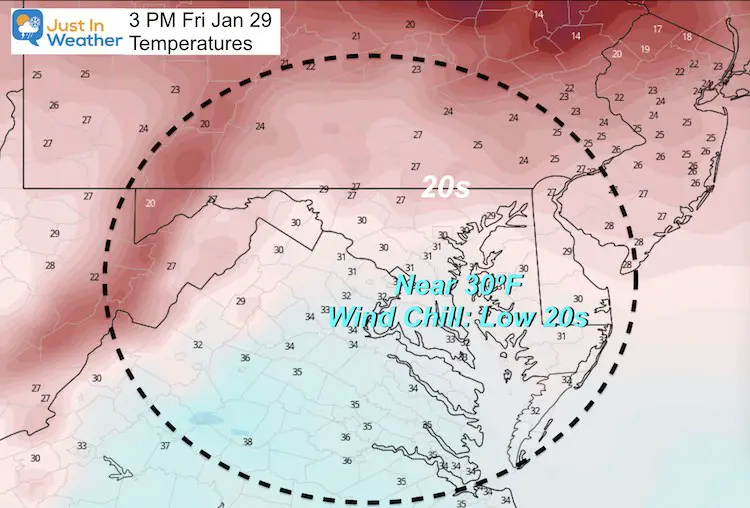 Looking Ahead:
Monday Storm Snapshot
This map is in the middle of the event. The Euro depicts the heavy snow inland, rain by the coast, and mix in the middle.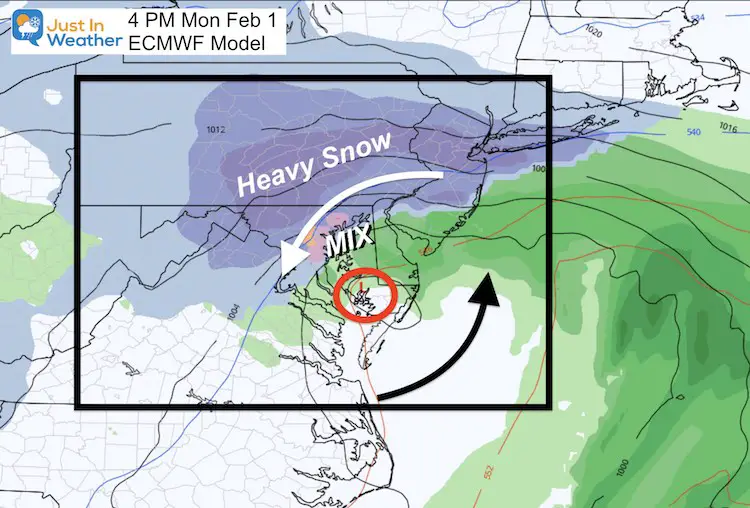 It is WAY TOO EARLY to suggest how much may fall, and who will mix.  But it looks like most will see snow on Sunday, and if you mix over Monday, will go back to snow Monday night into Tuesday morning.
Canadian Model Animation
Here is the 'complex' development.
Sunday looks like overrunning snow morning to mid day.
Watch the Coastal Low form, bringing in warm enough air for some rain, then wrapping cold air back in to switch over to more snow before it ends Tuesday.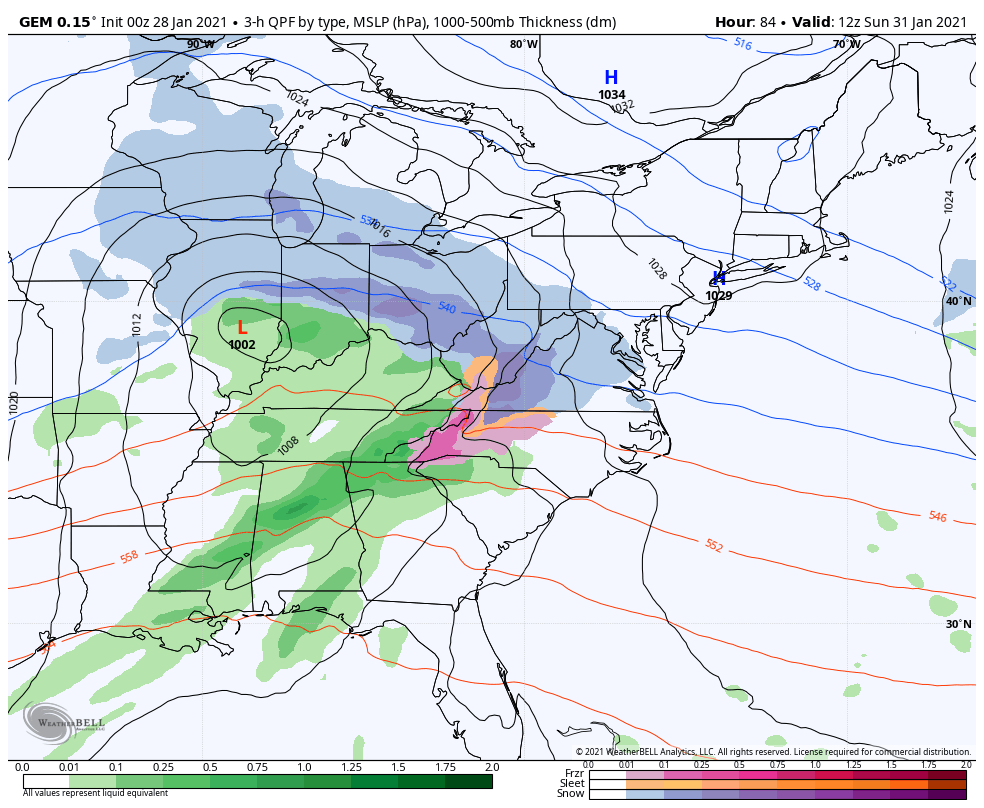 GFS Model Animation
This looks similar to the Canadian, and that's a good thing.  There will be some adjustments on timing and location of the Low. That is where the snow/rain line will wobble and result in final snow forecasting.   
But the agreement of the major models brings higher confidence that this will be an impactful storm.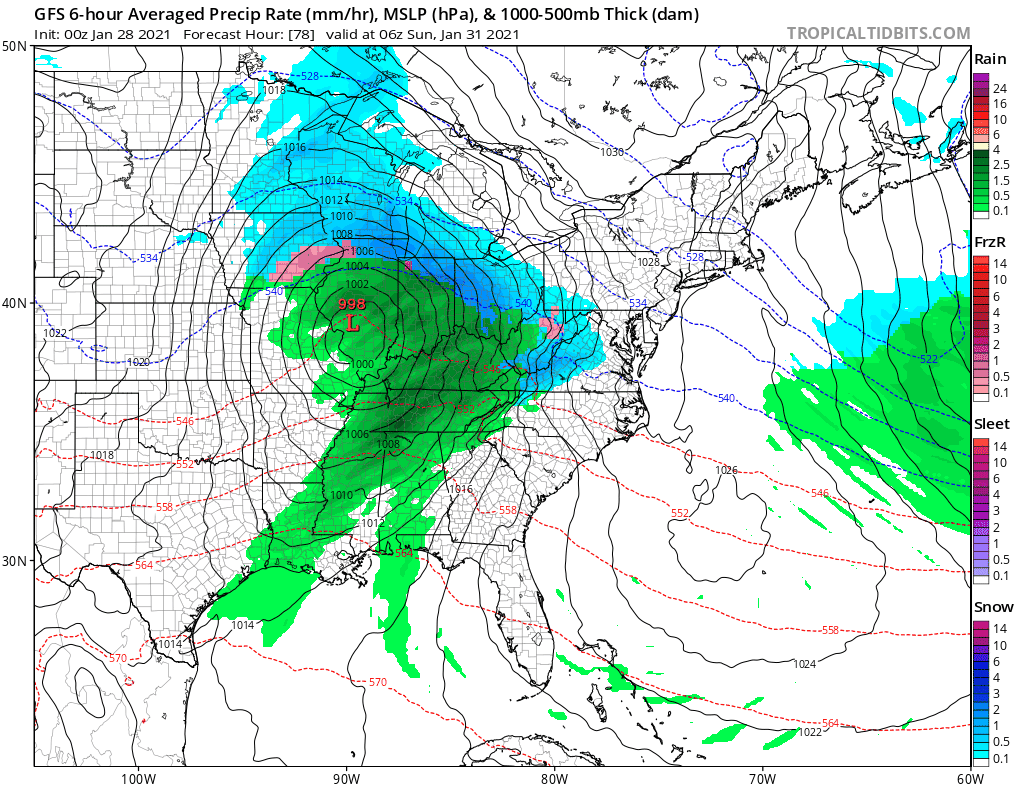 Temperature Outlook
I've highlighted the below freezing low temps each day.   I still believe the storm is not well analyzed here on Monday….
Then look farther ahead: February may begin with a quick warm up, then an even stronger push of cold air is being suggested.
Faith in the Flakes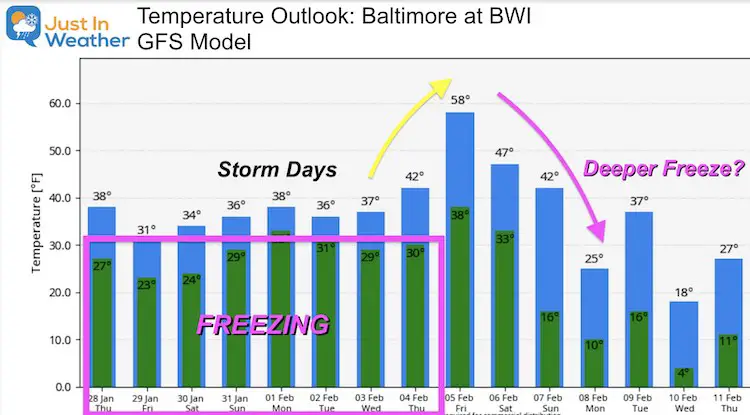 FITF
Please share your thoughts, best weather pics/video, or just keep in touch via social media
YOUR INTERACTIVE WEATHER PAGES
14 Local Maryland Pages (and York PA)
We have made a page for Maryland Weather which gives you the current conditions for 14 present area locations.
Local Hourly Forecasts and Local Radar
Central Maryland
Delmarva
Pennsylvania

FITF Shop Open
My 'bonus' daughter Jaiden and wife showing off our popular Maryland Hoodies. Unisex and women's items all produced in Maryland.
Click here to see this and many other new items.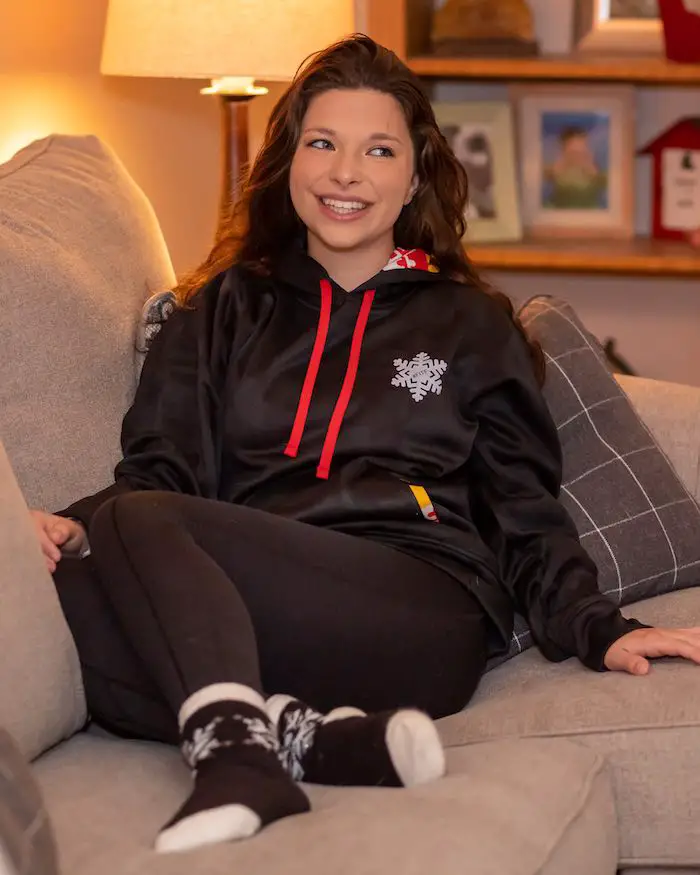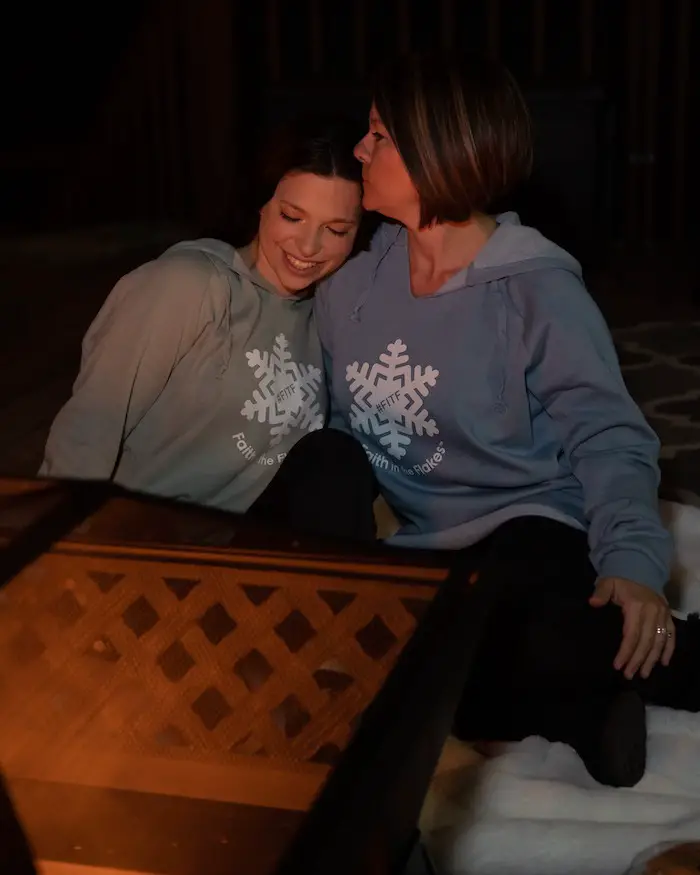 Also see:
Maryland Weather Page
I wanted to keep it simple. Just the basics for a quick view at any time.