Tuesday January 26 2021
Baltimore's BWI officially got 0.5" of snow last night. That brings our seasonal snow total to 2.1″ beating all of last season.  It was also exactly on target with my 'original' forecast.  That should make everyone happy, right?  That hardly ever happens.
This was also advertised as a wintry mix the entire time I discussed it since the week prior. The day before, while a nuisance event, and mostly at night, I gave this a ranking of 2 out of 5 impact for our region.  This morning did result in school delays for most that are in person.
Also, my snow removal clients all stated that this was a legitimate workable event, and they were fully prepared for it without complaint.
Maryland Snow Map
Snow did fall and stick.  It covered just about all the areas that expected it with at least a coating.  This included parts of Delmarva.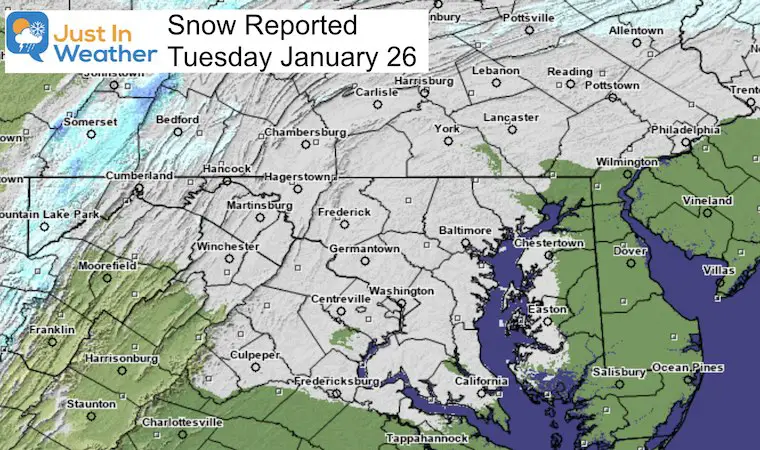 I updated my final snow forecast to increase the amount to 'over' 1 inch instead of under one inch in many areas. I went even higher north by just an additional 1 inch and that didn't work out.  
This irony is that if we had more precipitation, we would have had more snow, but also more freezing rain to compress, melt, and then freeze overnight.  Instead there was less to clean up.
So, was this a good or bad forecast? 
How about a 'Bust'?
I reserve that term for a complete miss. Many people however do use it freely for when they get less snow than they expected (or want).   Since we did actually get some snow and ice on time, this was not a bust in my perspective. I also agree, it was not exactly what I stated either.
Please see this quick review, and why I give my entire regional grade:
B-
I want you to grade my work.
What Went Right?
Top on the list:
All of my snow removal clients said this was a 'workable' event. They salted and needed to keep on it with the ice.
Also:
Arrival timing.
Snow with stickage.
Freezing rain overnight into the morning.
Freezing temperatures holing at daybreak.
Light precipitation during the morning.
Mountains: Ice storm with over 0.25". (I did lower my original snow call for Garrett County)
Ice Falling Video:
Kristin Skewis captured the 0.25" of ice quickly melting and falling off the trees this with a little sunshine.
What Went Wrong?
I increased my original snow forecast:
My Under 1 inch zone was pushed into 1 to 2 inches.

 

They averaged under 1"
My 1" to 2"

 

zone I pushed up to 2" to 3".

 

They ended up with a coating to 0.5".
A few days earlier I shifted the focus to icing, when the modeling suggested 0.5" was possible. I followed up with the expectation of the storm splitting and giving us 1/2 the moisture.
Snow Spotter Maps
Metro Baltimore View
Most of the snow reports ranged from around 1/2". 
There was one questionable report in Pimlico in NW Baltimore.  The 1.4" seemed like an outlier, especially next to another report of a trace.
There was another cluster of nearly 1 inch snow around Laurel. Lucky them!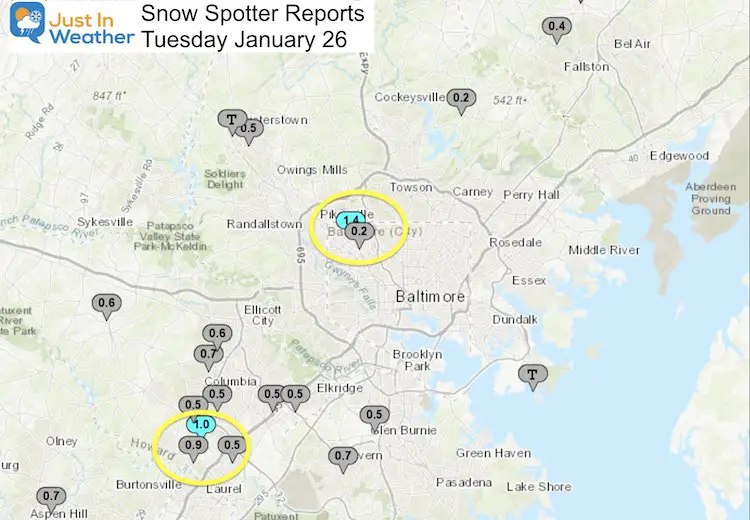 Wider View
Here we can see the concentration of 1/2″ of snow was along and south of  I-70 between Frederick, BWI, and Montgomery County.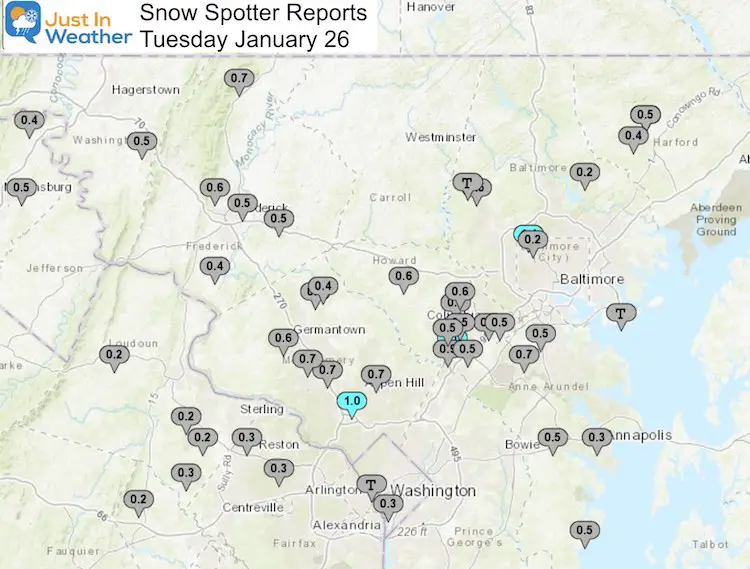 Here's a review of my forecast maps
MY PROJECTED ARIVAL TIME: This worked out pretty well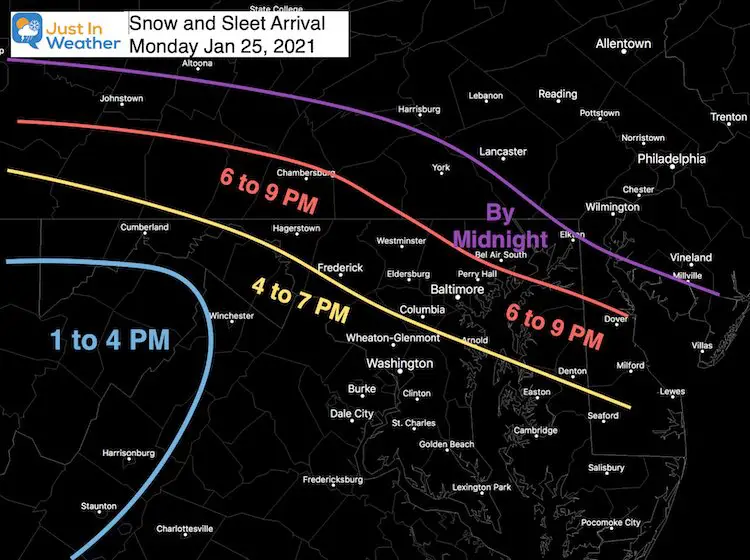 My Forecast Maps  <—> slider
I made the mistake of labeling the banner 'Final'.  I did first adjust the snow in western Maryland down to include more ice.  Then, I increased the snow zones up 1 inch when I made the case for colder air.
The air was colder, which allowed more to get in on the snow and ice. The moisture was less impressive.
Marking Up My Paper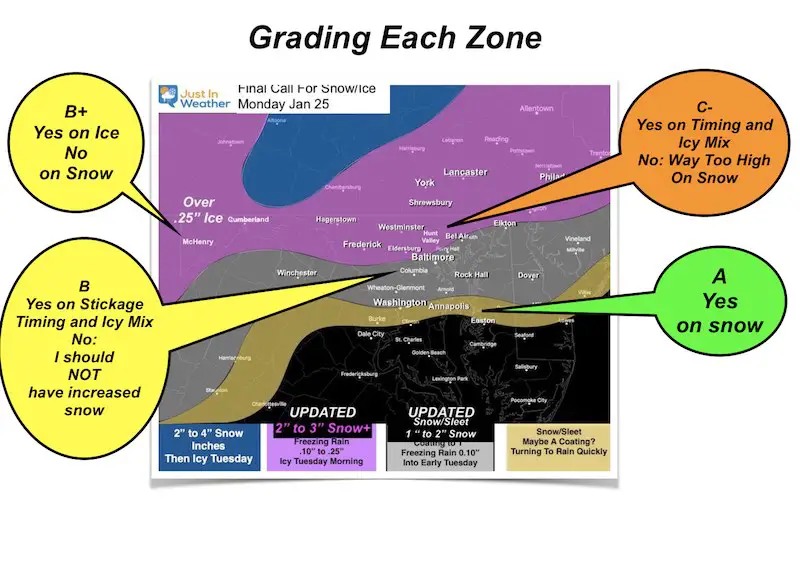 So, what do you think?  
Please comment on the social media post you saw this link and be honest with the overall presentation of information and adjustment.
Next Storm Sunday?
At this point the Thursday storm appears to stay south. I stopped talking about that a few days ago, and want to remind you that long range modeling had that as the bigger snow event just a few days ago.
I do not have much confidence this far out to start getting excited for Sunday.  I will wait another day before I jump in. If this still looks promising tomorrow, I will begin to discuss it.
Remember: Winter is just getting started.  I have Faith in the Flakes for much more activity in February.
Please share your thoughts, best weather pics/video, or just keep in touch via social media
YOUR INTERACTIVE WEATHER PAGES
14 Local Maryland Pages (and York PA)
We have made a page for Maryland Weather which gives you the current conditions for 14 present area locations.
Local Hourly Forecasts and Local Radar
Central Maryland
Delmarva
Pennsylvania

FITF Shop Open
My 'bonus' daughter Jaiden and wife showing off our popular Maryland Hoodies. Unisex and women's items all produced in Maryland.
Click here to see this and many other new items.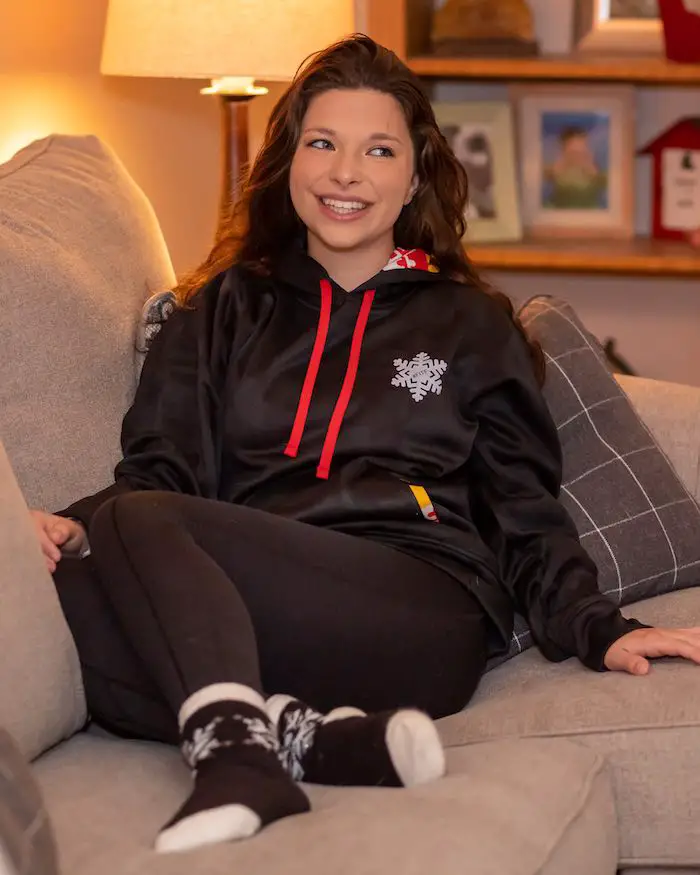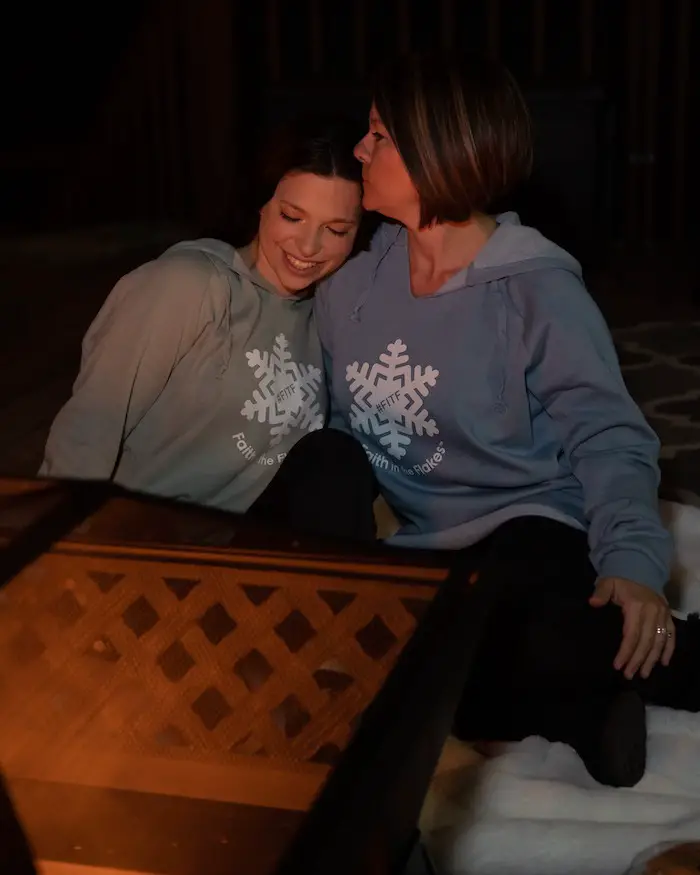 Also see:
Maryland Weather Page
I wanted to keep it simple. Just the basics for a quick view at any time.