Tuesday January 26 2021 at 8 AM
We got less snow, but it was enough to stick for a broad area last night.  Temperatures had remained below 32ºF as a band freezing rain moved through this morning. This has been just enough to be a nuisance, but not a major event.  Treated roads and salted walkway should be OK. Any residual ice will thaw this morning as temp gradually warm.
Here is a quick look at the conditions and the short range forecast. Then a brief outlook for the next potential event.
Radar Snapshot at 8 AM
The bulk of this event has moved on. Some leftover drizzle and light showers remains in the freezing areas.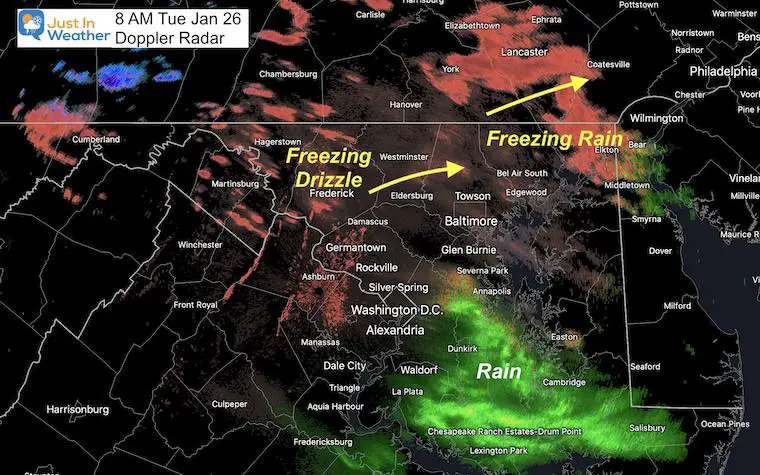 Winter Weather Advisory (in place as of 8 AM)
While main roads have been treated and should be fine for travel, there are untreated surfaces (sidewalks, steps, etc) that may still be icy for another hour or so…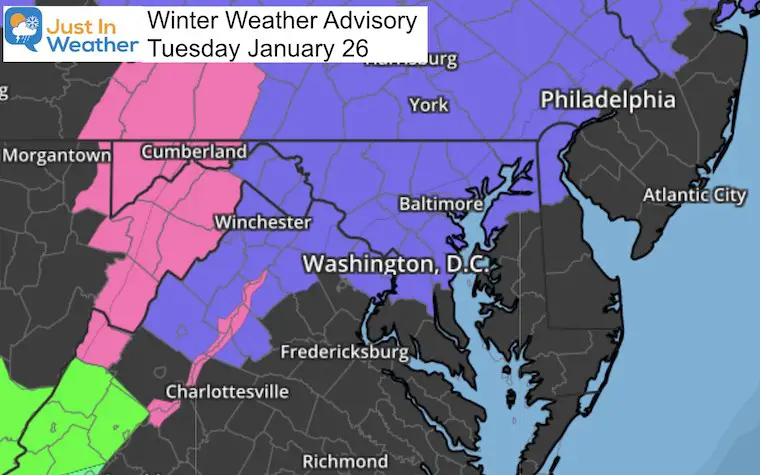 Temperatures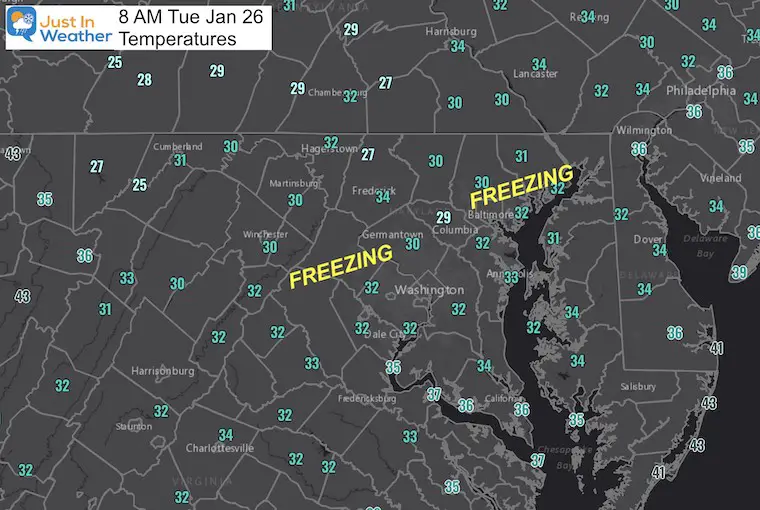 Closer View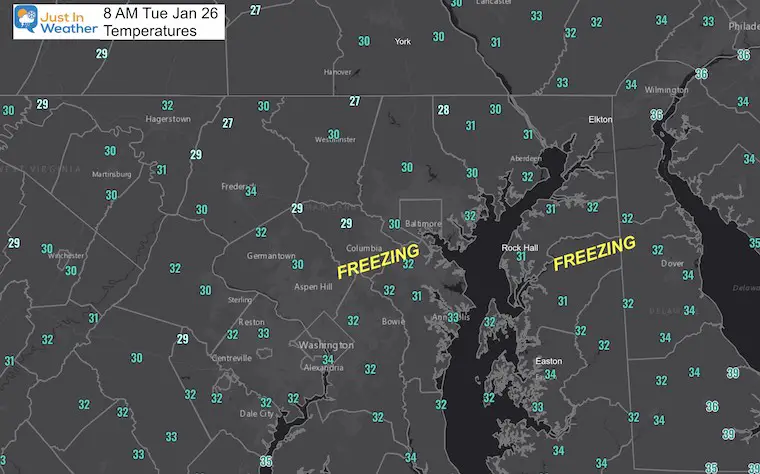 Temperature Forecast —> slider
A gradual thaw expected this morning…
ALSO SEE:
Maryland Weather Page
I wanted to keep it simple. Just the basics for a quick view at any time.
How Much Snow Fell?
Most of the region saw UNDER 1 inch of snow.   Yes, less than forecast for many near and north of Baltimore.
This covered a larger area, but was less than expected on the north end.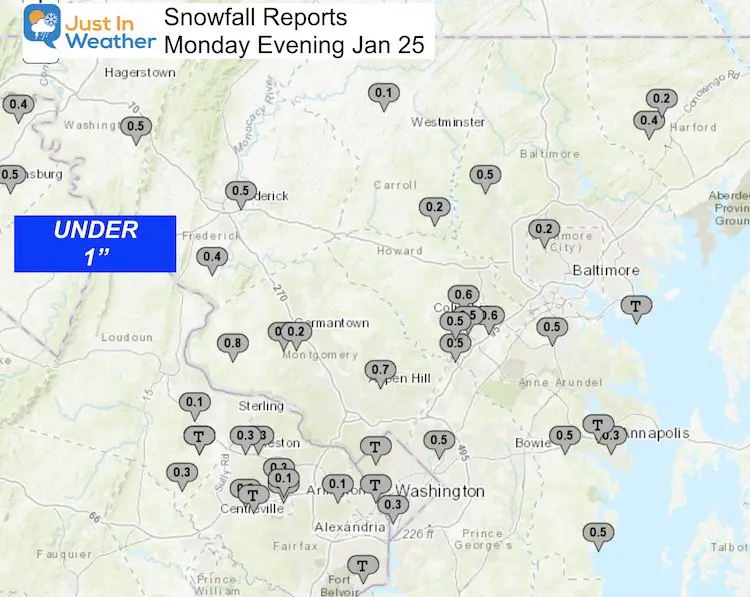 Next Weather Event:
The Thursday storm looks less impressive and south of our region.  However it appears the nest potential is for Sunday and Monday.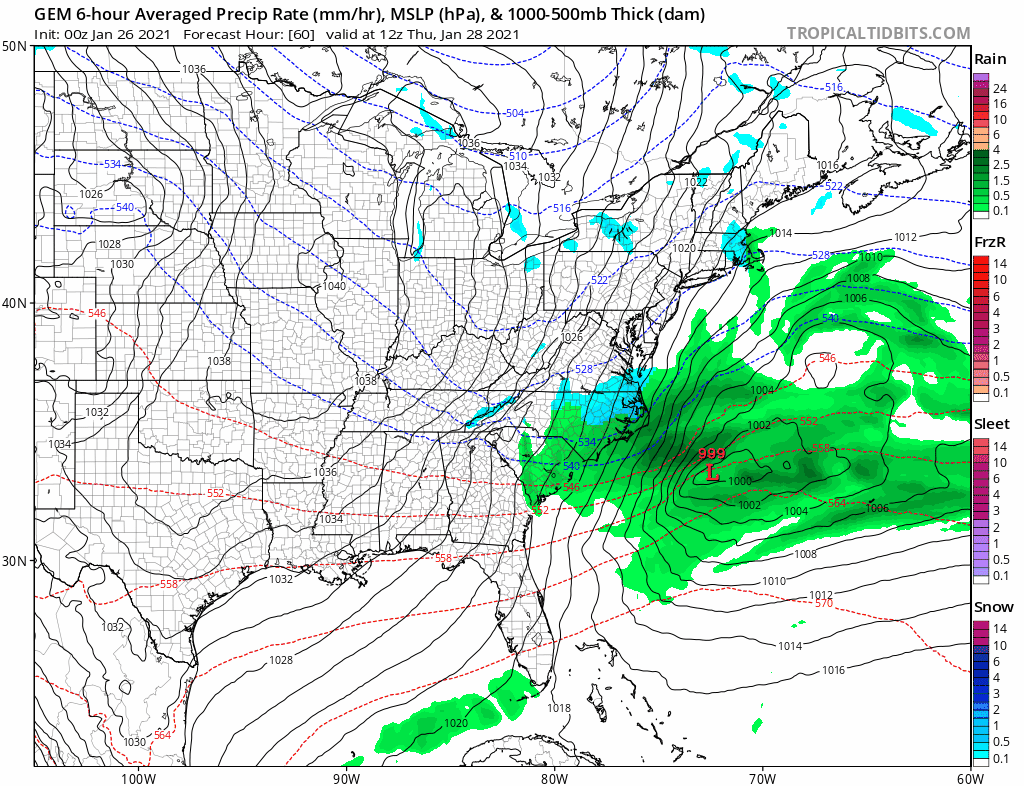 Please share your thoughts, best weather pics/video, or just keep in touch via social media
YOUR INTERACTIVE WEATHER PAGES
14 Local Maryland Pages (and York PA)
We have made a page for Maryland Weather which gives you the current conditions for 14 present area locations.
Local Hourly Forecasts and Local Radar
Central Maryland
Delmarva
Pennsylvania

FITF Shop Open
My 'bonus' daughter Jaiden and wife showing off our popular Maryland Hoodies. Unisex and women's items all produced in Maryland.
Click here to see this and many other new items.