Saturday January 23 2021
Remember all of that arctic air we talked about? It's here. This morning began with few bands of flurries dropping from southern Pennsylvania into central Maryland. This was the result of this new cold air mass that will settle in place this weekend, and allow for snow and ice when the next storm arrives later on Monday.  We are still watching for a possible second snow event on Thursday as well.
Today's weather will be all about the wind and cold.
Morning Radar Snapshot
Here were the bands of flurries and snow showers around sunrise.  See that radar loop below.
We should primarily see a partly cloudy sky with in metro areas during the day.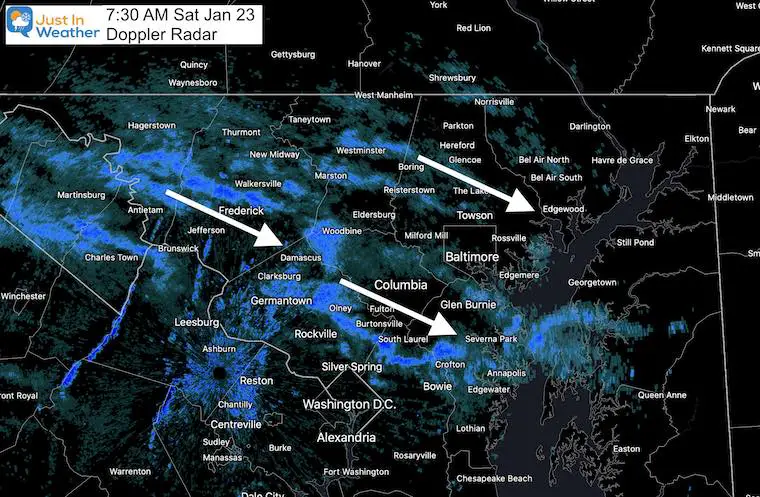 Radar Loop 6:30 AM to 7:30 AM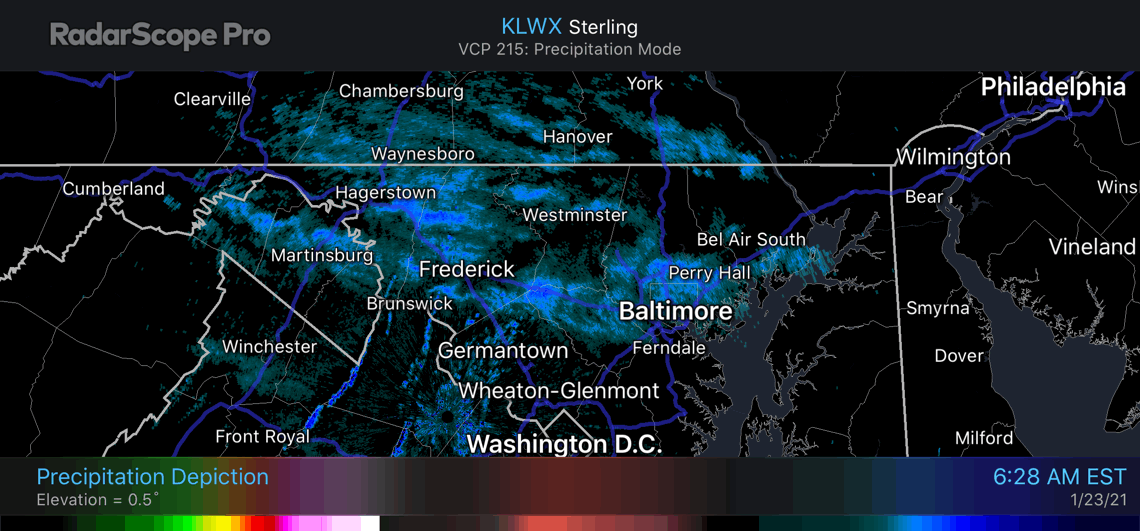 Temperatures 
Widespread 20s and 30s start the day. The cold winds will not allow much movement on the thermometers today, and it will continue to feel event colder.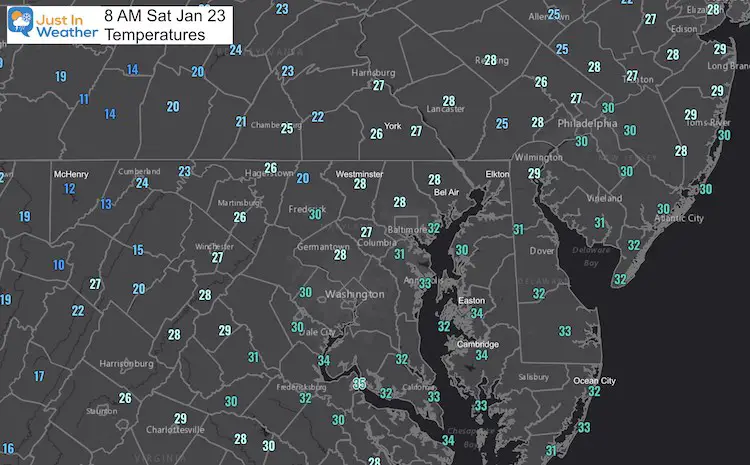 A wider view makes the case that we finally are under the influence of a large cold air mass today.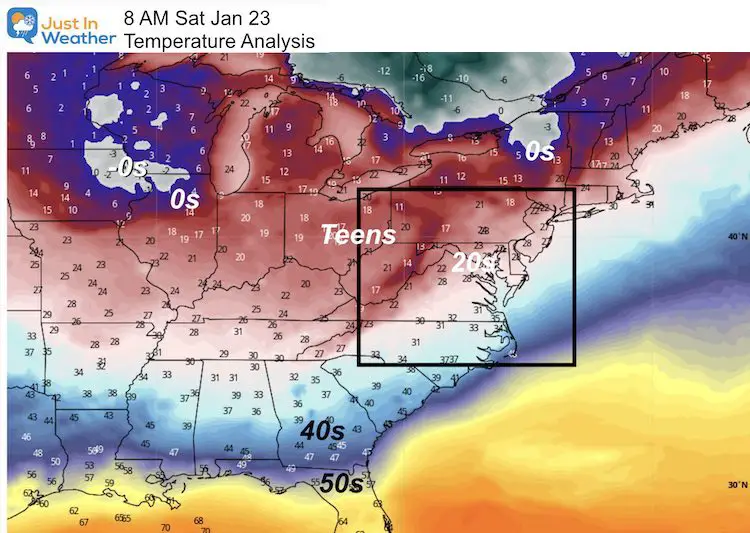 Forecast Today
Strong winds through mid day, may ease a little this afternoon and evening.  It will gust up to 30 mph from the Northwest.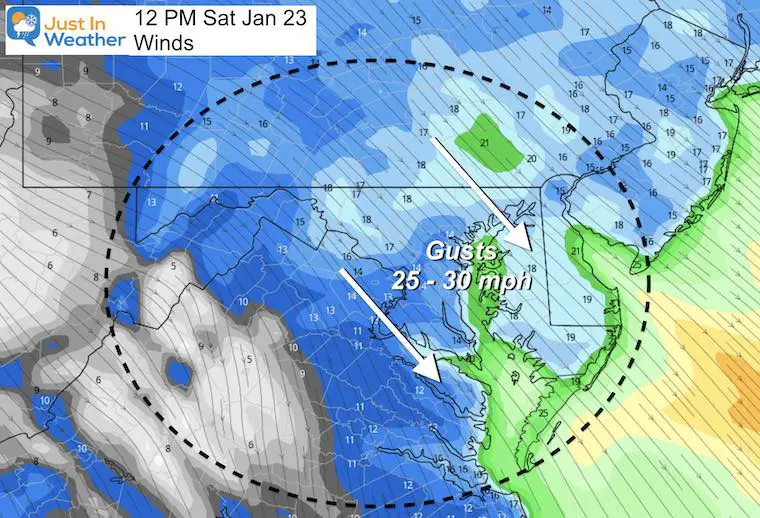 High Temperatures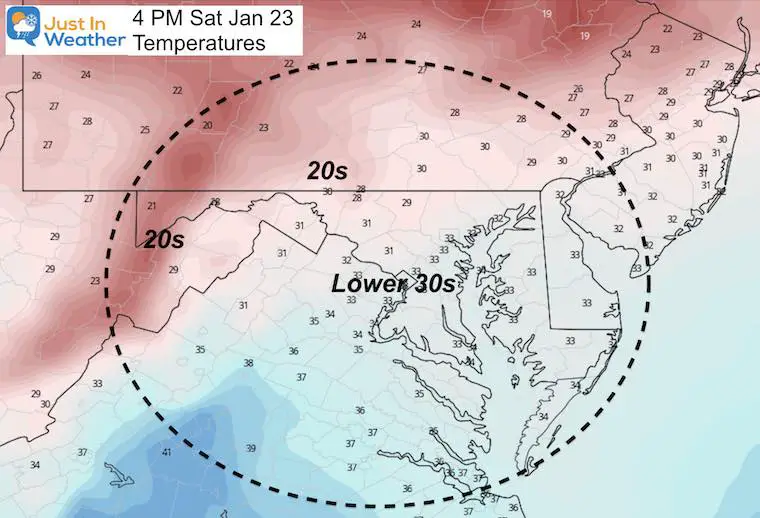 Wind Chill: What It Will Feel Like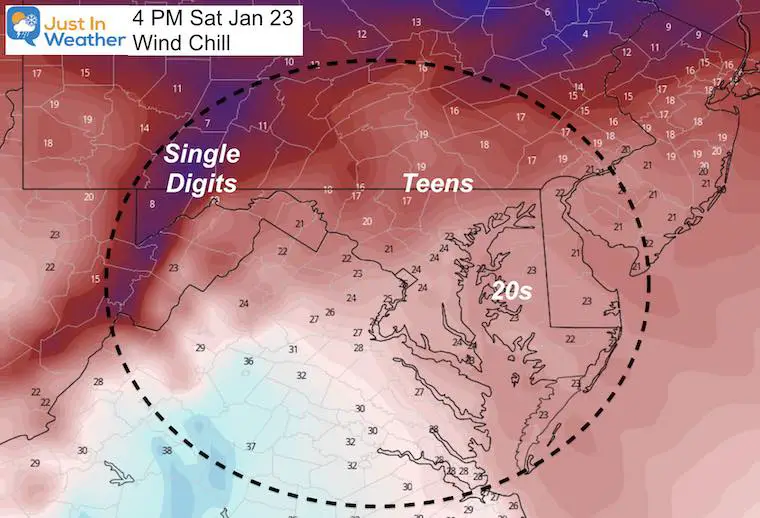 Sunday Temperatures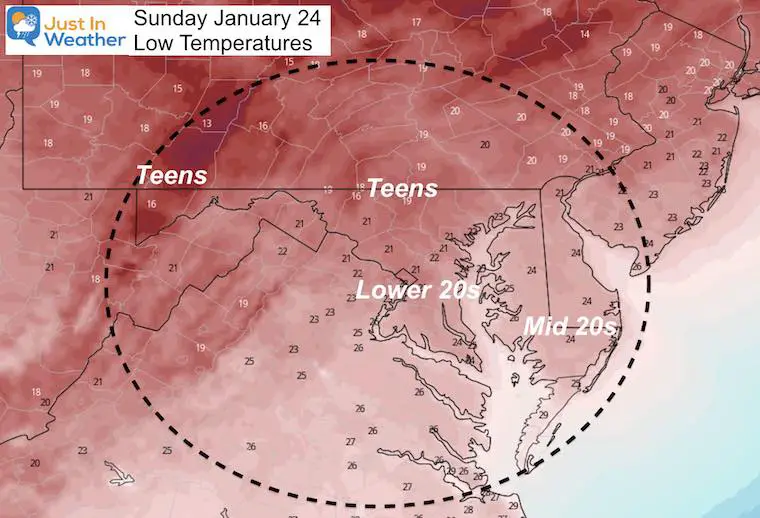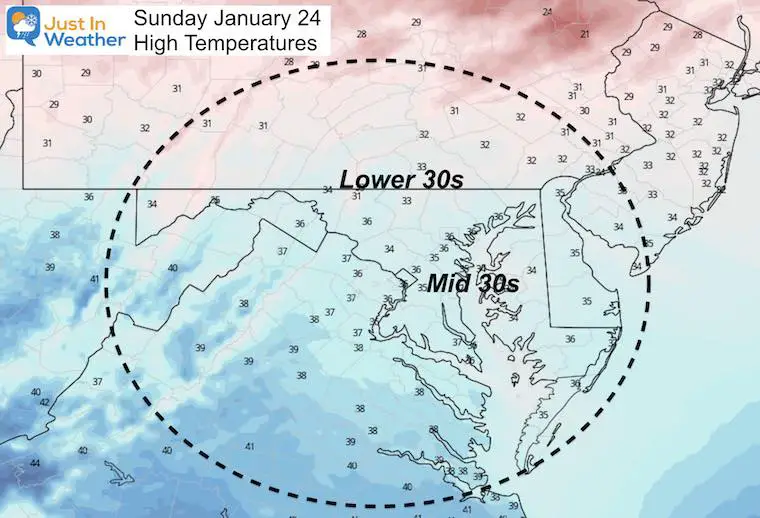 Forecast Snapshot: Central Maryland
This cold weekend gets the ground sufficiently chilled before the snow and ice later Monday. That will allow stickage and icing.

1st Storm
We still have a few theories for what will fall at the start of the storm. It is looking like a freezing rain event, but it may begin with a few hours of snow.  This all depends on how deep the cold air will be as the warmer air gets pushed up to cloud level.
Both the Euro and Canadian are showing us snow. The Euro is trying to drop a few inches before the change over.  The GFS Model has cooled as well, but had more of a mix, then a faster transition to freezing rain.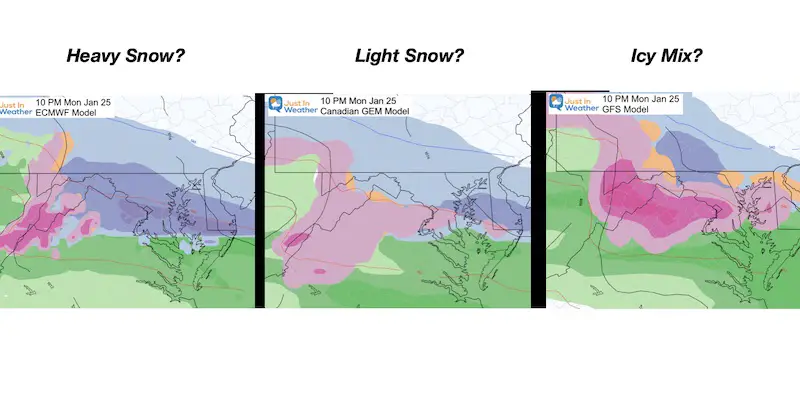 Explore More on this NEW PAGE
Winter Precipitation and Weather Terms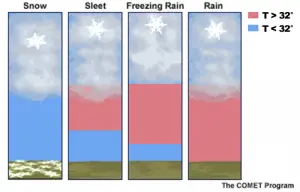 I will do a more detailed analysis in my next report.  But for now, let's play it conservative and see how the GFS Model plays out for the rest of the week.
Storms 1 and 2 Animation
We start with snow and ice later Monday, turning to just freezing rain overnight into Tuesday morning.
Storm 2 here looks robust with colder, heavy snow event (especially west of the bay).
Note: The Canadian also shows snow, but the Euro has suppressed this second storm risk.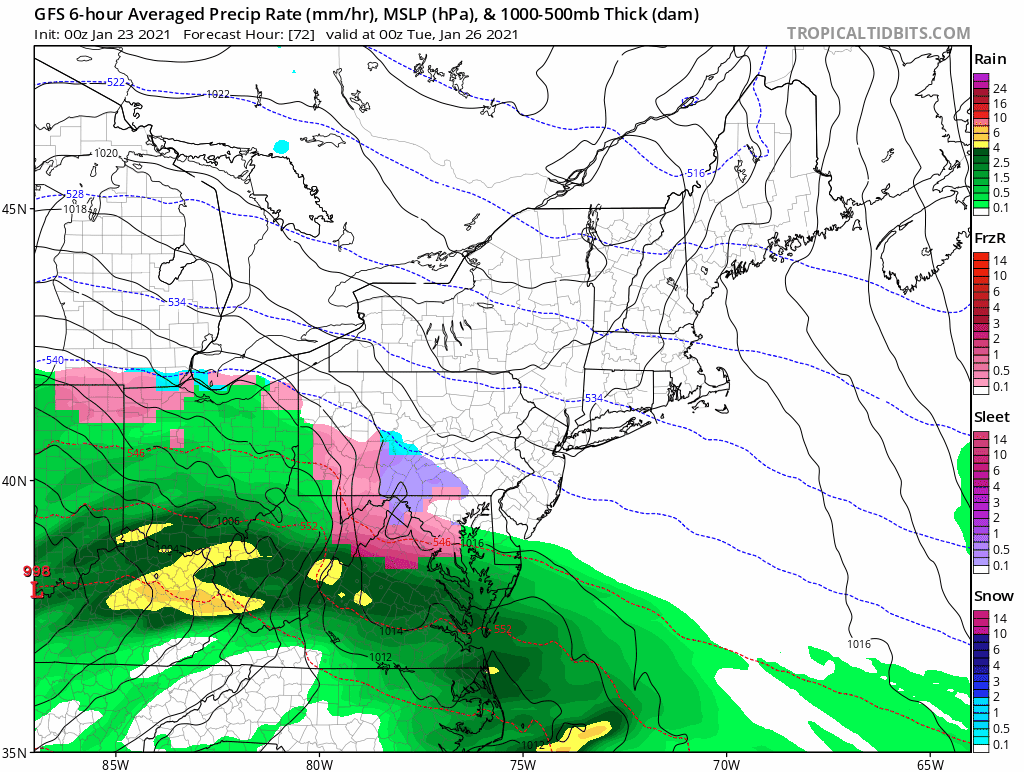 Temperature Outlook 
Here we can see the COLDER air following the second storm. But early February may bring a few days back into the 40s.  Another push of arctic air arrives for the second week of February.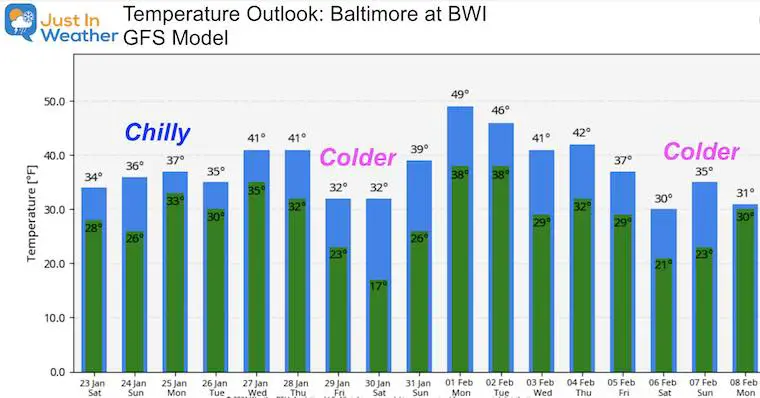 Please share your thoughts, best weather pics/video, or just keep in touch via social media
YOUR INTERACTIVE WEATHER PAGES
14 Local Maryland Pages (and York PA)
We have made a page for Maryland Weather which gives you the current conditions for 14 present area locations.
Local Hourly Forecasts and Local Radar
Central Maryland
Delmarva
Pennsylvania

FITF Shop Open
My 'bonus' daughter Jaiden and wife showing off our popular Maryland Hoodies. Unisex and women's items all produced in Maryland.
Click here to see this and many other new items.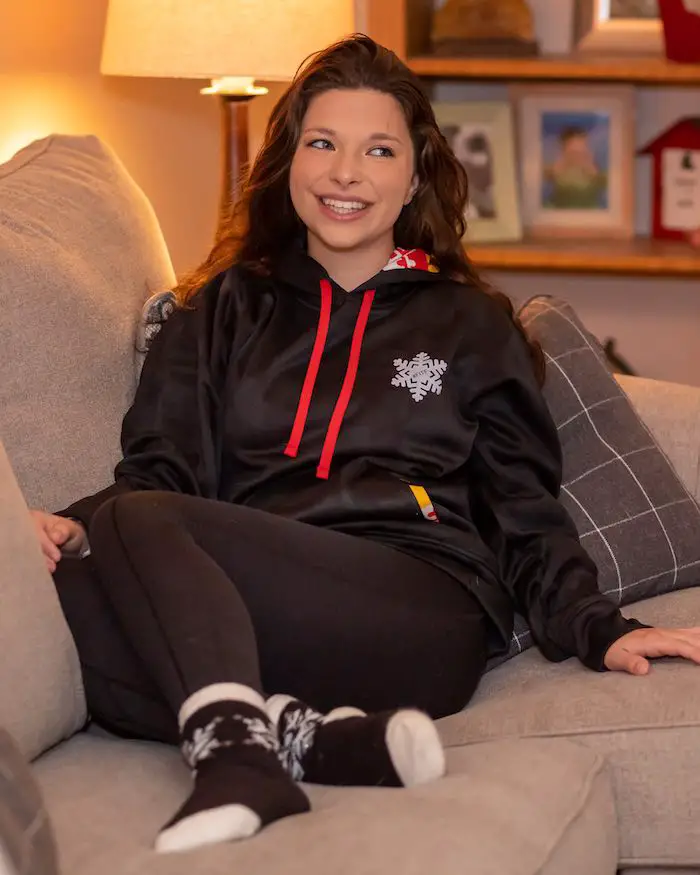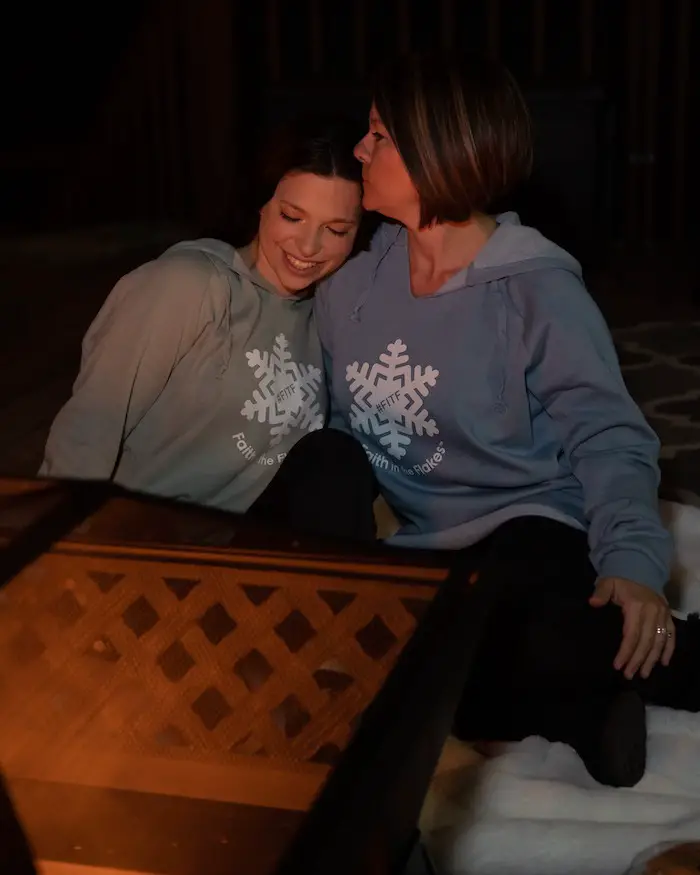 Also see:
Maryland Weather Page
I wanted to keep it simple. Just the basics for a quick view at any time.