Sunday January 24 2021
This morning starts in the deep freeze for much of our region, but we remain dry to finish the weekend. This cold air is important to establish a cold ground before the first winter event arrives later on Monday. We still have a second 'storm' to watch Thursday that will be stronger and colder.  The question on that will be how close it tracks to us.
Two Storms Forecast Animation
Here is the Canadian GEM Model perspective. Here we see snow and freezing rain develop later Monday into Tuesday morning. I believe the thaw and rain (green) on Tuesday  might be a little overdone.  The second storm looks stronger and colder with more snow on Thursday.
Closer Look
Let's get back to the first event, which has always been advertised as a 'mix' event.  The cold air looks deep and strong enough to allow for a start with snow and sleet. The early call in this is for the potential of 1 to 2 inches, with some higher amounts on the north end. Snow and sleet with turn to freezing rain overnight into Tuesday morning.
I will post my call in the next report.
The slow push of warmer air and the cold, frozen ground will be the concern for ice lasting longer, regardless how much falls.  Here are the storm maps.
Cold Air Set Up: Temperatures
Sunday Morning Observations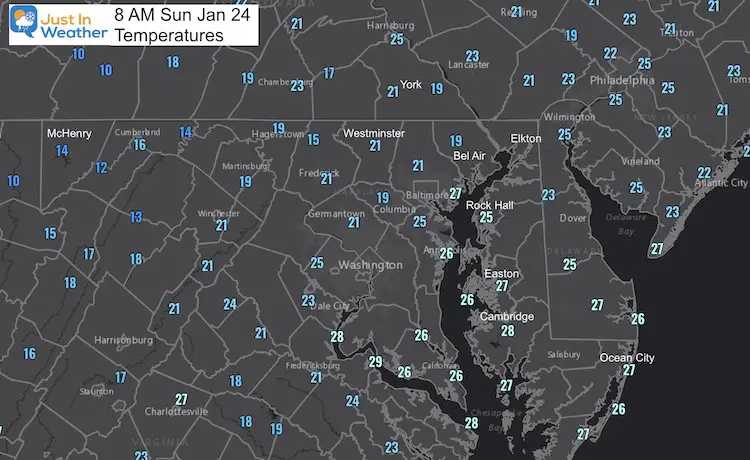 Sunday Afternoon Forecast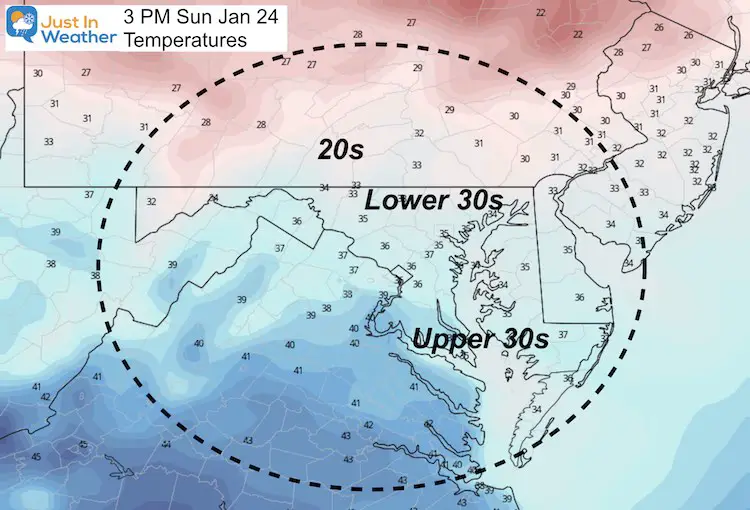 Monday Morning Forecast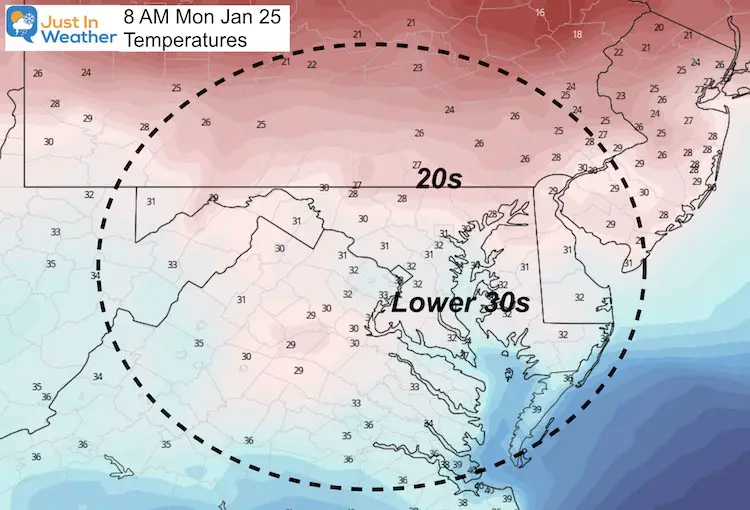 Storm Set Up
The latest suggestion has the energy splitting Monday night.  We are still on for the arrival between 3 PM and 7 PM. This should begin as snow and sleet across most of the region.
The change might be less moisture if the northern peice splits and fades.  But there is still enough to make an impact into Tuesday morning.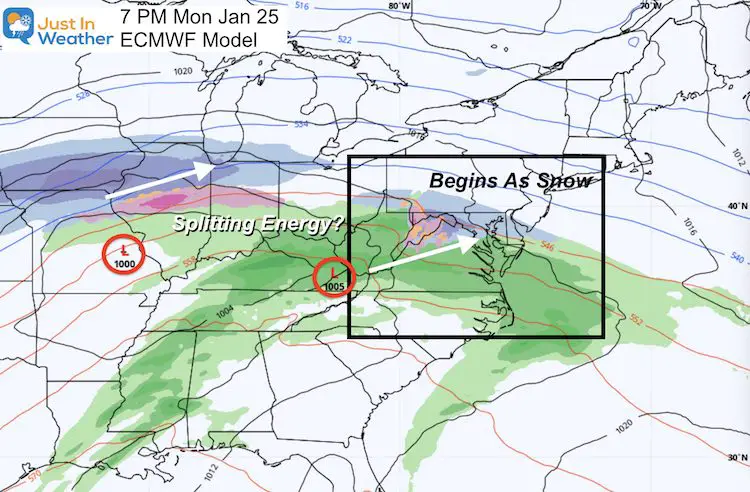 Forecast Maps: NAM 3KM Model
This is the most aggressive with the snow and ice, but does show the bulk before Tuesday morning.
The take away here is that there will be a burst with the onset, and lingering showers on Tuesday.
Timeline —> slider
Temperature Forecast
We always ride on the edge of freezing, and this will be the same.  Colder air remains inland, but thawing will occur sooner near the water and in the cities along I-95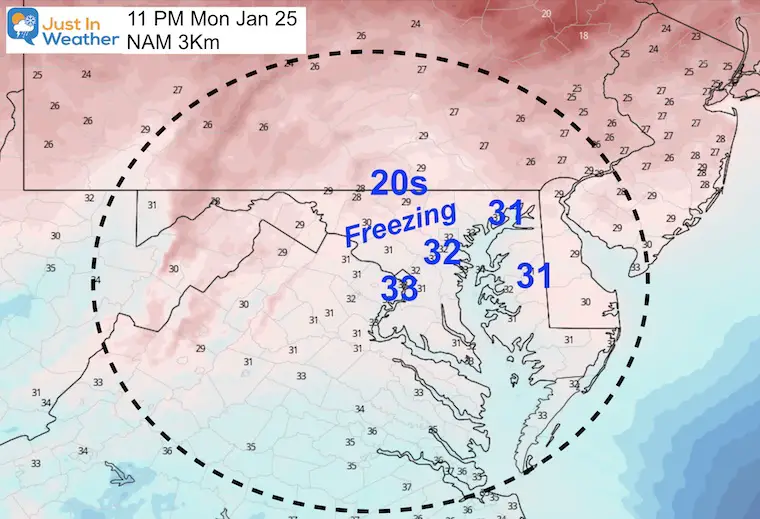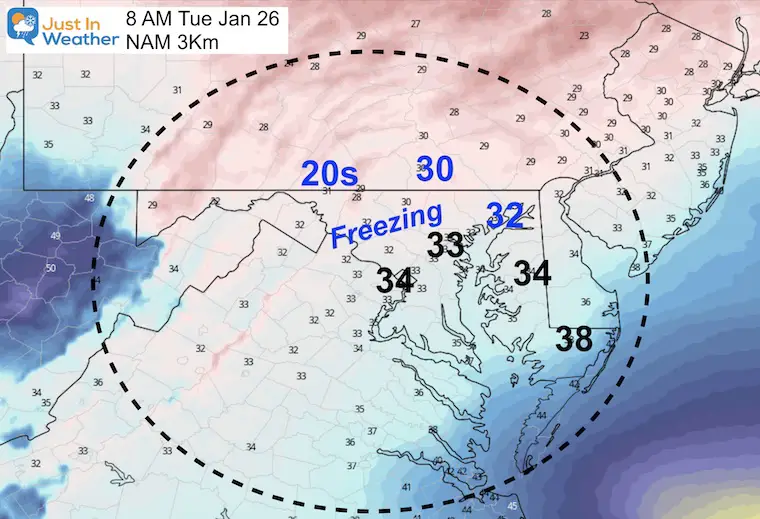 Snow Potential: Model Forecast
The NAM 3 Km is the most aggressive and to be used as the 'high end'. Please consider all the maps here, and we can see the average/most likely expectation is 1 to 2 inches. This is before any change over to sleet and freezing rain.
Also See:
High End Potential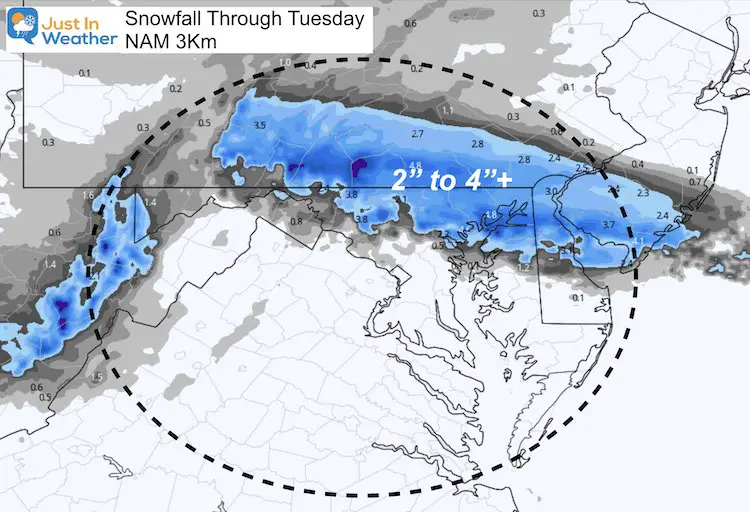 More Likely (Euro and Canadian)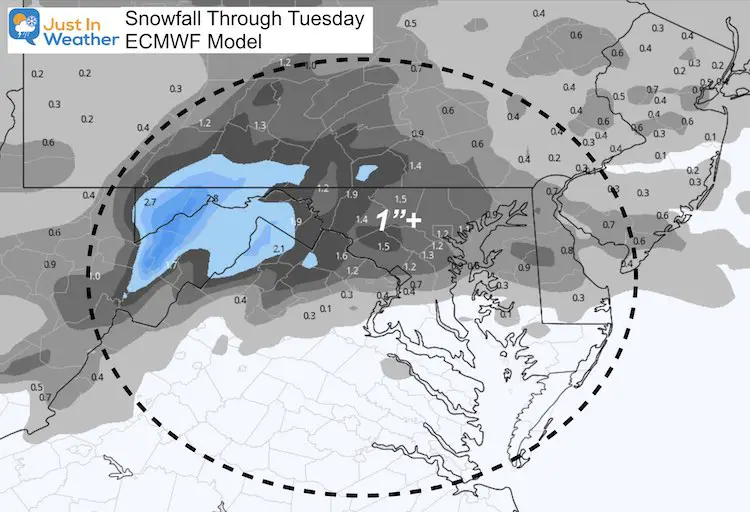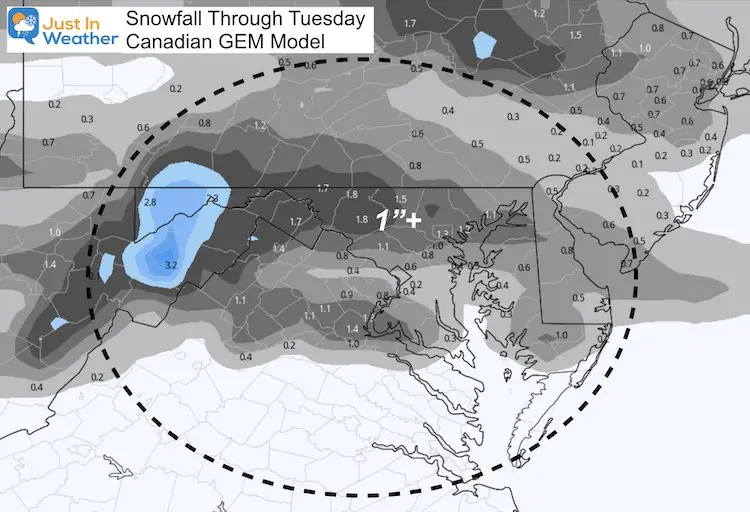 Low End Snow Potential GFS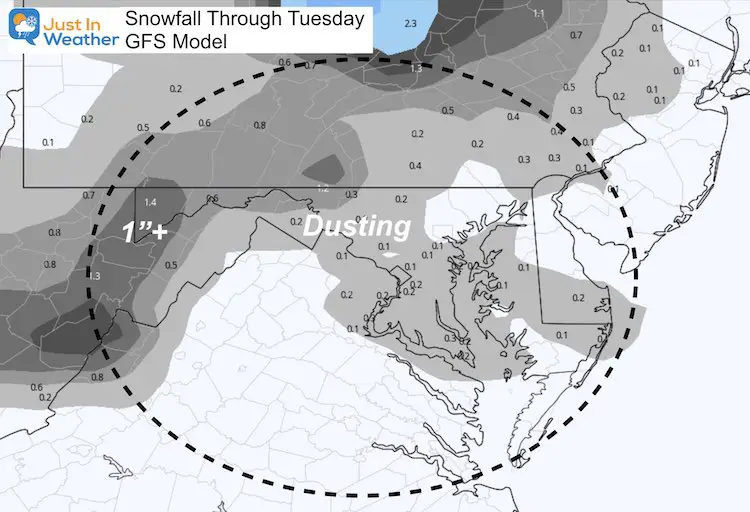 Looking Ahead To Storm 2
This will be stronger, and drop more snow.  The real debate is how close it will track to us.  Recent trends suggest the northern/closer track is more likely, but I need to present both.
This is why we use multiple models.  I do not agree with the GFS for the first event, but it may have a better handle on the second event.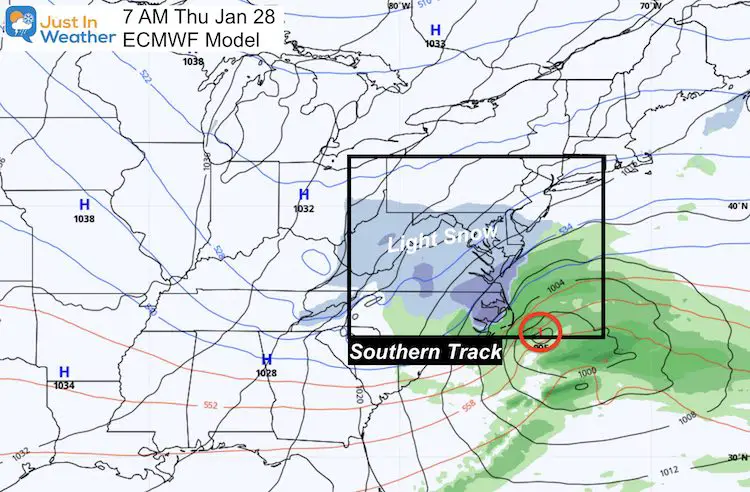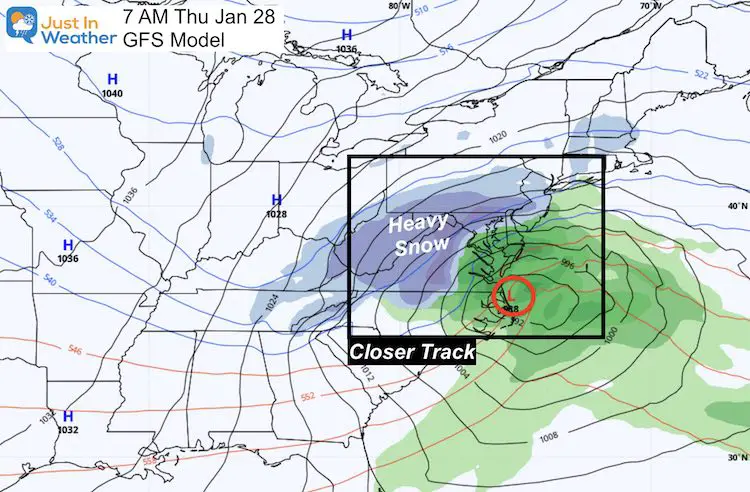 Temperature Outlook

The second storm will pull down colder air behind it Friday and Saturday.  
We are on for some mild air in early February for a couple of days.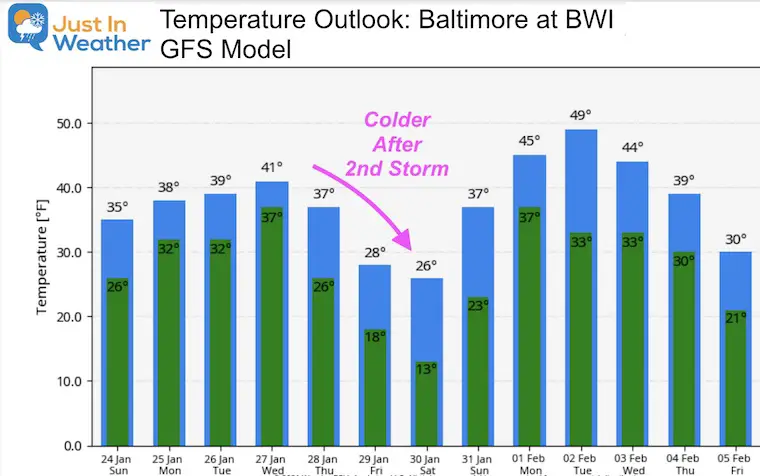 Please share your thoughts, best weather pics/video, or just keep in touch via social media
YOUR INTERACTIVE WEATHER PAGES
14 Local Maryland Pages (and York PA)
We have made a page for Maryland Weather which gives you the current conditions for 14 present area locations.
Local Hourly Forecasts and Local Radar
Central Maryland
Delmarva
Pennsylvania

FITF Shop Open
My 'bonus' daughter Jaiden and wife showing off our popular Maryland Hoodies. Unisex and women's items all produced in Maryland.
Click here to see this and many other new items.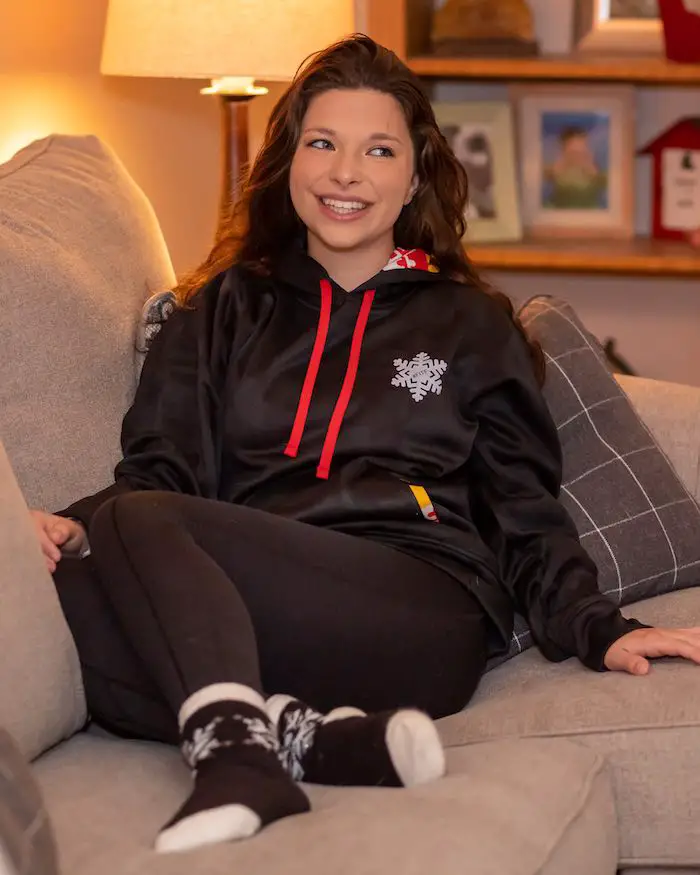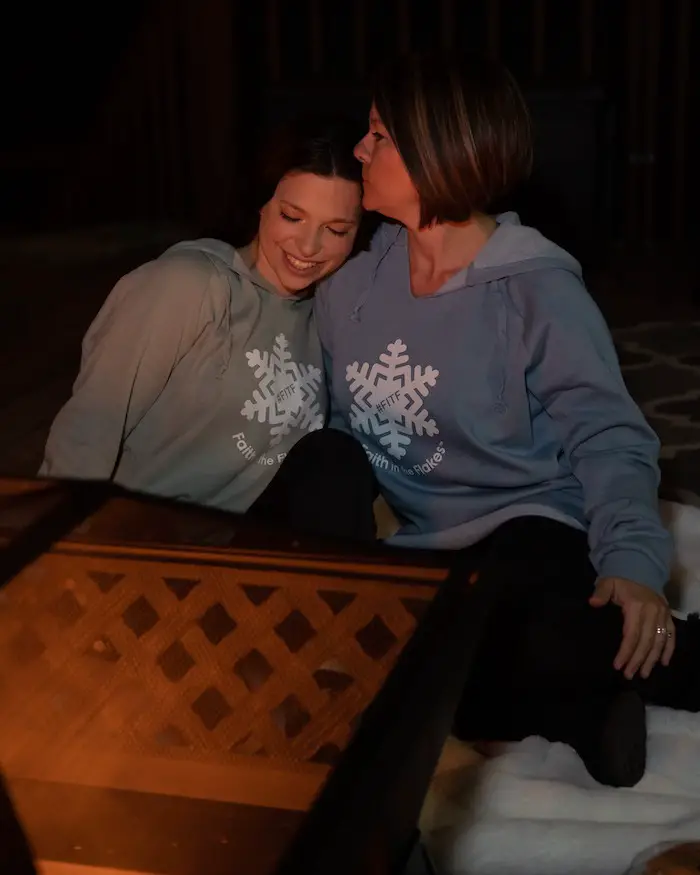 Also see:
Maryland Weather Page
I wanted to keep it simple. Just the basics for a quick view at any time.