Friday January 22 2021
It will be undeniable over the next few days that strong winds are brining in much colder air this weekend.  Wind Chill will be a popular term, making the air feel 10 to 20 degrees colder than the actual thermometer at times.
Many areas inland will remain below freezing, but it will feel like it across the cities and the Chesapeake Bay.  This is one of those arctic outbreaks we discussed, and it will set the stage for the winter storm early next week.
At this point I feel comfortable stating it will be a storm, but not what you will get.  This will bring snow and freezing rain to a large area starting later Monday into Tuesday. The ground will be cold enough for stickage and icing, so we should prepare and expect any or all of the above.
Let's start with the cold.
Morning Surface Weather
A series of cold fronts will pass through, reinforcing the cold. But for most of us east of the mountains it will remain dry.  There will be some snow (again) in western Maryland.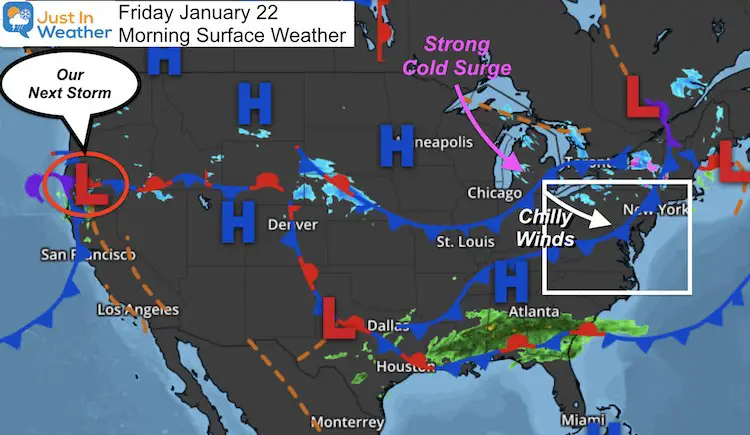 Morning Temperatures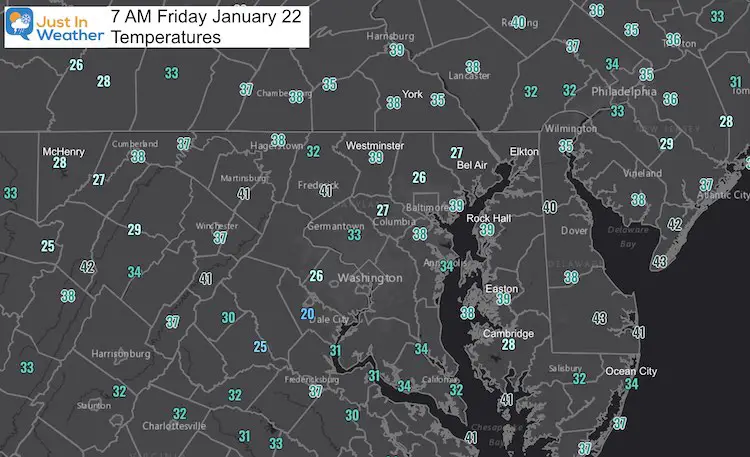 Wind Today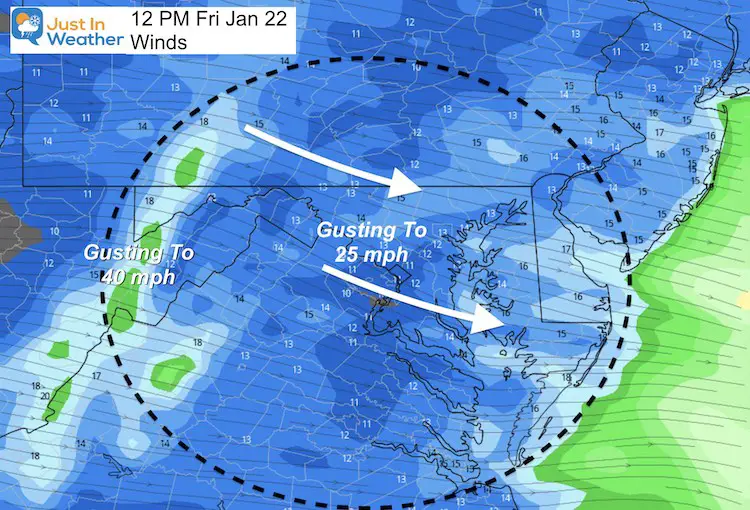 High Temperatures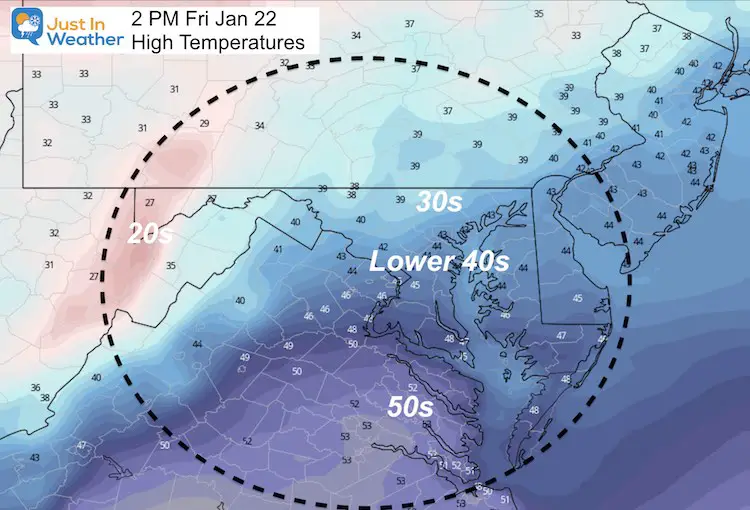 Saturday Weather
Morning Temperatures 
We may start with clouds and some flurries.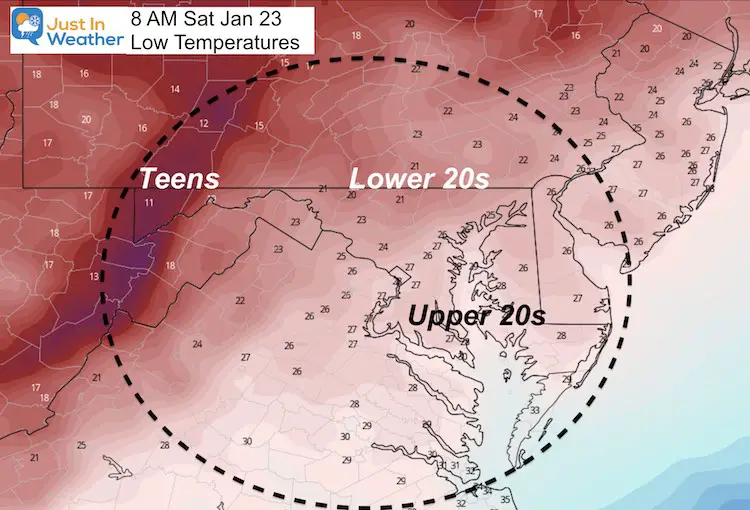 Winds
This will be the full brunt of the cold push.   Winds GUSTING TO 35 MPH, it will make the air feel like the teens or lower.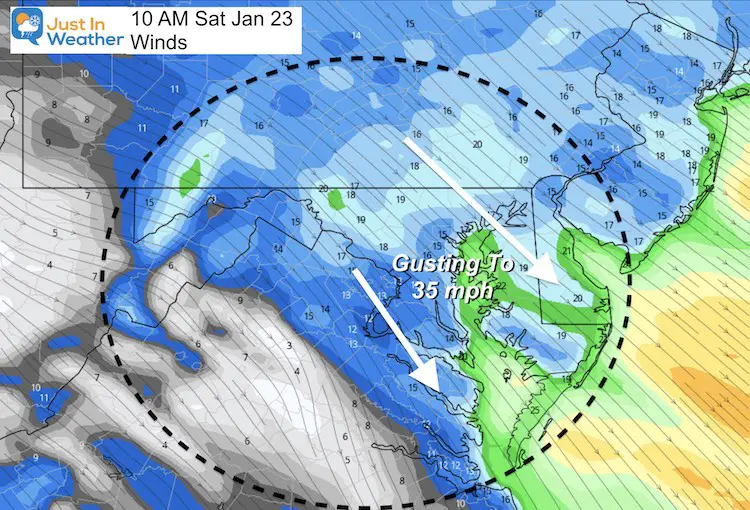 Afternoon (Highs):
It will feel like 20s and Teens
Forecast Snapshot: Central Maryland

One View Of That Storm: GFS Model Animation
This should begin with snow and sleet later on Monday. Then a change to widespread freezing rain and icing overnight and through Tuesday. Cold air follows the storm, attempting to end it with snow by Tuesday evening.
I will have a more detailed look at this and the second event in my afternoon update.
Also See: Click here to see 3 Model Comparison For 2 Storms Next Week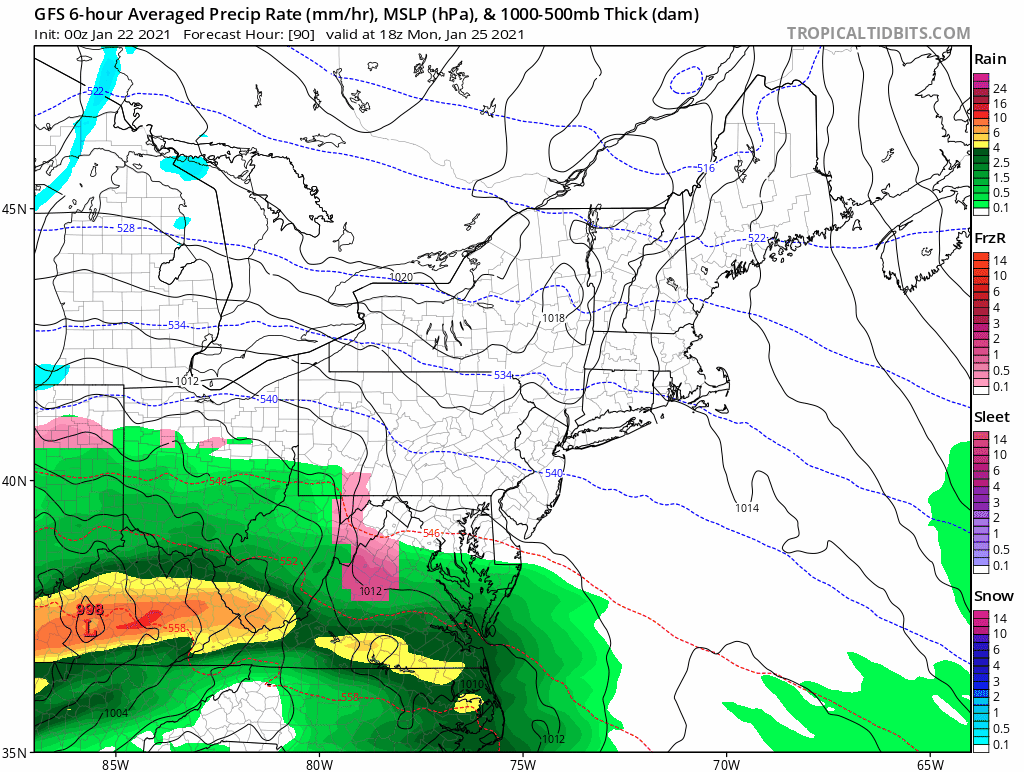 Temperature Outlook 
It is important to consider that the impact of any snowpack and ice may change any possible warming and thaw into early February. I expect some adjustment with validation of one or both events.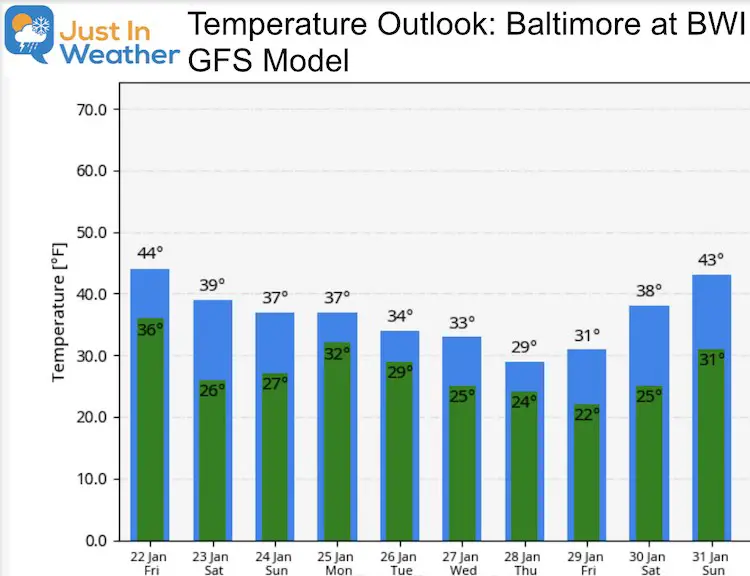 Please share your thoughts, best weather pics/video, or just keep in touch via social media
YOUR INTERACTIVE WEATHER PAGES
14 Local Maryland Pages (and York PA)
We have made a page for Maryland Weather which gives you the current conditions for 14 present area locations.
Local Hourly Forecasts and Local Radar
Central Maryland
Delmarva
Pennsylvania

FITF Shop Open
My 'bonus' daughter Jaiden and wife showing off our popular Maryland Hoodies. Unisex and women's items all produced in Maryland.
Click here to see this and many other new items.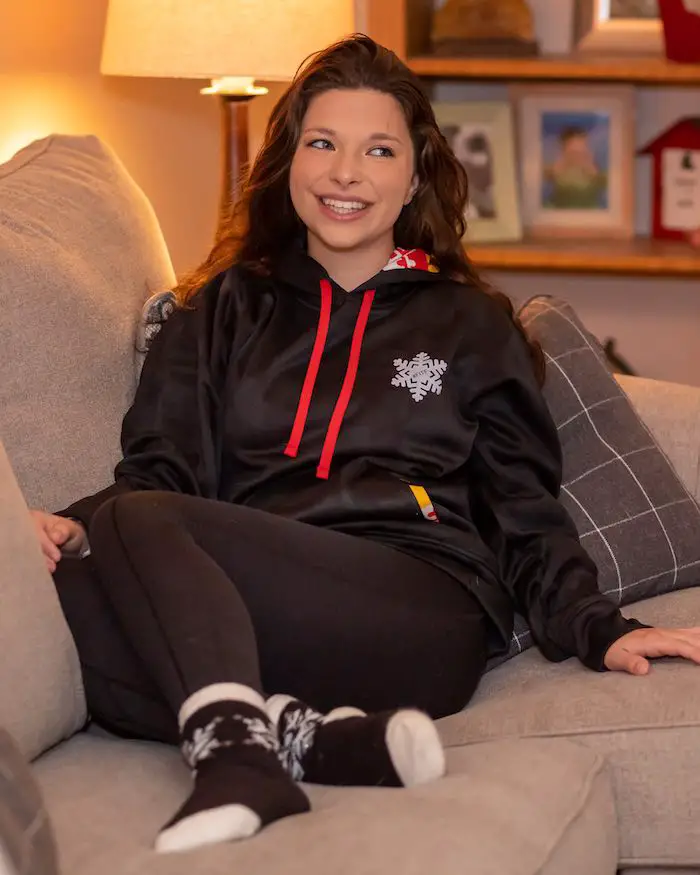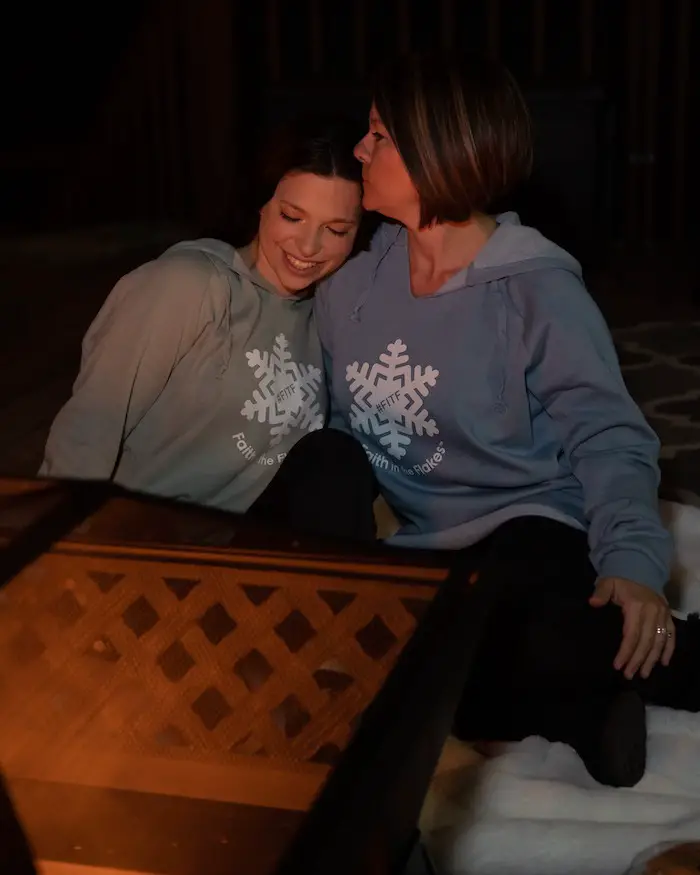 Also see:
Maryland Weather Page
I wanted to keep it simple. Just the basics for a quick view at any time.