January 21 2021
The prospect of breaking our Mid Atlantic snow drought has caused enough excitement. But the prospect of two events next week has been hard to believe. That is until we had some sort of consensus among the three major models.
The Three Main Computer Guidance Models:
ECMWF (European)
GEM (Canadian)
GFS (American)
If you notice the icons in your weather app or on your local TV weather segment changing, it could be based on one of these models.  There has been some wobbling of the storm set up. This can change the track of snow and freezing rain. They all do not treat the energy the same way, thus the results can vary.
I want to try something different with you in this post.  Instead of timeline sliders, I want to just take snapshots from the computer models plots for next week and compare them side by side.   
The benefit of social media and my website here has been to give you a behind the scenes look at some of the tools us meteorologists use to make a forecast.   I don't get to show you everything I use, not explain it all, or these posts would get very lengthy.
So, I want to try this approach, and see what you think.
Note: Click here to see my prior post here for a look at where the energy has been today, and the jet stream animations for how it it move across the US our way.
First Storm:
At this time, the arrival appears to be later on Monday. This will be an overrunning event. As I described in prior posts, this will be a large area of warm, moist air forced over cold air at the surface. The result can be snow and an extended ice event (where it remains below freezing)
Monday Evening at 7 PM
ECMWF: Snow and ice mix.
GEM: Already into the mix and ice.
GFS: More ice and rain.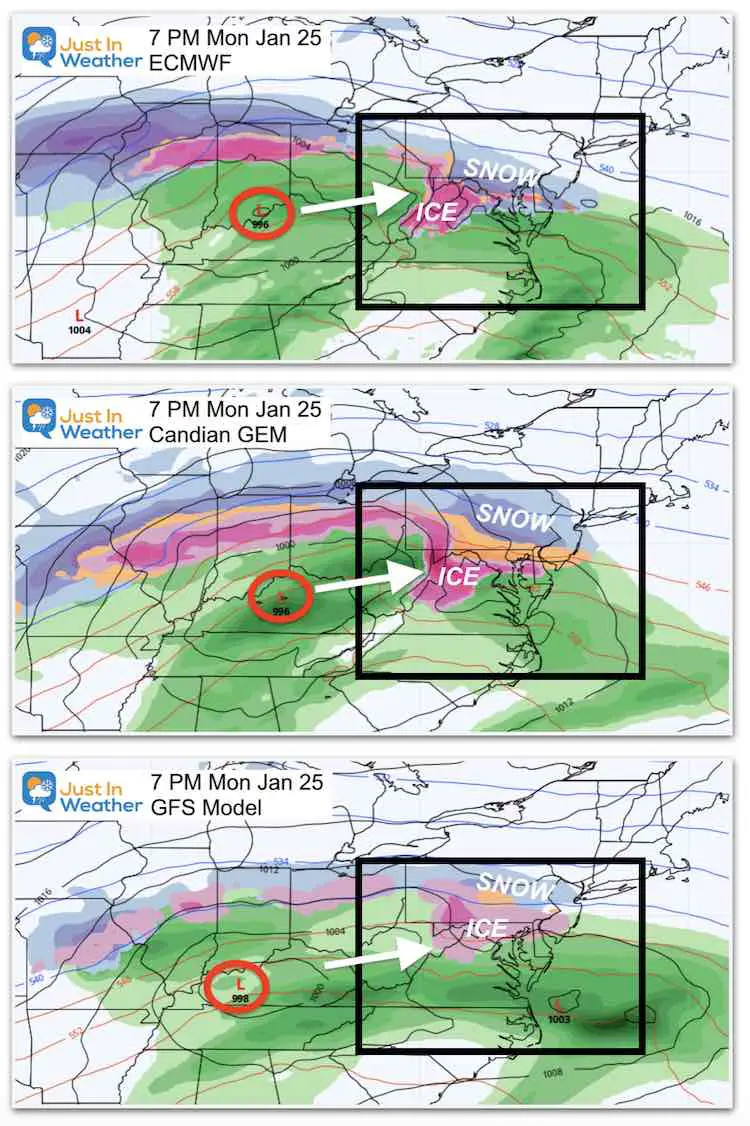 Tuesday Morning at 7 AM
ECMWF: Snow near and north of PA line. Ice I central MD.
GEM: Mostly freezing rain in our region.
GFS: Similar to the ECMWF with snow north and ice into central MD and metro areas.
Tuesday Afternoon 4 PM
ECMWF: Lingering light snow
GEM: Lingering light snow
GFS: Already drying out.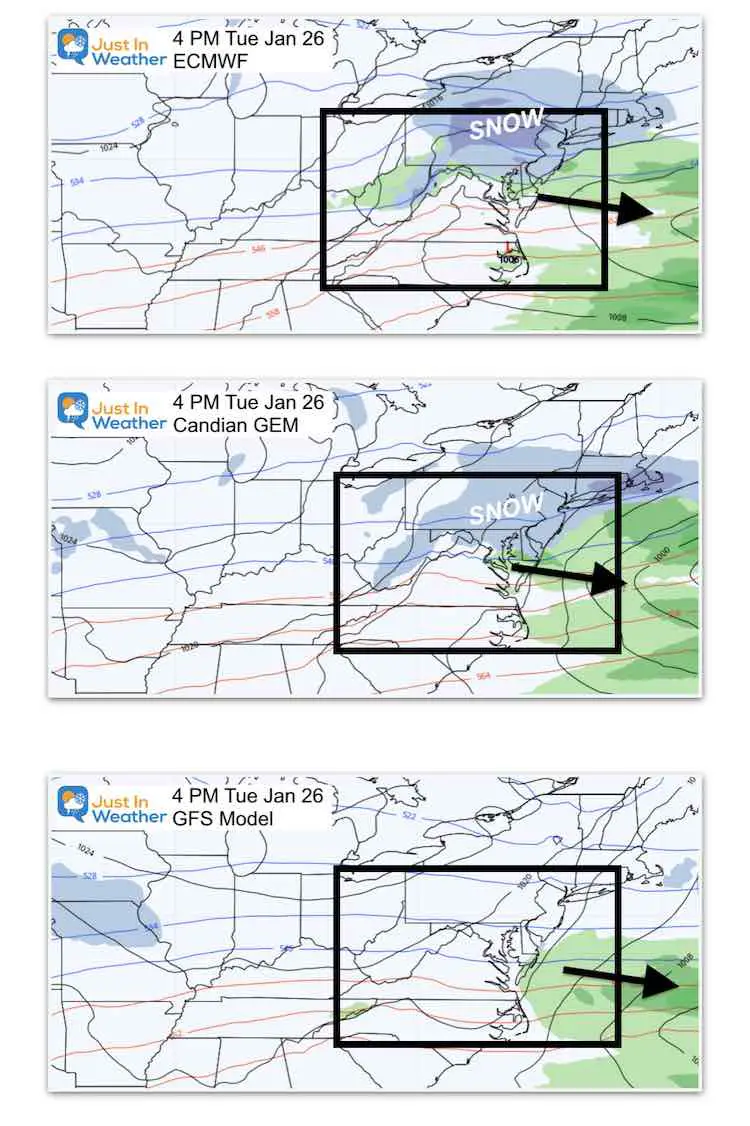 Second Storm
I want to start with the GFS Model since that is what mode of your apps and local weather sources use.  What you are about to see if why there can be confusion with frequent weather updates.
This model is generated four times a day. Every 6 hours from 7 AM, 1 PM, 7 PM, and 1 AM.   But the full data with US weather balloon launches is only ay 7 AM and 7 PM.  Those tend to be the more accurate for longer range, while the intermediate updates fill in the gaps with other data and extrapolations.
This is what happened when the GFS plotted Thursday Morning at 7 AM today (168 hours) and 1 PM (162 hours).
The 1 PM intermediate plot lost the northern branch energy and this suppressed the storm farther south.  That shoved the bulk of the snow both as well.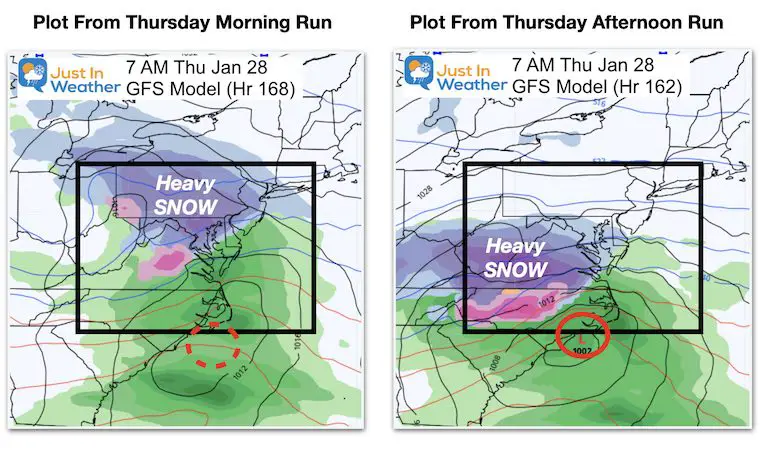 I expect this will adjust back with this evenings run.
Now let's compare the 3 Models side by side during Thursday Afternoon.
The GFS and European BOTH have an impressive snow event. But, with the northern piece missing, the GFS cut the snow off north of Baltimore.   We should see that come back tonight.
Note: The European has the best reputation and thus worth sticking with for now.
The Canadian has a light snow event.  While I like this model in cold season, and it may be in line for the first event, I think it is having trouble farther out in time.
Take Away:
This was just another perspective I wanted to share with you.  Perhaps as we get closer, I can show some other pieces of the atmosphere that will play a role.
The good news is that there should be some activity and validation for all of that Polar Vortex chatter.  Also, this still fits in line with my original winter outlook: Winter is just getting started, and I expected we would see a pattern with storm events clustered together.
I purposefully do not get into specifics this early. But within 72 hours it will be time to make my first call for snow, or in this case also ice.
The second event next weeks looks colder with a wider impact.
FITF – Faith in the Flakes.
Please share your thoughts, best weather pics/video, or just keep in touch via social media
YOUR INTERACTIVE WEATHER PAGES
14 Local Maryland Pages (and York PA)
We have made a page for Maryland Weather which gives you the current conditions for 14 present area locations.
Local Hourly Forecasts and Local Radar
Central Maryland
Delmarva
Pennsylvania

FITF Shop Open
My 'bonus' daughter Jaiden and wife showing off our popular Maryland Hoodies. Unisex and women's items all produced in Maryland.
Click here to see this and many other new items.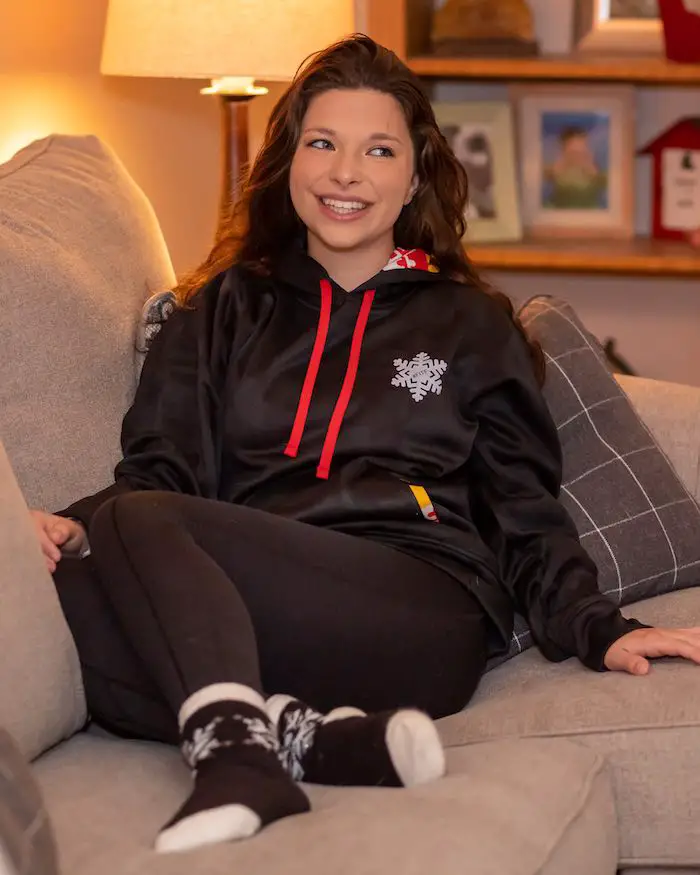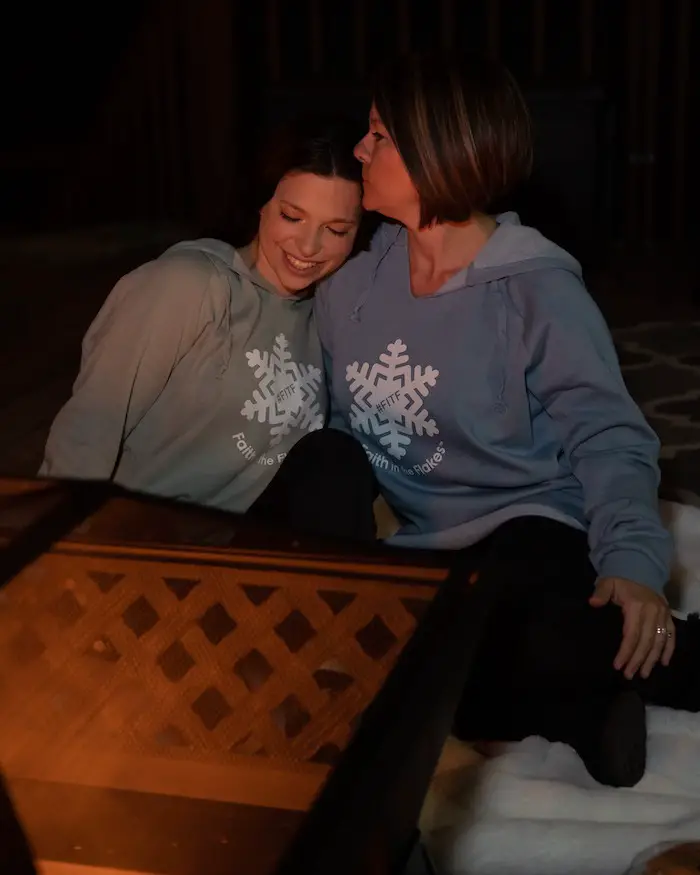 Also see:
Maryland Weather Page
I wanted to keep it simple. Just the basics for a quick view at any time.