Wednesday January 6 2021
This morning there is nothing that stands out with our weather, but brisk winds will hold temperatures down this afternoon. Winds may push 20 mph or higher, making the temperatures feel as much as 10 degrees colder.
We will have seasonably cold air for the rest of the week, meaning highs in the upper 30s and lower 40s.
The next storm on Friday does appear to maintain the track to our south. That may be an issue for Virginia and North Carolina.  Looking farther out, I have low confidence in the next storm next Tuesday.
Morning Set Up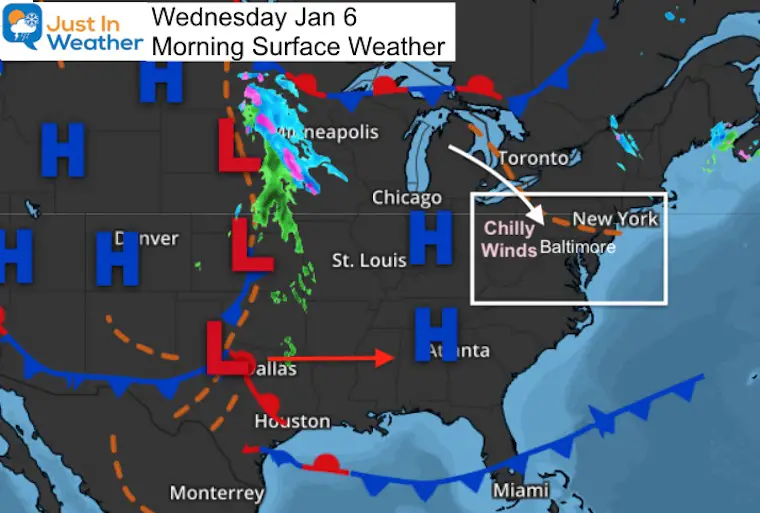 Temperatures 
This Afternoon
Winds from the Northwest will increase this morning, and peak this afternoon. Gusts over 20 mph at times will make it feel much colder.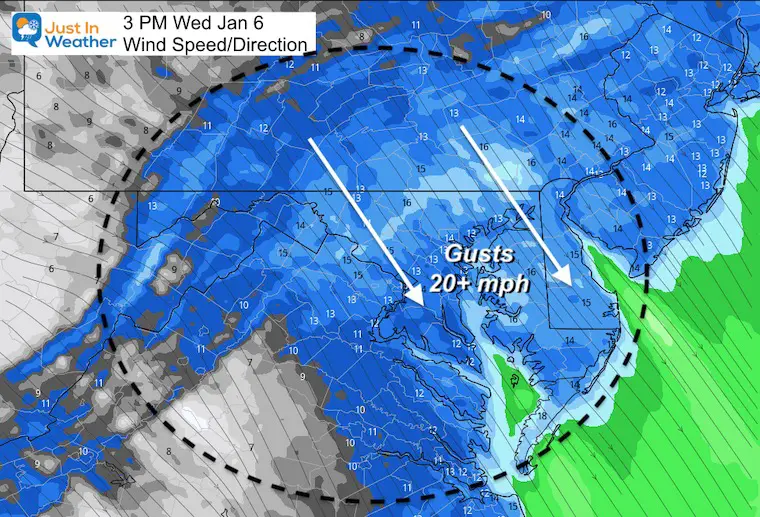 Temperature Forecast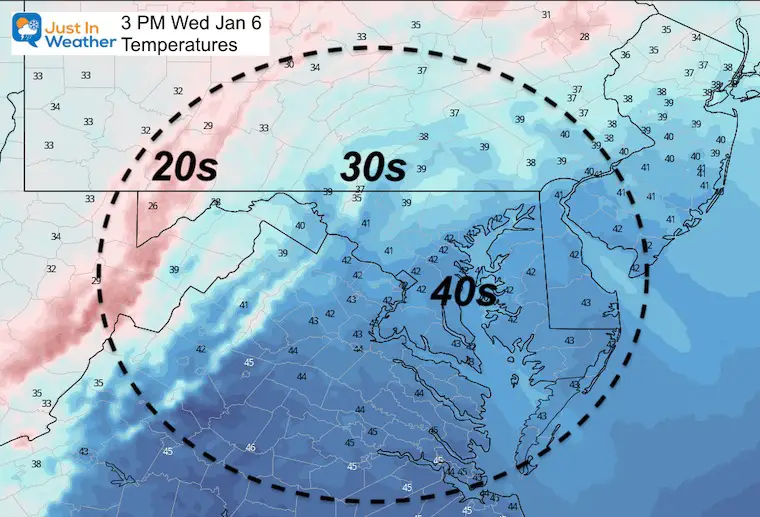 Wind Chills:
Will feel as much as 10 degrees colder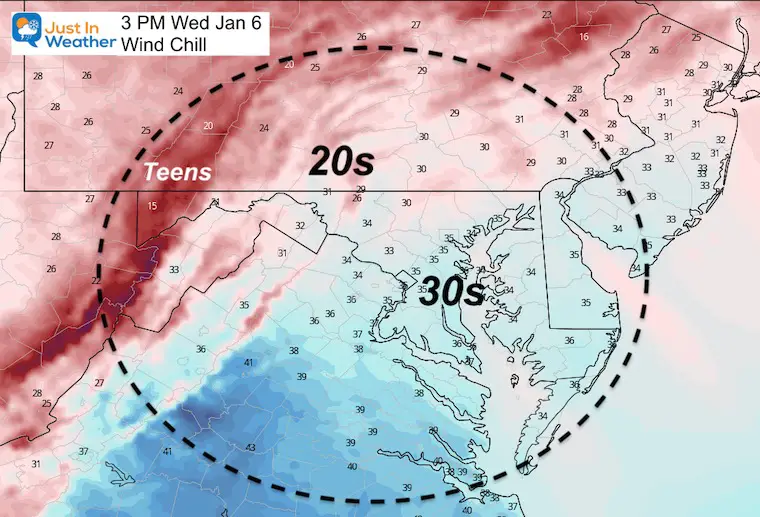 Weather Forecast Snapshot 
Chilly winds today, but clear, cold, and lighter winds tomorrow.  Friday will brings clouds, and perhaps a flurry, but that storm system appears to keep the snow to our south. See below.

Thursday Temperatures 
With High Pressure in control, we should have a sunny day with lighter winds.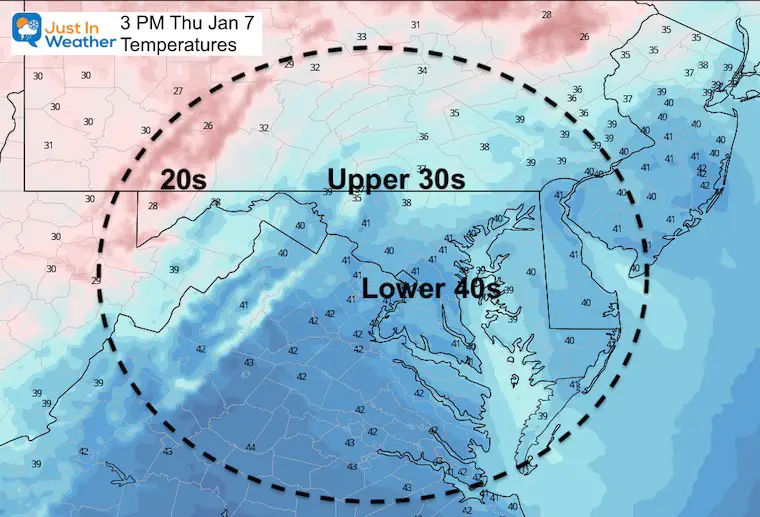 Friday Storm: Staying South
I know I said we may see a trend bumping north, but that has not happened yet. I still think we will see some adjustment as this arrives. But safe to say now that the impact potential for this system will be mainly in southern Virginia and North Carolina.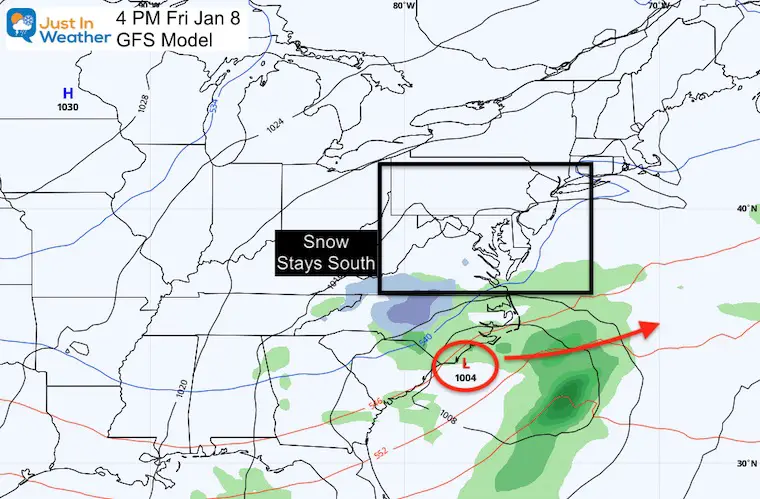 Weekend: Quiet and Cold
Next Week Quick View
I have low confidence in the storm on Tuesday. If you have read about it on other new outlets and blogs, please note that there is no agreement on modeling.  I will not just post the best looking model and hope that verifies.
Yesterday, the European Model showed this as a decent winter storm. But, once again it has wobbled.  Meanwhile the GFS is even less impressive.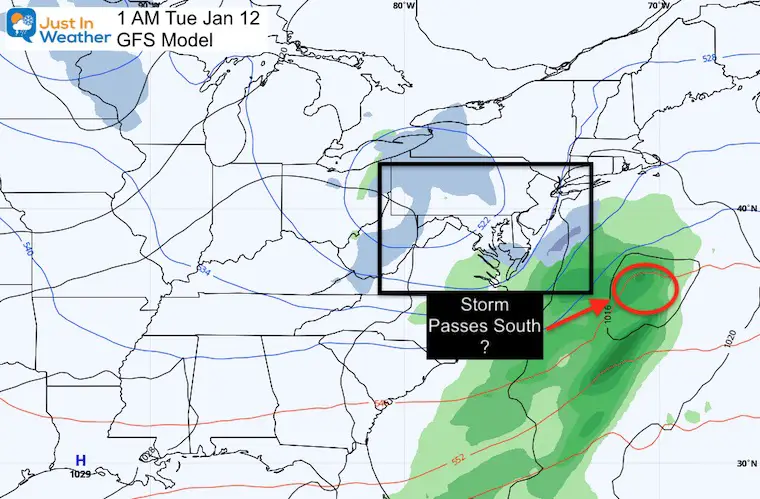 I still expect there will be more fluctuations with this system over the next few days.
I will NOT put too much weight on this, but will continue to show you the updates daily. If there is a significant trend, then we can take this more seriously (by the weekend).
Temperature Outlook 
The seasonal average high for Baltimore is 41ºF over the next two weeks.  We will be close to that for the next week. Then wait for the Polar Vortex disruption to send colder air our way.  The first signs of that are showing up on the outlooks. But full impact and extent may not be calculated into our forecast yet.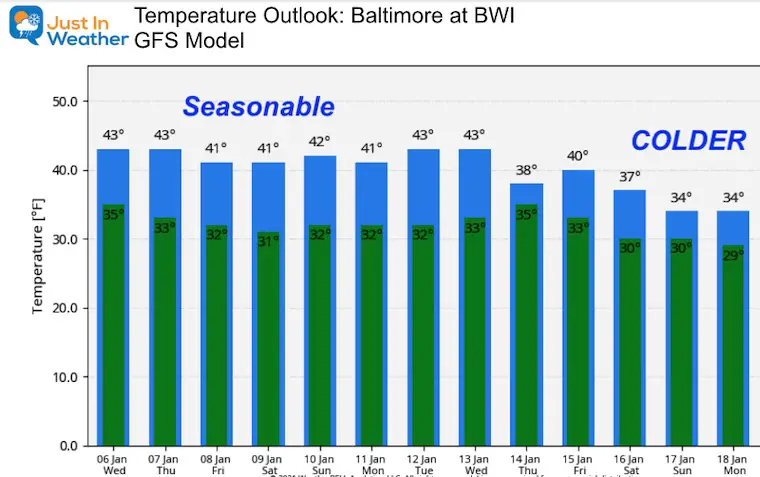 Also Read:

YOUR INTERACTIVE WEATHER PAGES
14 Local Maryland Pages (and York PA)
We have made a page for Maryland Weather which gives you the current conditions for 14 present area locations.
Local Hourly Forecasts and Local Radar
Central Maryland
Delmarva
Pennsylvania

FITF Shop Open
My 'bonus' daughter Jaiden and wife showing off our popular Maryland Hoodies. Unisex and women's items all produced in Maryland.
Click here to see this and many other new items.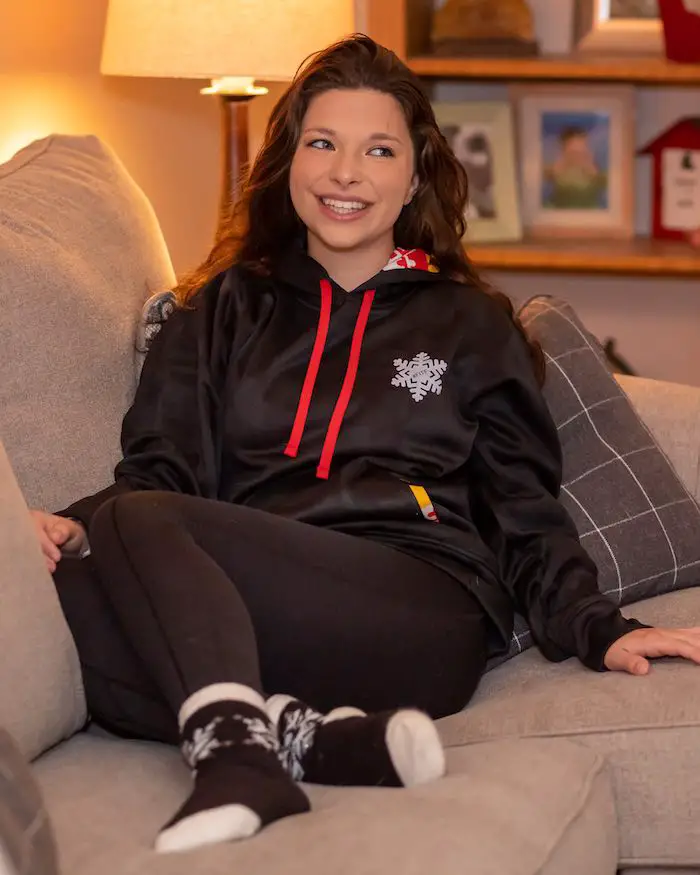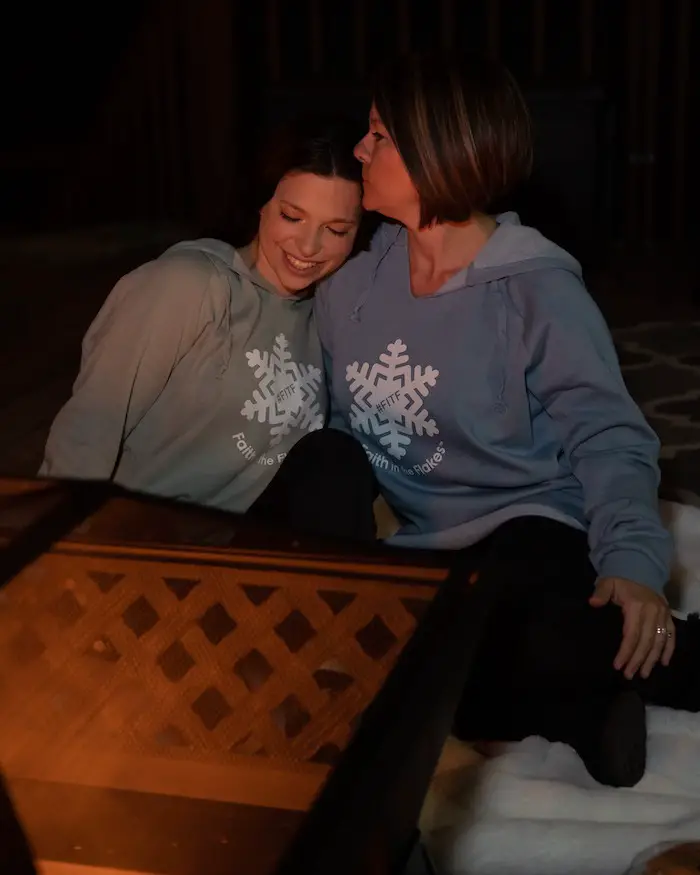 Also see:
Maryland Weather Page
I wanted to keep it simple. Just the basics for a quick view at any time.
Please share your thoughts, best weather pics/video, or just keep in touch via social media
---
Email Updates
Please make sure you sign up (above or click here to sign up for email alerts…. ) for my newsletter. This way you will get an email to make sure you are notified of each post.
---
Just In Power Kids:
A portion of proceeds go to our programs Providing FREE holistic care for kids in cancer treatment and up to 5 years post treatment and caregivers.
New Caps and Hats