Tuesday January 5 2021
A little disturbance is passing through today that will try and ignite some showers. These will be light, and temperatures aloft are marginal so the result may be flurries or sprinkles.  Temperatures on the ground will remain just above freezing, so it will not be a travel concern locally.  But far western Maryland could get a fresh coating to stick.
Morning Radar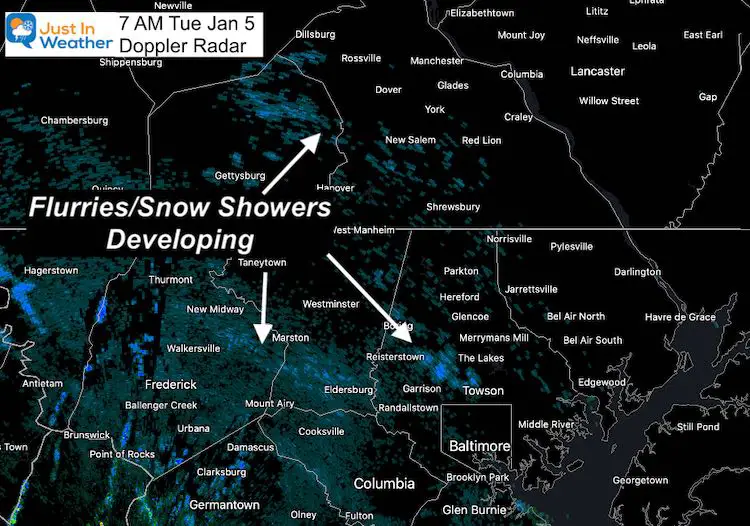 UPDATE at 7:50 AM – How to be wrong and right at the same time.
We have more activity than models indicated already.
Radar is indicating 'snow flakes' falling (blue), but reports on the ground appear to be light rain.  
Temps are above freezing as expected, but just warm enough to allow the flakes to melt.   We still could mix in flakes this afternoon with colder air aloft.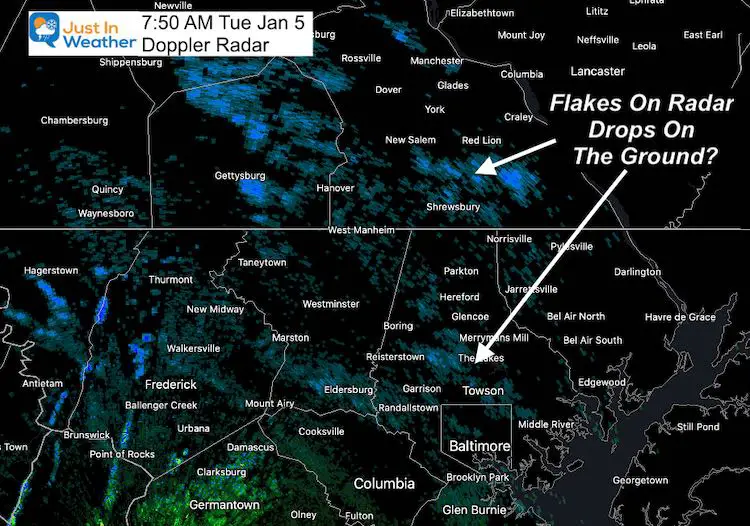 Morning Surface Weather
That trough (dashed line) has colder air aloft, which may allow the showers to have more flakes reaching the ground this afternoon.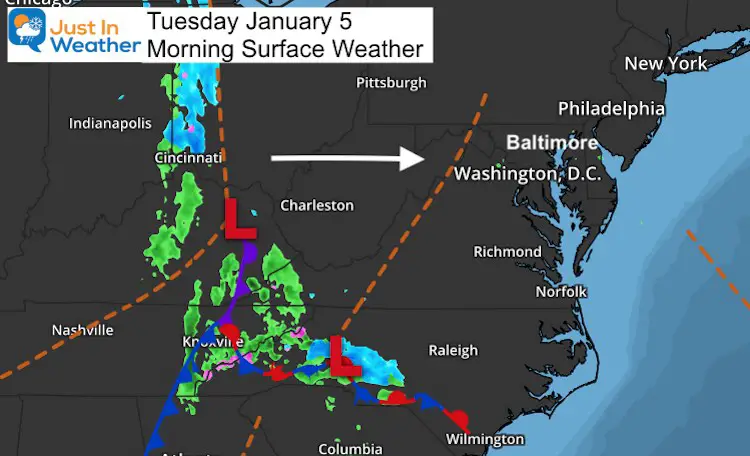 Morning Temperatures 
Most of the region is above freezing. But if you travel west of Cumberland, some light snow could in the high mountains for a light coating.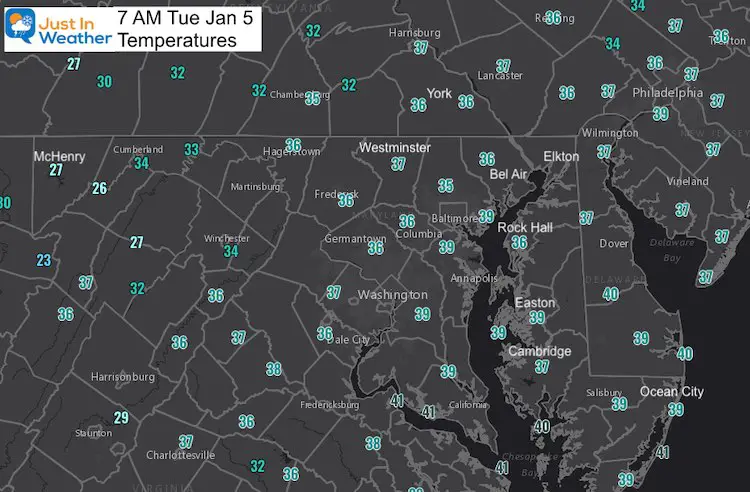 Forecast Snapshot: Central Maryland 

Forecast
Morning: Flurries (or sprinkles) start to develop.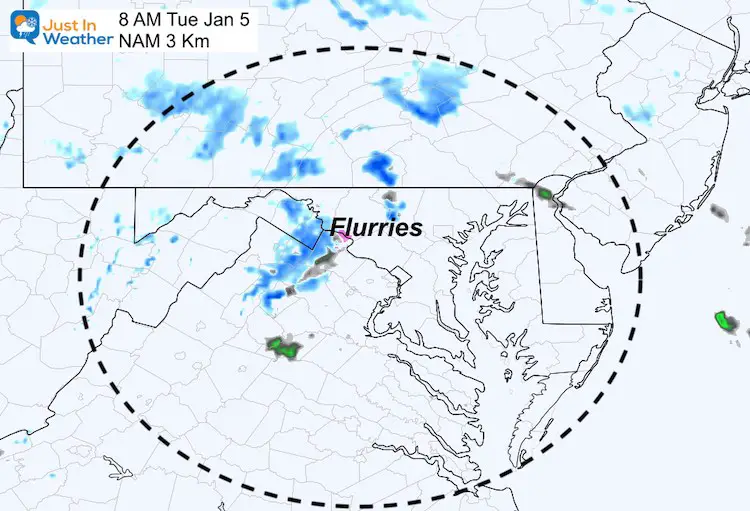 Noon: Scattered light showers may be more than shown on this model.  The result on the ground may be flurries or sprinkles.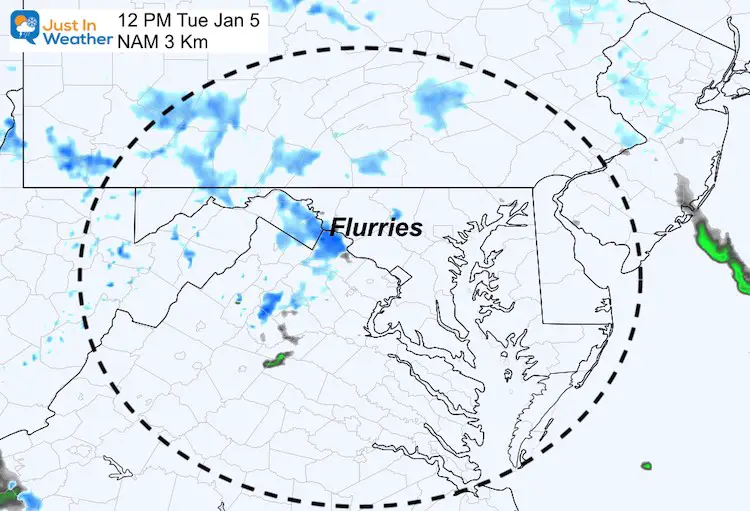 Afternoon: A little added boost of activity may be most widespread.   This will be a mix of snow or rain.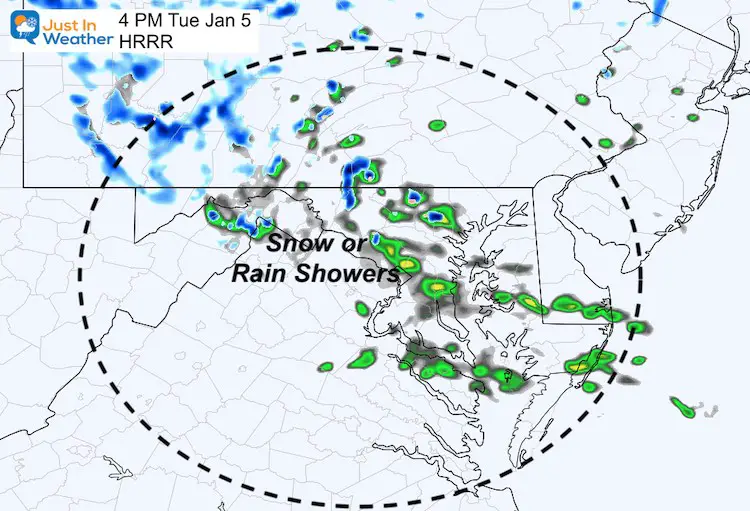 High Temperatures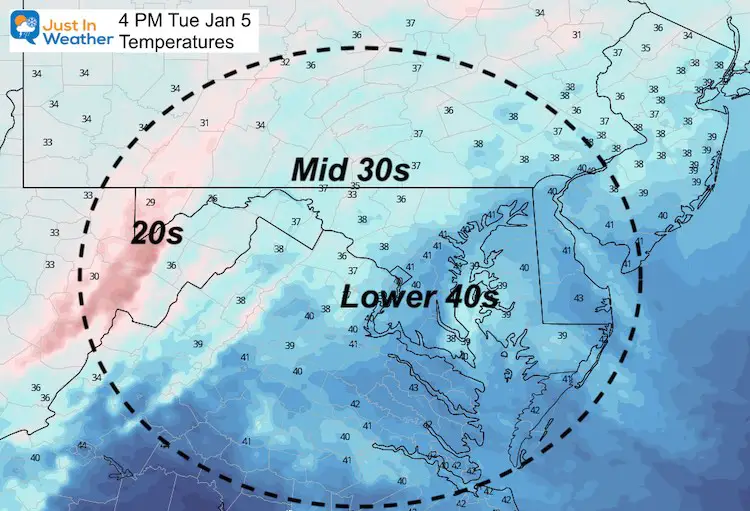 Looking Ahead
Friday
The next few days will be quiet, so let's jump to Friday. That system is still close enough to watch. It currently looks like a minor impact on our southern zones Friday evening, but I will continue to monitor any trend back north.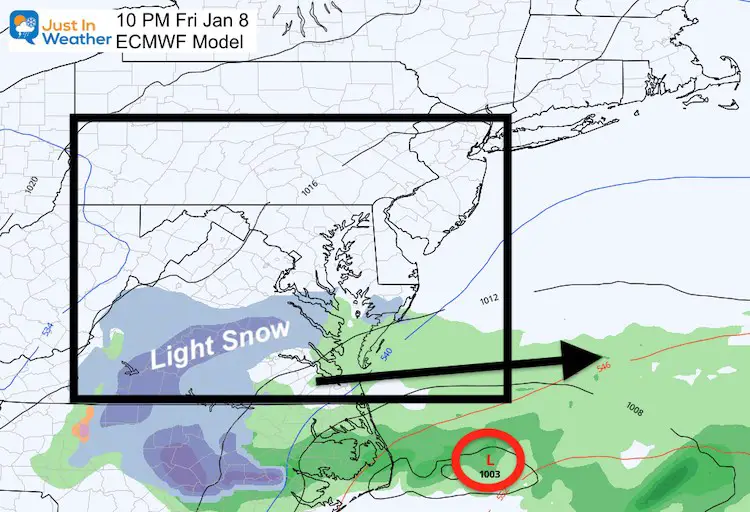 Monday
This is the system that looked so promising a few days ago. Almost too good, which is why I did not trust it. However, there is also history of models plotting a storm in the 7 to 10 day outlook, losing it, then finding it again.   The computer models do have upgrades, and adjust to each season differently.  So we need to account for that and still continue to evaluate.
Here the GFS is still showing the storm, but clipping our southern zones.  Meanwhile the European ECMWF has completely lost it.  A blip or a trend?  That is the 'inside baseball' I am sharing here so we can monitor together.
GFS Model has the storm: smaller and just south.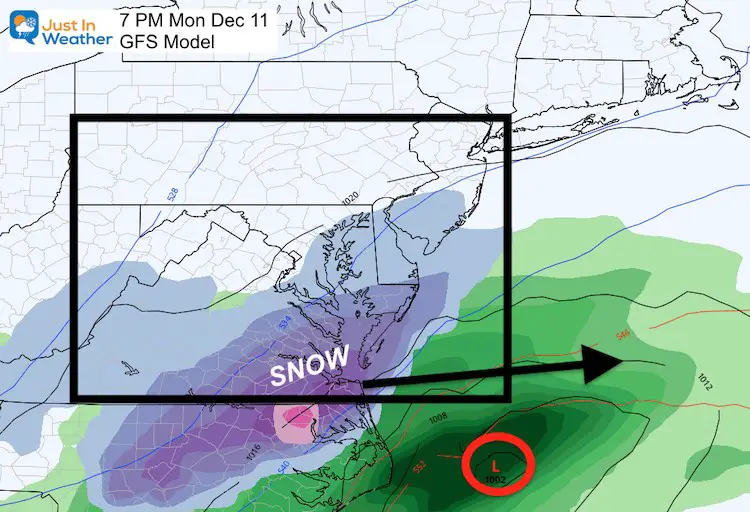 The European Model has completely lost the storm. Well, it shows up as a little wave well south with light rain off the Carolinas.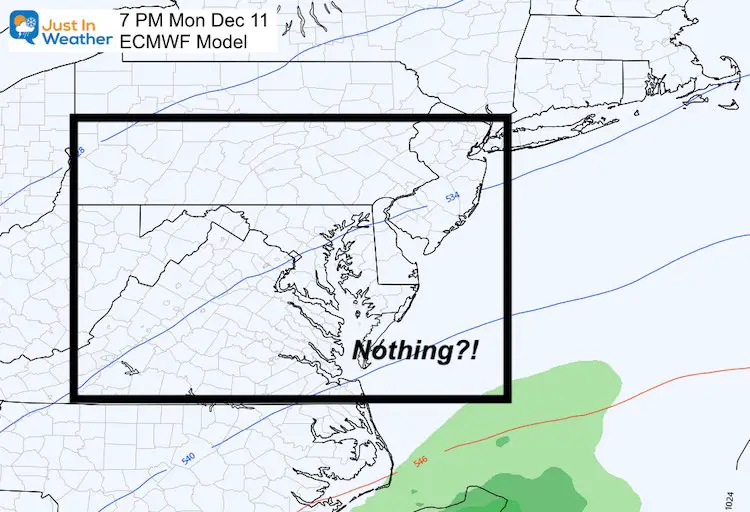 Temperature Outlook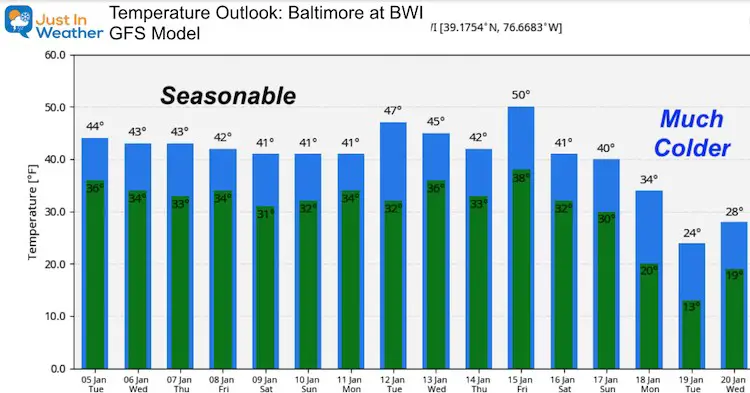 YOUR INTERACTIVE WEATHER PAGES
14 Local Maryland Pages (and York PA)
We have made a page for Maryland Weather which gives you the current conditions for 14 present area locations.
Local Hourly Forecasts and Local Radar
Central Maryland
Delmarva
Pennsylvania

FITF Shop Open
My 'bonus' daughter Jaiden and wife showing off our popular Maryland Hoodies. Unisex and women's items all produced in Maryland.
Click here to see this and many other new items.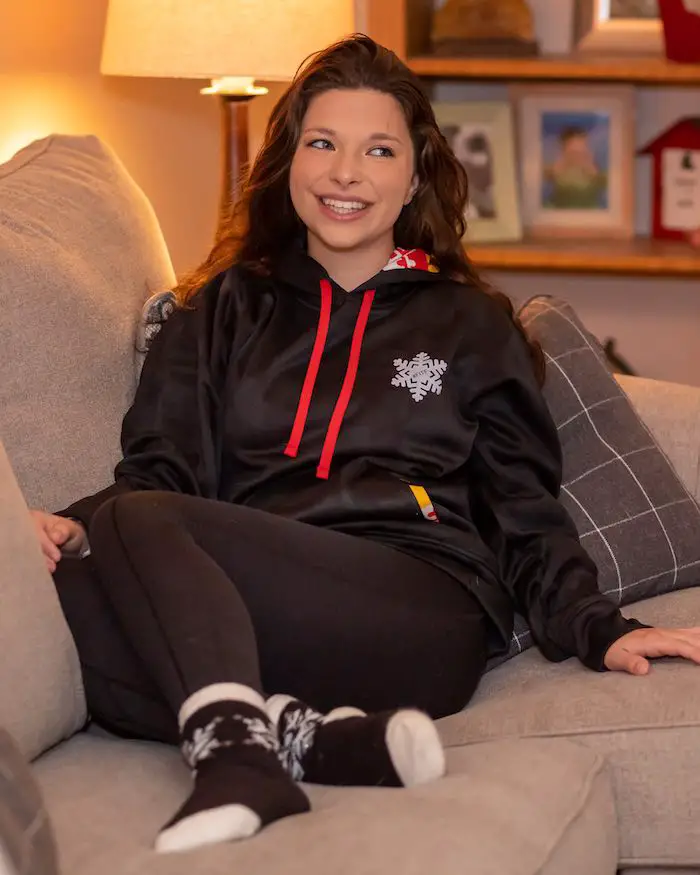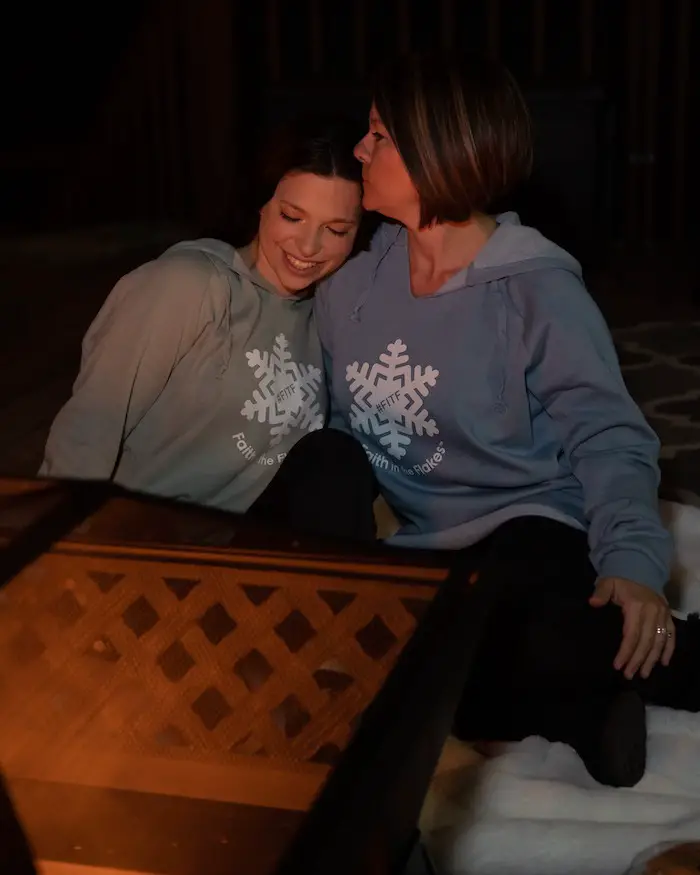 Also see:
Maryland Weather Page
I wanted to keep it simple. Just the basics for a quick view at any time.
Please share your thoughts, best weather pics/video, or just keep in touch via social media
---
Email Updates
Please make sure you sign up (above or click here to sign up for email alerts…. ) for my newsletter. This way you will get an email to make sure you are notified of each post.
---
Just In Power Kids:
A portion of proceeds go to our programs Providing FREE holistic care for kids in cancer treatment and up to 5 years post treatment and caregivers.
New Caps and Hats