Monday Evening January 4 2021
Do you remember how excited you were to see flurries and snow showers on Christmas Day.  Tuesday may bring back that excitement.  A weak weather system will trigger some showers before dawn, and linger into the afternoon.  Temperatures will be warm enough to not worry, but maybe enjoy the view.
Even NOAA has updated it on their forecast map.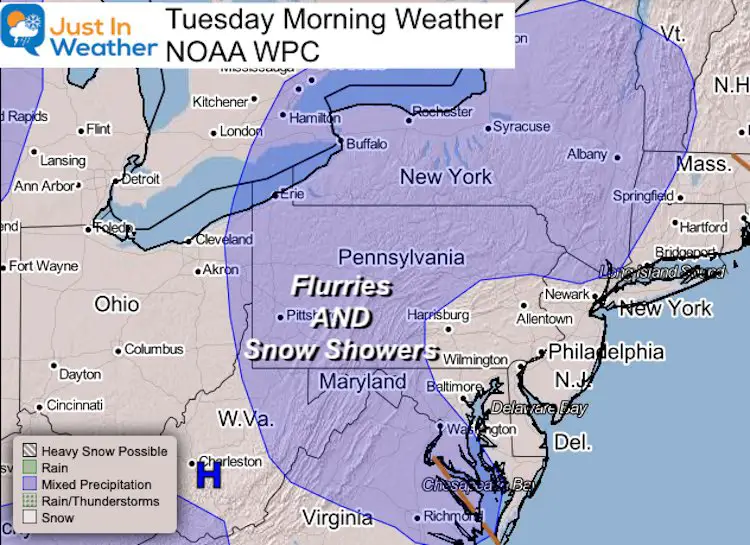 Morning Temperatures 
If there are any thermometers near freezing, it would be in the colder north/west zones. But their flakes may come later after sunrise.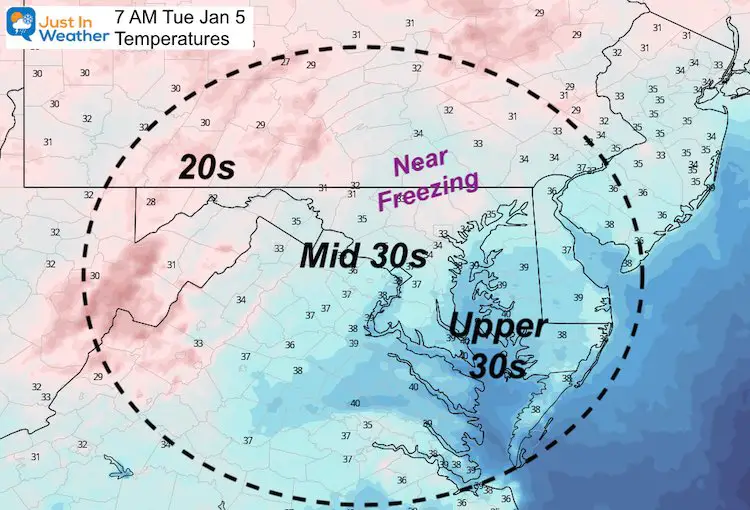 Radar Simulation —> slider
Most of this will be light in the form of flurries and snow showers.
This is a rough gauge, but precise.  But we can see the spotty waves of activity expected.
Afternoon Temperatures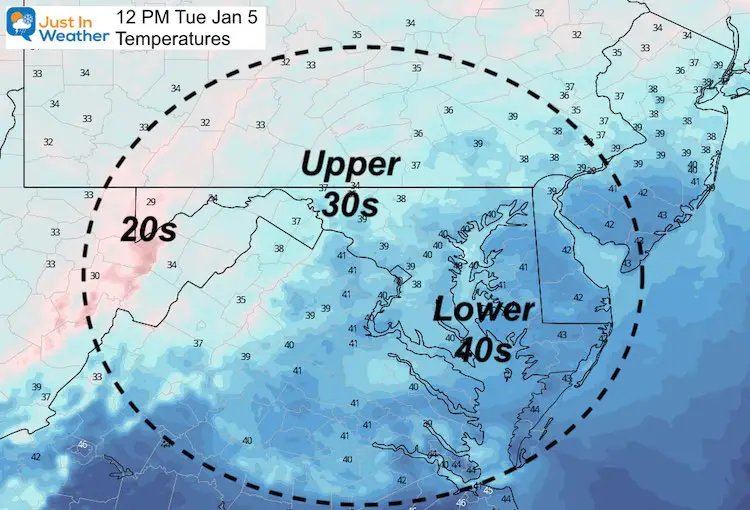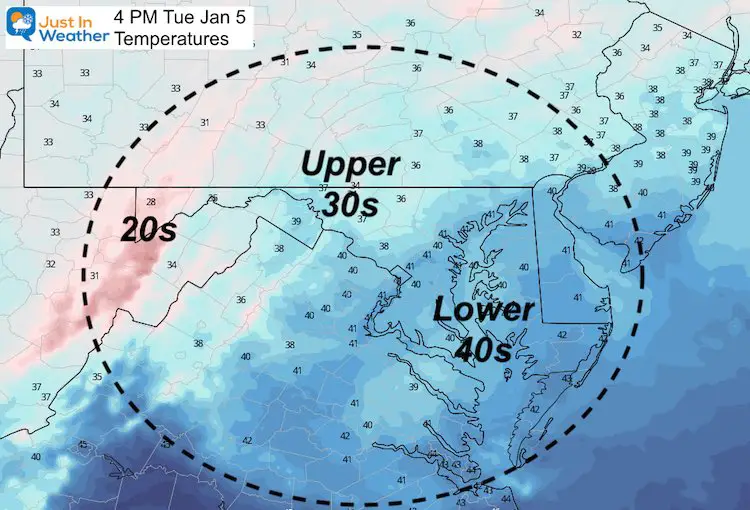 Looking Ahead
As I wrote in my prior report, I am only showing these two to plot daily and spot any model errors.
Friday Evening
That Friday system is looking small and barley on our southern territory. We shall see if this gets a bump back north over the next two days of model plots.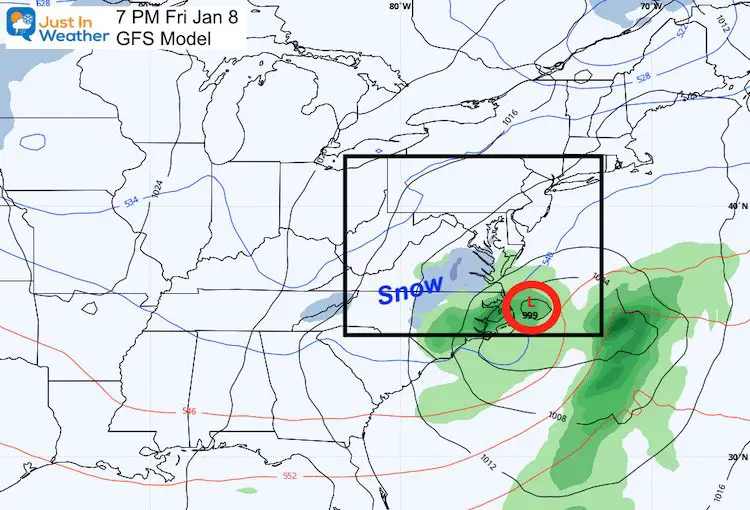 Next Tuesday
The European Model has shifted that storm to our south.  If you like snow, that might be a good thing. I was worried that this storm looked too good more than 1 week away.
The energy for this is still over the Pacific Ocean with poor data sampling.   This has been a routine blimp for many models losing a storm, only to find it again within 5 or 6 days.
If there is hope for this thing to develop, I expect we would see a better plot by Wednesday or Thursday.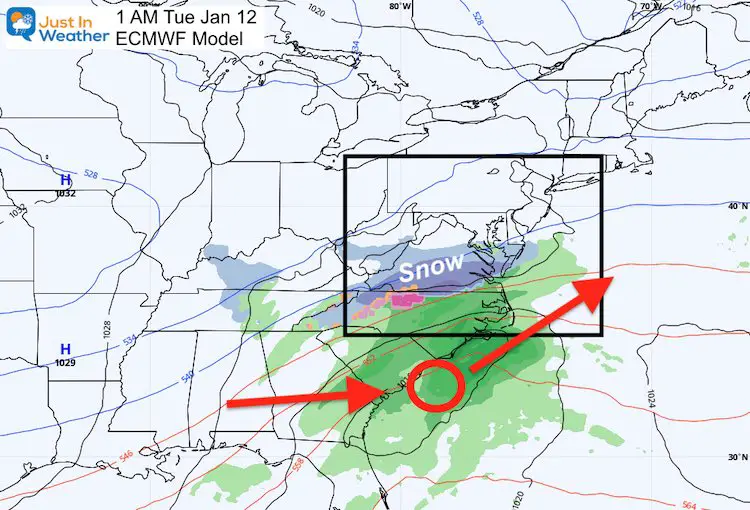 Regardless of how these two work out, the month will very likely turn colder and more active.  If you missed my prior report, check it out here.

YOUR INTERACTIVE WEATHER PAGES
14 Local Maryland Pages (and York PA)
We have made a page for Maryland Weather which gives you the current conditions for 14 present area locations.
Local Hourly Forecasts and Local Radar
Central Maryland
Delmarva
Pennsylvania

FITF Shop Open
My 'bonus' daughter Jaiden and wife showing off our popular Maryland Hoodies. Unisex and women's items all produced in Maryland.
Click here to see this and many other new items.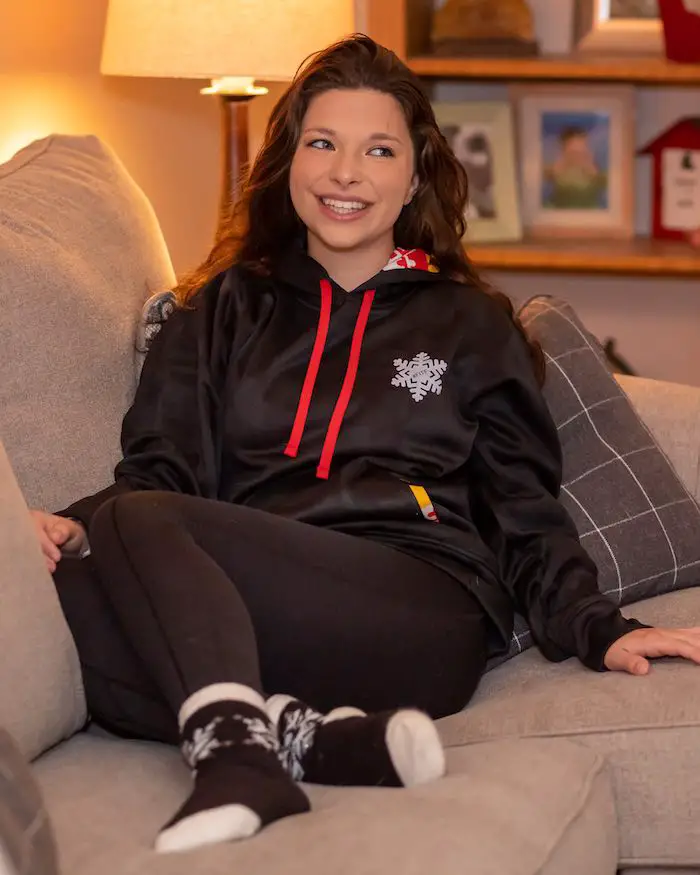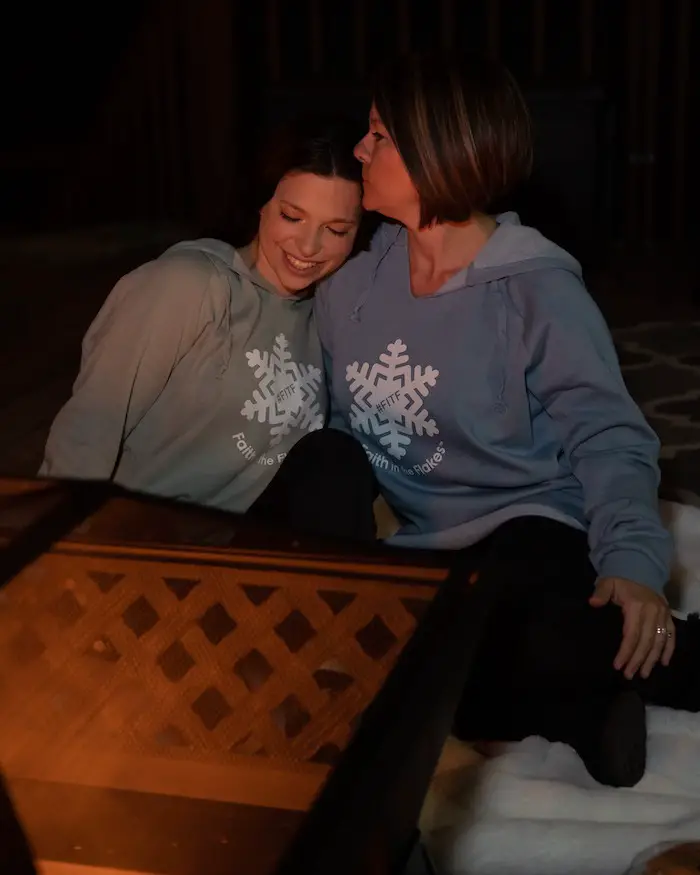 Also see:
Maryland Weather Page
I wanted to keep it simple. Just the basics for a quick view at any time.
Please share your thoughts, best weather pics/video, or just keep in touch via social media
---
Email Updates
Please make sure you sign up (above or click here to sign up for email alerts…. ) for my newsletter. This way you will get an email to make sure you are notified of each post.
---
Just In Power Kids:
A portion of proceeds go to our programs Providing FREE holistic care for kids in cancer treatment and up to 5 years post treatment and caregivers.
New Caps and Hats