January 3 2021
In the Mid Atlantic we just had two weather systems in the first three days of the year that brought a chilly rain, while barely above freezing. There was inland ice on Friday, and a hodgepodge of ice early Sunday and afternoon sleet. But for winter lovers that doesn't cut it.
What I will show here are a lot of signals pointing towards a cold and stormy pattern this month. It based on what has been happening and global pattern signals that will make many scream Faith in the Flakes.
Just last week, a record Low Pressure hit Alaska on New Year's Eve. Consider when you drop a rock in a pond, there are ripples that can spread out pretty far. This was like dropping a boulder in the atmospheric lake. The impacts can be far, wide, and last a long time.
The weather geek sphere will be lighting up with talk of the Polar Vortex and Rex or Greenland Block. These are code for very cold air on the way.
Also, there are two possible systems in the next 10 days.  But the outlook overall is my focus for starters.
Included Below:
Record Low Pressure
Global Patterns in Favor: Arctic Oscillation, North American Oscillation, Polar Vortex Split
Rex Block/Greenland Block
Two systems to watch over next 10 days
Please note: Yes, I love snow! However, my wife is quite the opposite. She hears my thoughts before I share them with you, so I understand an unaccepting audience. For me to tell her and write for you, I must really believe it. So any chatter of wish-casting or hype can be tossed aside.  I truly believe we are set up for a strong return to real winter weather this month!
All Time Record Low Pressure In Alaska!
The year 2020 fittingly closed out with another weather record. On December 31, 2020 a storm in the north Pacific dropped to 921 mb. It was associated with winds over 100 mph! This beat two previous record storms in 2014 and 2015.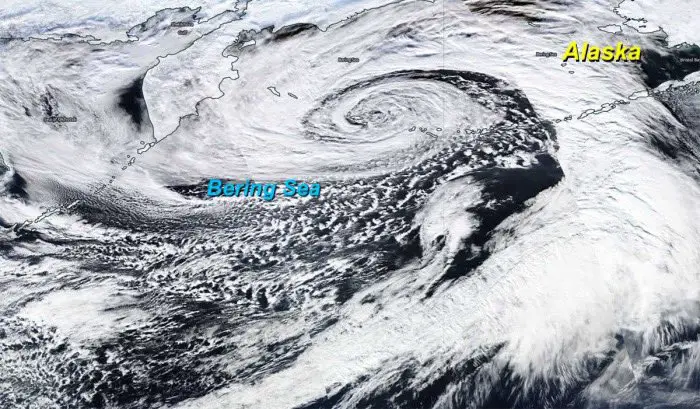 Check out this animation from NWS in Fairbanks
As day falls onto night, we continue to nerd out over this record-breaking Bering Sea storm. 👀#akwx #gifs4days #satellite pic.twitter.com/A2hLEMTE7I

— NWS Fairbanks (@NWSFairbanks) January 1, 2021
Global Patterns Favor Cold and Stormy
In prior posts and my winter outlook I have mentioned the Arctic Oscillation (AO) and North Atlantic Oscillation (NAO). For simplicity here, just consider this as an index supporting cold or warmth for the eastern US.
Positive is often (not always) warm

Negative is often (not always) cold.
Last year we were missing the persistent negative values. But for the past month, and for the foreseeable future, both maintain strong negative numbers on the European Model Plot.
Arctic Oscillation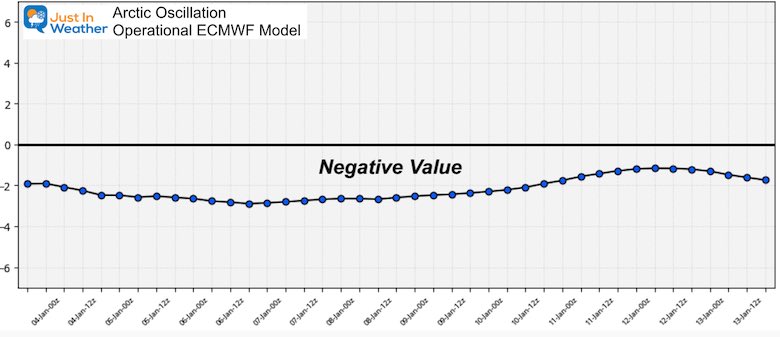 North Atlantic Oscillation
Both of these can impact the Polar Vortex (PV). When that normal flow of air around the top of our globe gets disrupted and wobbles, true arctic air gets sent south. Each new day brings more computer model guidance to disrupt the PV into two or three sister (small) vortices. These in turn would send very cold air into parts of Asia, Europe, and our part of North America.
How about we hear from Dr. Cohen and I keep this tradition of quoting him alive.
Please note, that while we may not have good recollection of the winters he mentioned, there was a strong PV disruption, it just didn't team up for us to bring significant snow.
What's better than twin daughters? Triplets of course! GFS predicting that the #PolarVortex will split into two then three daughter vortices. Upcoming PV disruption looks to be on the magnitude of 2018 and 2019. pic.twitter.com/UBuKC3AlDb

— Judah Cohen (@judah47) January 3, 2021
Long Range- 5 Waves On European Model
Just a hint at the storminess possible around the northern Hemisphere later this month. This is a 354 hour look into the future (Jan 17). While I would NEVER show you a surface map in that time frame, a jet stream pattern has more success in the long range.
One of these 5 troughs is over the eastern US.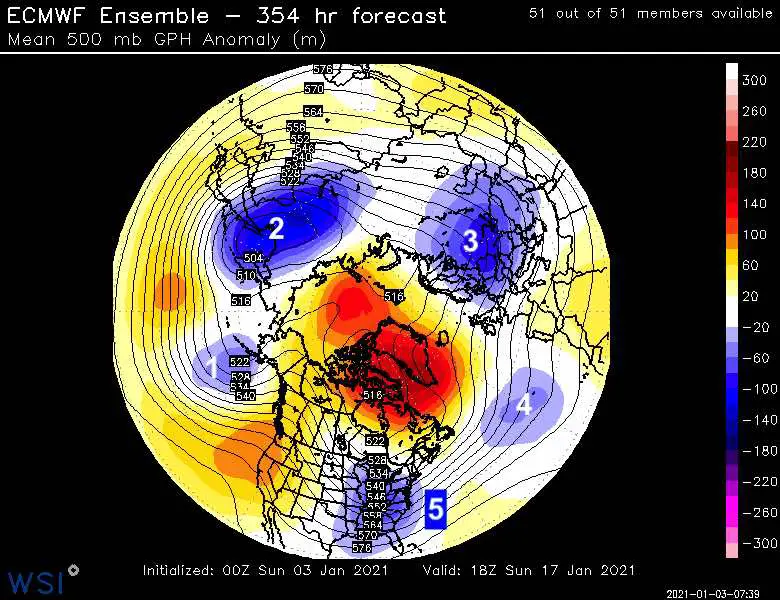 A Closer Look
This is the kind of thing a weather geek snow lover would salivate over…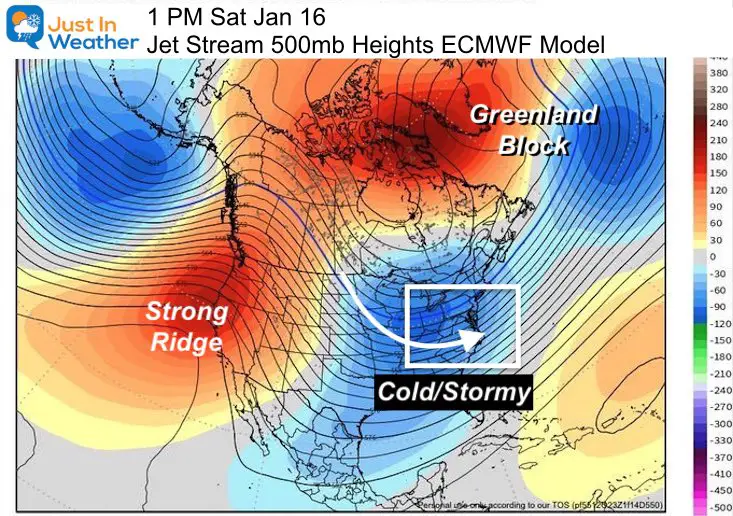 But let's not get ahead of ourselves… Something else in the next week is of great interest!
A Rex Block in the North Atlantic: The Greenland Block
I annotated this in the image above. But what is it?
A Rex Block when a strong ridge in the jet stream and surface High Pressure sits north of a deep trough and Low Pressure.
When these set up they can remain in place for a long period of time.
When these set tup in the North Atlantic, it is common around Greenland and between 40ºN and 60ºN.  That is called the Greenland Block is the what we need to send arctic air into the eastern US, while supporting a stormy pattern.
We begin to see that by the end of this week: Friday December 8
Jet Stream Forecast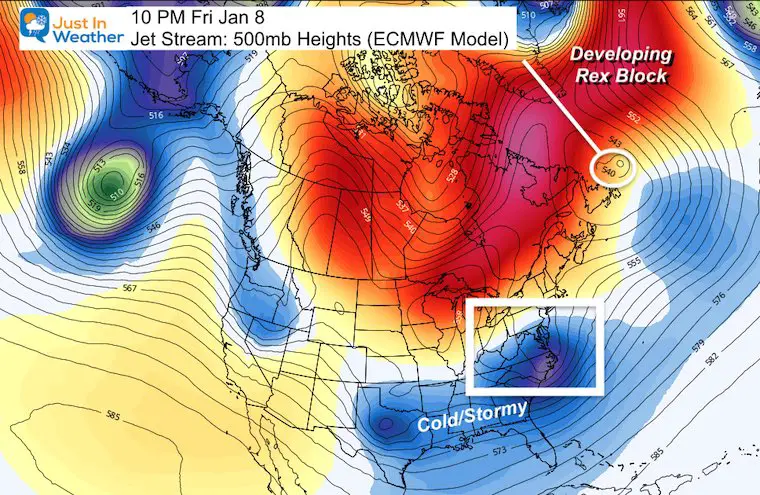 We still have a very strong arctic flow in the North Pacific driving into North America.
Surface Weather Forecast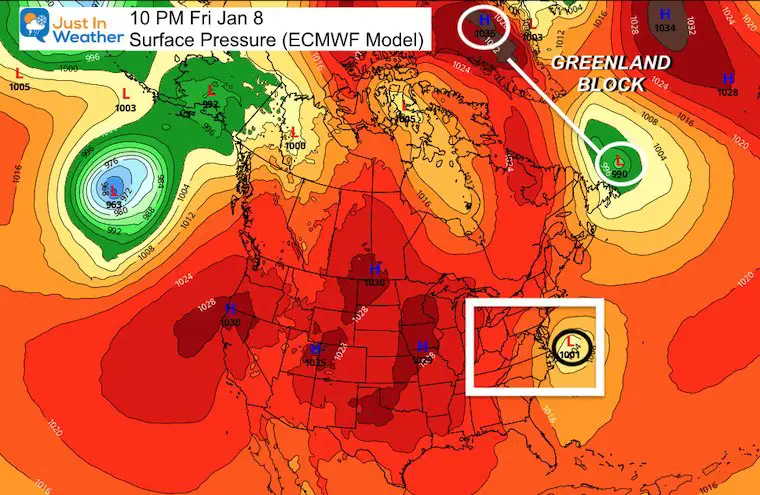 The ingredients are there. It is just a matter of putting it all together at the right time for storms to favor us with snow. The opportunities will grow through the month. This is on target with my winter outlook timing, AND the best it has looked in years!
About those two systems in the next 10 days
Here is a look at this Friday:
It is not a perfect set up, which is why I like it. Do you recall me mentioning the model bias to verify north. We just saw it over the weekend, and with that mid December snow.
Take a look at both the GFS and European plots for Friday. I am showing you, so we can track and see if that bump north shows up over the next two days.
The Euro is just clipping Delmarva. Apply that shift north and more of us are in business.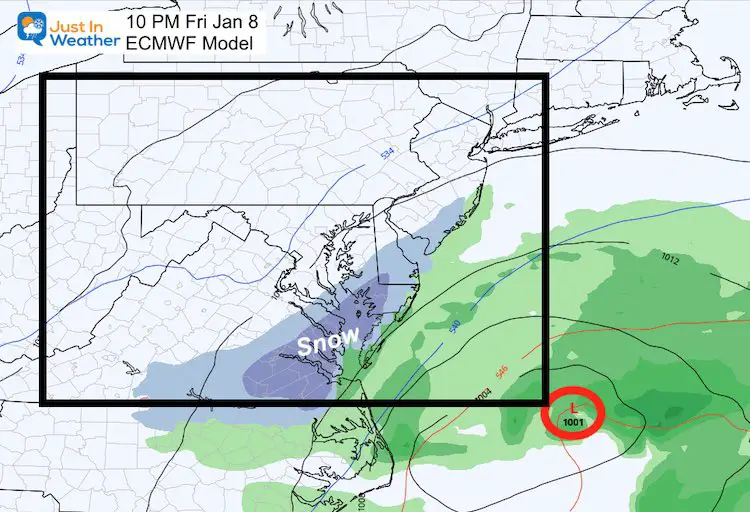 The GFS is closer with the snow… But it is still too early to pin this.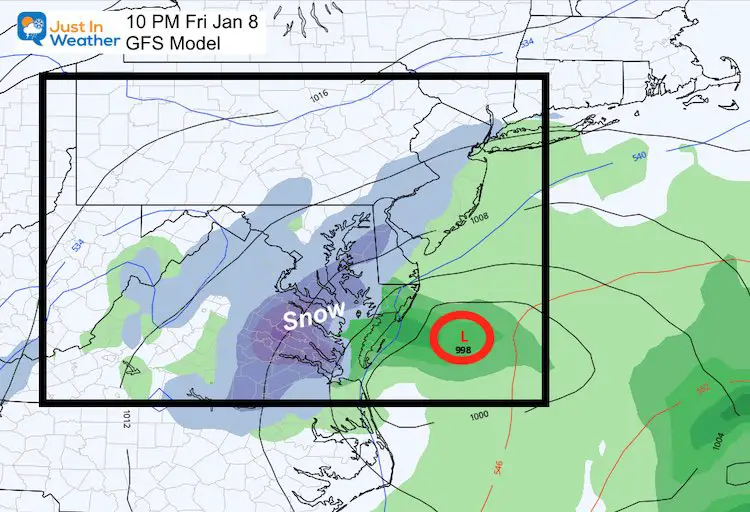 Farther Out/Next Week:
With the North Atlantic Block and persistent North Pacific flow, there is more energy in the pipeline. Here is the European ECMWF for Tuesday Jan 12.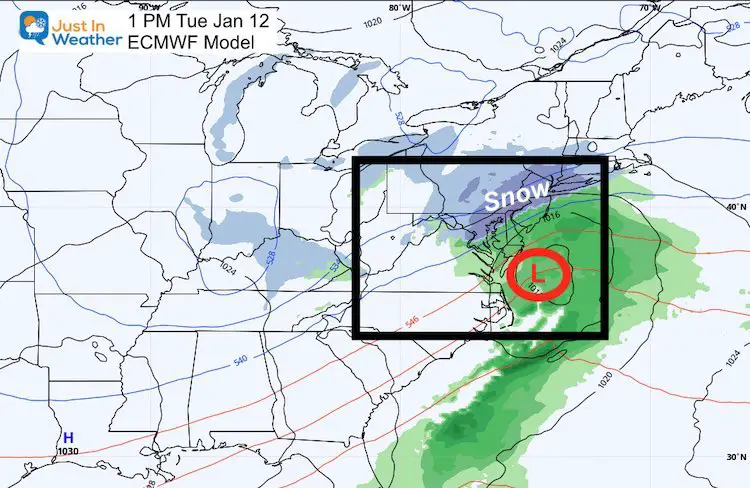 This actually looks good already, and if we apply the same model bias, it would be a tease and end up inland.
However I am banking on that -NAO to benefit us with the cold push and not let this jump out to sea.
Tl;dr: Too long; didn't read
The short version: It is going to get consistently cold soon, along with an active weather pattern. There are no promises here of specific storms or totals, but we will have a winter weather pattern we have not seen in at least 5 or 6 years.  *2014 was pretty good to us.
Stay tuned. We have a very active and possibly fun month ahead. Faith in the Flakes. #FITF
YOUR INTERACTIVE WEATHER PAGES
14 Local Maryland Pages (and York PA)
We have made a page for Maryland Weather which gives you the current conditions for 14 present area locations.
Local Hourly Forecasts and Local Radar
Central Maryland
Delmarva
Pennsylvania

FITF Shop Open
My 'bonus' daughter Jaiden and wife showing off our popular Maryland Hoodies. Unisex and women's items all produced in Maryland.
Click here to see this and many other new items.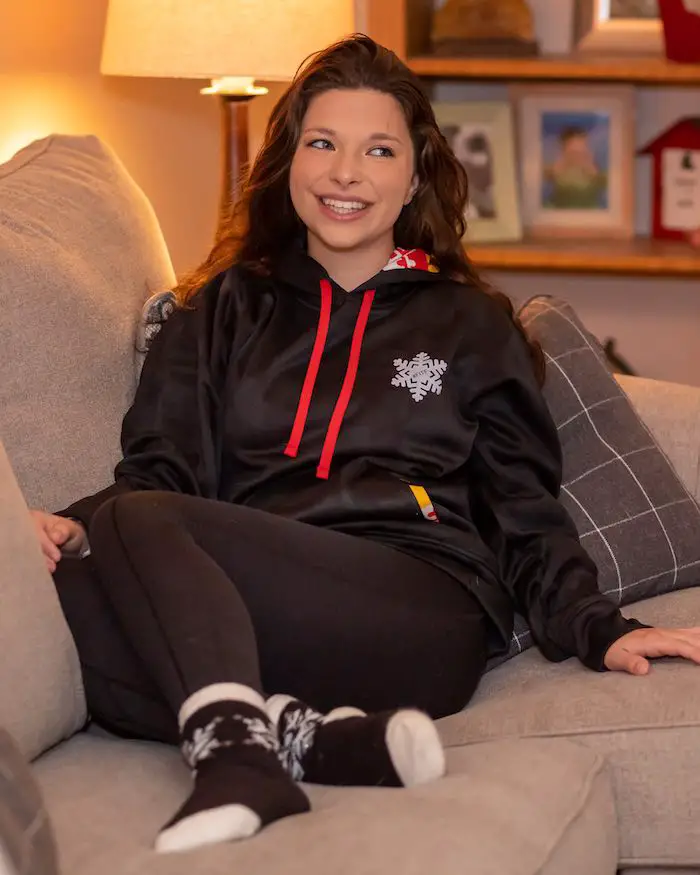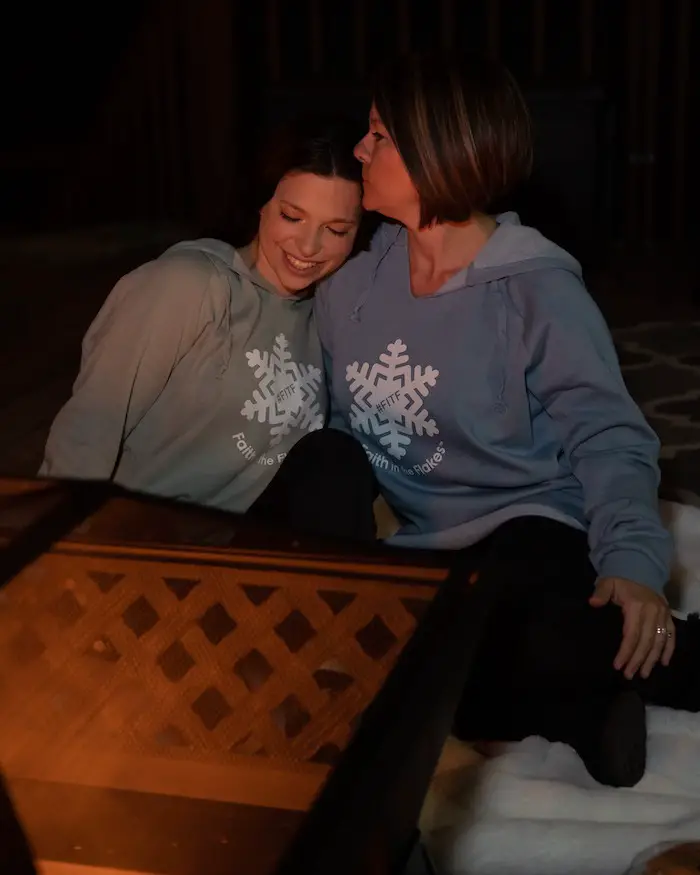 Also see:
Maryland Weather Page
I wanted to keep it simple. Just the basics for a quick view at any time.
Please share your thoughts, best weather pics/video, or just keep in touch via social media
---
Email Updates
Please make sure you sign up (above or click here to sign up for email alerts…. ) for my newsletter. This way you will get an email to make sure you are notified of each post.
---
Just In Power Kids:
A portion of proceeds go to our programs Providing FREE holistic care for kids in cancer treatment and up to 5 years post treatment and caregivers.
New Caps and Hats