Saturday January 2 2020
We find ourselves once again on the edge of freezing with another storm reaching the region.  Like the event on New Year's Day, this will arrive in the morning, linking up with the coldest temperatures of the day. We have seen a trend with recent events arriving a few hours early and with slightly colder air.
Updated at 7 AM: Temps have pushed above freezing already. So the ice risk has passed already. See the morning temperatures below.
Winter Weather Advisory 
UPDATED Sunday Morning- Cancelled in Central Maryland to Northern VA/WV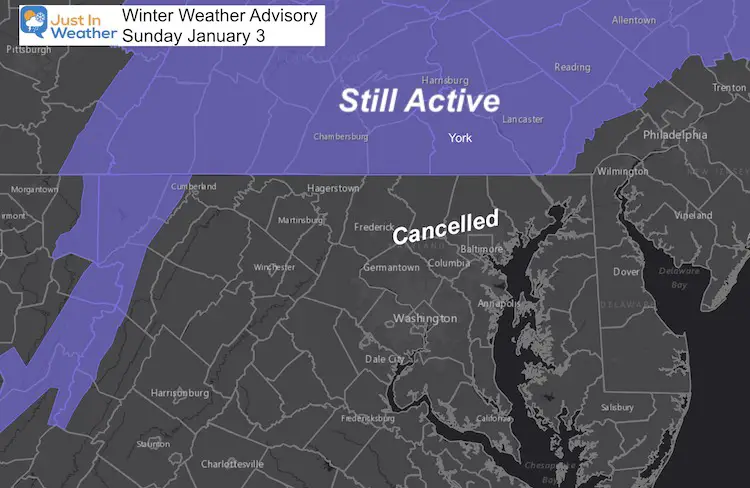 When: Starting 3 to 5 AM
How long this may last is always hard to call.  But the icing will be minor, and daylight will help by late morning to noon in most areas.
Where: Impact Area
The chance for light icing will be possible farther east of the Advisory Counties. So, please consider that chance in western Howard, northern Baltimore, Harford, and Cecil Counties in Maryland.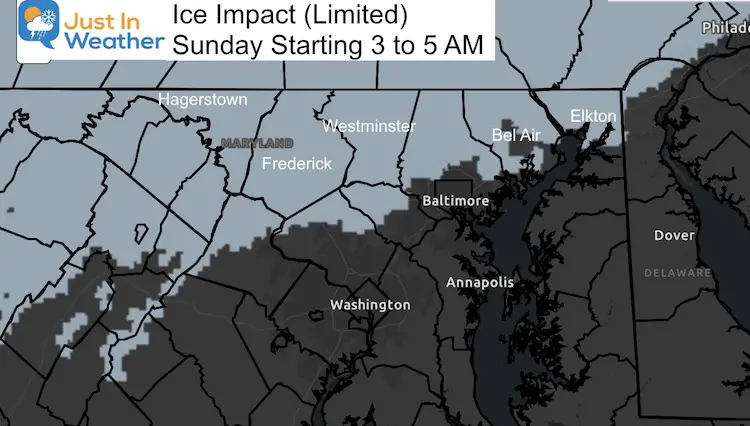 Let's Take A Look
This evening High Pressure is bringing a fresh push of cold air back into the Mid Atlantic. After a high in the mid 50s, we will drop through the 30s tonight.
The Low Pressure in the eastern Gulf will develop off of the east coast on Sunday. There is also upper level energy trying to catch up, which will happen after passing our region, but may have one final trick.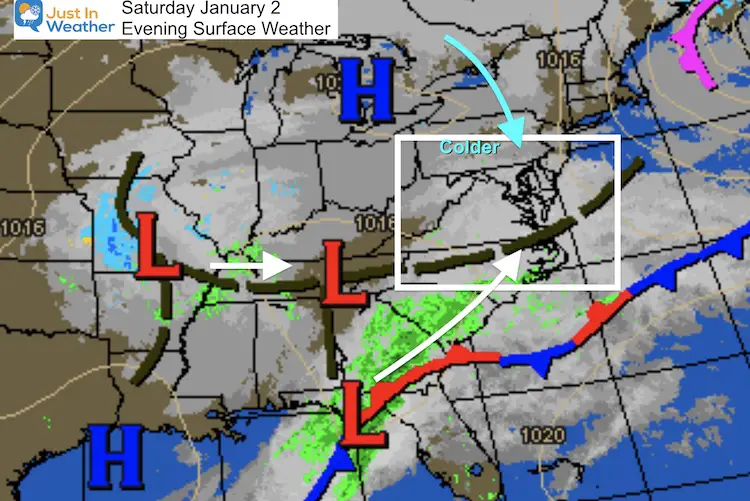 Sunday Storm Arrival
I have low confidence in the precision of the modeling. So where the freezing line is displayed, could reach more areas. Keep in mind, temperatures on New Year's Day morning were just a tad colder than projected.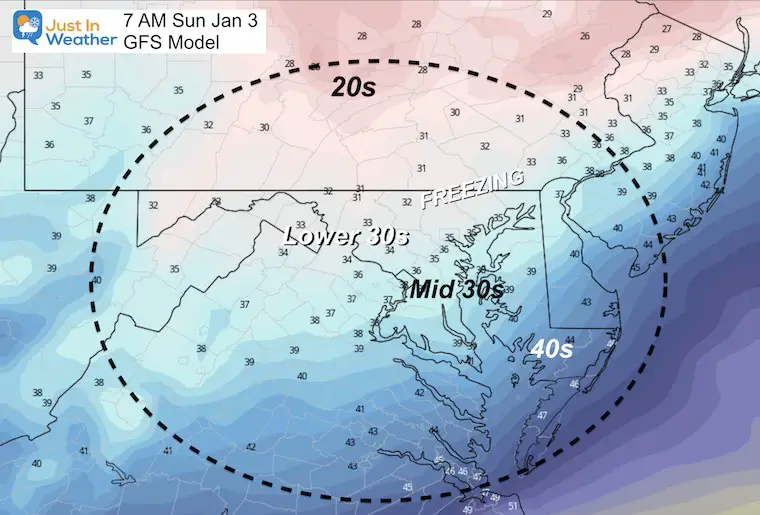 UPDATED 7 AM Temperatures 
Any light icing has already thawed as temps moved just above freezing already across northern MD and southern PA.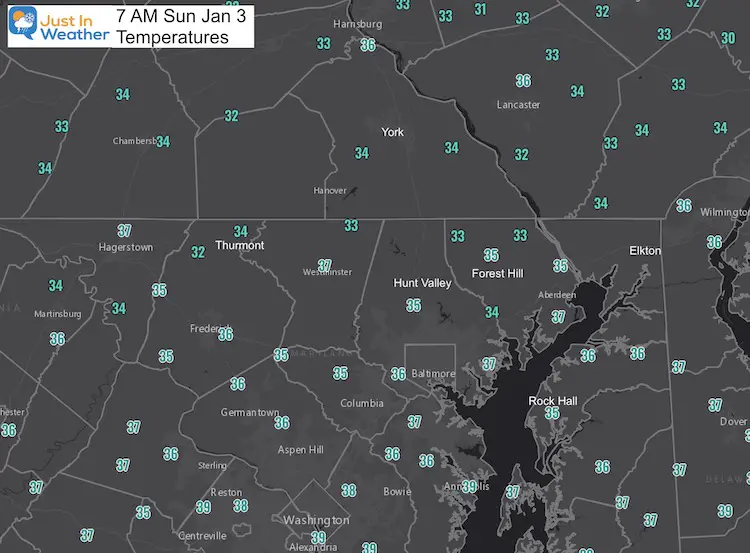 Early Arrivals
By daybreak, the sleet and freezing rain should be well underway.  This will be light, but just enough for a glaze of ice.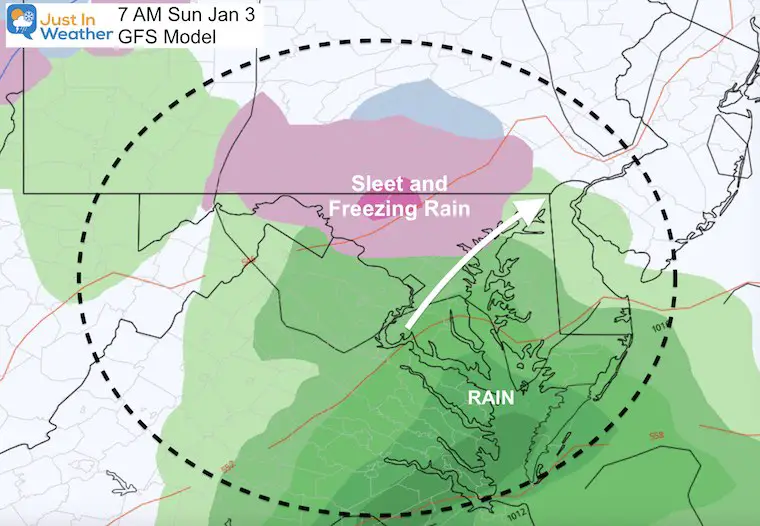 Late Morning
The GFS Model shows the icing retreating to the north, but often models show the thaw too early.
This is not meant to scare you, but rather just be cautious for a few extra hours.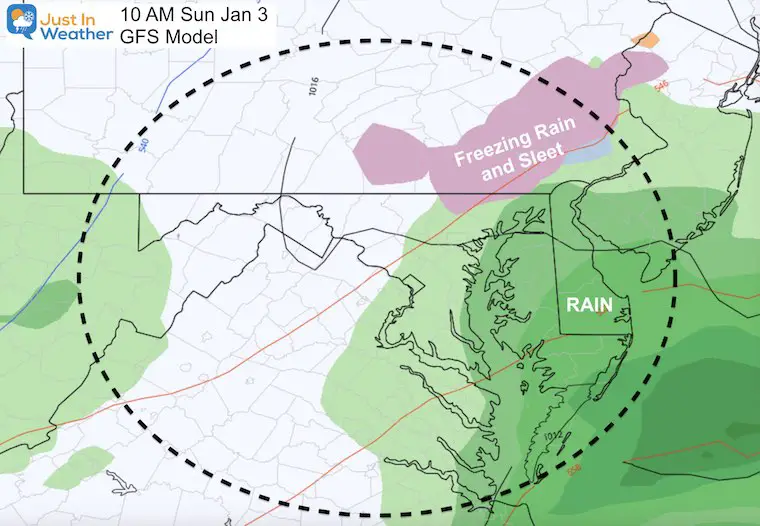 Late Afternoon
The GFS Model shows a chilly rain dominating our region, with ice and snow expanding in central PA.
However, the European ECMWF Model shows colder air catching up on the back side of the Coastal Low.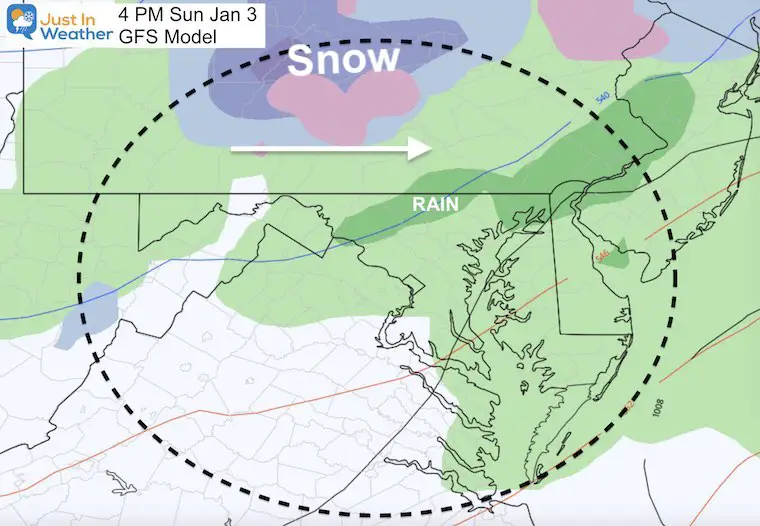 Can you get snow Sunday evening?
If so, it would be more likely in the colder locations of northern Frederick, Carroll, and Baltimore Counties in Maryland and southern PA.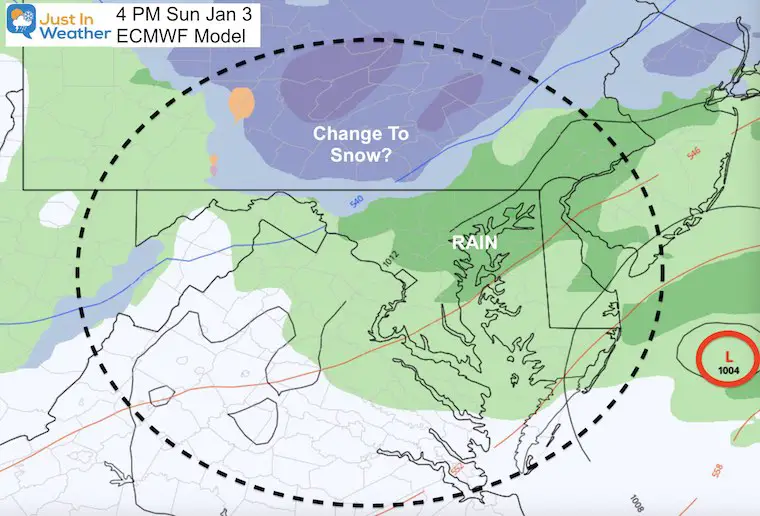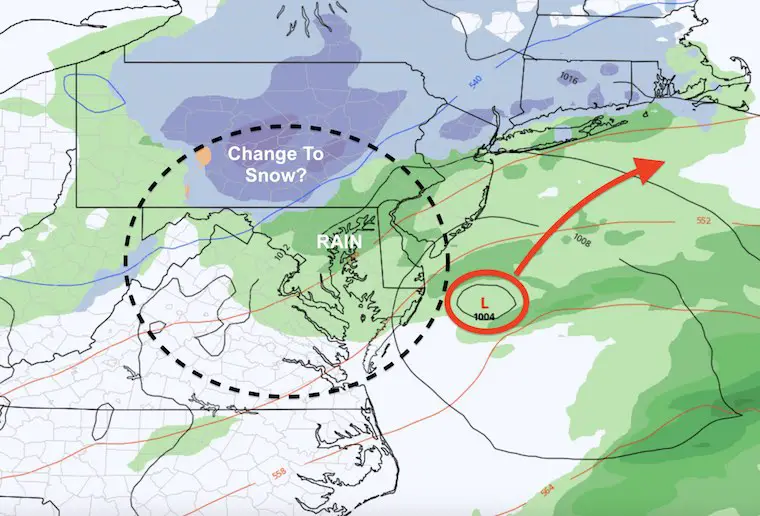 Temperature Outlook
Do you remember that mild trend we expected to start the new year?  That has continued to trend colder back to average.
The global signals of a very strong Arctic Oscillation and North Atlantic Oscillation will have a chance to take over. I will show in another report why I believe we will have true winter weather back in our region this month.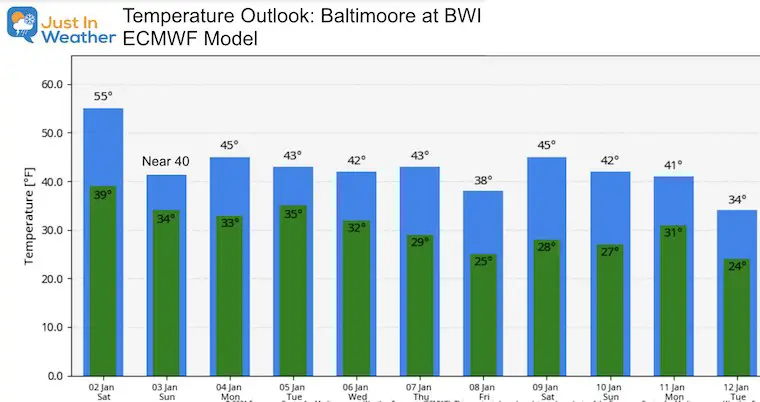 YOUR INTERACTIVE WEATHER PAGES
14 Local Maryland Pages (and York PA)
We have made a page for Maryland Weather which gives you the current conditions for 14 present area locations.
Local Hourly Forecasts and Local Radar
Central Maryland
Delmarva
Pennsylvania

FITF Shop Open
My 'bonus' daughter Jaiden and wife showing off our popular Maryland Hoodies. Unisex and women's items all produced in Maryland.
Click here to see this and many other new items.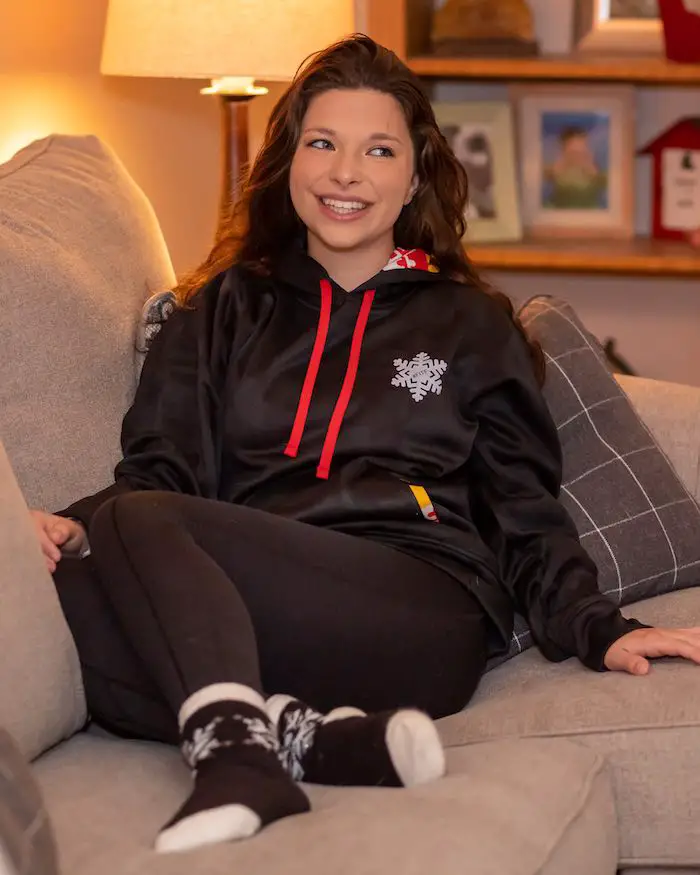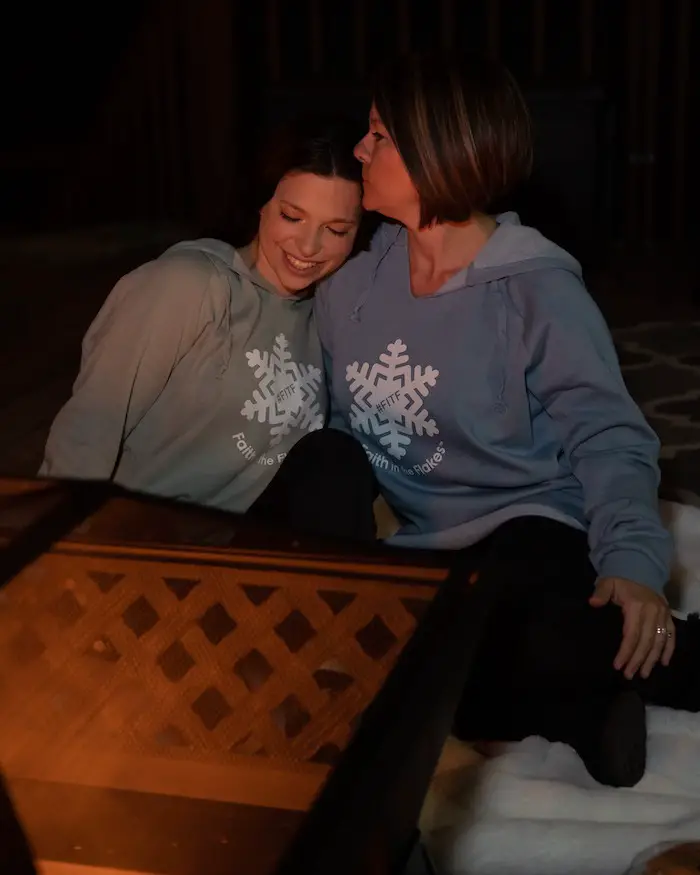 Also see:
Maryland Weather Page
I wanted to keep it simple. Just the basics for a quick view at any time.
Please share your thoughts, best weather pics/video, or just keep in touch via social media
---
Email Updates
Please make sure you sign up (above or click here to sign up for email alerts…. ) for my newsletter. This way you will get an email to make sure you are notified of each post.
---
Just In Power Kids:
A portion of proceeds go to our programs Providing FREE holistic care for kids in cancer treatment and up to 5 years post treatment and caregivers.
New Caps and Hats