December 31 2020
This is my final weather post of the year and we might as well go out in style talking about an ice event for the new year.  I cover a large area and need to mention this event, even though it is for the mountains.
The heaviest icing may be in far western Maryland's Garrett and Allegheny Counties, with minor icing to Frederick, Gettysburg, and Harrisburg.  But some sleet could mix in for an hour or two in metro areas without much stickage.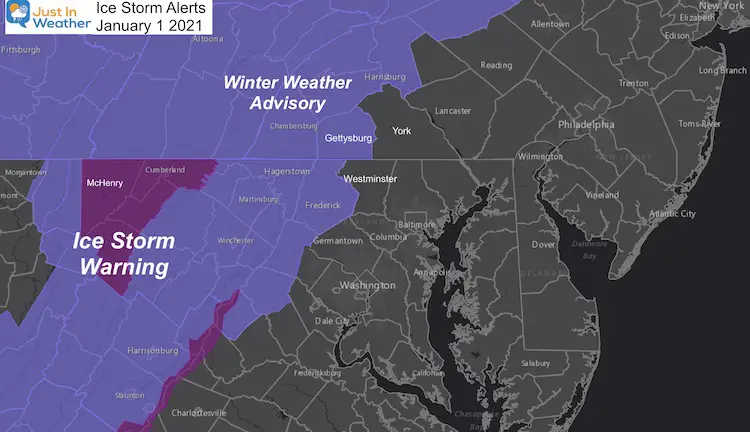 If you are in central Maryland to eastern PA, timing is what may save you.  When this event first surfaced, it was to begin at daybreak. We will be at or below freezing then, but dry.  The arrival of the moisture mid day to afternoon, allows just enough time to warm a little. But the first hour or two of chilly rain could start with sleet.
---
New Years Day Morning Update
The trend continues: This is what I was concerned with in my recent reports.
Precipitation continues to arrive a few hours earlier than model guidance shows.   Here is what I saw at 9:15 AM, which is well ahead of the simulation in the slider below.
That allows the rain or sleet to catch up to freezing temps in parts of central MD and southern PA.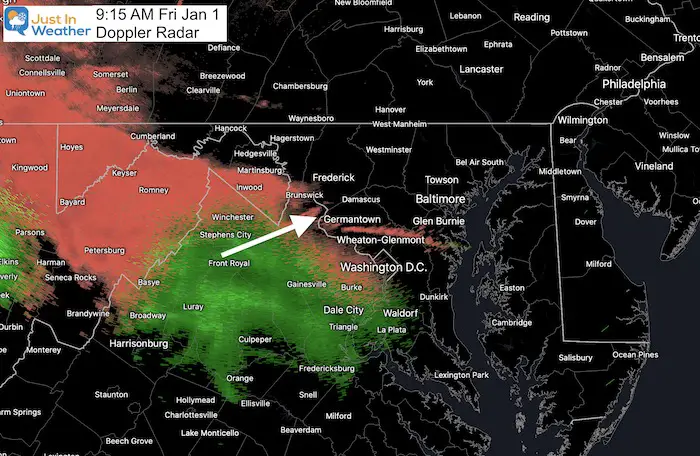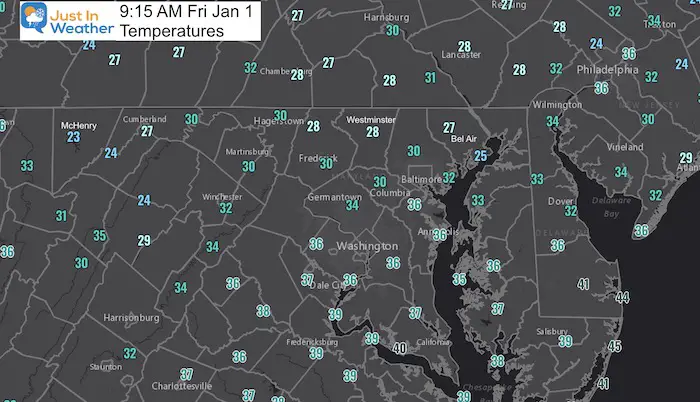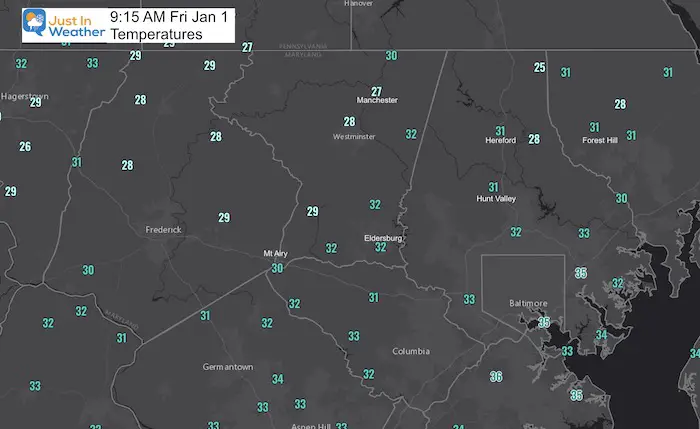 ---
New Years Eve Set Up
It is snowing along the Texas and Mexico border.  That is where the energy for our next event is coming from.  It will ride along the front that moved through today, and push back north.
There is enough cold air that may allow for sleet to fall even in areas that make it back above freezing on Friday when it arrives.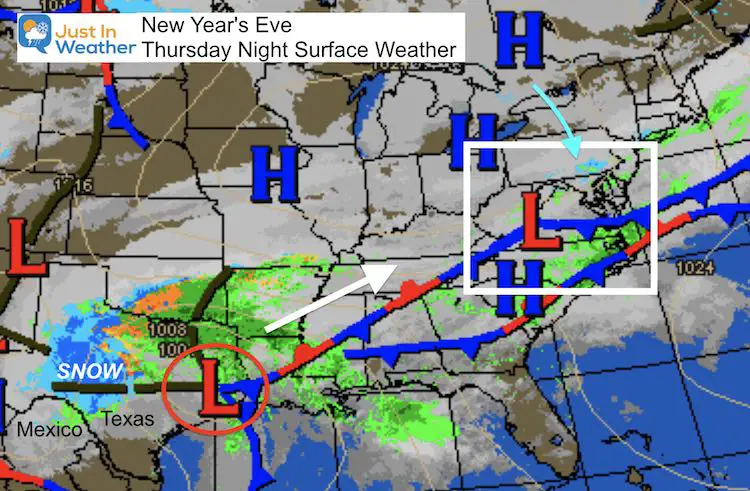 New Years Day Morning
Ice And Rain Timeline —> slider
Notice the limited precipitation at 10 AM (first image).  That delay in the arrival is what limits the ice potential for Baltimore inland suburbs.
Temperature Forecast
While metro areas get above freezing, it will get cooler as the rain begins to fall.
Again: This may arrive with sleet due to colder air aloft.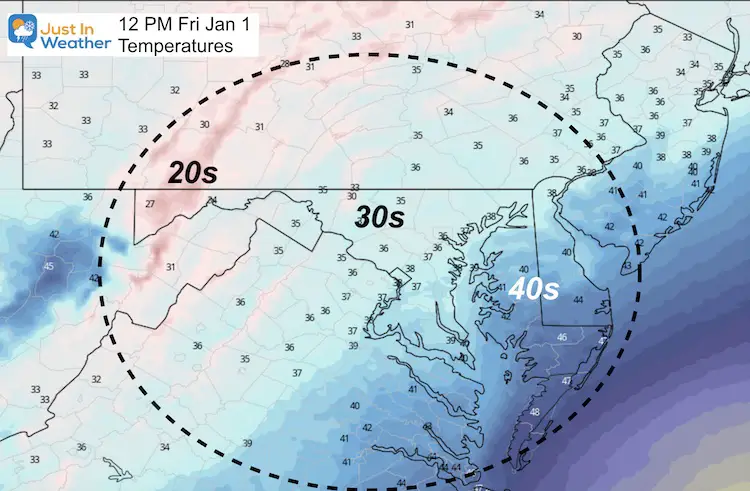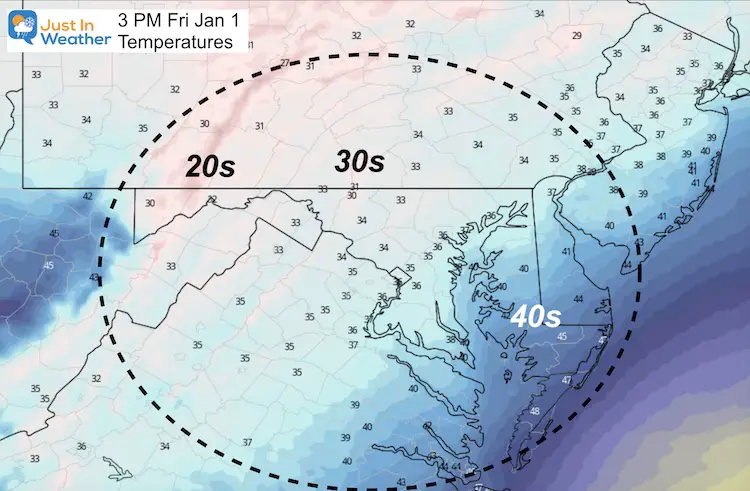 Ice Forecast Maps From NWS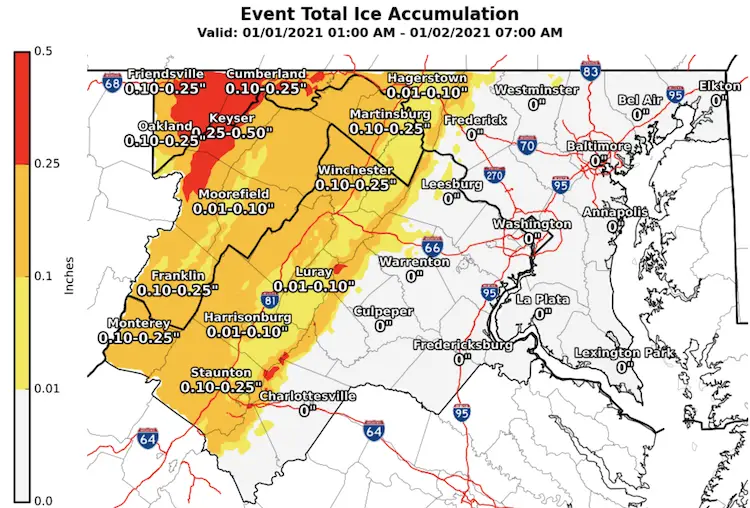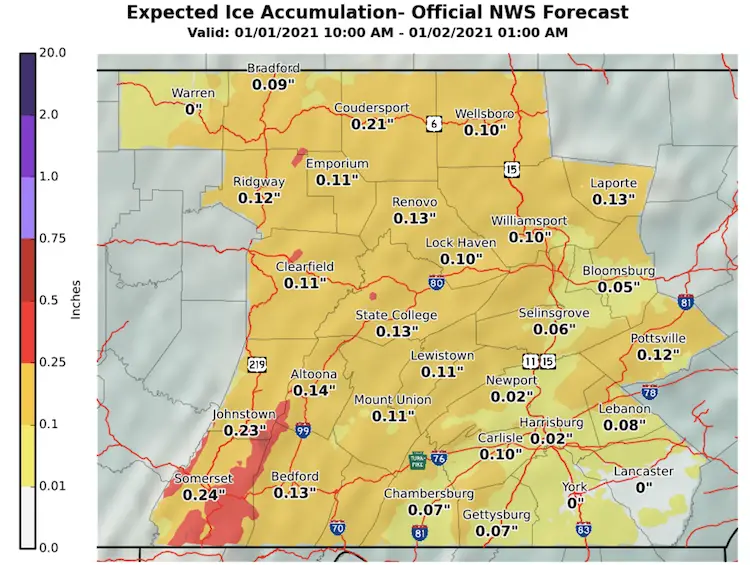 Faith in the Flakes for 2021
There are very strong signals that all point towards a big push of cold air and a winter pattern for the eastern US by the middle of January. So far, this is working out according to my Winter Outlook. The next week will be mild, but real winter will be returning within 2 to  weeks.
Faith in the Flakes and Happy New Year!
YOUR INTERACTIVE WEATHER PAGES
14 Local Maryland Pages (and York PA)
We have made a page for Maryland Weather which gives you the current conditions for 14 present area locations.
Local Hourly Forecasts and Local Radar
Central Maryland
Delmarva
Pennsylvania

FITF Shop Open
My 'bonus' daughter Jaiden and wife showing off our popular Maryland Hoodies. Unisex and women's items all produced in Maryland.
Click here to see this and many other new items.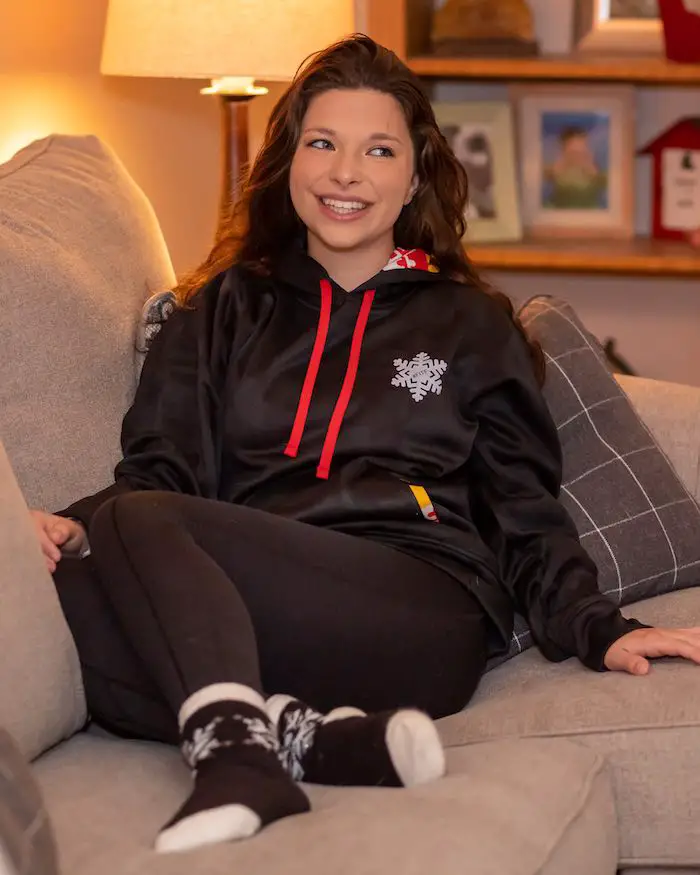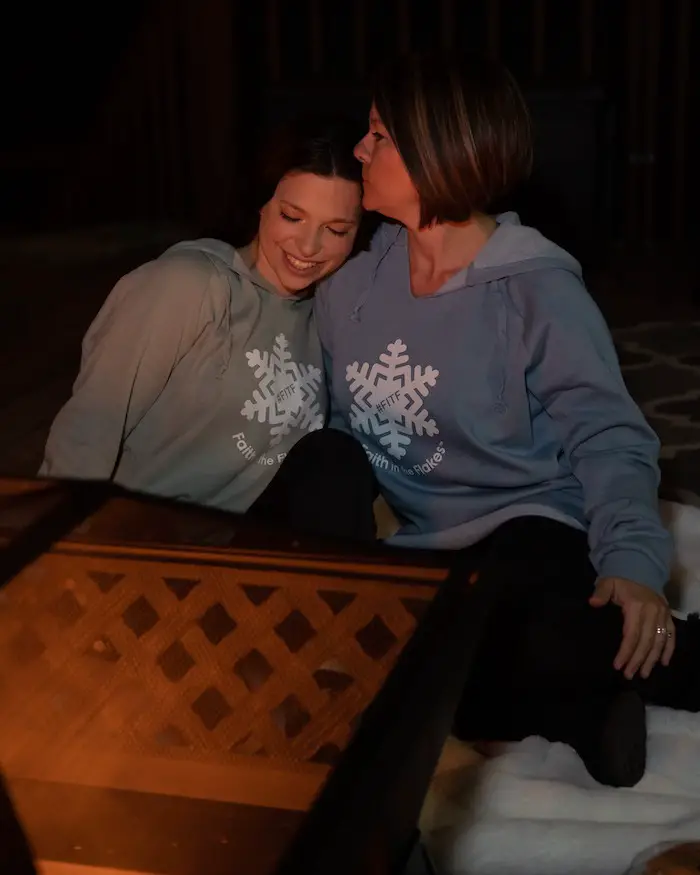 Also see:
Maryland Weather Page
I wanted to keep it simple. Just the basics for a quick view at any time.
Please share your thoughts, best weather pics/video, or just keep in touch via social media
---
Email Updates
Please make sure you sign up (above or click here to sign up for email alerts…. ) for my newsletter. This way you will get an email to make sure you are notified of each post.
---
Just In Power Kids:
A portion of proceeds go to our programs Providing FREE holistic care for kids in cancer treatment and up to 5 years post treatment and caregivers.
New Caps and Hats